January 10, 2017
01/10/17

By Subscription Box Mom

0 Comments
0
January 2017 Candy Club 6 Container Review + Buy 3 Get 3 Coupon
Disclosure: This post contains affiliate links. This box was received free for review.
Candy Club is a candy subscription box that sends up to 3 pounds of candy for $27.99 a month.If you love candy, Candy Club delivers a huge amount of candy each month.  When you sign up, you will fill out a little questionnaire to help you choose your box.  You can pick from Favorites, Classic or Sours and more.    You can read my past reviews here to see the other kinds of boxes.
There is now a customization option!  The price is the same, but you get to pick the three main items in the box now.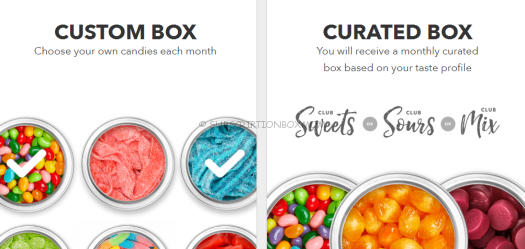 When you sign up, you choose custom or curated boxes.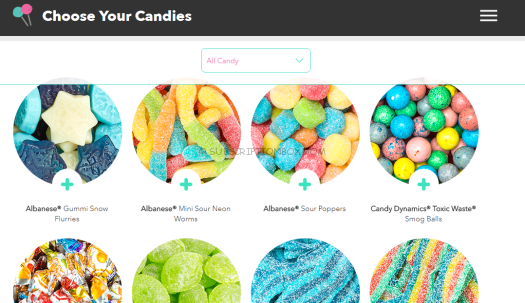 If you choose custom, you will put in your zip code and choose three candies.  There are so many choices, it's fun to see what candies they will add each month.

At the top of the screen, you will see this little box, which will show the candies you pick.  When it's time to choose your candy, Candy Club will send you an email to choose your candies.
The Details:
Cost: $27.99/1 month, 6 Months-$22.99/mo, 12 Months-$19.99
Coupon: Use this link and save 50% on your 1st box, plus get free shipping. Use code 50F-candydeal.
What's in the box?  Candy Club wants to deliver fresh candy to your door, month after month. Each month, you'll receive a selection of 2-3 lbs. of your favorite candies. Our thousands of candies could give you and your loved ones millions of smiles. And all you have to do is sit back and get ready to enjoy the sweet life.
How do I cancel? Call them at  888-598-5995.
Phone Number: 1-888-598-5995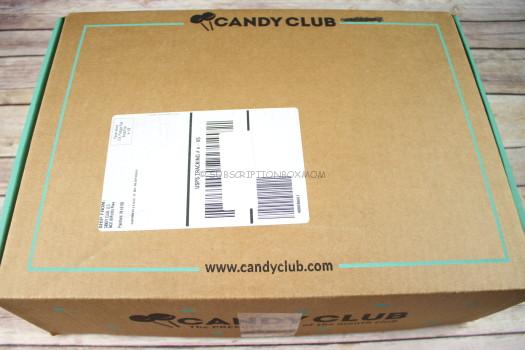 The Candy Club box this month was huge.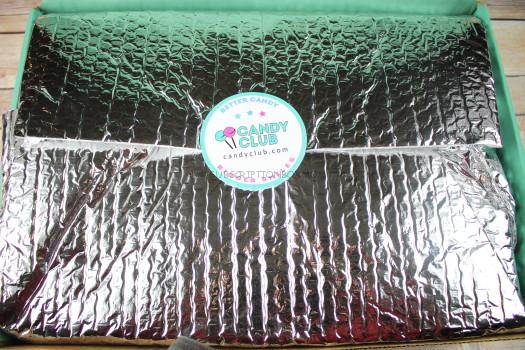 First Look.  All the candy is shipped in an insulated wrapper.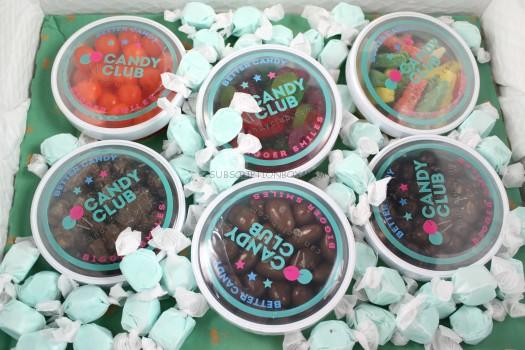 There was so much candy in this month's box!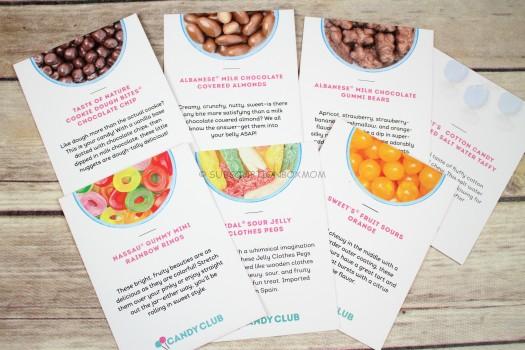 The information cards have a description of each candy and the nutritional information on the back.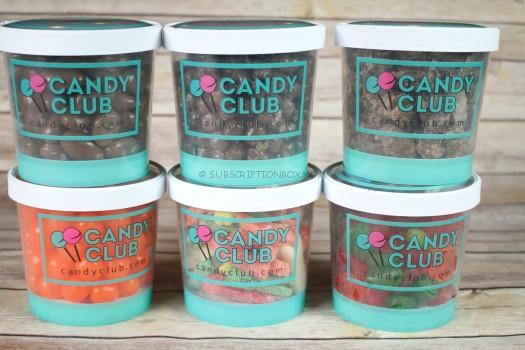 Each candy comes in a plastic container and sealed in plastic.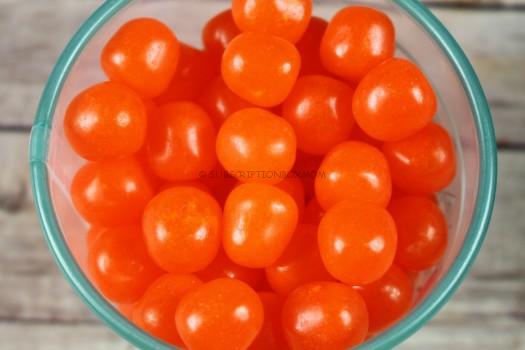 Sweet's Fruit Sours Orange These candies have a hardshell, with a chew center.  They have the same texture as a jelly bean, but have a more natural orange flavor.  I have had different flavors of these sour balls, but these orange one are my favorite.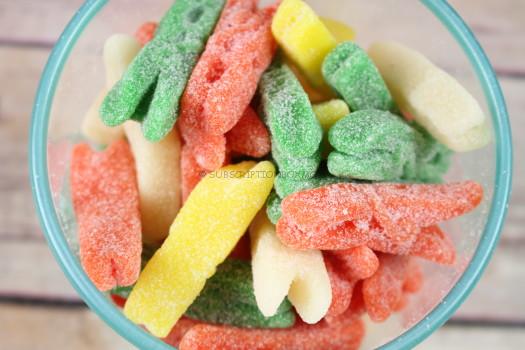 Vidal Sour Jelly Clothes Pegs These are imported from Spain and are a very chewy/sour clothes pin candy.  These had a general fruity flavor and are not nearly as sour as Sour Patch Kids, but they were tasty.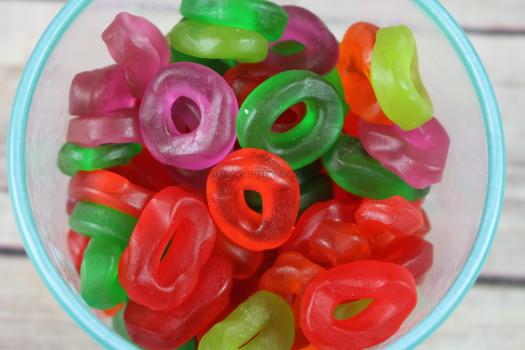 Nassau Gummy Mini Rainbow Rings These look like Life Savers, but are bigger, fruity gummy versions. Candy Club suggested putting these on your pinky finger for fun.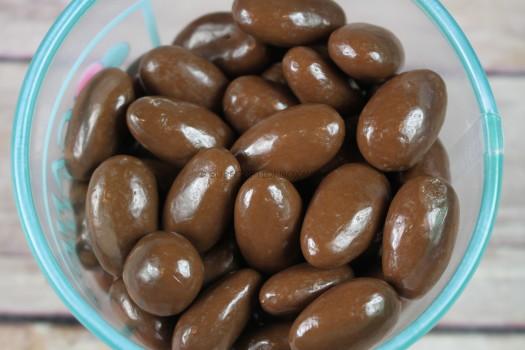 Albanese Milk Chocolate Covered Almonds These are my favorite candies from the box.  The almonds were fresh, salty, and covered in milk chocolate.  These were really fresh and are quite addicting.
Taste of Nature Cookie Dough Bites Chocolate Chip These are little cookie dough bites covered in milk chocolate.  These are soft and taste just like little bites of cookies.  These were another favorite in the box.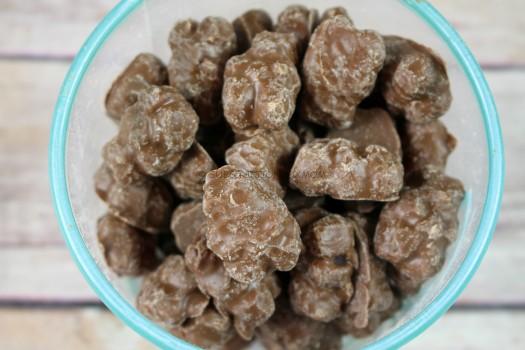 Albanese Milk Chocolate Gummi Bears These fruity gummi bears are covered in yummy milk chocolate. The gummies come in apricot, strawberry, strawberry-banana, marshmallow and orange.  While I typically don't like chocolate covered fruit, but these were pretty tasty.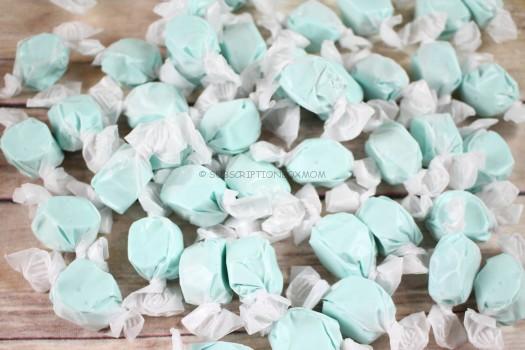 Sweet's Cotton Candy Flavored Salt Water Taffy My husband loves salt water taffy, so my husband was happy to get these.  The taffy is whipped, so it's softer than other salt water taffy.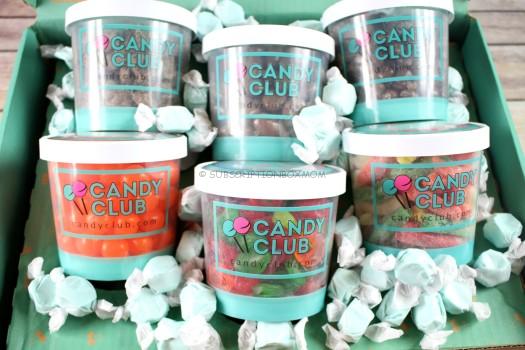 Final Thought: This box was packed with so much candy!  This would be a perfect box to get, and give out for Valentine's Day. This would also be a great box to share at a party or with coworkers.  Candy Club sends great quality candy and it's always fresh.  If you want to check out Candy Club, check out these deals.
Subscribe:
Do you like FREE SUBSCRIPTION BOXES?  Click HERE to see my free subscription box list.
You can see my FULL coupon list HERE.