October 6, 2016
10/06/16

By Subscription Box Mom

0 Comments
0
Raw Box August 2016 Review + Coupon
Disclosure:  This box was received free for review and contains affiliate links.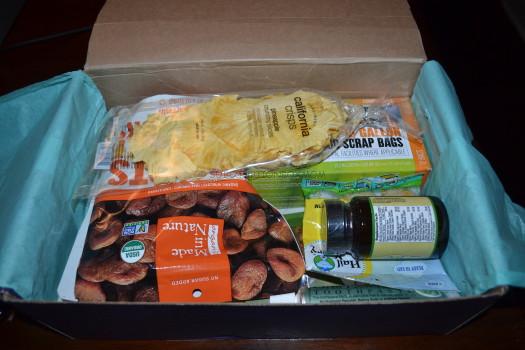 Hi everyone!  It is Kristi doing another guest review this month!  I am branching out and trying a brand new box this month, Raw Box!   I am kind of on a healthier kick…you know…trying to eat better, less added sugars…..TRYING LOL.  So, this box sounded great to try!
Raw Box believes that following a raw, plant-based lifestyle should be a viable option for everyone. They are committed to removing the barriers by connecting you with raw, clean options that support, rather than disrupt, your busy lifestyle. We search the country for the healthiest products we can find…and we deliver them right to your door.  What could be more convenient than that?
The Details:
Cost:  $39.95 for a month-to-month subscription or $113.86 for a pre-paid three month subscription.  You may cancel your subscription at any time.
Coupon: Use the code WELCOME15OFF to save 15% off your 1st box.
What is in the box?  Each box comes with 10 to 12 different products each month.  They are valued between $40-$80.
How are they different?  Raw Box features tasty raw snacks and clean lifestyle products.  Special offers may be included in the box as well.  The items are enjoyed by Raw Foodists, Vegans, Vegetarians, Celiacs, Paleo-ists, Athletes, Dieters, Health Enthusiasts, and more! Items are plant based, gluten-free, soy-free, raw, dairy free, non-gmo, and wheat free.
Shipping:  Free!!!!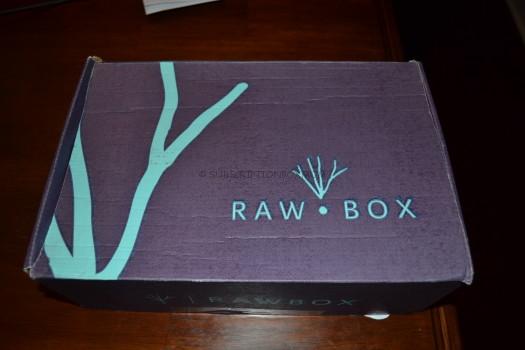 Here is the first look at the box!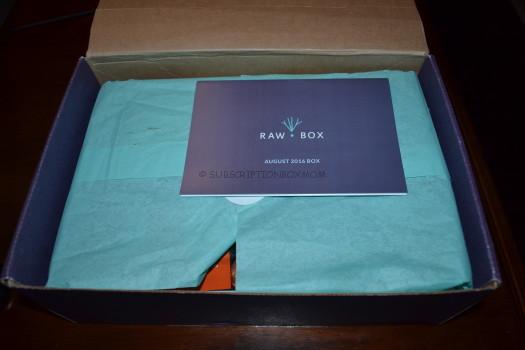 Very neatly packaged!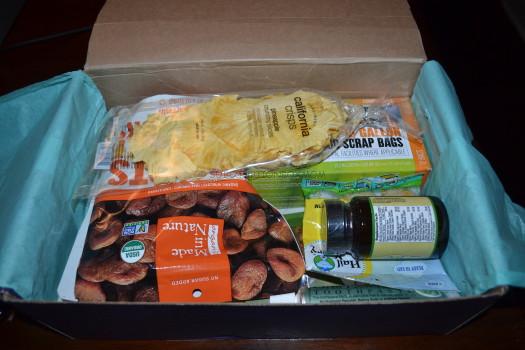 Here is a first look at the goodies!
This brochure tells you all about each product, as well as the suggested retail price and places to buy the product (online and stores it is carried in).  I like that feature in case I love something I don't have to hunt it down!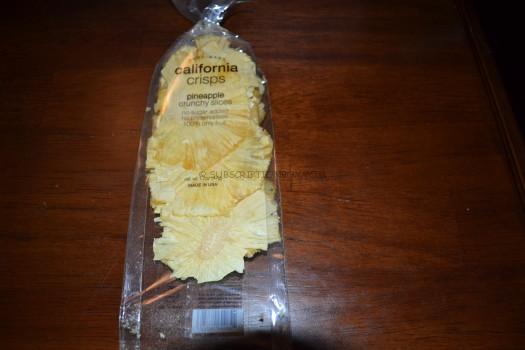 California Crisps Pineapple Crisps:  These are all-natural fruit crisps. I love pineapple, and these were amazing!  They didn't look particularly appetizing, but I couldn't stop eating them.  These retail for $5.99 and the website has many other flavors!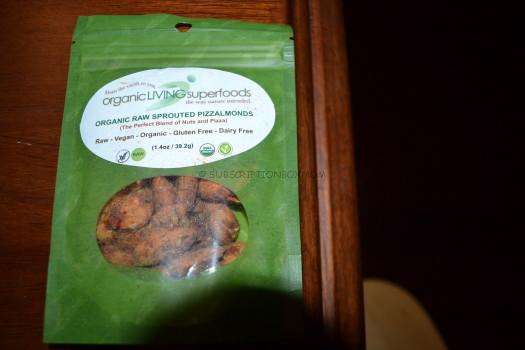 Organic Raw Sprouted Pizzalmonds: Pizza flavored almonds.  Who would have thought???  I'm glad someone did, as these were so yummy!  It tasted like an unhealthy Combo snack, but it was a nut!  These retail for $3.99.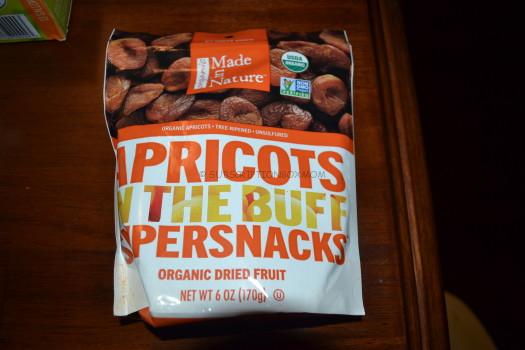 Made in Nature Organic, Unsulfered Apricots:  I have never really like dried apricots, but these were actually really good!  They were just the right amount of chewy and sweet.  These retail for $4.25 and there are lots of other flavors!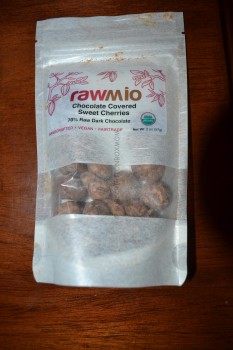 Rawmio Chocolate Covered Sweet Cherries:  Healthy chocolate covered cherries…once again…who would have thought??  They are generously coated in a dark chocolate with no glazes, refined sugar, or additives.  Retail is $5.49.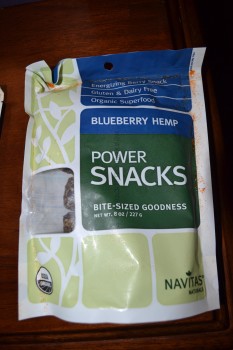 Nativas Naturals Blueberry Hemp Power Snack:  This brings together the two superfoods of blueberry and hemp. I can't lie.  I was skeptical by the name, but these were super tasty!  Even the hubby liked it! You can even crumble them on pudding, cereal, or ice cream!  These retail for $9.99.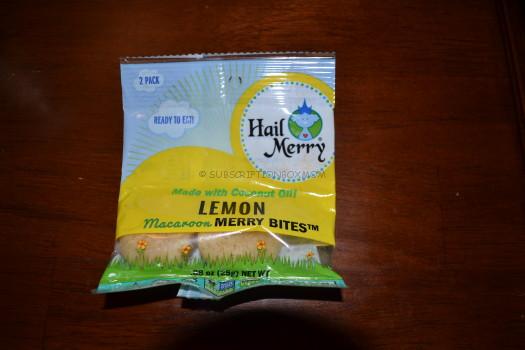 Hail Merry Lemon Macaroons: These are my favorite thing in the box…oh my goodness!!!!   Sweet, good for you, and made with pure ingredients!  These retail for an amazing $1.30, and taste much better than a candy bar that costs that!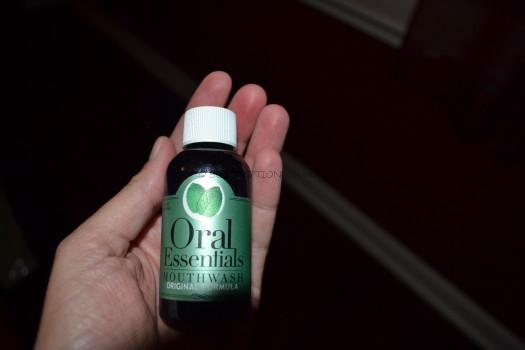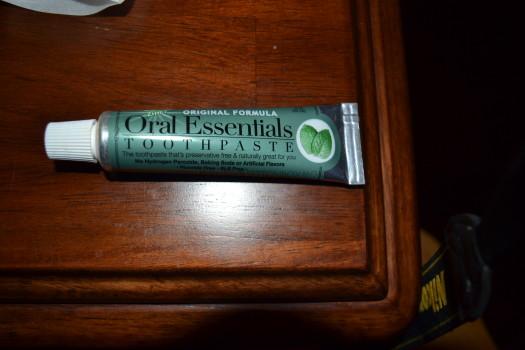 Oral Essentials Original Formula Mouthwash and Fresh Breath Toothpaste:  My husband tried these and said "if they were going for non-offensive, they did it!".  He liked that it wasn't overly medical tasting like other mouthwashes.  These retail for about $5 for the set.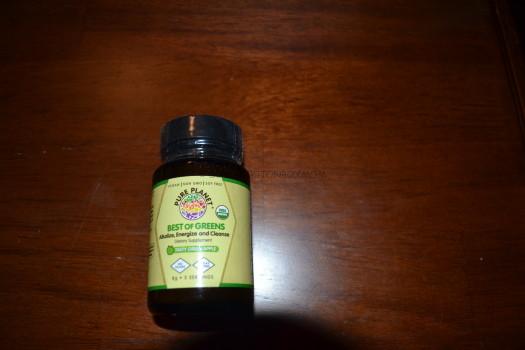 Pure Planet Best of Greens (tasty green apple):  Mix one teaspoon of this with 8-12 ounces of water each morning or include in your favorite smoothie to alkalize, energize, and detoxify your cells.  I'm going to try it with a smoothie since it has greens in it lol!  This retails for $3.29 (3 servings).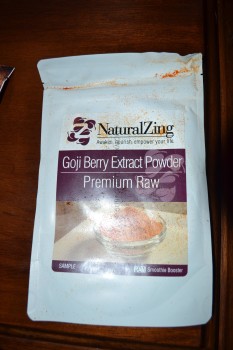 Natural Zing Premium Goji Berry Extract Powder:  This can be used to super power your smoothies and does wonders for your immune system and anti aging!  Woo hoo! This is a sample, but 8 ounces retails for $22.95.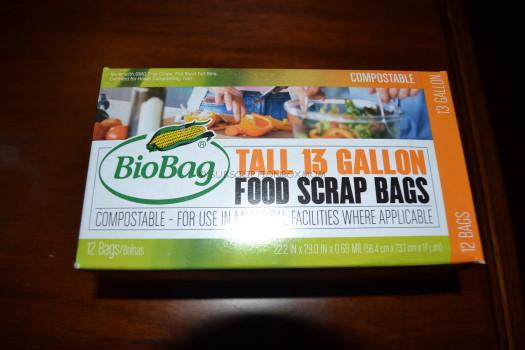 Bio Bag Tall 13 Galon Food Scrap Bags:  Instead of using plastic bags that don't biodegrade, you can use these that can be consumed by micro organisms that live in our soil.  They fit most kitchen waste cans and are sturdy!  They can also be used for collecting outdoor organic waste.  Retail is approximately $5.
Final Thought:  I loved this box!  The value came out to about $47, so it was worth the price.  I loved all of the snacks and that they were good for me, which I have been looking for lately.  If you are a health nut or just want some healthier choices, I recommend trying this box.  I loved the variety of sweet and salty snacks, as well as the non food items.  Great job Raw Box! Use the code WELCOME15OFF to save 15% off your 1st box.
Do you like FREE SUBSCRIPTION BOXES?  Click HERE to see my free subscription box list.
You can see my FULL coupon list HERE.
Do you love Giveaways?  Click HERE to enter all my Giveaways