Home
»
Uncategorized
»
Hello Fresh – Weekly Recipe Box Subscription – $40 off your first Box!

October 10, 2016
10/10/16

By Gigi C

0 Comments
0
Hello Fresh – Weekly Recipe Box Subscription – $40 off your first Box!
Disclosure:  This post contains affiliate links.  
Guest Review Alert- Gigi!  I'm back again with another food box review – this time it's Hello Fresh!  I try to cook homemade, healthy dinners at least a few times a week and I was excited to try this as I'd heard a lot about it.  Hello Fresh delivers "delicious and healthy recipes with all the pre-measured ingredients to your door each week."
HelloFresh is a weekly recipe box subscription that includes a box of fresh ingredients and delicious recipes to make 3 meals.  Each week their chefs create amazing recipes for you that are easy to prepare.  The meals are interesting yet simple (no fancy equipment or techniques, and no obscure ingredients) and they ensure that your diet is balanced and varied.   You can choose the 2-person option (3 meals per week for two people) or the 4-person option (3 meals per week for four people).  Choose the classic box (starting at $69 for two) or the vegetarian box (starting at $59 for two).  You always have 5-6 recipes from which to choose.
**Special offer – use referral code AKK268 and get $40 off your first box!**  
The boxes are very well organized and each recipe is individually packaged in its own box.  The meats (if you choose the classic box) are in the bottom of the box packed in Nordic Ice Packs, which are reusable.
First Look:  My last delivery was on September 22nd and featured 3 delicious recipes:  Dukkah-Crusted Pork Chops,  The Icon Burger, and Honey-and-Ginger-Glazed Chicken.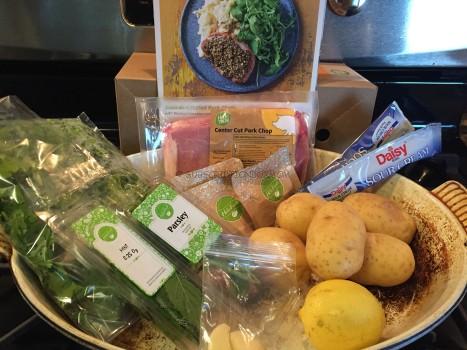 Dukkah-Crusted Pork Chops:  I love a good pork chop dinner and I was excited to try a new take on how I usually prepare them.  This recipe didn't disappoint. Dukkah, pronounced DOO-kah, is an Egyptian spice blend with almonds, sesame seeds, coriander, and cumin. It can be served as a dip with bread and olive oil or sprinkled on everything from roasted vegetables to fish. In this recipe, Hello Fresh chefs combined the spice with herbs and lemon zest for an irresistibly nutty crust on pork chops.  Sides were mashed potatoes and lemony greens, but instead of the greens that came with it, I made some asparagus as a side, since I had to use it up before it went bad!
The Icon Burger:  This was seriously one of THE BEST burgers I've ever had.  It was stacked high with a rich short-rib blend, mild cheddar cheese, crunchy pickles, and red onion—not to mention a thick potato bun slathered with mustard and ketchup.  The side was crispy baked zucchini fries to give this iconic dish a healthy twist.
Honey-and-Ginger-Glazed Chicken:  We love all kinds of Asian food, so this was one of the recipes I was most excited to try – and it was SO easy!  I am always intimidated by different sauces and glazes in Asian cuisine, but this was so simple to make that I'll be putting this on my menu rotation!  Vinegar, soy sauce, ginger, and honey combine for a ridiculously easy and incredibly flavorful sweet-and-sour glaze.   Paired with Jasmine rice and snap peas, this dish was incredibly good.  We'll definitely be making this again.
Final Thought:  I love that everything comes to you ready to cook.  There are no weird ingredients that you have to buy a whole jar of just for one recipe you'll never make again.. Everything is fresh, and it gives me an opportunity to try things I normally wouldn't.
I also love that everything is packaged individually – so everything I need for the recipe is in one box (within the larger box).  The recipes are straightforward, very easy to follow, and don't take long to complete.  Each recipe took about 35-45 minutes from start to finish.  You definitely don't need to be a master chef to cook like one!

 I also like that I can pause whenever I like, and start up again just as easily.  It makes cooking with a hectic schedule (like most families I know) easy.
If you want to try HelloFresh, use referral code AKK268 and get $40 OFF your first box!  That's only $29 for 3 meals with the classic box (2-person) – that's a steal!
I hope you enjoyed my guest review – stay tuned and hopefully Erin will let me review another one soon!

Do you like FREE SUBSCRIPTION BOXES?  Click HERE to see my free subscription box list.
You can see my full coupon list HERE.