October 5, 2016
10/05/16

By Kristi Klemish

0 Comments
0
Blue Apron September 2016 Review + Free Meals
Disclosure: I received this box for review.  This post contains affiliate links.
Hi all!  It's Kristi doing another guest review, and this time I'm doing another meal subscription box review.  I love to cook, but sometimes recipes with strange or expensive ingredients intimidate me….so I was excited to pick some more meals from Blue Apron that looked extra yummy!  I loved the last box, so I was hoping these would be easy and tasty as well!
Blue Apron is a meal subscription box that sends you delicious recipes and all the ingredients you need to make the dishes.  There are two plans, a two-person plan and a family plan.  The two-person plan is $59.94/box or 9.99 per serving.  The two-person box includes two plates of three different meals (six services).  The family box is $69.92/box for two four-person meals, (eight services) or $8.74/serving.
When you sign up, you check all the kinds of food you like.   Each week, you will be sent meals based on your preferences.  Shipping is free and you can skip any week or cancel any time.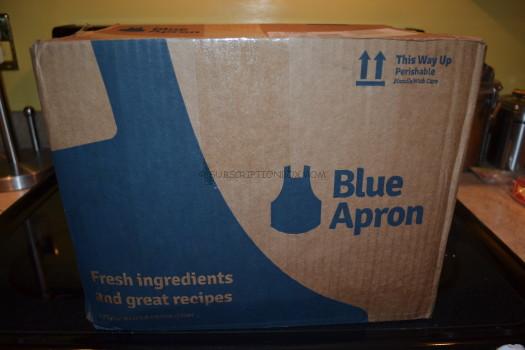 Blue Apron ships in a great big box!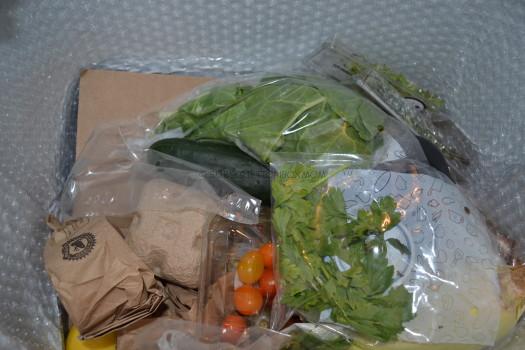 That silver stuff is some awesome insulated padding!  It was another hot day when it was delivered while I was out.  Everything was still cold when I opened it!  All the fresh ingredients/non-meat items are packed on top.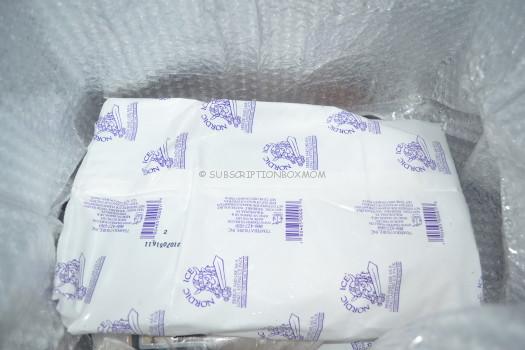 Then there are two huge ice packs encompassing the meat.  Like I said, it was 95 degrees the day it was delivered, and it was all still nice and cold by the time I got to it.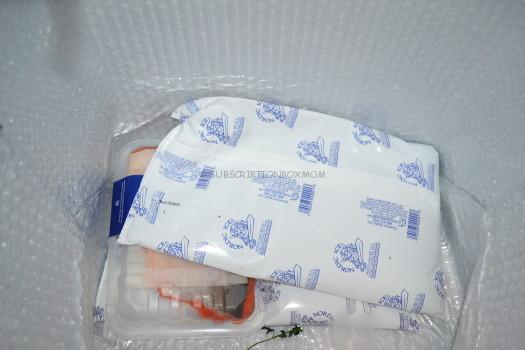 This one only had one meat part, but you get the idea here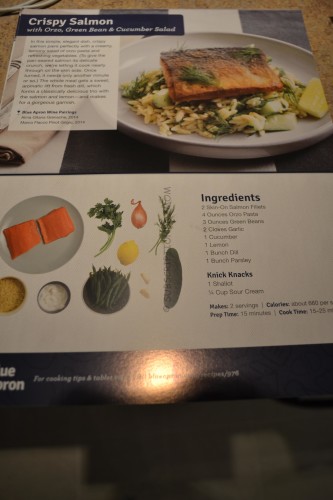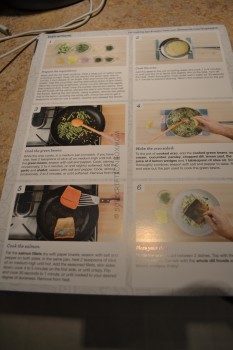 Each meal comes with a two-sided recipe card for you to follow.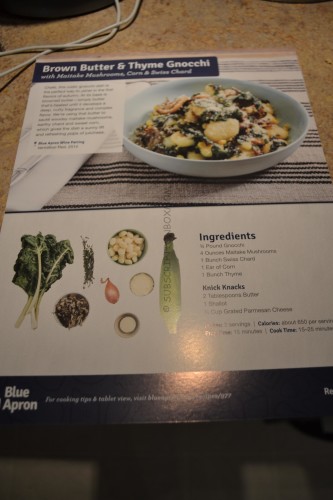 First we tried the Brown Butter & Thyme Gnocchi.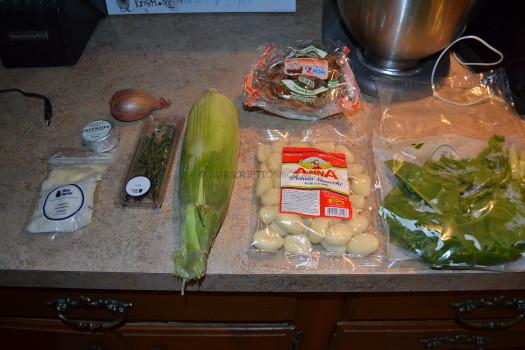 Here are all the ingredients (from the front side of the card).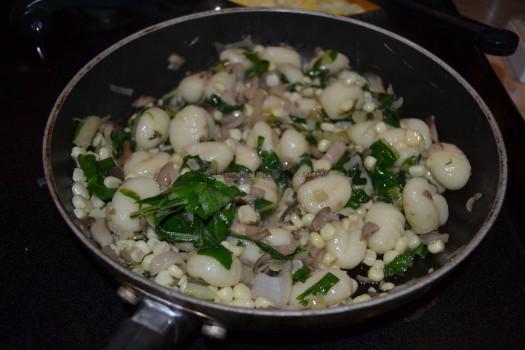 Simmering away….YUM!
The finished product!  This one was super easy to make, and just like last month, I only had to use a cutting board, a pot, and a skillet to make it.  I have never had gnocchi, and let me tell you….it was AMAZING!  I'm so glad I tried this one.  The hubby loved it too.   I was sure there wasn't enough for two of us, but it more than filled us up!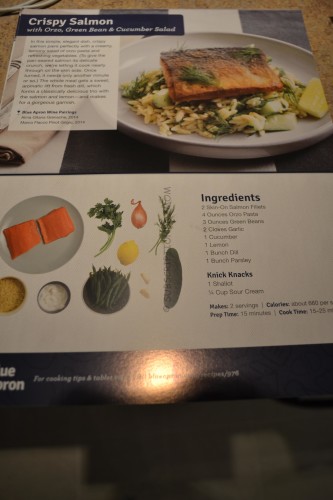 Next up was the Crispy Salmon.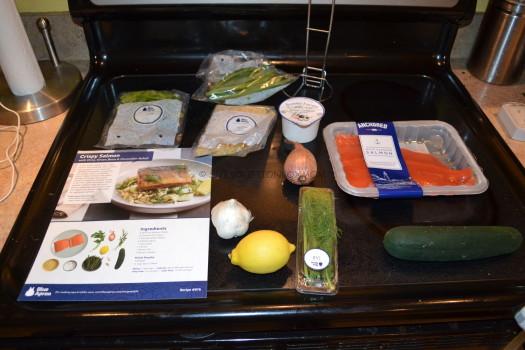 Here's my stash of ingredients ready to go!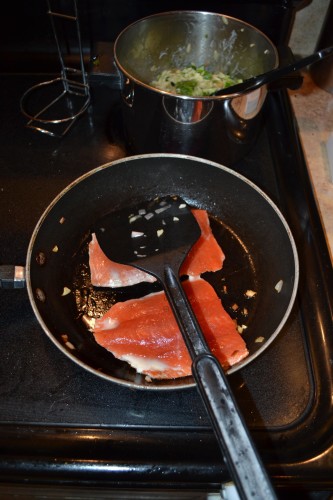 Cooking away…..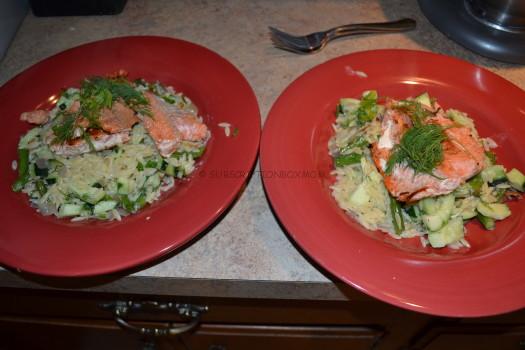 …..and YUM!  The finished product.  This was my husband's favorite meal of the three.  He said he loved that there wasn't over seasoning and you could taste the freshness of the ingredients.  Once again, it more than filled us up (and used very few dishes

).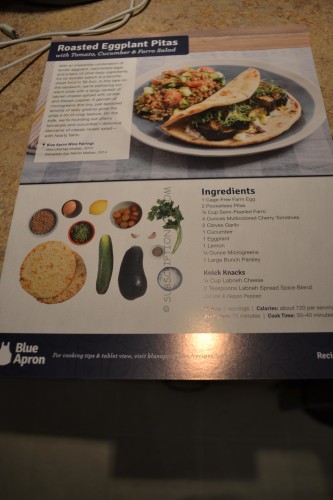 Last but not least were the Roasted Eggplant Pitas.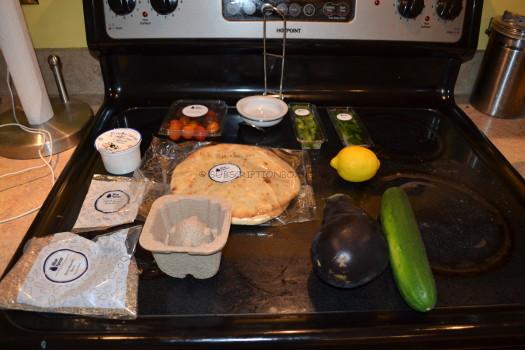 All set up and ready to go!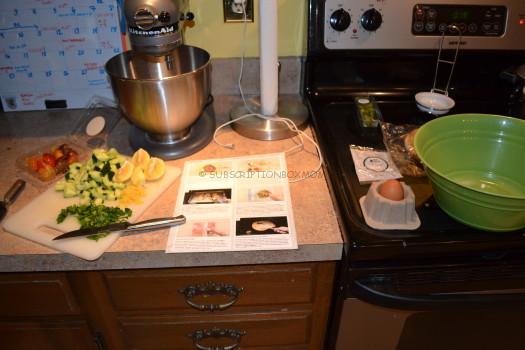 So much fresh stuff to add!  This one was a bit more complex with ingredients and cooking multiple things to get done at the same time, but nothing too hard to handle!  **** here is a trick for less dishes……I just cut stuff up on my board and pile it up!  It makes it so much easier than getting out a bunch of little dishes!***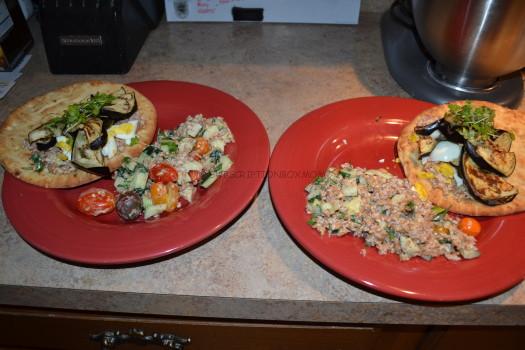 Here is the finished product!  I'm torn if this or the gnocchi was my favorite!  I will admit….I goofed the instructions and added the sauce to the side dish, which wasn't supposed to happen, but I think it made the dish even better!  The hubby was torn as to this being his favorite too, even though he originally cringed about the eggplant.  ***last insider tip…..I swear you will always think it's not enough food when you take it out….but it is!!!****
Final Thought:  I really liked all the recipes.  Once again, it is nice that everything is prepackaged with the right amounts and have detailed instructions.  I felt like I was making gourmet meals

 I won't lie….cutting up the produce takes a little time, but it's so worth it!!  The only downside is my kids won't eat it/we'd have to up to a four person box if they would.  If you have a busy schedule and love to cook, this would be a great option to try!  After you are a subscriber you can skip a week any time.  Use this link to get 3 Free Meals with your subscription.
Do you like FREE SUBSCRIPTION BOXES?  Click HERE to see my free subscription box list.
You can see my FULL coupon list HERE.