September 16, 2016
09/16/16

By Subscription Box Mom

2 Comments
2
The Nick Box Summer 2016 (Premier) Review + Fall/Winter Spoilers
Nickelodeon has released an Official subscription box, The Nick Box.  The Nick Box is a quarterly subscription box, filled with over $100 in products, at $49.99/quarter (plus s/h).  Each box is filled with officially licensed toys, collectibles, and exclusive products. You can subscribe for a year and pay $183.99/year ($44.95/quarter).
The Details
Cost: $49.99/quarter, $183.99/year.
What's in the box?  Each box is filled with officially licensed toys, collectibles, and exclusive products.
Shipping: Shipping is $7.00 and ships quarterly.
The box was set to ship mid August, but most didn't start shipping until later, due to a delay.  The box was so colorful and filled with all kinds of Nick Jr cartoons.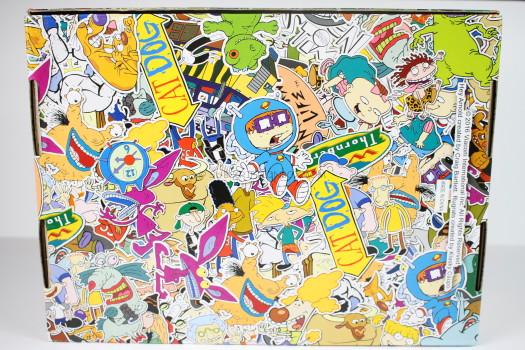 I never take pictures of bottom of boxes, but this box needed the exception.  Isn't the box so cool?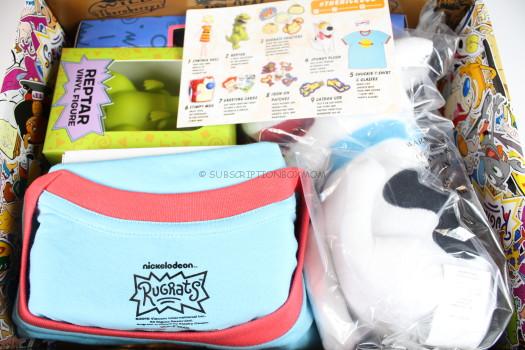 First Look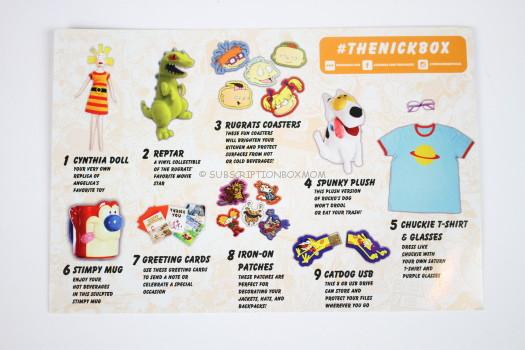 The information card had color pictures and descriptions of everything in the box.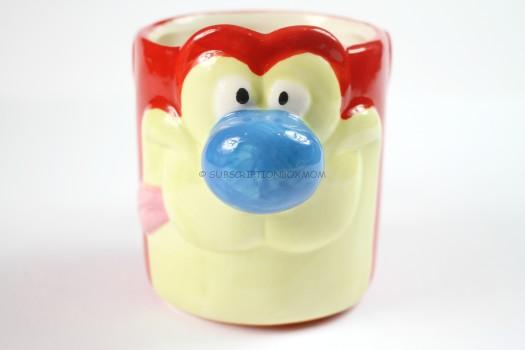 Stimpy Mug (Ren and Stimpy) This mug is so cute and perfect for my husband.  My husband loves hot tea and coffee, so this will be used right away.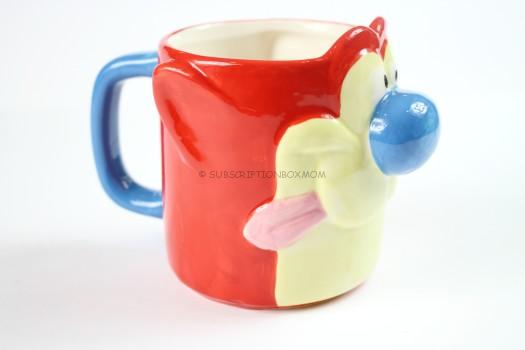 Here is a side look at the mug.  I love the tongue sticking out.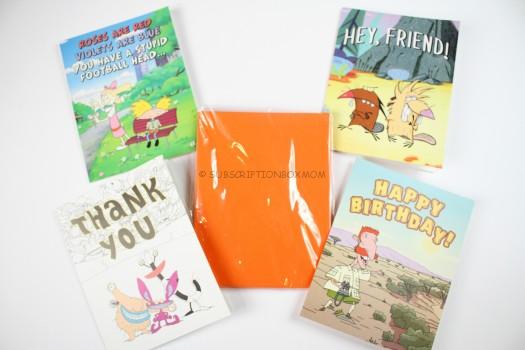 Greeting Cards There were four greeting cards, one eat from AAAHH!!! Real Monsters, Hey Arnold!, The Angry Beavers, and The Wild Thornberrys.
Here are each of the cards:
(AAAHH!!! Real Monsters) "Thank You……For Being an aaaah-mazing Friend"
(Hey Arnold) "Roses are Red, Violets are Blue, You have a stupid football head…..But I still love you."
(Angry Beavers) "Hey, Friend!………Thanks for giving a dam".
(The Wild Thornberrys) "Happy Birthday…..Hope you have a smashing day!"`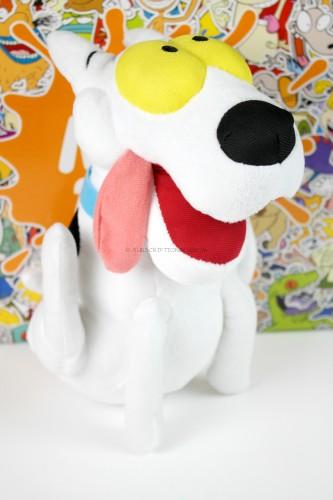 Spunky Plush (Rocko's Modern Life) I don't think I ever saw this show, but the only time I saw Nick Jr was on vacation, since we didn't have cable.  My husband was the big Nick fan and had cable.  This is a really nicely made plush and my 4 year old seem to have claimed it for himself.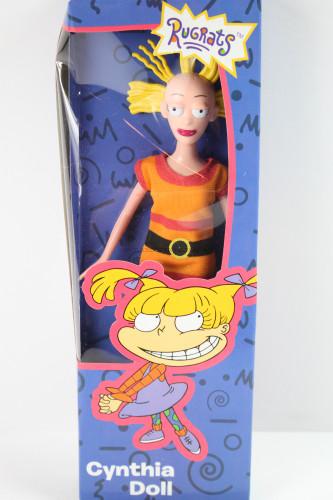 Cynthia Doll (Rugrats) This was my favorite item in the box.  When I got the opportunity, I always watched Rugrats.  Cynthia was a much-loved doll and has went on many adventures.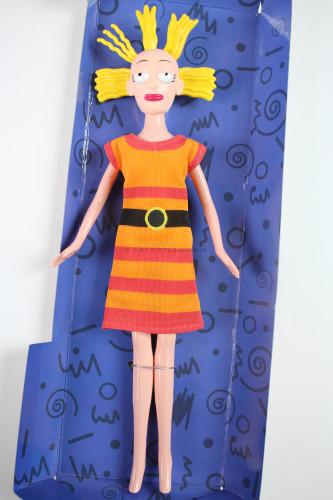 My box was a bit damaged, so I slid her out of her box for a better picture.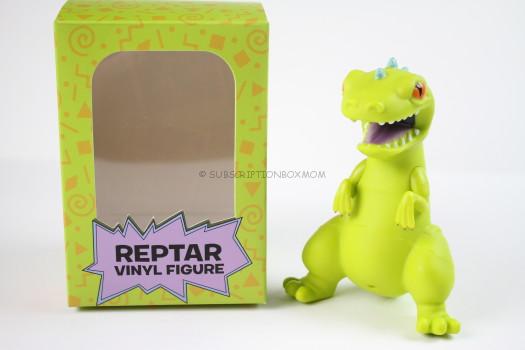 Reptar (Rugrats) This vinyl figure is too much! Just like the Rugrats, my husband and I love Reptar.  I am not sure if they will end up at my husband's geek collection at work or on my desk at home.  We may need two!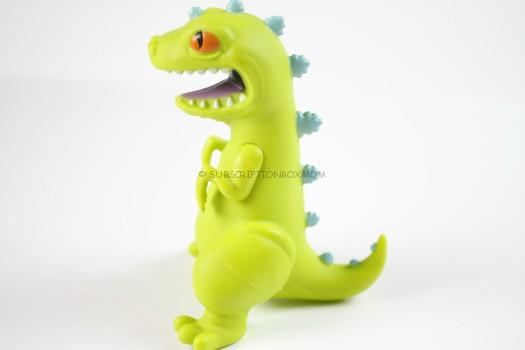 This is a side look.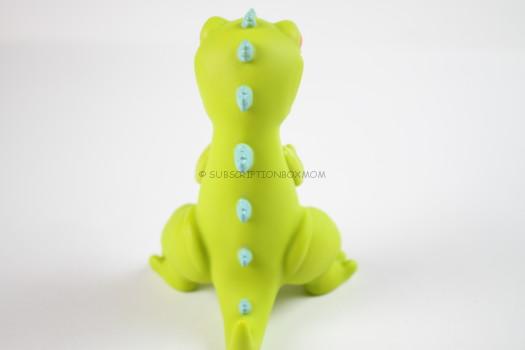 This is a view of the back.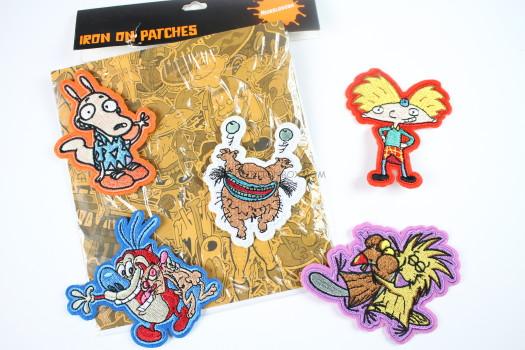 Iron On Patches There were 5 iron on patches from Nick Jr: Rocco, Krum, Arnold, Ren & Stimpy, and The Angry Beavers.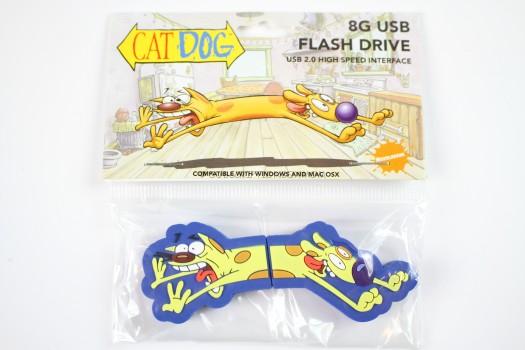 Catdog 8G USB Flash Drive (Catdog) I love the only way to use this flash drive is to pull Catdog apart.  This is a really useful item, which I was really glad to see.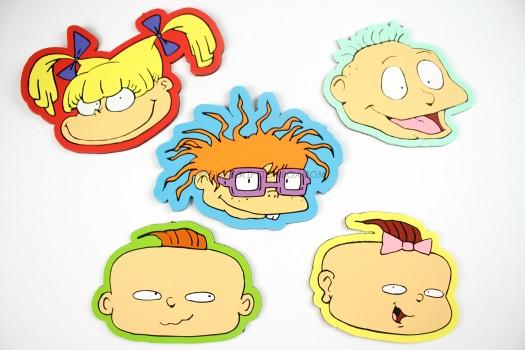 Rugrats Coasters I thought these might be magnets when I first saw them, but they are coasters.  We received all the Rugrats: Chuckie, Tommy, Phil, Lil, and Angelica.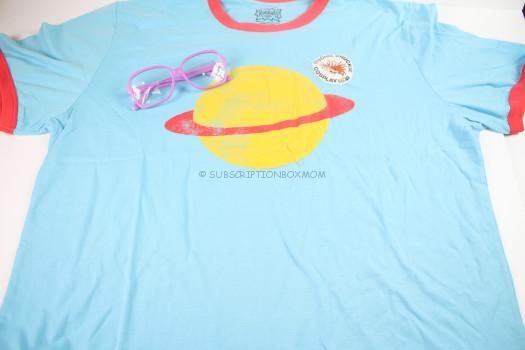 Chuckie T-Shirt & Glasses Perfect in time for Halloween or just every day, there was a Chuckie shirt and glasses.  The t-shirt is super soft and comfortable, not just a generic geeky shirt.  The glasses are also nice quality.  The plastic is nice and thick, so they are not going to break.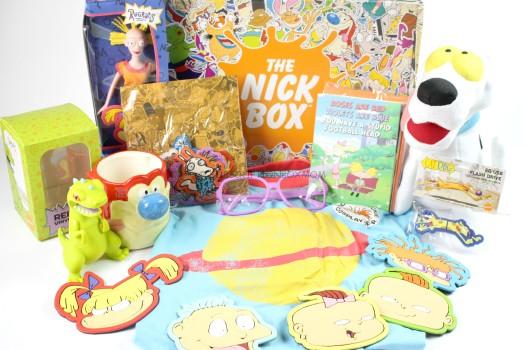 Final Thought: This was a great box and I was impressed that I was familiar with so many items. I loved the Rugrats, so those items were my favorite things in the box.  My husband really liked the Stimpy mug and the flash drive.  We subscribed for a year for the best savings.  If you want to subscribe, check them out here.
Spoilers

Fall Boxes will be themed 90's are All That.  Winter Boxes will contain Teenage Mutant Ninja Turtles.
Do you like FREE SUBSCRIPTION BOXES?  Click HERE to see my free subscription box list.
You can see my FULL coupon list HERE.