September 1, 2016
09/01/16

By Subscription Box Mom

0 Comments
0
Takeout Kit August 2016 Review
Disclosure: This post contains affiliate links.  I received this box for review.
Takeout Kit is a meal subscription box that sends everything you need to make a complete meal for 3-4 adults.  What makes Takeout Kit unique, is all the ingredients stay fresh for two months and there is nothing else to buy in the store.
Each month you will receive a new kit with ingredients to make a dish from somewhere around the world.  Some of the dishes include: Burmese Khao Soi, Chickpea Tikka Masala, Sichuan Mapo Tofu, Thai Crab Curry, Korean Soft Tofu Stew, Ethiopian Lentil Stew & Injera, Argentinian Empanadas & Sofrito, and more.
This subscription was founded after the owner struggled making fresh food meals subscriptions before they expired.
The Details
Cost: $27.00/month or $48.00/month for 2 kits
What's in the box?  Each box contains all the shelf stable ingredients to make a dish for 3-4 adults.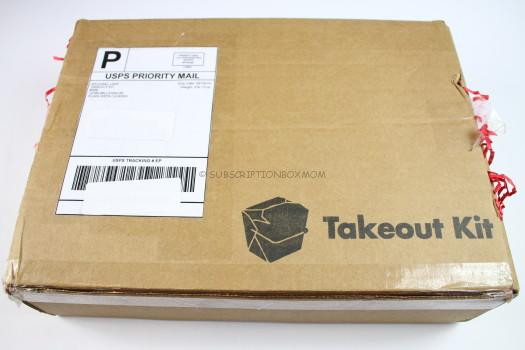 Everything shipped by priority mail and came in a brown box.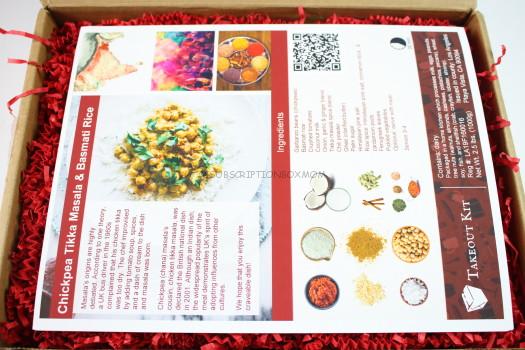 First Look.  Everything was nicely packed, so nothing was broken.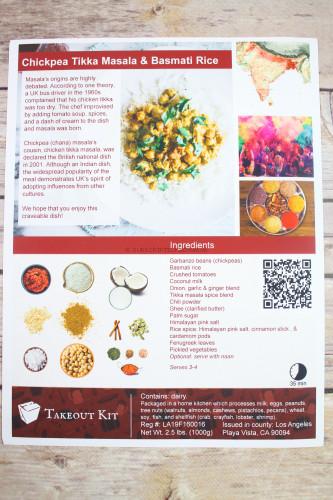 The featured dish was Chickpea Tikka Masala & Basmati Rice.  This dish comes from India, but the dish may have connections to the UK.   It is said that masala was made when a UK bus driver in the 1960s complained that his chicken tikka was too dry.  The chef improved the dish with tomato soup, spices and cream.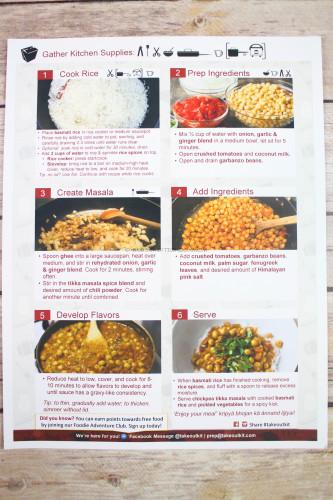 The back of the recipe card included directions for the recipe.  The top of the card lists all the kitchen tools you will need.  I am not a big cook, but I had everything needed to make the dish.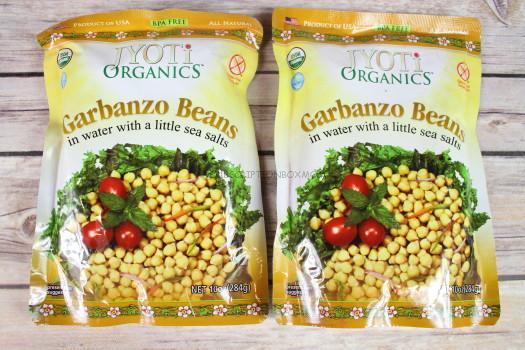 2 packages of garbanzo beans.  To prepare these, just drain!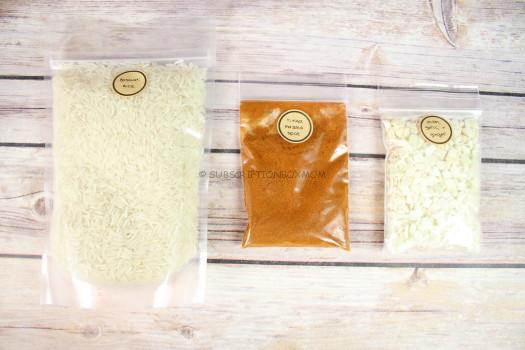 Basmati rice, Tikka masala spice blend and onion, garlic & ginger blend.  This dish smells so good as it was cooking!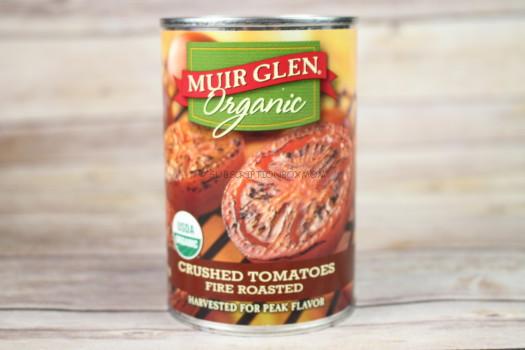 Muir Glen Fire Roasted Crushed Tomatoes.  The tomatoes helped calm down the spices in this dish.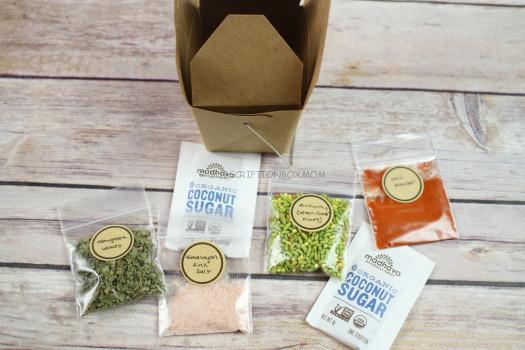 All the spices were in a cute little takeout container: fenugreek leaves, Himalayan pink salt, palm sugar, chili powder and after dinner mints.  You can add as much chili powder to the dish as you wish.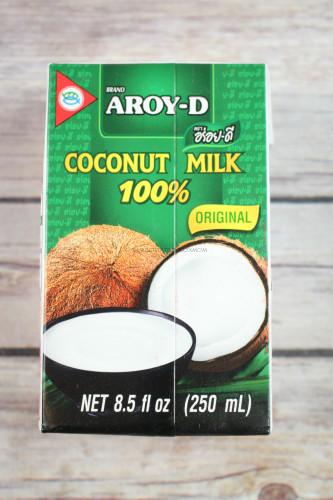 The coconut milk helped give the dish the creamy texture.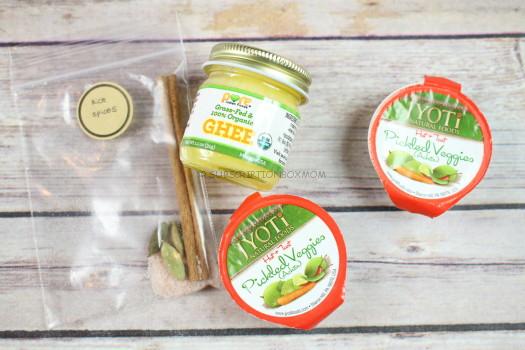 The last of the ingredients were spices for the rice, organic ghee and pickled veggies.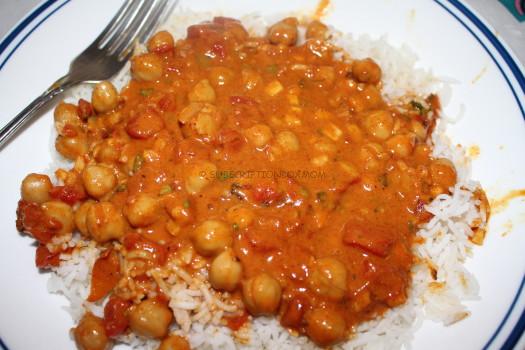 The Finished Dish!  The photo shows just one serving.
The dish turned out great and was really easy to make.  I likes that there wasn't a rush to make the meal.  We didn't love the pickled veggies, so we left those off the dish.  Be careful how much chili powder you put in the dish, a little goes a long way.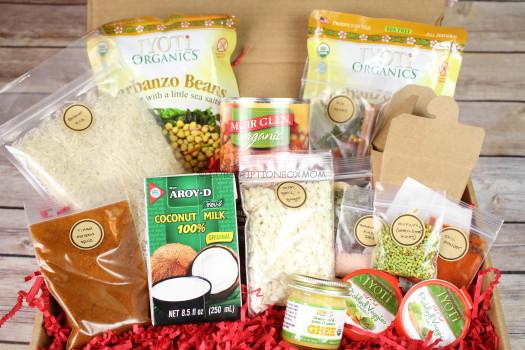 Final Thought: I really loved this subscription.  The dish was easy to make and I like that is was something I wouldn't normally make.  The price is great too, $27.00 for 4 adults is a great deal.  It's very expensive eating out for a family of four, especially now that my kids are too big to share meals.  If you want to try Takeout Kit, use this link.
Do you like FREE SUBSCRIPTION BOXES?  Click HERE to see my free subscription box list.
You can see my FULL coupon list HERE.