September 21, 2016
09/21/16

By Subscription Box Mom

0 Comments
0
Love with Food September 2016 Deluxe Box Review + Coupon
Disclosure: This post contains affiliate links.
Love with Food's theme for the September 2016 box is  "Love is Learning".Love with Food is a snack subscription box that sends snacks that are organic or all-natural, GMO-free, gluten-free or free of artificial junk.
 The Tasting Box is $9.99/month with free shipping and contains eight or more snacks.  The Deluxe version that features 16-20 snacks and is $19.95/month (free shipping).  For those on a gluten-free diet, the gluten-free box contains 8-12 snacks for $24.50/month.  Keep reading to the end of the review for coupons to save on a Love with Food subscription.
I recently upgraded my Tasting Box to the Deluxe.  With having a family of four, I wanted more snacks in my box and I liked the exclusive snacks in the Deluxe box.
The deluxe box comes in a much larger box than the tasting box.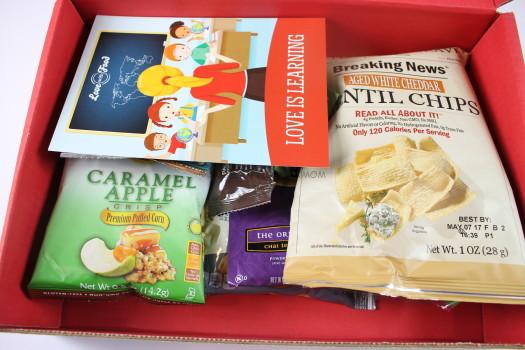 First Look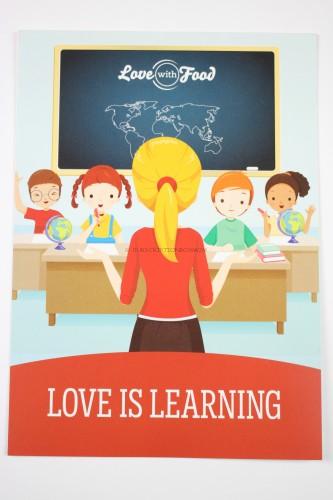 There was a themed card in the box.  To find out about the snacks in your box, log into your account.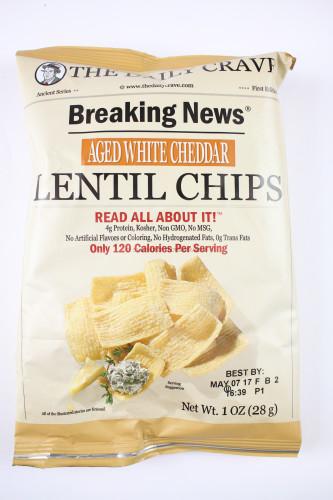 Aged White Cheddar Lentil Chips by The Daily Crave I love lentil chips, actually I rarely meet a chip I don't like.  These chips are flavored with white cheddar and have 4 grams of protein and are free from artificial colors/flavors.  In terms of chips, these are a much healthier version than regular potato chips.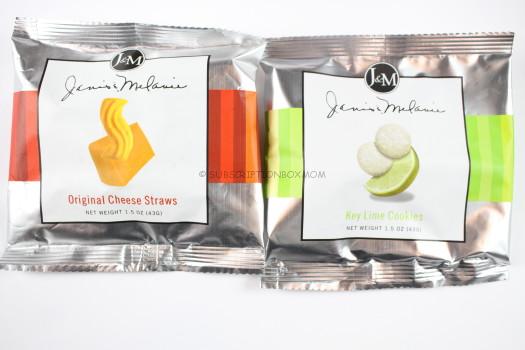 Original Cheese Straws and Key Lime Cookies by  J+M Foods I remember having these cheese straws and it turns out, it was in 2014!  The cheese straws have cheese with a little kick to them.  The key lime cookies are covered in a powdered sugar and have just the right amount of lime.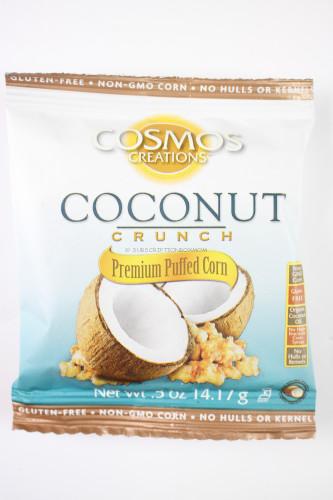 Coconut Crunch Premium Puffed Corn by Cosmos Creations This popcorn is a puffed corn snack, flavored with coconut.  It is gluten free, non gmo and it doesn't have any kernels.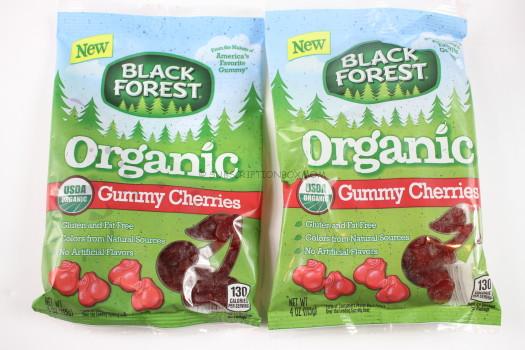 Organic Gummy Cherries Black Forest Organic My whole family loves gummies!  These cherry gummies from Black Forest are dairy free, gluten free and organic.  One bag is already gone, so I am going to have to hide the other one for a special treat.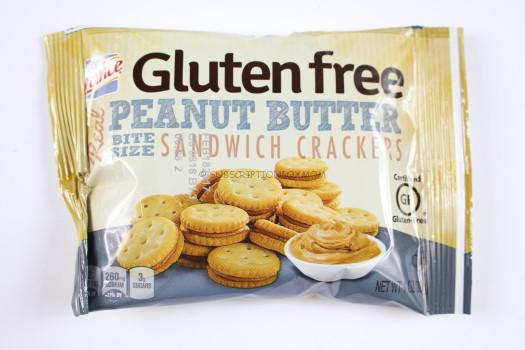 Sandwich Crackers by Lance These are similar to the peanut butter Ritz crackers but are gluten free.  I was surprised to see they were made by Lance!  My 4 year old loved these.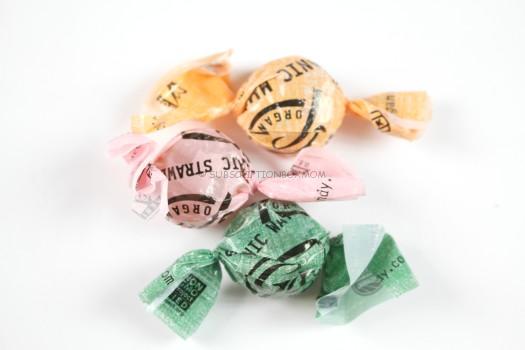 Fruit Candies GoOrganic  I have had these a few times and even ordered them.  My while family loves these fruity candies and they are much healthier than other typical candy.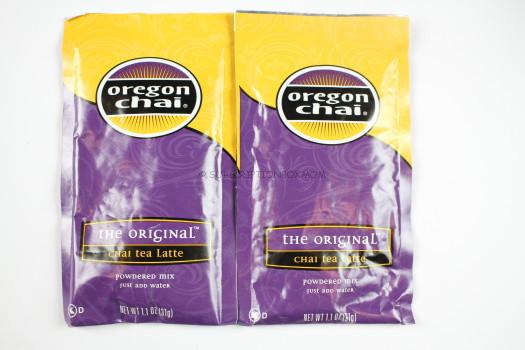 Chai Tea Latte Powdered Mix Oregon Chai This mixes with 8 ozs of warm water to make this chai tea latte.  My husband likes tea and coffee, so these will go to him.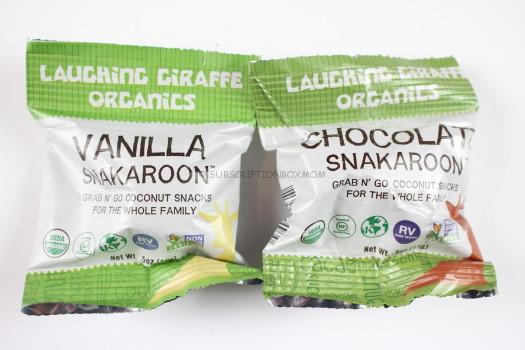 Chocolate and Vanilla Snakaroons Laughing Giraffe Organics We don't really love macaroons, so these will go to him.  I remember from past boxes that my dad loves these.  The deluxe subscribers received one of each flavor.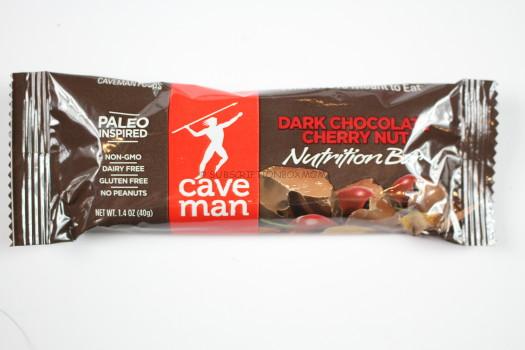 Dark Chocolate Nutrition Bars by Caveman Foods This is another snack for my husband.  He loves chocolate covered cherries and this bar sounds similar to that.  This bar is paleo inspired non-gmo and vegetarian.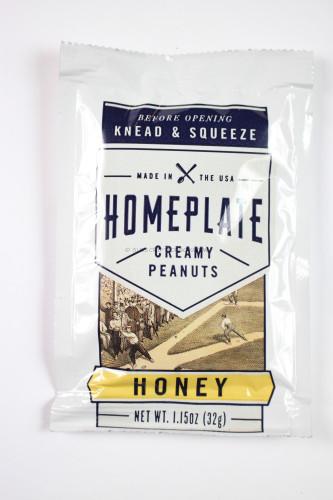 Peanut Butter Honey Spread HomePlate This is pure creamy peanuts with a bit of sweetness.  I have added this to my morning shakes and it turned out really well.  I may end up ordering more from Love with Food.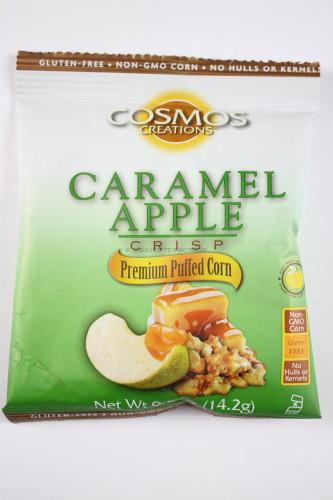 Caramel Apple Crisp Premium Puffed Corn by Cosmos Creations While I didn't care for the coconut flavor, this apple crisp version is wonderful.  I love the apple and sweet flavor in this popcorn.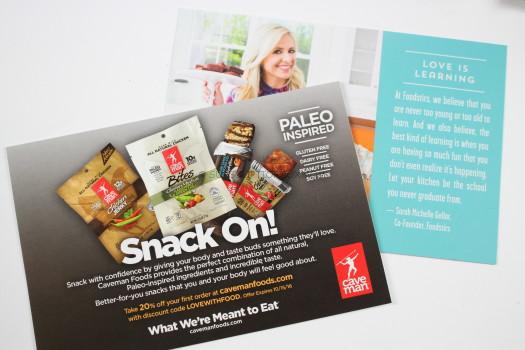 There were also two coupons in the box.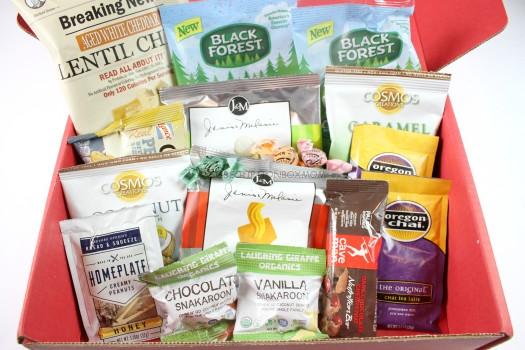 Final Thought: This was a nice box, except for the coconut.  I love the deluxe box, because it gives so many more snacks than the Tasting Box. My favorite snacks in the box were the salty treats.  You can try the Deluxe or Gluten free box 25% off for your 1st box, just use this link. BEST DEAL* Save $20.00 on a 12 month subscription plan for any subscription, when you use this link with the code SBMOM20.  You will get Good Housekeeping Magazine with any subscription plan
Do you like FREE SUBSCRIPTION BOXES?  Click HERE to see my free subscription box list.
You can see my FULL coupon list HERE.