September 28, 2016
09/28/16

By Subscription Box Mom

0 Comments
0
Horror Block September 2016 Review + Coupon
Disclosure: This post contains affiliate links
Horror Block is a monthly mystery package delivered right to your door filled with pop-horror apparel, toys, and collectibles! Every Horror Block comes with a custom t-shirt (in your size) and 5-6 epic items for you to tear into!  Use this link with the code EARLYBIRD20 for 20% off your first box.  You will enter this code after enter all your information.
The Details
Cost: $19.95 a month plus $9.50 shipping for the U.S  They do ship to other countries.
Coupon:  Use this link with the code EARLYBIRD20 for 20% off your first box.  You will enter this code after enter all your information.
What is Nerd Block Horror? Horror Block is filled with toys, collectibles, and a t-shirt from your favorite brands including A Nightmare on Elm Street, Friday the 13th, The Walking Dead, Aliens, Halloween, and many more!
The Shirts:  There are 4 categories of shirts: 1.  Guys and Gals from size S – 4XL, Women's Fitted from S-2XL, Men's Fitted from S-2XL and Youth from XS-XL  There are extra costs for larger sizes: 2XL=$1.50, 3XL=$2.50, 4XL=$3.50
When am I charged? You are charged each month on the day you registered.  So if you ordered on the 10th, you will be charged on the 10th every month.
How do I cancel? "Just email cancel@nerdblock.com with your name and address, and we'll cancel your account. Please note that all orders must be cancelled 24-hours prior to that month's Block closing date. The closing date for every month can be found at http://www.nerdblock.com under the countdown timer."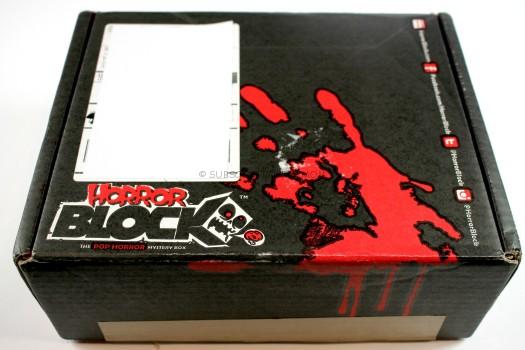 I was so happy to see Horror Block on my doorstep again.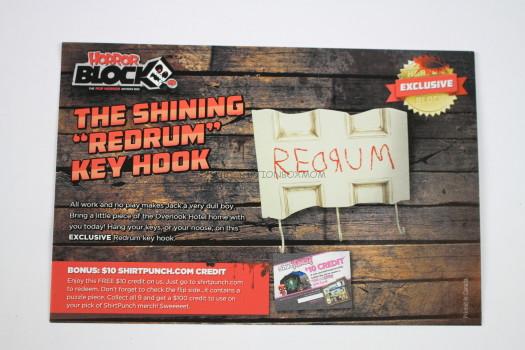 Horror Block included a two sided information card.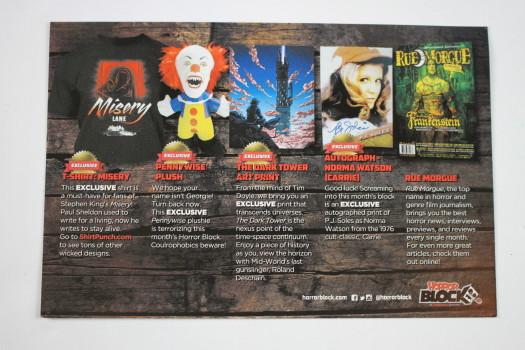 Here is the back of the information card.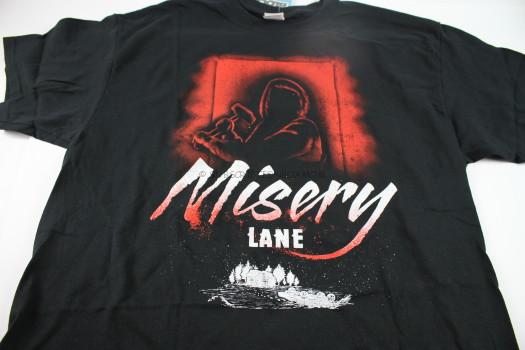 EXCLUSIVE T-Shirt Misery $15.00 Misery is a classic Steven King novel and a great movie too.  Kathy Bates did a great job in her role of Annie Wilkes.  They don't make horror movies that good anymore.  This is a shirt I will most certainty wear.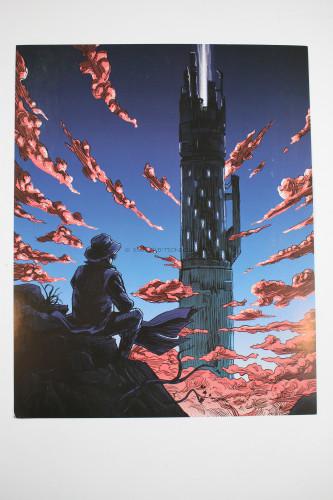 EXCLUSIVE The Dark Tower Art Print I started reading the series of these book, but never finished.  I actually can't remember why I didn't get to read them all.  This print makes me want to pick the books up again and read the series.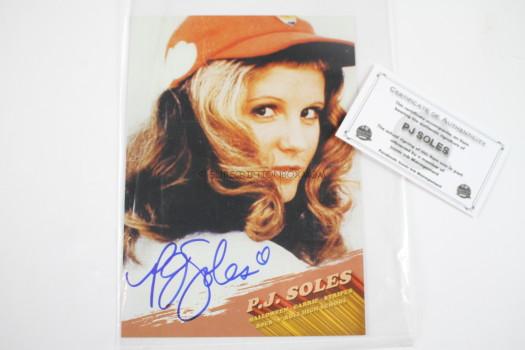 EXCLUSIVE Autograph – Norma Watson (Carrie) This is an autograph of P.J Soles, who played Norma Watson in Carrie.  She also played Lynda in Halloween, but died at the beginning of the movie.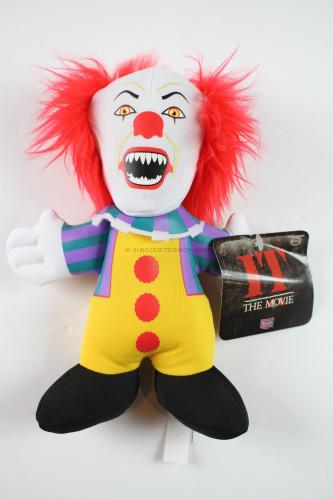 EXCLUSIVE Pennywise Plush This guy is the reason so many people are terrified of clowns.  Horror Block did a good job making this guy look creepy.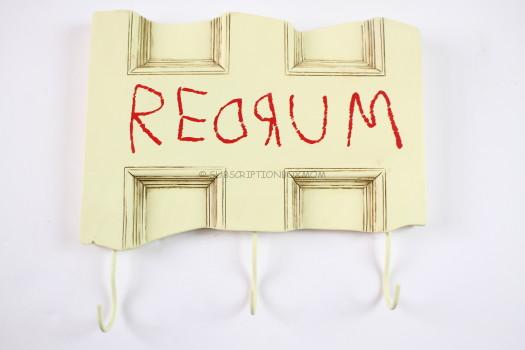 EXCLUSIVE  The Shining "REDRUM" Key Hook The Shining is my favorite horror movie of all time.  This key hook has to be one of the coolies items I have received in a subscription box.  The key hook is made to look just like the door from the movie.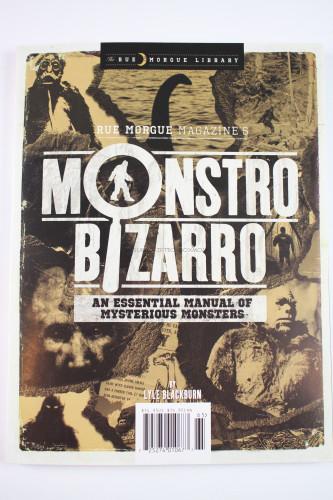 Rue Morgue Magazine's Monstro Bizarro $14.95 This is the newest in the Monstro Bizarro series and is currently on pre-order.  This book features articles about well-know monsters and some more rare.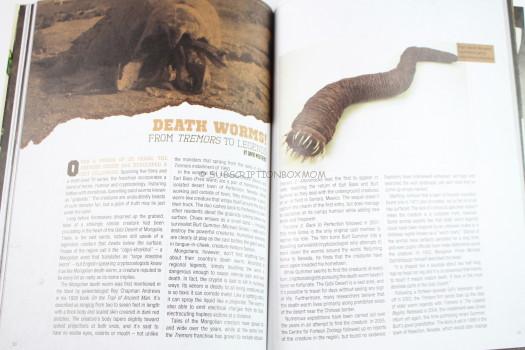 This is a look in the book.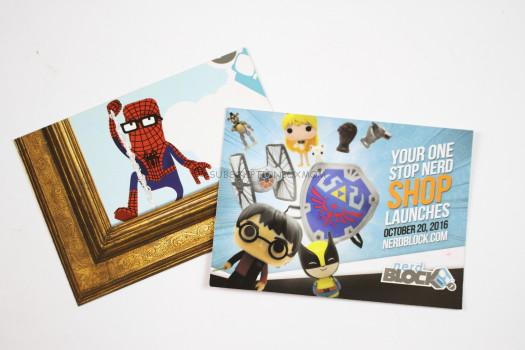 There were two coupons in the box: a $10.00 Credit for Shirt Punch and a unique code for $10.0 off your Nerd Block Store purchase.  The Nerd Block store opens Oct 20th.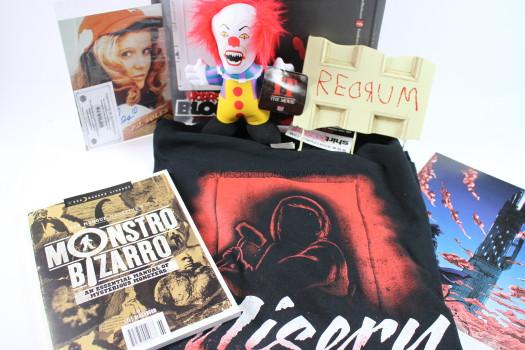 Final Thought: Most everything in the box was exclusive, so I couldn't get a retail value of the box.  Between the shirt and the key holder alone, this box was well worth the cost for me.  This was a great welcome back to Horror Block and I am very happy I subscribed.  If you want to subscribe to Horror Block, use this link with the code EARLYBIRD20 for 20% off your first box. 
October 2016 Spoilers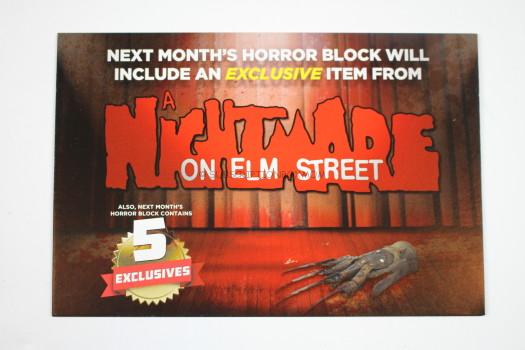 There will be 5 exclusives in the box, including one from A Nightmare on Elm Street.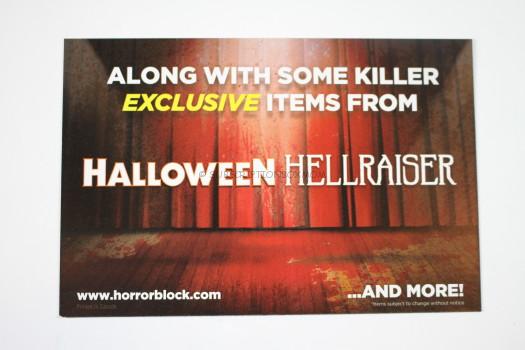 There will also be items form Halloween and Hellraiser.
Do you like FREE SUBSCRIPTION BOXES?  Click HERE to see my free subscription box list.
You can see my FULL coupon list HERE