September 15, 2016
09/15/16

By Subscription Box Mom

0 Comments
0
Degustabox September 2016 Review + First Box $6.99
Disclosure: This post contains affiliate links.  I received this box for review.
The September 2016 Degustabox was packed with so many items, it was one of my favorite boxes.  Degustabox is a new food subscription box that started in the UK.  Boxes are $19.99 available to UK and US residents and comes with 10-15 surprise food products.  Deguastabox strives to introduce you to new and exciting food products.
Degustabox also has point system, where you can earn free boxes.  You can earn points by reviewing your items, referring friends and giving gift subscriptions.  100 points equals a free box.
Here is how the point system works:
50 points for referring friends
5 points for every product survey your complete.
25 points for a 1 month gift subscription
50 points for a 3 month gift subscription
75 points for a 6 month gift subscription.
The Details
Cost: $19.99/month, $18.99/month if you pay BiAnnualy
Coupon: Get your 1st box for $6.99 with this link and the code FBD6.
Shipping: Degustabox ships to the Contiguous United States (the lower 48). This area does not include: Alaska, Hawaii, Puerto Rico, US Virgin Islands, Guam, American Samoa, Federated States of Micronesia, Marshall Islands, Northern Mariana Islands, and Palau.
What's in the box? Each box contains at least 10 full size food products.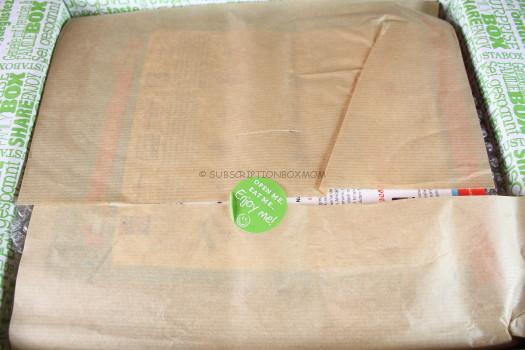 First Look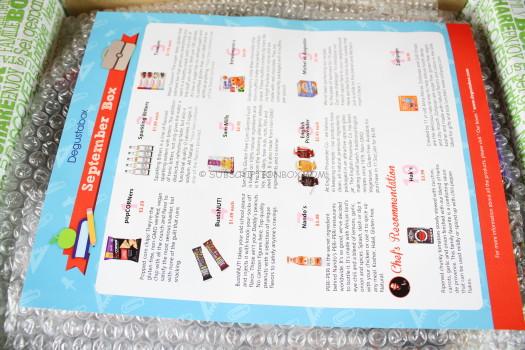 There was an information sheet on top with all the products listed.  On the back there was a recipe for Hak's One Pot Rustic Ratatouille.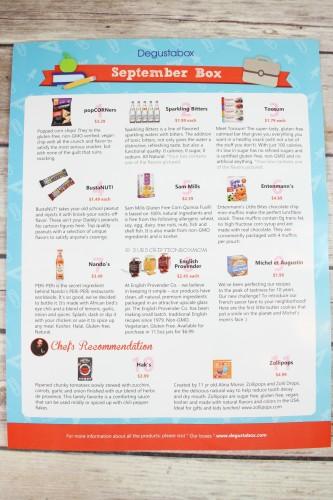 This is a look at the information card.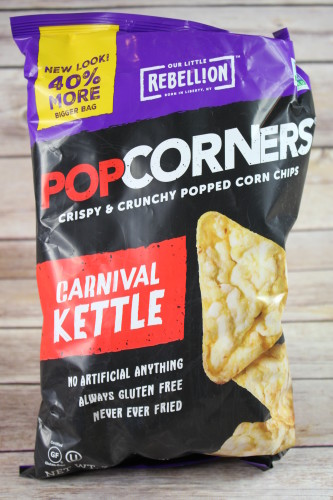 popCORNers $3.29  These are chips that are made of popcorn.  This is the carnival kettle flavor, which taste similar to something you would get at the fair.  I like dipping these in a sweet fruit salsa.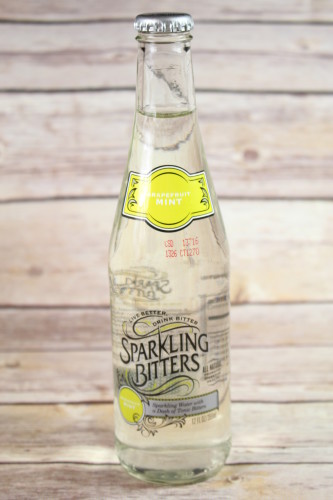 Sparkling Bitters $1.99 This drink is Grapefruit Mint and is calorie, sugar and sodium free.  The entire drink is all natural, but there are additional flavors included, so you don't feel like you are drinking just water.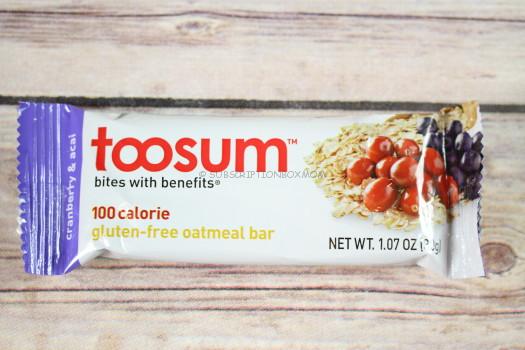 Toosum Gluten Free Oatmeal Bar $1.75 This oatmeal bar is gluten free and made with blueberries.  This is also only 100 calories, so it makes a great snack.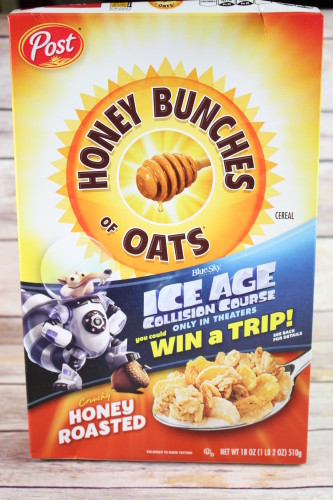 Honey Bunches of Oats Honey Roasted $2.83 This cereal was quickly grabbed up by husband.  We go through cereal pretty quickly, so I am glad not to have to buy it this week.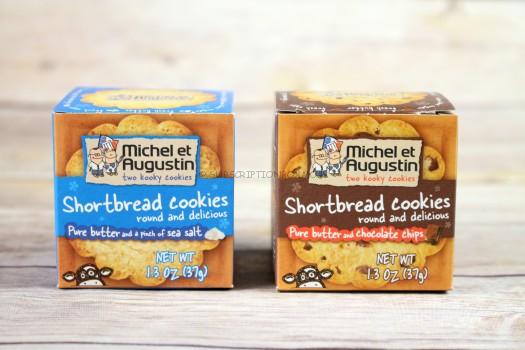 Michel et Augustin shortbread Cookies $1.99 each There were two different kinds of cookies: shortbread with sea salt and shortbread with chocolate chips.  Each box has two packages of three cookies.  I tried some of the chocolate chip cookies and they were really tasty.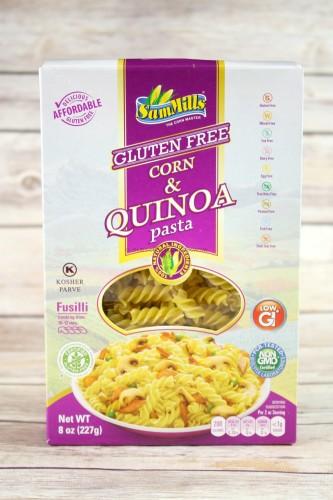 Sam Mills Gluten Free Corn & Quinoa Pasta $2.39 I love getting products I can use with meals.  This pasta is gluten free, all natural and free from the top 8 allergens.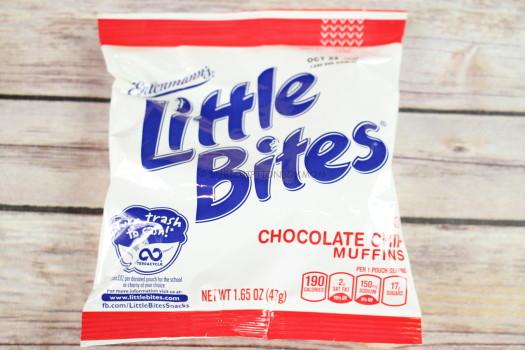 Entenmann's Little Bites $1.00 I love Little Bites and have bought the blueberry ones many times.  This is chocolate chip flavored and I think my boys will enjoy it too.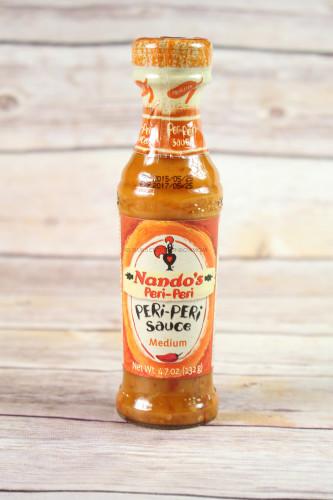 Nando's PERi PERi Sauce $3.49 This sauce is made with African bird's eye chili, lemons, garlic, onions and spices.  You can use it as a dip or as a glaze on chicken.  The sauce is also gluten-free, Halal and Kosher.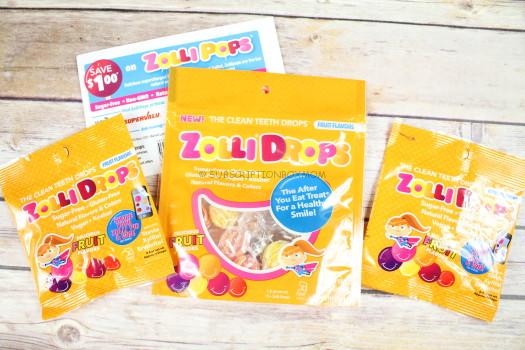 Zollipops $4.99 These sugar free candies even work to help tooth decay and dry mouth.  There was a full size bag and two smaller bags.  There are no artificial flavors and they taste great!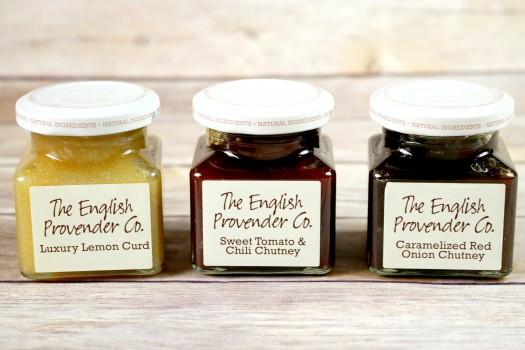 The English Provender Co: Luxury Lemon Curd, Sweet Tomato & Chili Chutney and Caramelized Red Onion Chutney $2.45 each I am a big fan of chutney, so I can't decide which one to try first.  I am in the process of figuring out what recipes to cook with these.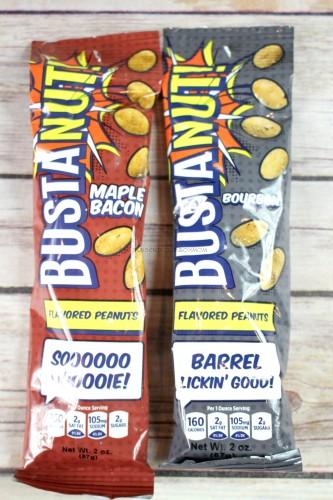 BustaNUT $1.49 each  These peanuts are saturated with flavor.  I tried the Maple Bacon peanuts and they were so good.  I really don't love peanuts, but these peanuts were fantastic.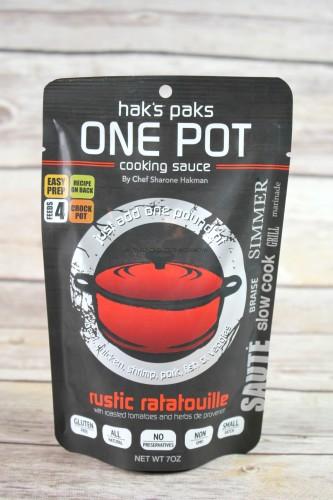 Hak's Rustic Ratatouille $3.99 This sauce is the chef's recommendation of the box and can be used to make the Hak's One Pot Rustic Ratatouille.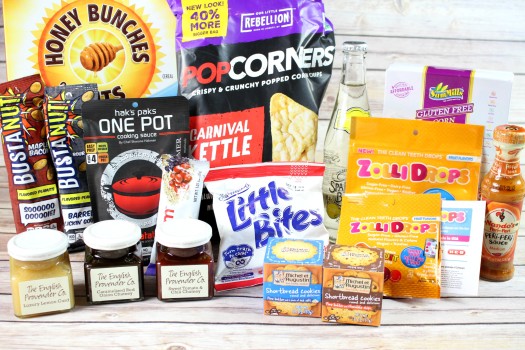 Final Thought This box had a total value of $40.03.  Degustabox is quite amazing. for $19.99, you can get a huge box of great food.  I loved this book and I think I will use everything in it.  If you want to try Degustabox, just use this link with the code FBD6. 
Do you like FREE SUBSCRIPTION BOXES?  Click HERE to see my free subscription box list.
You can see my FULL coupon list HERE.