September 1, 2016
09/01/16

By Subscription Box Mom

0 Comments
0
Book of the Month September 2016 Full Reviews + Coupons, Free Gift
Disclosure: This post contains affiliate links.  I received this box for review.
Book of the Month is a book subscription box that sends a brand new book for as low as $10.47/month.
On the first of the month, you log into your account and choose between five different books, picked out by Book of the Month Judges.  There are authors, editors and more on the judging panel.  There is also one guest judge each month.  You must make your selections by the 14th, or Book of the Month will pick for you.  If you don't like any of the books, you can skip!
Once you make your book selection, you can add up to two books to your account for $9.99/each.  Once you get your book, you can log into your account and join the discussions.
The Details:
Cost: $16.99/month, $14.99/month for a 3 month subscription and $11.99/month for a 1 year subscription.
Coupon: Get your 1st month for $5.00 today, just use the code READ5! or save 30% on a 3 month subscription and get a free tote and sunglasses with the code 30TOTE.
What's in the box?  On the first of the month, you will get to select from 5 different books.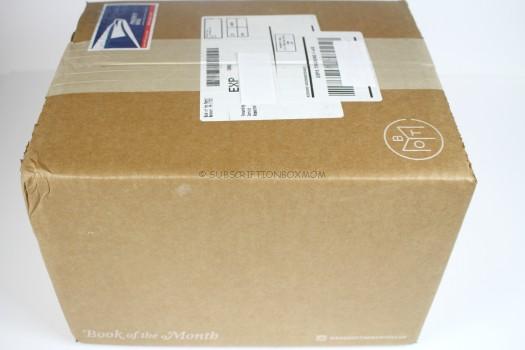 I was sent all the September books and they shipped in a large brown box.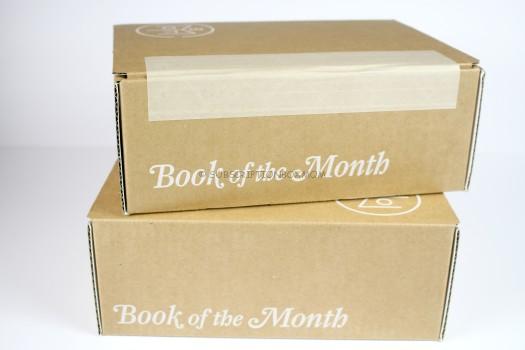 All the books were divided into boxes.  When you get your monthly selection, your book will ship in a similar box, only smaller.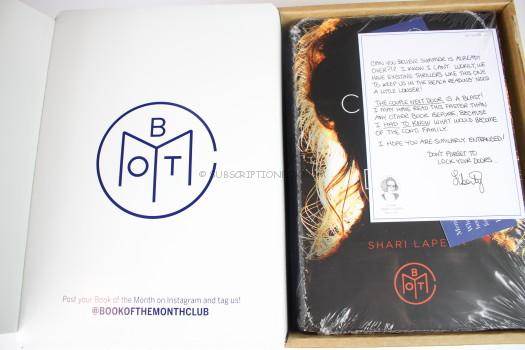 First Look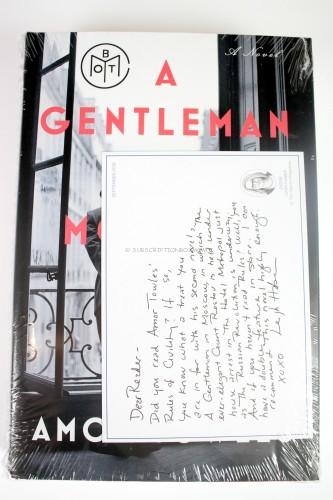 The book comes wrapped in plastic, so the corners won't get damaged.  Each book comes with a note from the judge who selected that book.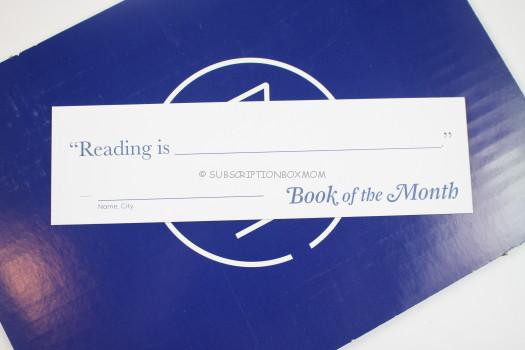 Each book comes with a bookmark.  This month, you can fill out the bookmark and tag Book of the Month on Instagram to win a 3 month subscription.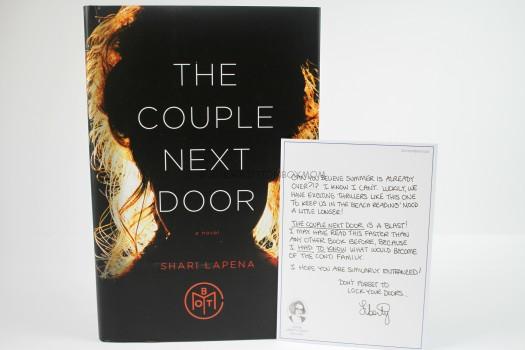 The Couple Next Door By Shari Lapena This book is about a couple who have a daughter, seem to have it all.  They are a happy family. but one night while at a dinner party, something horrible happens.  Detectives are called in, and secrets are revealed.
Summary: Anne and Marco Conti seem to have it all—a loving relationship, a wonderful home, and their beautiful baby, Cora. But one night when they are at a dinner party next door, a terrible crime is committed. Suspicion immediately focuses on the parents. But the truth is a much more complicated story.
Inside the curtained house, an unsettling account of what actually happened unfolds. Detective Rasbach knows that the panicked couple is hiding something. Both Anne and Marco  soon discover that the other is keeping secrets, secrets they've kept for years. 
What follows is the nerve-racking unraveling of a family—a chilling tale of  deception, duplicity, and unfaithfulness that will keep you breathless until the final shocking twist.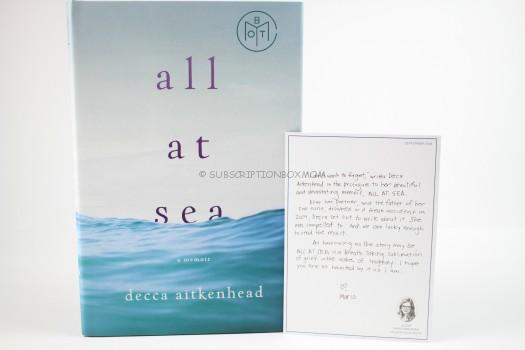 All At Sea By Decca Aitkenhead This book begins on a beach in Jamaica.  Decca has a 4 year old boy who was playing in ocean when he is hit by a wave and he the boy goes under.  Decca's partner saves the boy, but ends up drowning himself.  The book explores the couples' relationship and how death effects the people left behind.  This sounds like a book you need with a box of tissues.
Summary: On a hot, still morning on a beautiful beach in Jamaica, Decca Aitkenhead's life changed forever. Her four-year-old son was paddling peacefully at the water's edge when a wave pulled him out to sea. Her partner, Tony, swam out and saved their son's life—then drowned before her eyes.
     When Decca and Tony first met, a decade earlier, she was a renowned Guardian journalist profiling leading politicians of the day; he was a dreadlocked criminal with a history of drug dealing and violence. No one thought the romance would last, but it did—until the tide swept Tony away, plunging Decca into the dark chasm of random tragedy.
     Exploring race and redemption, privilege and prejudice, All at Sea is a remarkable story of love and loss, of how one couple changed each other's life, and of what a sudden death can do to the people who survive.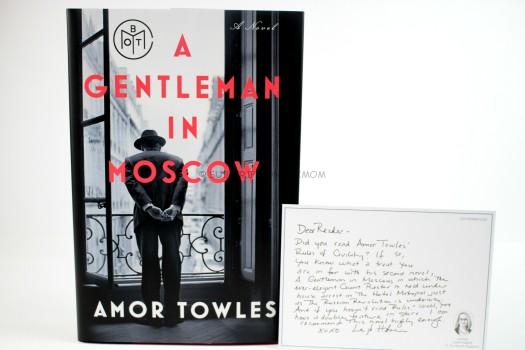 A Gentleman in Moscow By Amor Towles The story takes place in 1922, when prominent Count Alexander Rostov is sentenced to house arrest across from the Kremlin.  While adjusting to life in an attic, he makes several friends.  While forging new friendships, he discovers a girl in trouble and must fight to help her.
Summary: A Gentleman in Moscow immerses us in another elegantly drawn era with the story of Count Alexander Rostov. When, in 1922, he is deemed an unrepentant aristocrat by a Bolshevik tribunal, the count is sentenced to house arrest in the Metropol, a grand hotel across the street from the Kremlin. Rostov, an indomitable man of erudition and wit, has never worked a day in his life, and must now live in an attic room while some of the most tumultuous decades in Russian history are unfolding outside the hotel's doors. Unexpectedly, his reduced circumstances provide him a doorway into a much larger world of emotional discovery.
Brimming with humor, a glittering cast of characters, and one beautifully rendered scene after another, this singular novel casts a spell as it relates the count's endeavor to gain a deeper understanding of what it means to be a man of purpose.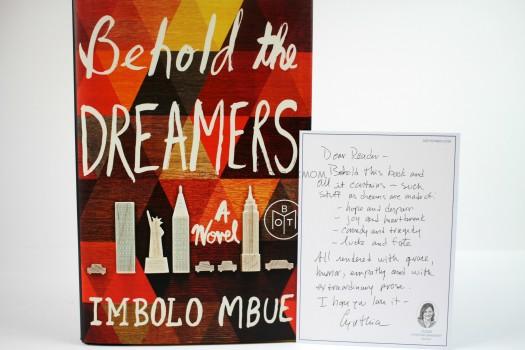 Behold the Dreamers By Imbolo Mbue Jende and Neni are Cameroonian immigrants in New York.  Jende begins to work for Clark, an executive at Lehman Brothers.  The book then looks at what happens to people and relationships when Lehman Brothers collapses.  My husband thought this book looked particularly interesting, because it's a novel based around a real event.
Summary: Jende Jonga, a Cameroonian immigrant living in Harlem, has come to the United States to provide a better life for himself, his wife, Neni, and their six-year-old son. In the fall of 2007, Jende can hardly believe his luck when he lands a job as a chauffeur for Clark Edwards, a senior executive at Lehman Brothers. Clark demands punctuality, discretion, and loyalty—and Jende is eager to please. Clark's wife, Cindy, even offers Neni temporary work at the Edwardses' summer home in the Hamptons. With these opportunities, Jende and Neni can at last gain a foothold in America and imagine a brighter future.
However, the world of great power and privilege conceals troubling secrets, and soon Jende and Neni notice cracks in their employers' façades.
When the financial world is rocked by the collapse of Lehman Brothers, the Jongas are desperate to keep Jende's job—even as their marriage threatens to fall apart. As all four lives are dramatically upended, Jende and Neni are forced to make an impossible choice.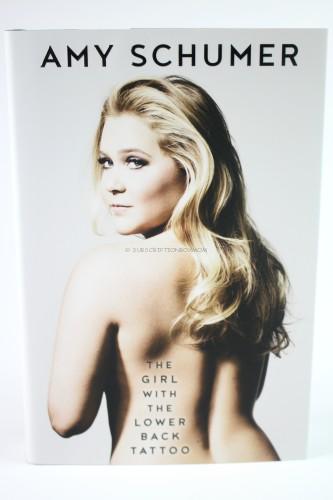 The Girl with the Lower Back Tattoo By Amy Schumer (Selected by Guest Judge: Andy Cohen) I am really excited to check out this book, because I have heard great things about it.  This book has several stories about the teenage years, relationships, sex and family, all presented in Amy's wit and humor.
Summary: The Emmy Award-winning comedian, actress, writer, and star of Inside Amy Schumer and the acclaimed film Trainwreck has taken the entertainment world by storm with her winning blend of smart, satirical humor. Now, Amy Schumer has written a refreshingly candid and uproariously funny collection of (extremely) personal and observational essays.
In The Girl with the Lower Back Tattoo, Amy mines her past for stories about her teenage years, her family, relationships, and sex and shares the experiences that have shaped who she is—a woman with the courage to bare her soul to stand up for what she believes in, all while making us laugh.
Ranging from the raucous to the romantic, the heartfelt to the harrowing, this highly entertaining and universally appealing collection is the literary equivalent of a night out with your best friend—an unforgettable and fun adventure that you wish could last forever. Whether she's experiencing lust-at-first-sight while in the airport security line, sharing her own views on love and marriage, admitting to being an introvert, or discovering her cross-fit instructor's secret bad habit, Amy Schumer proves to be a bighearted, brave, and thoughtful storyteller that will leave you nodding your head in recognition, laughing out loud, and sobbing uncontrollably—but only because it's over.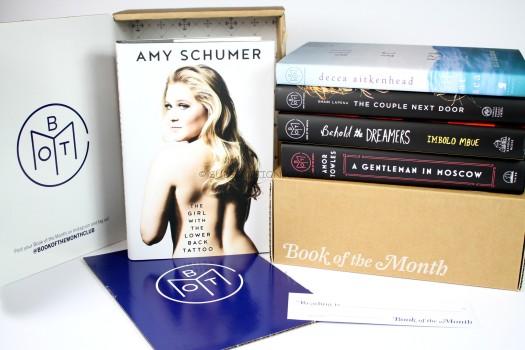 Final Thought: This was a great month for books! I really don't know what book I will read first.  I love mysteries, so The Couple Next Door looks really interesting.  I also am a big fan of Amy Schumer, so I may read that one first.  Book of the Month is a great subscription to get a new book each month.  If you happen to log on and not like any of the selections that month, you can skip!  Want to subscribe?  Get your 1st month for $5.00 today, use the code READ5! or save 30% on a 3 month subscription and get a free tote and sunglasses with the code SUMMER30.  The 3 months subscription is the best value and you will always get a hardback book.
Do you like FREE SUBSCRIPTION BOXES?  Click HERE to see my free subscription box list.
You can see my FULL coupon list HERE.