September 5, 2016
09/05/16

By Gigi C

0 Comments
0
Bon Appétit Box – French Gourmet Cuisine Box – August 2016 Review
Disclosure: This post contains affiliate links.  I received this box free for review.
Guest Review Alert- Gigi!  Hi everyone!  I'm back again for a guest review of a new box to the site – Bon Appétit Box – a Gourmet French food box!
I was really excited to try this one when Erin asked if I would review it since I was born in the south of France and grew up eating French cuisine, which is some of the best food in the world!  This month's Bon Appétit Box was  "The Apéritif Box."  In France, an apéritif is typically a small drink of liquor or wine served before a meal to stimulate the appetite.  An apéritif is sometimes served with various food appetizers – as in this box.
Bon Appétit Box is a gourmet French food box, "a taste of France in a box."  You will discover an exclusive selection of fine, authentic French specialty foods that have been painstakingly hand-picked and coordinated by avid gourmands, Zoé and Betrand (both born and raised in the south of France).  Choose from single boxes (starting at $30) or subscription boxes (starting at $70 for a 2-month snack box).
The Details:
Cost: $30 and up for a single box (one-time purchase) or $70 and up for a 2-month subscription. Subscriptions start at 2 months and go up to 6 months.
What's in the box? Inside, you will discover an exclusive selection of fine, authentic French specialty foods that are hand-picked by Southern French foodies, Zoé & Bertrand.
Shipping: The Bon Appétit Box ships to the contiguous US.
When does the box ship?  All month long depending on when you order!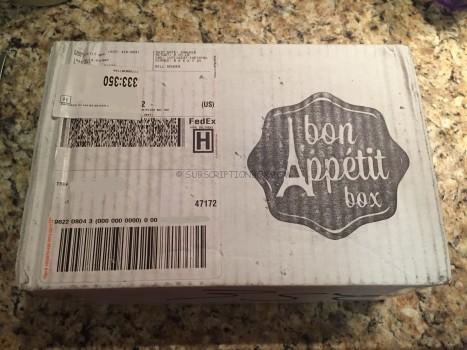 The Bon Appétit Box ships in a cardboard box via FedEx.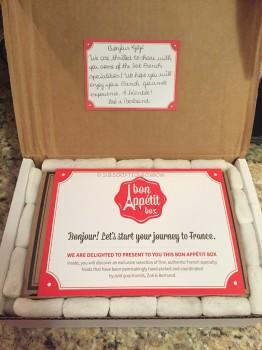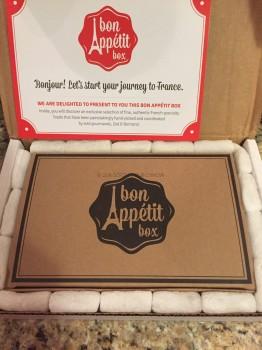 There was a cute handwritten note from Zoé and Bertrand, along with a welcome post card and "the apéritif box" card detailing what was inside the box.
L'Apéritif – a French Happy Hour.  This very special time of the day is a little bit like "Happy hour", except Apéritif can be served anywhere, from a café to your living room (and any way, who wants to be happy only an hour a day? At least the Aperitif time rings twice a day, at noon and at 7 pm!).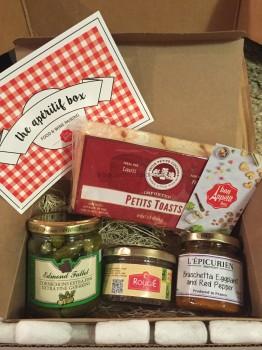 What's Inside??
Duck Breast Rillettes: 3.1 oz – All-natural, made with slowly cooked fresh duck breast for a smooth & creamy texture.  If you like French pâté (Foie Gras) this is AMAZING.  Very, very good!  Perfect atop the little toasts.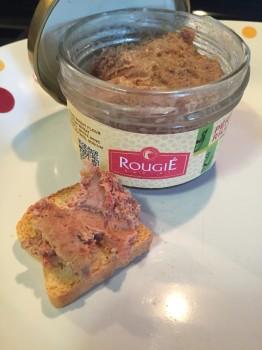 Cornichons Extra-Fins:  6.7 oz -Tiny gherkins marinated in an aromatic blend, crunchy & slightly spicy.  These were sooo good – perfect for snacking anytime!  As you can see – we ate most of them before I could even take the picture.. they were that good!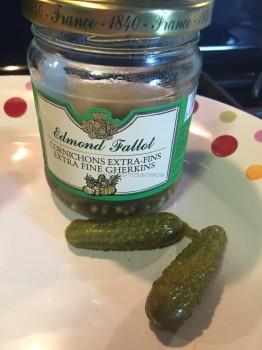 Eggplant & Red-Pepper Bruschetta:   3.5 oz – Made from the best produce grown under the Mediterranean sunshine, and you can tell from the exceptional taste!  The eggplant really pops with the red pepper.  DELICIOUS.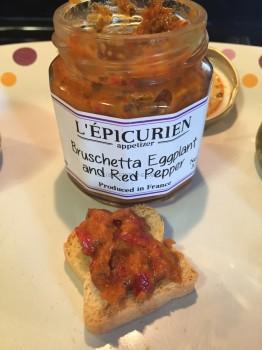 Petits Toasts:  2.8 oz – Their crunchy texture & mild taste will enhance any spread you put on top.  Adorable little mini-toasts!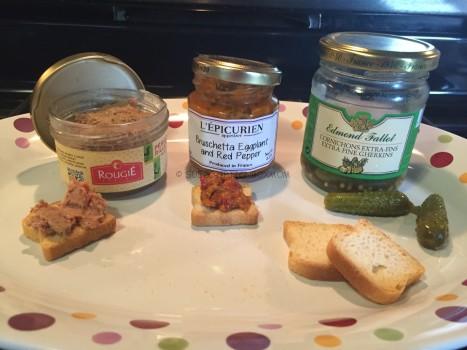 Final Thought:  The Bon Appétit Box is a great box for those who want to bring a little slice of French cuisine right to their doorstep.  I can attest that this is authentic, and just what you might have for an apéritif in France!  All the selections were delicious – perfect for a dinner party or to indulge before dinner at home.  For all the details, to subscribe, or to purchase a one-time box, please visit The Bon Appétit Box website.  You'll see a popup box for 10% off your first order if you subscribe to their newsletter.
Do you like FREE SUBSCRIPTION BOXES?  Click HERE to see my free subscription box list.
You can see my FULL coupon list HERE.
Do you love Giveaways?  Click HERE to enter all my Giveaways.