September 27, 2016
09/27/16

By Kristi Klemish

0 Comments
0
Bokksu September 2016 Kyushu: The Nine States Review + Coupon
Disclosure: This post contains affiliate links.  I received this box for review.
Hi everyone!  It is Kristi doing a guest review this month!  I have tried a couple of different Japanese snack boxes and am excited to try my second Bokksu box-the Bokksu Kyushu: The Nine States box.  Last month was pretty tasty, so hoping this one is too!
Bokksu  handpicks snacks that people in Japan actually eat, curate them into a refreshing and fun themed box, and deliver this box of deliciousness right to your door every month. They source directly from snack makers in Japan, so many of the artisanal snacks they include cannot be found anywhere else. Each box comes with 13 to 15 authentic Japanese snacks plus a tea pairing curated around a cultural theme.
The Details:
Cost:  $39 for a one month subscription with the option to pause or cancel at any time.  You can also do a "gift Bokksu" that is a one time payment.  ($39 one month, $111 three month, $210 six month)
What is in the box?  Each box comes with 13 to 15 authentic Japanese snacks plus a tea pairing curated around a cultural theme.  Our Tasting Guide that explains the story and flavors of each item in your box
How are they different?  Other Japanese snack subscription services use mass-produced mainstream snacks that can be readily found in most Asian markets outside of Japan. Bokksu directly sources its artisanal snacks from local snack makers in Japan. We only curate high quality and gourmet snacks, never filler items. We are also the ONLY service that handselects a tea pairing for each box to complement that month's flavors.
Shipping:  Free shipping to the US, Canada is $5. The last day to order a month's box is the 5th.  Boxes are sent out by the 10th of every month. We use USPS Priority Mail for US domestic orders so expect your box to arrive around 2-3 business days after its ship date.
For shipments to Canada, we use USPS First-Class Package International Service so allow for 7-14 days for your box to arrive.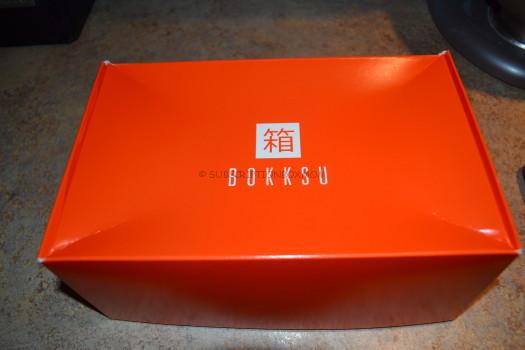 Here is the first look at the box.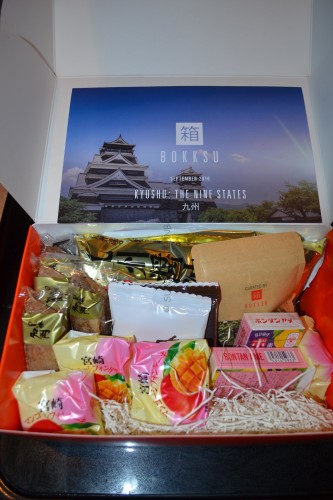 Yum!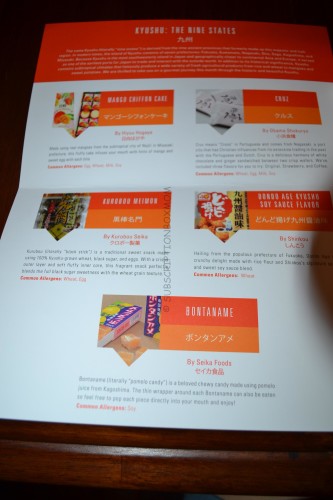 This is the tasting guide to let you know what you are eating  

 Some months they have it already online too, and you can look here to see past boxes.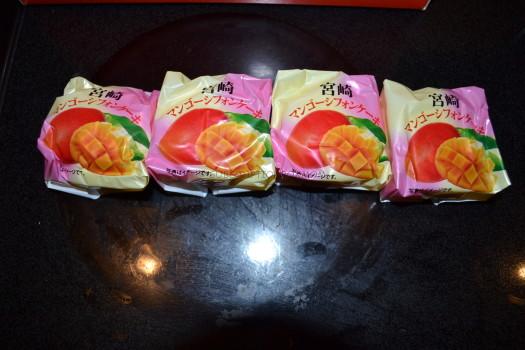 Mango Chiffon Cake:
 Why not start with cake???  I love mango!  Last month, I wasn't super keen on multiples of the same item, but I'm stoked that there are four of these!  It's a fluffy round cake infused with mango and sweet egg.  It was DELICIOUS!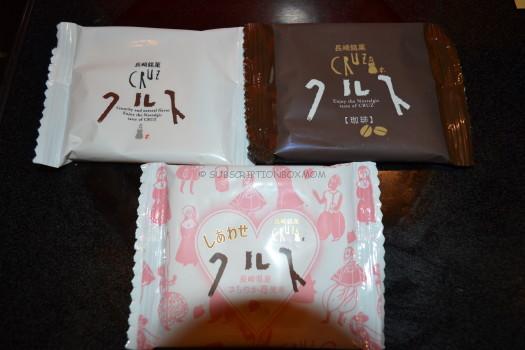 Cruz:  Cruz means "Cross" in Portuguese, and comes from Nagasaki.  This is  white chocolate and ginger sandwiched between crisp wafers.  There are three flavors (yeah!):  Original, Strawberry, and Coffee.  Two thumbs up!  I loved the crunch, the taste, and that there are three different flavors!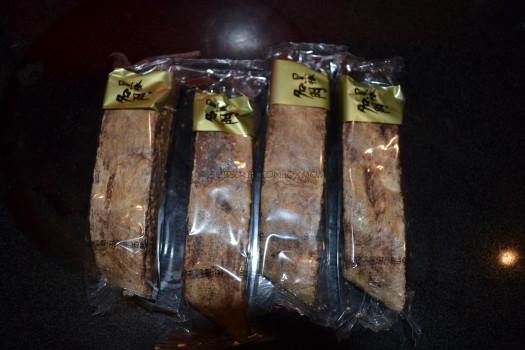 Kurobou Meimon:  The literal translation is "black stick".  This is a traditional snack made with wheat, black sugar, and eggs.  Slightly crispy outside and fluffy inside…that was a surprise.  These were really good too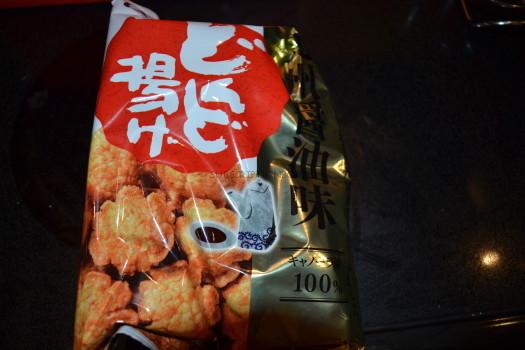 Dondo Age Kyushu Soy Sauce Flavor:  Yeah for something salty!  These are made with rice flour and a savory and sweet soy sauce blend.  These are great.  Just a little hint of saltiness…I could eat the whole bag!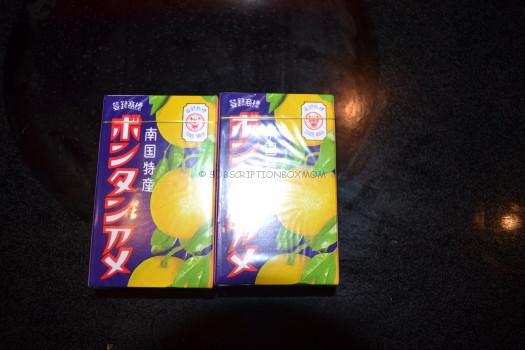 Bontaname: This is a chewy "Pomelo candy" made using pomelo juice.  The thin wrapper can also be eaten (yes, I tested this!).  These are great! They have just the right amount of flavor.  It weirded me out eating the wrapper that looked like plastic, but it didn't make it taste bad lol!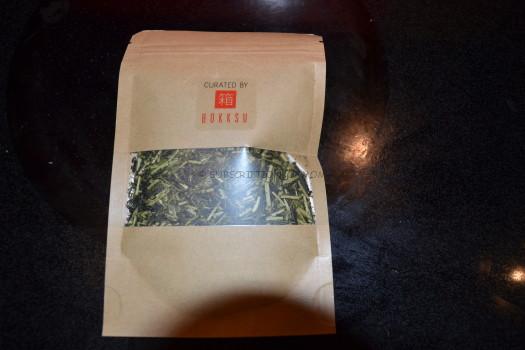 Tea Pairing of Kukicha:  This is a unique green tea blend make of stems, stalks, and twigs from Sencha.  It is deep steamed for a mild, earthy flavor to complement sweet snacks.  There is enough in there to make A LOT of tea, as one tablespoon is one cup, and that can be used for up to four infusions.
Final Thought:  Overall, this was another good box.  I felt like it once again had higher quality snacks than others I have tried.  I liked everything again, which is rare too.  I'd still like to see just a smidge more variety, but since I liked everything I'm ok with it. It is slightly more expensive than comparable boxes, but like I said, the snacks seem to be higher quality so I'd give it a try!  If you want to subscribe, you can save 10% on your 1st box, just use the code SUBBOXMOM. 
Do you like FREE SUBSCRIPTION BOXES?  Click HERE to see my free subscription box list.
You can see my FULL coupon list HERE.
Do you love Giveaways?  Click HERE to enter all my Giveaways