August 5, 2016
08/05/16

By Subscription Box Mom

0 Comments
0
Munchpak August 2016 Review + Coupon
Disclosure: This post contains affiliate links. I received this box for review.
MunchPak is a snack subscription box that packs a huge amount of yummy snacks into their boxes.  Subscriptions start at $9.95/month and each box packs old favorites and new goodies.  When you sign up, you can select your favorite flavors to help make your box even better.  I received the original box for review.
Here are the flavors.  You can hit the + sign for flavors you like and the – sign for flavors you don't.  You will pay $1 extra for every flavor you select.
The Details:
Cost: Mini $9.95, Original $19.95, Family plan $39.95
Coupon:  If you want to try MunchPak, click HERE and use the code BOXMOM to take $2.00 off.
What's in the box?  Boxes are filled with a huge variety of delicious munchies from Australia, Sweden, Japan, United States, Canada, and many other countries from all over the world
When will I get my box?  You box will ship within about 48 hours after ordering.  You will then get a new box around the same time each month.
Where do you ship?  USA and Canada
Website: www.munchpak.com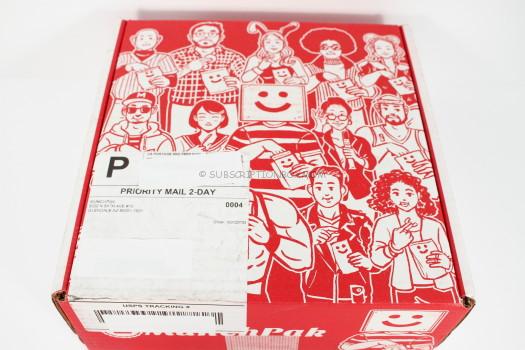 Munchpack ships in a fun box.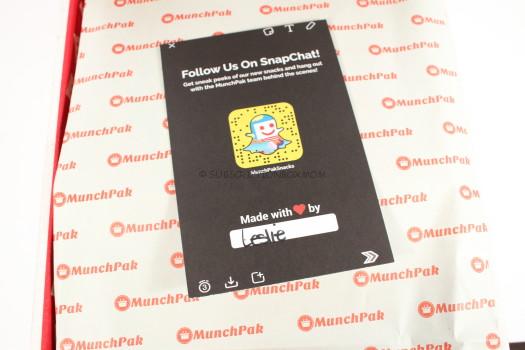 The card on top had information about the Munchpack app.  You can scan each snack and you will get details about the snack and where it's from.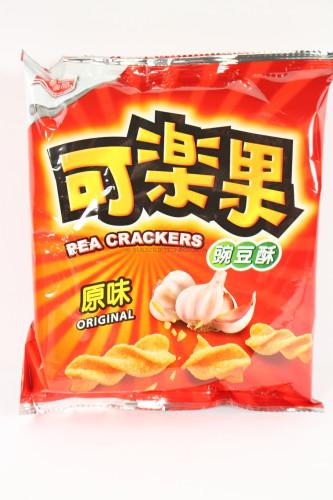 Koloko Pea Crackers Original Flavor (Taiwan) These twisted chips are made from peas and flavored with garlic. The taste: I couldn't taste the pea flavor. These really just tasted like chips coated in strong garlic.  I personally like garlic, so I thought these were tasty.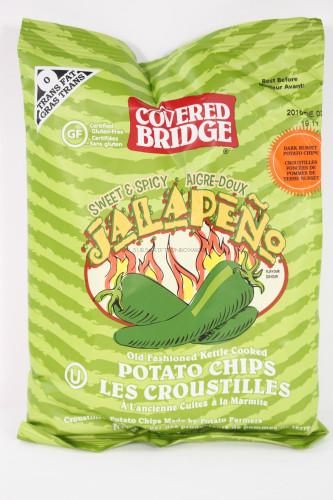 Covered Bridge Kettle Style Potato Chips Sweet And Spicy Jalapeno Flavor (Canada) These are kettle chips that are flavored with sweet and spicy jalapeno flavors. The taste: The flavor wasn't as pronounced as I expected.  The first flavor I tasted was the natural potato chip, then I tasted the spicy.  I didn't taste much sweet flavors, but I thought the chips were tasty overall.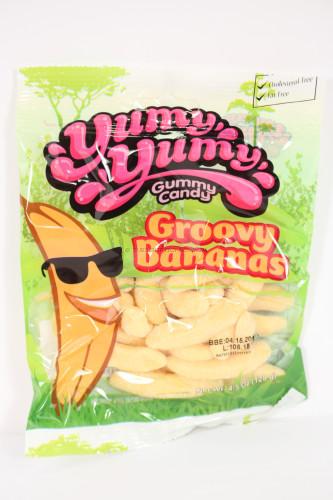 Yumy Yumy Groovy Bananas Slices (Turkey) These gummy snacks are banana flavored, perfect for T. The taste: These had a texture of a gummy worm, and tasted like bananas.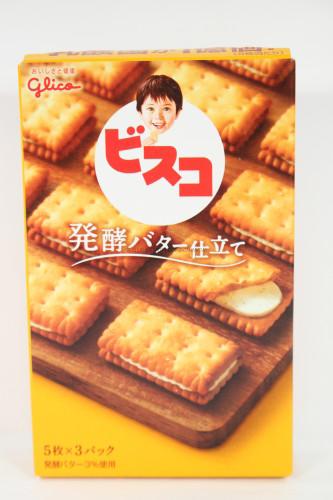 Glico Bisco Butter Jitate Crackers (Japan) These crackers are filled with a sweet cream. The taste I excepted the crackers to be a bit sweet, but they were actually a bit plain, similar to a cracker.  The cream was very flavorful though, more so than American cream cookies.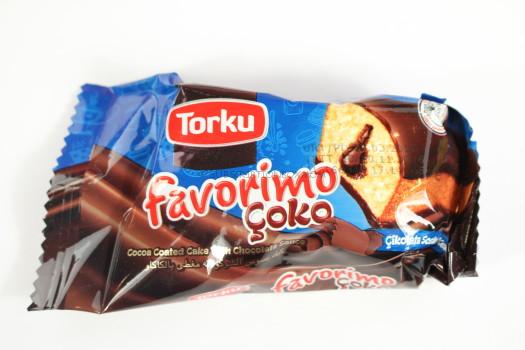 Torku Favorimo Coko Cake Chocolate (Turkey) This yellow cake is topped with chocolate and filled with a chocolate sauce. The taste This cake was very moist and the chocolate added a nice rich flavor.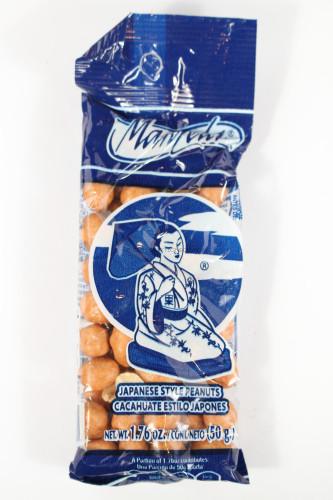 Manzela Japanese Style Peanuts (Japan) These are Japanese style peanuts. The taste These tasted like a typical peanut, but they also have a crunchy peanut coating.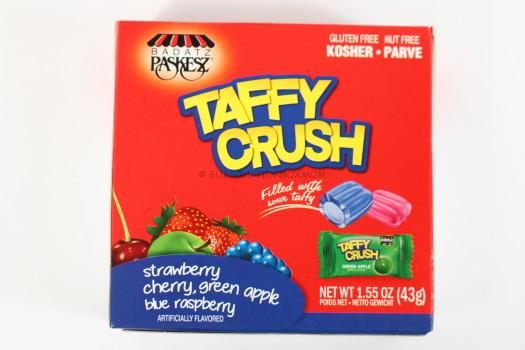 Paskesz Taffy Crush Impulse (Brazil) These are taffy filled candy pieces in the flavors: strawberry, cherry, green apple, and blue raspberry. The taste These hard candy pieces have a little taffy center.  The strawberry tasted like those strawberry hard candies wrapped in those strawberry wrappers.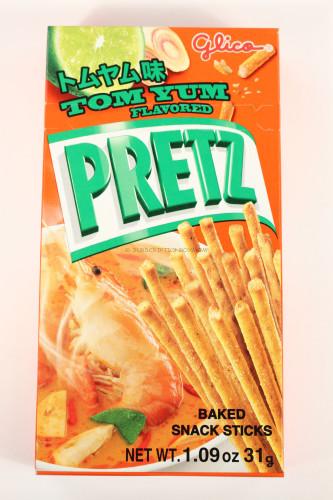 Glico Pretz Tom Yum Flavor (Thailand) Prez are a salty form of Pocky.  This is a new flavor, Thai Tom Yum Goong, which is a citrus/spicy flavor. The taste These had the cracker taste with a very spicy coating.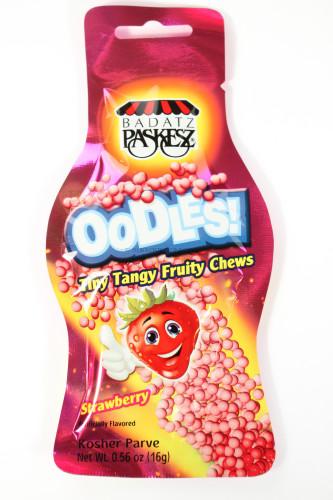 Paskesz Oodles Strawberry (China) These are tiny, tangy chewy pieces of candy.  They are a bit like NERDS, only chewy. The taste These tiny strawberry pieces look like NERDS but are made of taffy.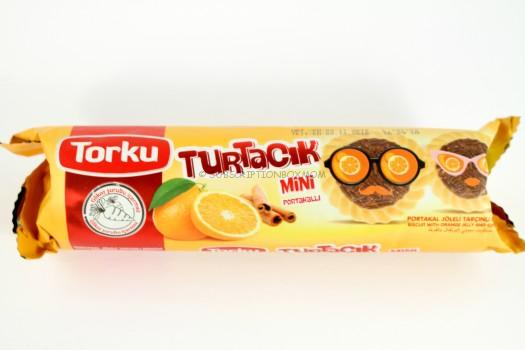 Torku Turtacik Cookies Orange Jelly (Turkey) These cookies are filled with an orange and cinnamon combination. The taste The cookie is cinnamon flavored with a red (orange tasting) jelly on top, and sprinkled with chocolate sprinkles.  I liked the cinnamon cookie, but I didn't love the orange mixed with it.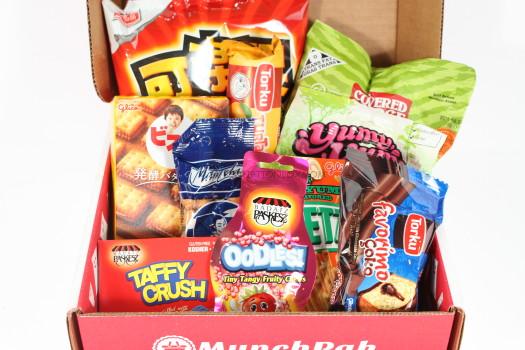 Final Thought: Munchpak sends a variety of international snacks.  I like the Munchpack app, because it tells you details about each snack and what country it's from.  My favorite snacks were the taffy crush, oodles and pea crackers.  If you want to try Munchpak, click HERE and use the code BOXMOM to take $2.00 off.
Do you like FREE SUBSCRIPTION BOXES?  Click HERE to see my free subscription box list.
You can see my FULL coupon list HERE.
Do you love Giveaways?  Click HERE to enter all my Giveaways