August 12, 2016
08/12/16

By Subscription Box Mom

0 Comments
0
Love with Food August 2016 Deluxe Box Review + 40% Coupon
Disclosure: This post contains affiliate links.
Love with Food's theme for the August 2016 box is  "Love is Family".Love with Food is a snack subscription box that sends snacks that are organic or all-natural, GMO-free, gluten-free or free of artificial junk.
 The Tasting Box is $9.99/month with free shipping and contains eight or more snacks.  The Deluxe version that features 16-20 snacks and is $19.95/month (free shipping).  For those on a gluten-free diet, the gluten-free box contains 8-12 snacks for $24.50/month.  Keep reading to the end of the review for coupons to save on a Love with Food subscription.
I recently upgraded my Tasting Box to the Deluxe.  With having a family of four, I wanted more snacks in my box and I liked the exclusive snacks in the Deluxe box.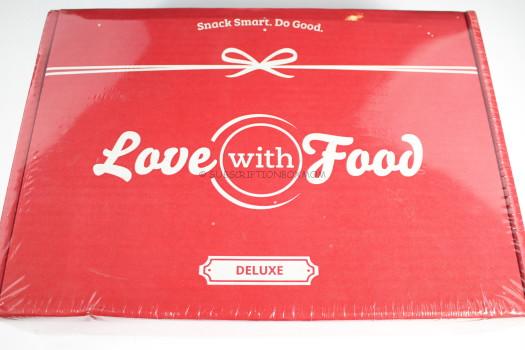 The Deluxe box comes in a huge box and is wrapped in plastic.
First Look.  Starting this month, Love with Food doesn't include information cards.  To see descriptions of your snacks, log into the online website and view them in the section where you rate your snacks.  If you give a review of your snack, you will earn points to buy item in their online store.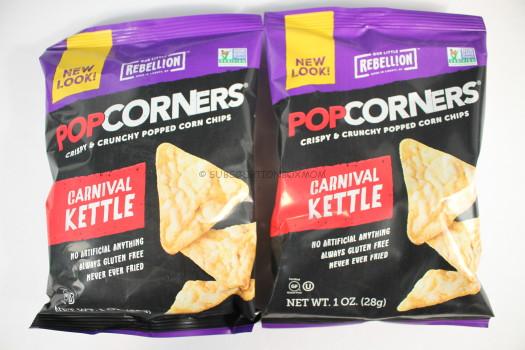 Our Little Rebellion Carnival Kettle Popcorners These are chips made of kettle flavored popcorn.  Anything popcorn is popular in my house.  They are gluten free and vegan too.  I am so glad there are two bags, because everyone is going to want some.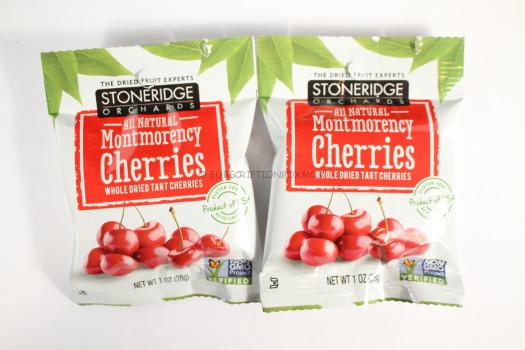 Stoneridge Orchards Montmorency Cherries These are dried cherries, but they are still juicy, so they taste even better.  Even my 4 year old loves these.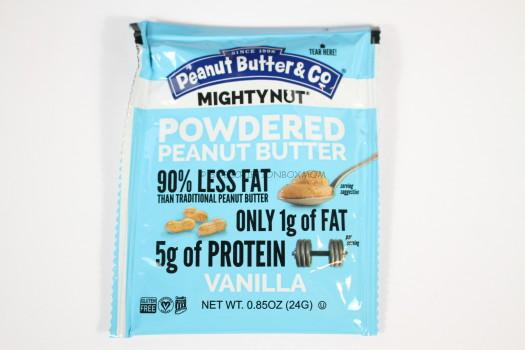 Peanut Butter & Co Vanilla Powdered Peanut Butter This packet is filled with vanilla peanut butter powder.  You can mix this with water for more traditional peanut butter, but I am going to use it in my shakes!  This has only 1 gram of fat and 5 grams of protein!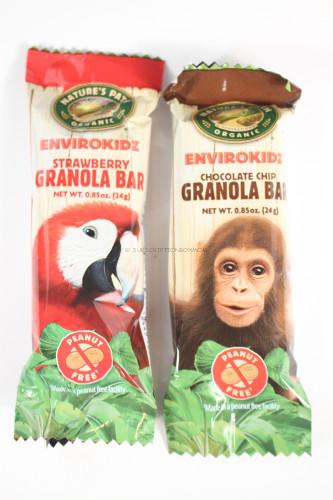 Nature's Path Organic Strawberry and Chocolate Chip Granola Bar Both of these granola bars look kid friendly and they are peanut free.  There is a combination of either chocolate chips or strawberries, oats, syrup and more.  I think even I will like them.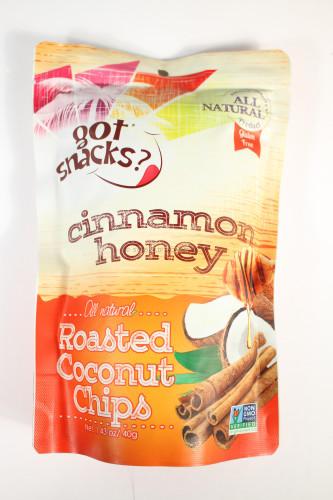 Got Snacks? Roasted Coconut Chips We had these before and my dad loved them, he gets all my coconut treats.  These are roasted coconut chips flavored with cinnamon and honey.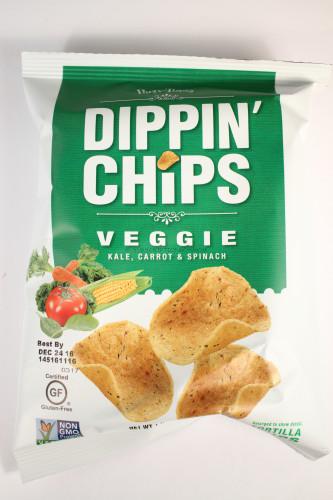 Party-Tizers Veggie Dippin' Chips These chips are perfect for some natural salsa.  I am a chips and salsa fiend and this chips are a healthier version of regular chips. I only wish there were more in the bag.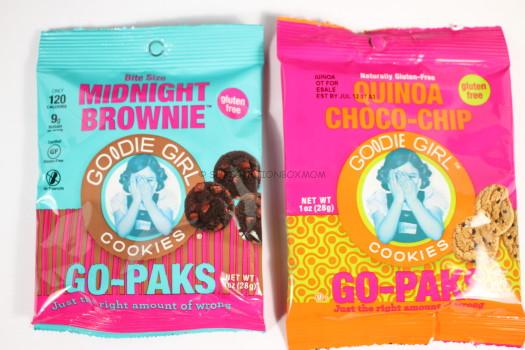 Goodie Girl Cookies Midnight Brownie and Quinoa Choco Chip Cookies I have had the midnight brownie cookies, but never the quinoa choco-chip. I already ate the midnight brownie and will save the choco-chip for my husband.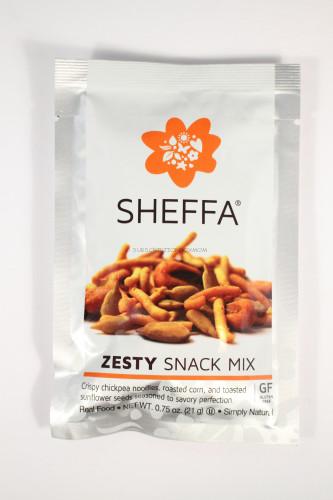 Sheffa Zesty Snack Mix This is made up of chickpea noodles, roasted corn, tasted sunflower seeds, plus seasoning.  I like these right out of the bag, but I you can also add them to a southwest salad.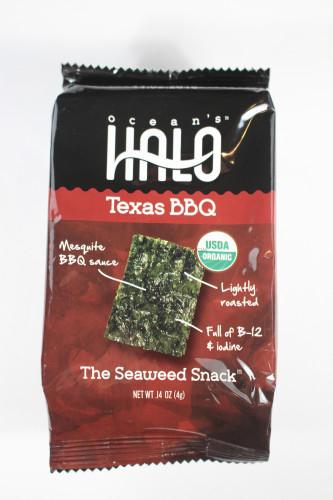 Ocean's Halo Seaweed Snacks in Texas BBQ Another happy family member.  My brother loves dried seaweed, so this will go to him.  I have never heard of BBQ flavored seaweed.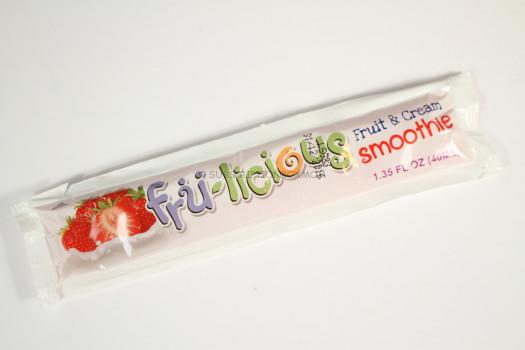 Fru-licious Fruit and Cream Smoothie Freeze these for 3 hours and you will have a yummy frozen treat!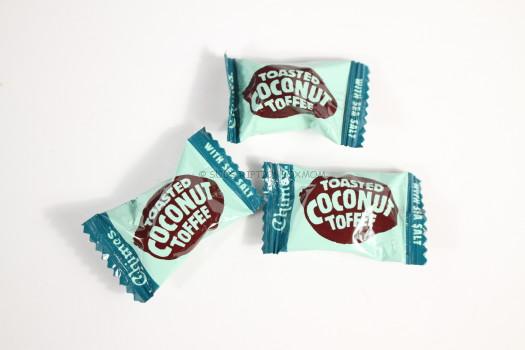 Chimes Toasted Coconut Toffee  Toasted coconut is mixed with toffee in these candies.  Again, these will go right to my dad.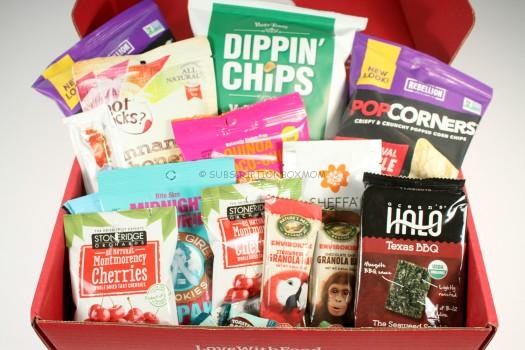 Final Thought: This box was packed with snacks.  I didn't love everything this month, but there was more than enough snacks to please me and my family.  My favorite snacks were the cherries and popcorners.   If you want to grab the Deluxe box, use this link to save 40% on your 1st box and get a year of Good Housekeeping Magazine.  You can save 50% on your Gluten Free Box and get a year of Good Housekeeping Magazine with this link.  *BEST DEAL* Save $20.00 on a 12 month subscription plan for any subscription, when you use this link with the code SBMOM20.  You will get Good Housekeeping Magazine with any subscription plan.
Do you like FREE SUBSCRIPTION BOXES?  Click HERE to see my free subscription box list.
You can see my FULL coupon list HERE.
Do you love Giveaways?  Click HERE to enter all my Giveaways