August 18, 2016
08/18/16

By Subscription Box Mom

0 Comments
0
Hamptons Lane August 2016 Homemade Ice Cream Review + Coupon
Disclosure: This post contains affiliate links. I received this box for review.
Hamptons Lane's theme for August is "Homemade Ice Cream".
Hamptons Lane provides the food lover with the tools they need to enhance their culinary experience as chef, entertainer, and eater.  By carefully sourcing the best ingredients, kitchen tools, serveware, and local artisan foods they help chefs everywhere expand their culinary horizons, all for a great price. Hamptons Lane is $47.00 a month but you can save $10.00 on your first box by clicking HERE and use the code SUBBOXMOM10. 
One of the best things about this box is the freedom to skip the month's you want (You have until the 5th of the month).  You log into your account at the first of the month and you will see what your box will look like.  You can choose to skip or do nothing and keep the box.
The Details:
Cost: $47.00
Coupon:  Save $10.00 on your first box by clicking  HERE and use the code SUBBOXMOM10.
What's in the box? Each month, their team of experts curates amazing kitchen products together with artisan foods & ingredients into a themed box, like the Must-Haves of Cucina Mexicana or The Best in BBQ.
Can I skip?  Yes, on the first of the month you will get a peek at that month's box and you can decide if you want the box, or if you want to skip.
Website: www.hamptonslane.com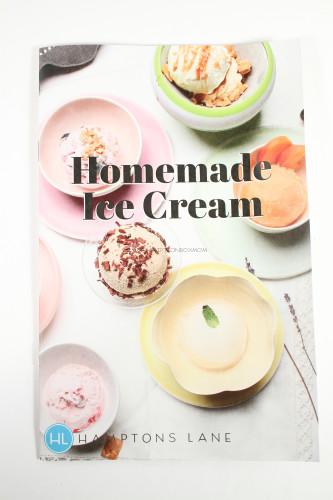 The information card is built-in the monthly guide, which also contains recipes.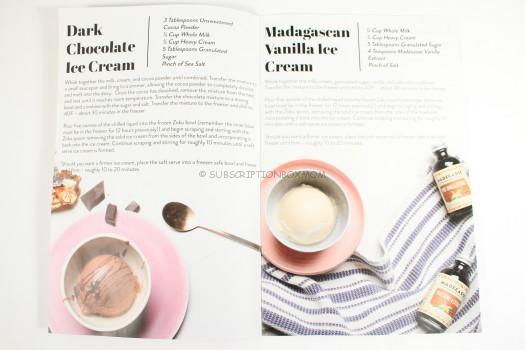 Inside the information guide this month, were recipes to make: Dark Chocolate Ice Cream, Madagascan Vanilla Ice Cream. Lemon Sorbet, Fresh Mint Ice Cream with Shaved Dark Chocolate, Coffee Ice Cream, Blueberry Frozen Yogurt, Strawberry Ice Cream. and Vanilla Caramel Frittle Swirl.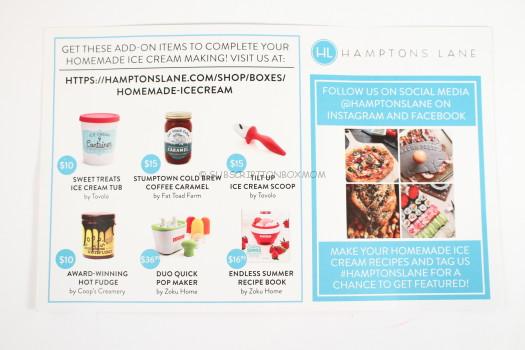 As a subscriber, there are additional items you can add to your box each month.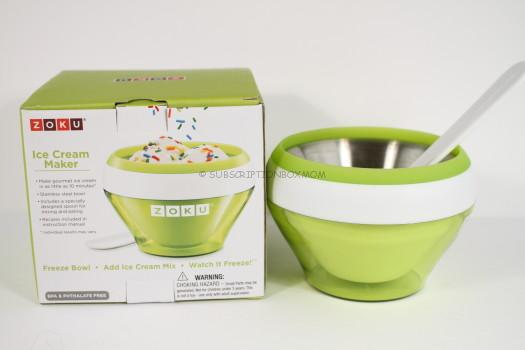 Mini Ice Cream Maker by Zoku, Hoboken, NJ You freeze this bowl for 12 hours and then add the mixed ingredients in the bowl to make ice cream.  You put the ingredients in the bowl then scrap along the side with the included spoon to make ice cream.  It takes some time to make a whole bowl, but it's a fun process.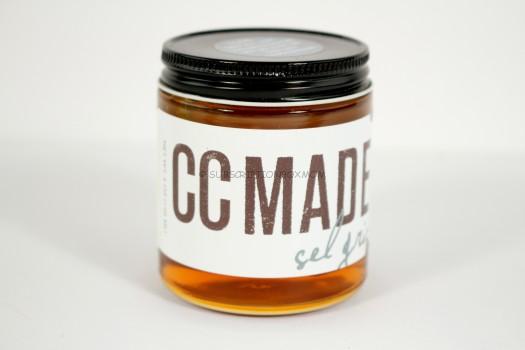 Sel Gris Caramel Sauce by CC Made, Berkeley, CA I have had this before and it made a great ice cream Sunday.  It is made with sugar, cream and sea salt.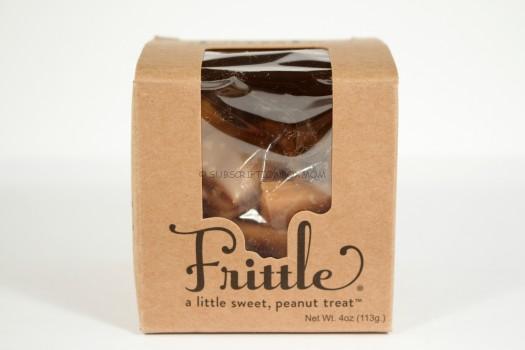 Peanut Frittle by New Fangled Confections, Indianapolis, Indiana This is like peanut brittle but much easier to chew.  Peanut Brittle can practically break your teeth depending on the brand.  This had a crunch but was a bit sticky too.  I crushed these with the caramel sauce on my ice cream.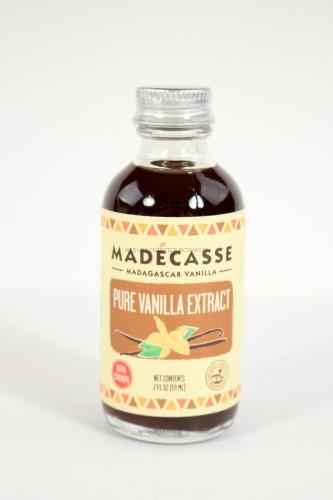 Madécasse Pure Bourbon Vanilla , Brooklyn, NY You can use this to make real vanilla ice cream.  My best friend use to make me vanilla, but she moved, so I haven't had any recently.  This jar will last a good long time.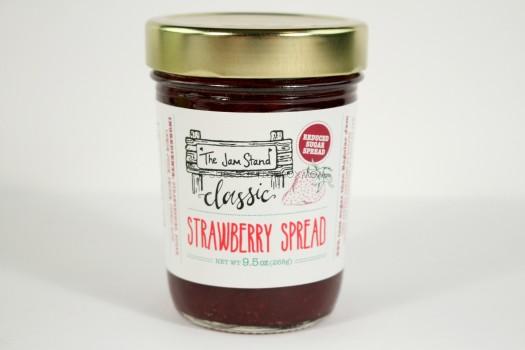 The Jam Stand Strawberry Spread, Brooklyn, NY This was my favorite ingredient in the box, in fact, is more than half way gone.  This strawberry spread is like puree'd strawberries.  It was fantastic on my homemade biscuits, and we also made strawberry ice cream with it.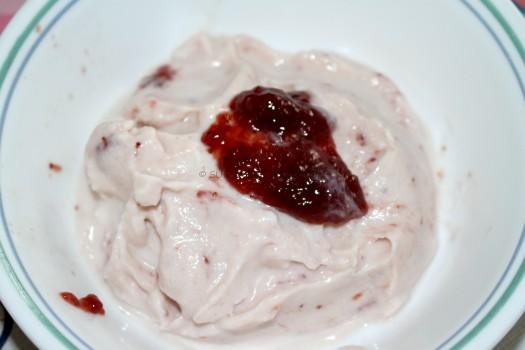 I made the strawberry ice cream and it turned out well.  It does take a bit of time to make a bowl full, which can make for impatient children. I had never made ice cream at home before, so I was surprised it was so easy.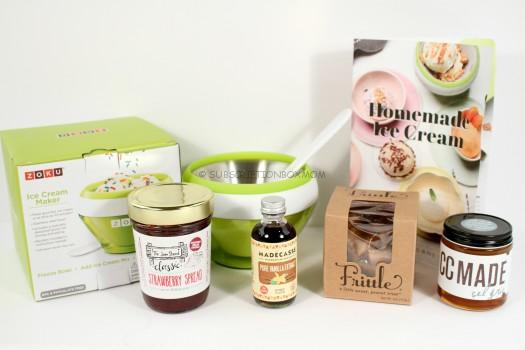 Final Thought:  This was one of my favorite Hampton's Lane boxes so far!  As soon as I saw the recipes, I took my kids to the store and got the ingredients. The strawberry ice cream was amazing and I can't wait to try the lemon sorbet. To try Hampton's Lane, use this link with the code SUBBOXMOM10 and you will save $10.00 on you 1st box.
Do you like FREE SUBSCRIPTION BOXES?  Click HERE to see my free subscription box list.
You can see my FULL coupon list HERE.
Do you love Giveaways?  Click HERE to enter all my Giveaways.