August 30, 2016
08/30/16

By Subscription Box Mom

0 Comments
0
Freshly August 2016 Review + 50% Coupon
Disclosure: This post contains affiliate links.  I received this box for review.
Freshly is a meal subscription box that sends fully prepared healthy meals to your door.  When you sign up, you choose between 6. 9. 12. or 21 meals per week.  Plans start at $11.50 per meal but the 21 meal plan is $10.90 per meal.  One if the neat features of this subscription, is all the meals are fully prepared, saving you time.  Even better, every meal is all natural, gluten-free and free from refined sugars.  When you are ready to eat, just heat for 2 minutes!  I was sent the 6 meal plan for review.
The Details
Cost 
6 meals per week – $11.50 per meal
9 meals per week – $11.00 per meal
12 meals per week – $10.75 per meal
21 meals per week – $10.90 per meal
Coupon Use this link with the coupon rad50 to save 50% on your 1st order.
What's in the box? Each week, you will receive pre-made healthy meals, ready to heat and eat.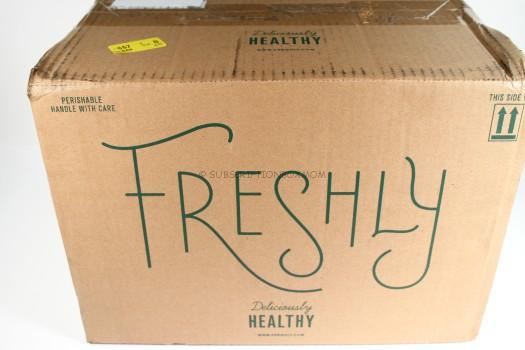 Freshly was shipped in a huge box by FedEx.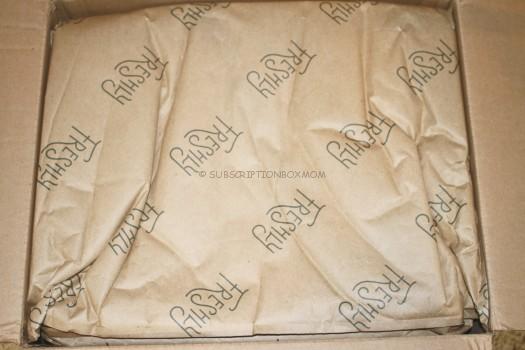 Everything was wrapped with recycled denim insulation.  This is an eco-friendly packaging that keeps food cool and is biodegradable.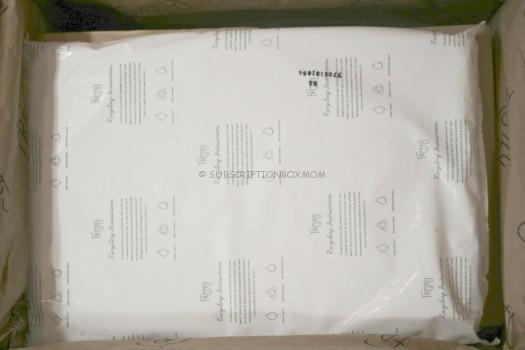 There were huge ice packs on top of the food.  It's been 90 plus degrees here and the ice was still frozen on delivery.  I actually couldn't get the box when it was delivered, so it sat outside for a few hours (and was still cold).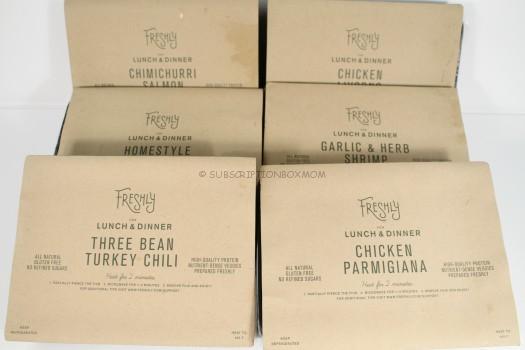 Each meal has a recycled sleeve, marked with the meal and instructions.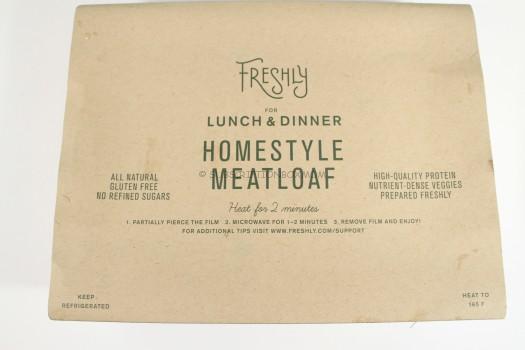 The front of the packages has the meal, and heating instructions.  The nutritional information is on the back of each package.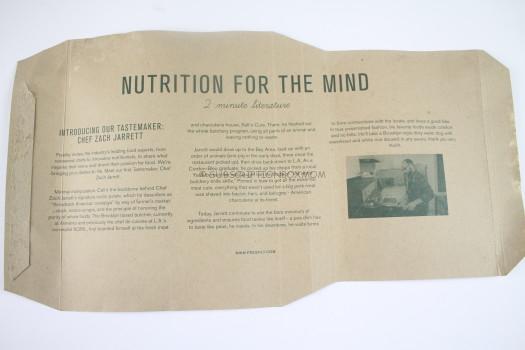 When you are waiting for your meal to heat up, you can read the 2 minute literature in side the package.  Each one of my meals had different literature.  There is a specific place to tear off the outer wrapping, so note that before you rip off the package.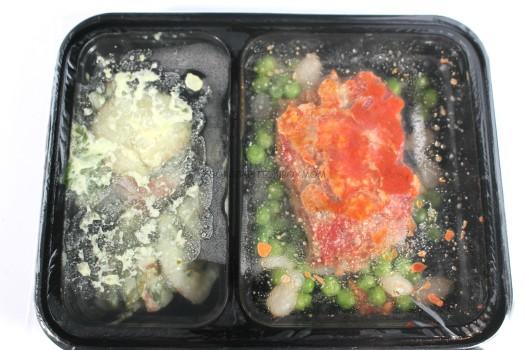 Every meal was sealed and very cold, but not frozen.  Just put these in your refrigerator and you can grab and heat.  When you select your meals, you can get multiples of each meal or get one of each.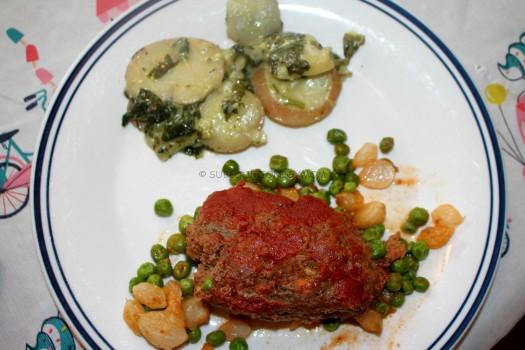 HOMESTYLE MEATLOAF with Creamy Potatoes & Spinach I made this one for my 7 year old.  Now, if I had told him what it was, he wouldn't have wanted to eat it.  I just served it and he loved it!  The meatloaf had a nice balance of meat and tomato (we tasted it too).  My 7 year old even enjoyed the peas and pearl onions with the meatloaf, along with the potatoes and spinach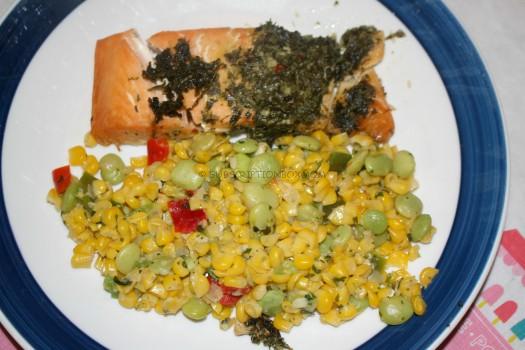 CHIMICHURRI SALMON with Succotash My husband brought this to work for his lunch.  The salmon was a bit dryer than he preferred, but it really didn't take much away from the meal.  The succotash was very tasty and was great mixed with the seasoned salmon.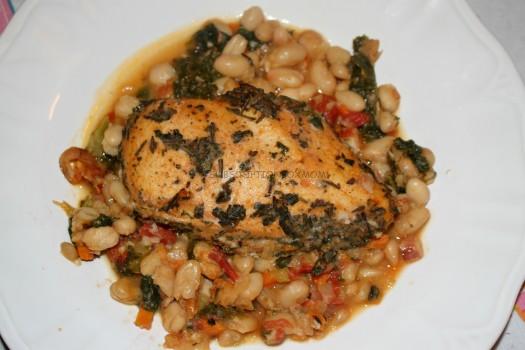 CHICKEN LIVORNO with White Beans & Kale This was one of our favorites.  The chicken was seasoned with herbs and bean stew really made this dish.  I would may reorder and get multiple dinners of this meal.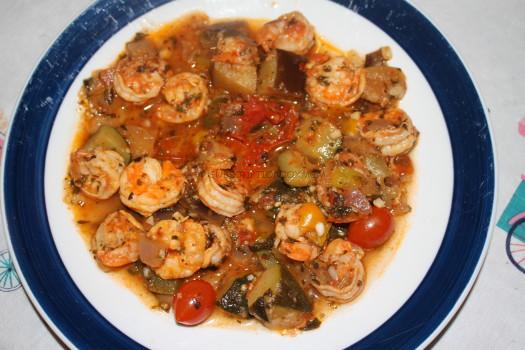 GARLIC & HERB SHRIMP This meal was not too fishy, which my husband loved.  The shrimp were on a bed of vegetable ratatouille.  The meal is made with red pepper flakes, which added flavor but not heat. My husband doesn't like spicy dishes, but he really enjoyed this one.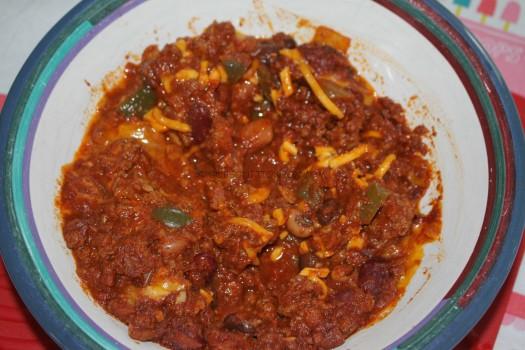 THREE BEAN ANCHO TURKEY CHILI The turkey is antibiotic free and mixed with black, pinto, and kidney beans.  This was my lunch one day and it was so filling.  I would've had some left for another lunch, but it was just too good.  This had more spice than the chili I make, but being a fan of spices, I loved it.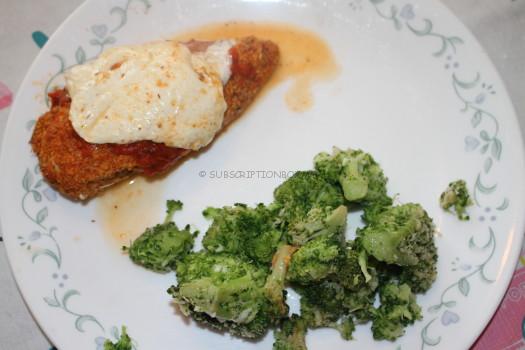 SICILIAN STYLE CHICKEN PARM with Broccoli The chicken is coated with crushed almonds and marinara sauce.  There was a healthy addition of cheese on top, which complimented the chicken.  The brocoli was made with a bit of garlic and Parmesan cheese. This was really good and it didn't taste like a tv dinner.  These are prepared meals that are ready to heat, no processed food.
 Final Thought: This was such a great subscription.  While I love making healthy dinners for my family from scratch, our schedules make it really tough.  On average, we have outside activities 3-4 times a week and we don't always get to eat together.  Our schedule drives me crazy sometimes, but this week was much easier with these meals.  It's super hard for me to make quick easy meals.  My children can be rather picky, so I like that I could get different meals for each of us without feeling like a short-order cook.  The meals heated well and didn't taste like microwaved meals.  I also like the fresh ingredients and knowing what exactly I was eating.  You can try this subscription half off, which will run around $5.50 per meal.  That's like a trip to McDonald's but with real, nutritious food!  I have waited in a drive though lane longer for our food, longer than the time it took to heat four meals one by one.  This subscription is a big win for me and great for busy families.  Use this link with the code rad50 to save 50% on your 1st order.
Do you like FREE SUBSCRIPTION BOXES?  Click HERE to see my free subscription box list.
You can see my FULL coupon list HERE.