July 12, 2016
07/12/16

By Kristi Klemish

0 Comments
0
Snakku June 2016 Box Review + Coupon
Disclosure: This box was received free for review.
Hi all!  It's Kristi doing another guest review!   I have reviewed other Japanese snack subscription boxes, so I was pumped to be asked to try a new one!
Snakku is a Japanese snack subscription service that is very different from other boxes I have reviewed.  Snakku specializes in sending Japanese snacks that you can only get in Japan.  All the snacks come from local snack makers in Japan.  Boxes are $38.95/month and filled with 10-15 expert curated snacks.  If you upgrade to a 3 or 6 month subscription, you will get a free Traditional Japanese Furoshiki Wrapping Cloth.
The Details:
Cost: $38.95/month, $116.85/3 months, $225.00/ 6 months.
Coupon: Use the coupon SUBMOM to save 10% on your first box.
What's in the box?  Every box contains 10-15 expert curated Japanese snacks.
How do I cancel?  You can cancel using a special URL you are given at signup.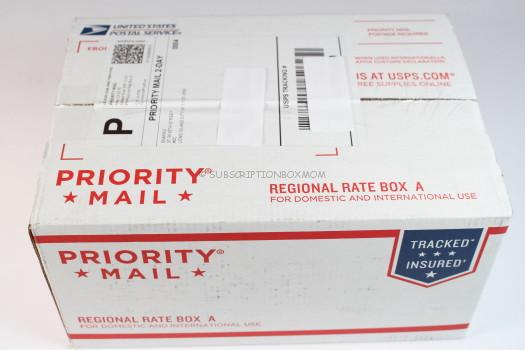 Snakku ships by Priority Mail.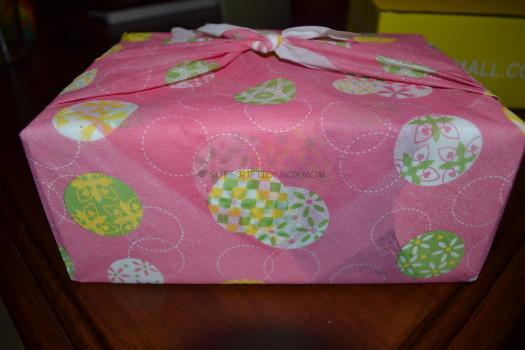 Every box is wrapped in a Japanese Furoshiki Wrapping Cloth.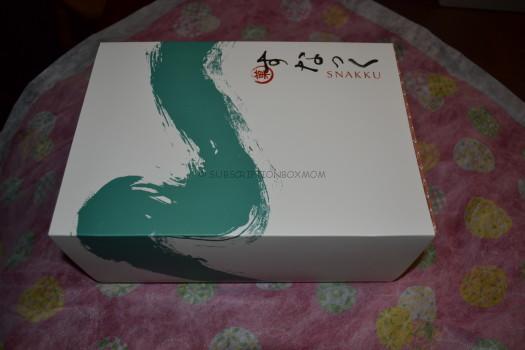 Snakku ships in a pretty slide out box.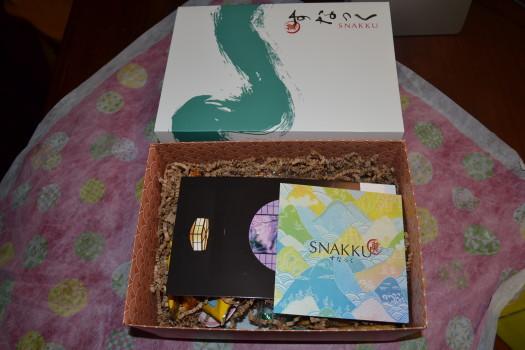 Very cute packaging inside too!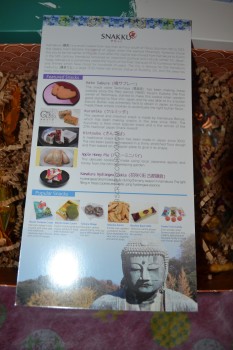 There is a card inside that details what all the snacks are.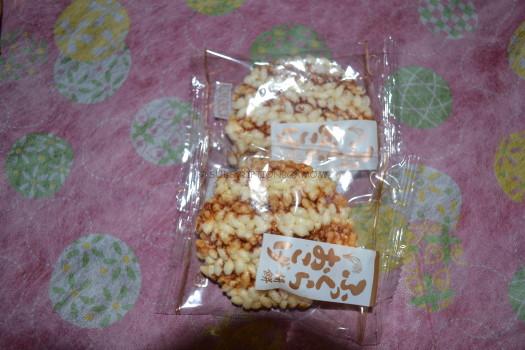 Fukkura Okoge    This is a rice grain senbei glazed with soy sauce and baked in a clay kiln.  It was super yummy!  Just salty enough with the soy sauce glaze.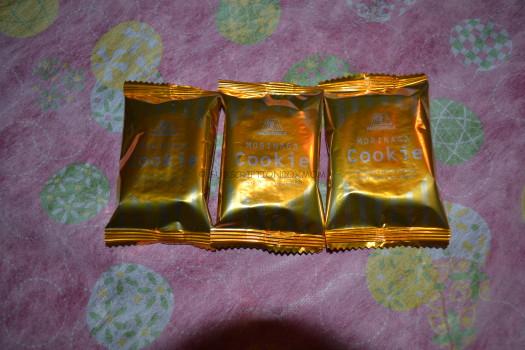 Matcha Azuki Cookie  This is a Kyoto matcha greentea cookie sandwich filled with Hokkaido red bean cream.  I love matcha stuff, and the red bean paste was a nice finish….it was just sweet enough to satisfy my sweet tooth!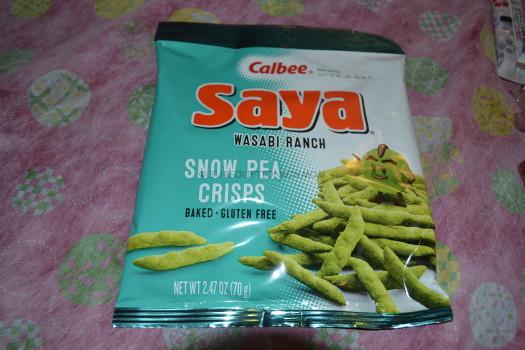 Wasabi Snow Pea Crisps  These are naturally baked crisps infused with snow pea, traditional Japanese dashi flavors, and a hint of wasabi.  The husband jumped up and down when he saw these.  They were excellent and gone almost right away!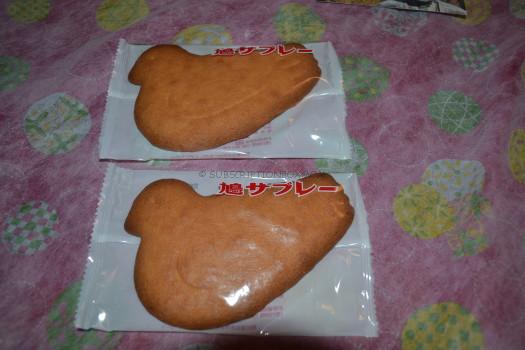 Hato Sabure  Made by the snack store Teshimaya, these were first made when western goods started flowing into Japan.  They tried a butter biscuit, and as butter was hard to find in Japan, they made these simple cookies to accentuate the butter flavor.  I'm not a butter fan, but these were good!  My kids devoured them.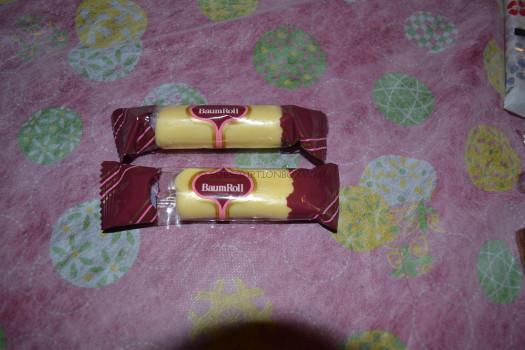 Bourbon Baum Rolls  These are vanilla glazed mini baumkuchen rolls.  Yum!  It tasted like a vanilla coated shortcake.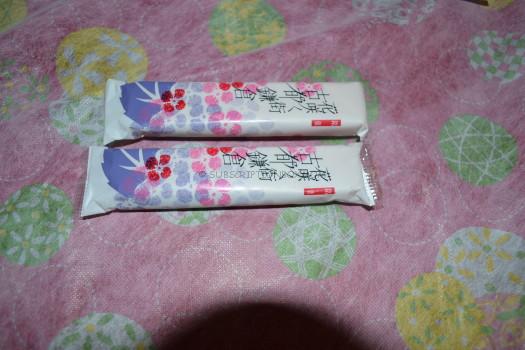 Kamakura Hydrangea Cookie  This is a crispy wafer-type cookie, and the filling is made with hydrangea essence.  They were excellent (and I was pleasantly surprised it didn't taste like a flower

)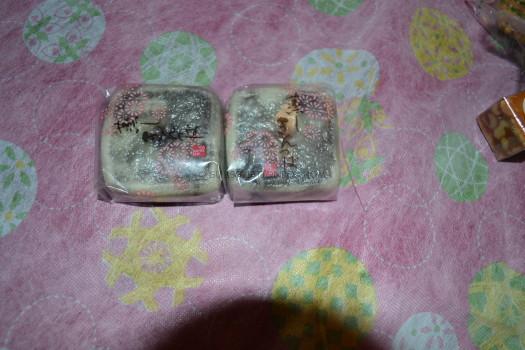 Kintsuba  This traditional snack has been made in Japan since 1600.  Red bean paste is wrapped in a thinly stretched flour dough and baked on a copper plate to give it its shape.  I was a little afraid of the red bean paste…HOWEVER…..this was so yummy.  I had to chew for a minute to get the flavor, but it was just so mild and yummy it's hard to describe!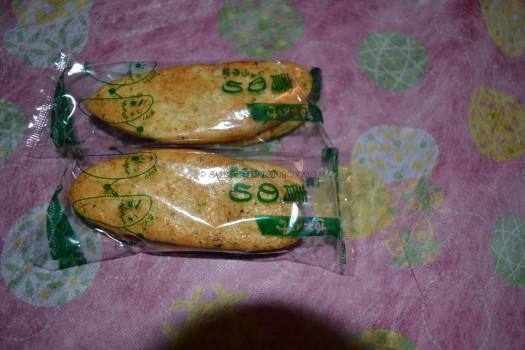 Baked Aonori  These are simple rice crackers covered in Aonori (blue seaweed).  It's super yummy and salty.  There are two crisps in each pack.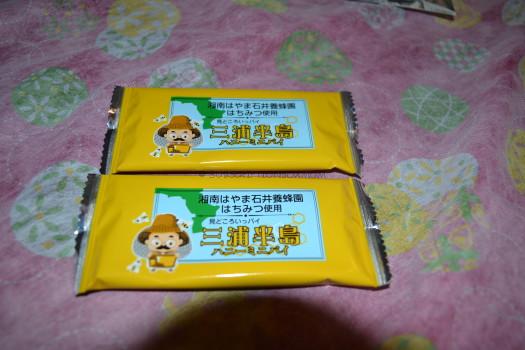 Apple Honey Pie  This cookie is made using local Japanese apples and honey from the Ishi beekeeping garden.  I love apple, honey, and pie…this was a nice thin crisp cookie.  Very light and had a nice light flavor to it.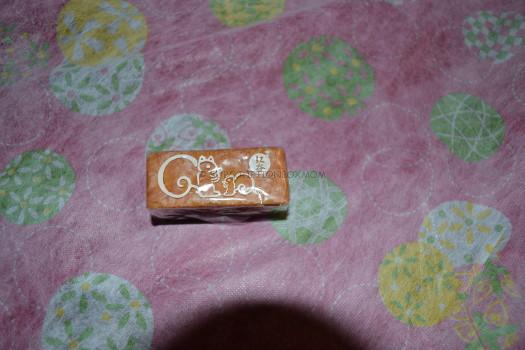 Kurumiko  This is a caramel chestnut snack, made since 1954 by Kamakura Beniya.  This is their most popular snack, and it won the 27th annual Japan Snack Awards.    It was flaky, chewy, nutty, and delicious all in one!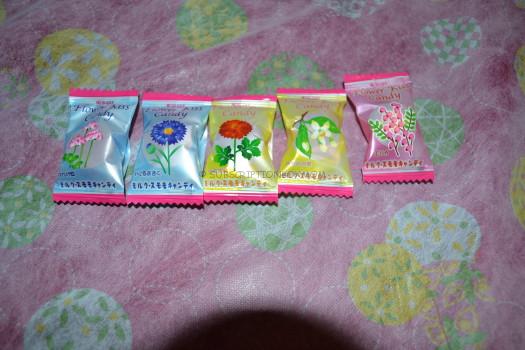 Flower's Kiss Candy  If you've ever wondered what flowers taste like, these creamy apricot-plum candies are made with flower essence.  I've tried rose flavored candy before and was less than a fan…..these were actually decent.  I really liked the one on the far right, as it tasted like a gummy peach!
Final Thought  I thought the box had some really excellent snacks in it.  I like that they are authentic and can't be found anywhere other than Japan.  With that said, if you are willing to pay the premium for that, this is a great box to try!  I liked that there were multiple of a lot of items so the family could try their own pieces of stuff too.  You can try Snakku with this link and use the code SUBMOM to save 10% on your first box..