Home
»
Uncategorized
»
SnackSack July 2016 Review + Coupon – Save On Every Box for Life!

July 28, 2016
07/28/16

By Subscription Box Mom

0 Comments
0
SnackSack July 2016 Review + Coupon – Save On Every Box for Life!
Disclosure: This post contains affiliate links.  I received this box for review.
SnackSack is a healthy subscription box that includes snacks that are organic or all-natural
non-GMO, vegan, fair-trade, or gluten-free.  SnackSack is $24.95/month for a sack full of healthy snacks.  You can even buy multiple sacks per month, perfect for an office environment.

The Details:
Cost: $24.95/month, You can also choose a 3 or 6 month subscription
Coupon: Try SnackSack and use the code LIFE15 to save 15% on every box for life.
What's in the box? SnackSack sends a sack full of delicious health snacks each month.
 Shipping; Free
Website: http://www.snacksack.com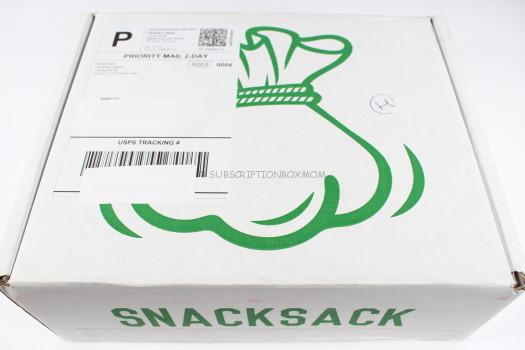 SnackSack ships near the end of the month.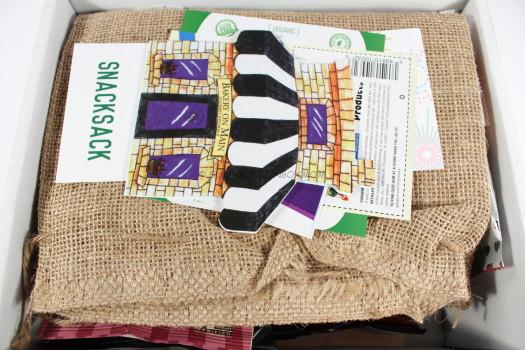 First Look.  You can use the enclosed sack to bring your snacks to and from work.  There were also several coupons on top.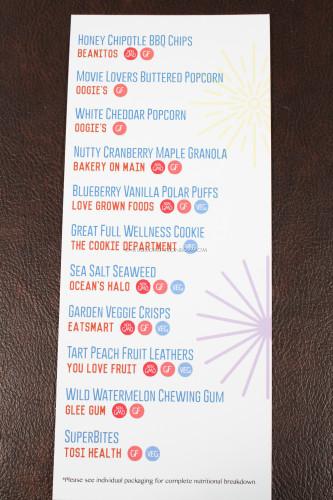 The information card has a list of everything in the box and there are colored dots to indicate if the snack is non-gmo, gluten-free or vegan.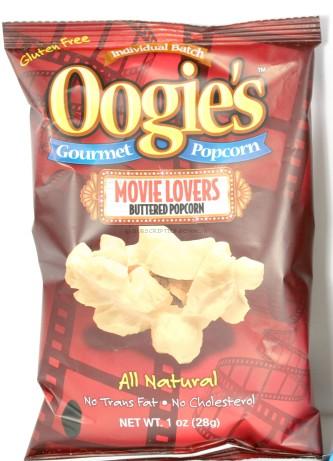 Ooogie's Movie Lovers Buttered Popcorn This is some of the best popcorn.  I have two or three amazing kinds of popcorn, thanks to subscription boxes.  This is regular popcorn, not puffed, and it tastes like movie theater popcorn.  I have bought this by the case before.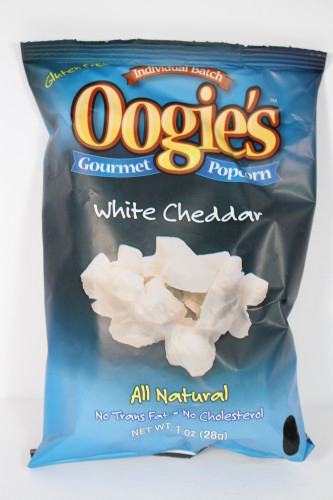 Oogie's White Cheddar Popcorn This is my 7 year old's favorite kind of popcorn, white cheddar.  This is free from trans fat and cholesterol free.
Glee Gum Wild Watermelon This gum is 100% natural and sugar free.  This watermelon flavor tastes great.  My son received a gumball machine for his birthday and these work with it.  My son will be really happy to get more gum and I don't have to worry about him rotting out his teeth.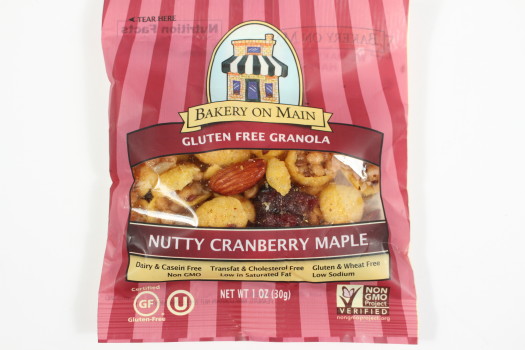 Bakery on Main Nutty Cranberry Maple Granola This is made with pecans, almonds and cranberries, then covered with a sweet maple glaze.  This reminds me of a treat you would get at the fair, but it's gluten free and non-gmo.  The company is pretty great too.  They give money to celiac research and give products to amateur and professional athletes.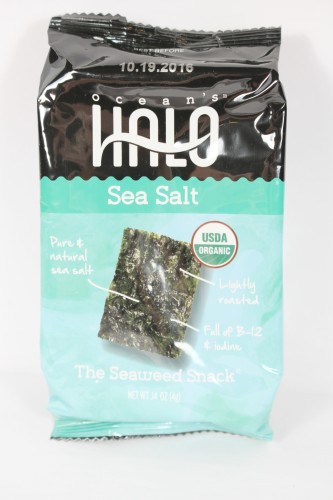 Ocean's Halo Sea Salt Seaweed  This roasted dry seaweed organic and contains b12 and iodine.  My brother loves dried seaweed, so he will be thrilled to get this.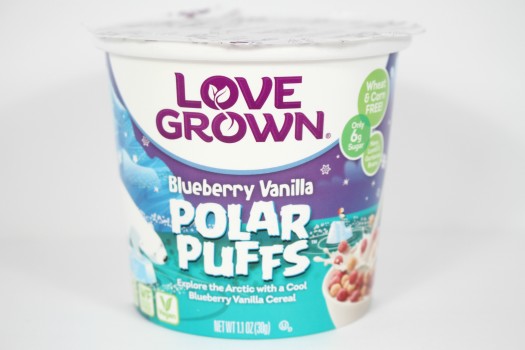 Love Grown Blueberry Vanilla Polar Puffs This cereal is made with beans (navy, lentil and garbanzo).  The combination of beans may sound gross, but it's really quite tasty.  It's blueberry vanilla flavored, so this really just tastes like a fruity cereal.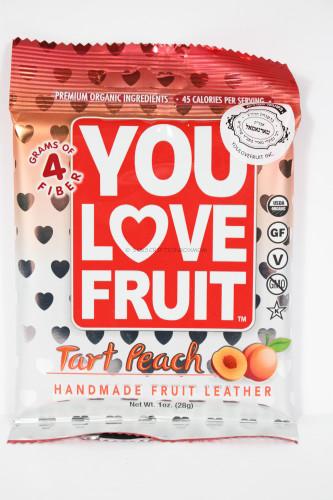 You Love Fruit Tart Peach Fruit Leathers  If you or your children love fruit leather, they will love these.  These little fruit hearts never stay around long in my house, because my 4 year old always eats them.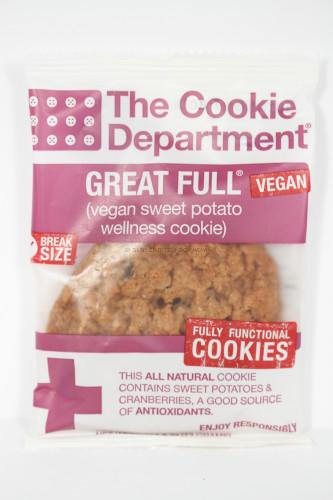 The Cookie Department Great Full Wellness Cookie This cookie is all natural and made with sweet potatoes, cranberries and oatmeal.  My husband is bringing this to work.  It's a sweet treat that won't wreck your diet.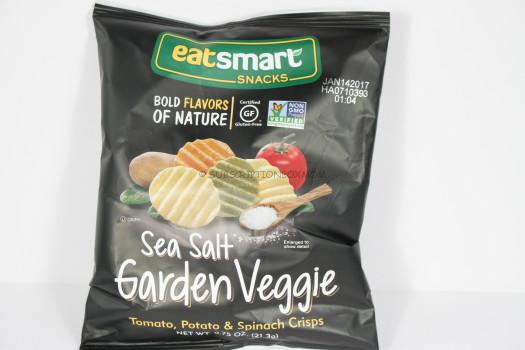 EatSmart Sea Salt Garden Veggie  Chips made with veggies are just as tasty, as regular potato chips.  This are made with tomatoes, potatoes and spinach.  You can eat these alone or dip them in some hummus.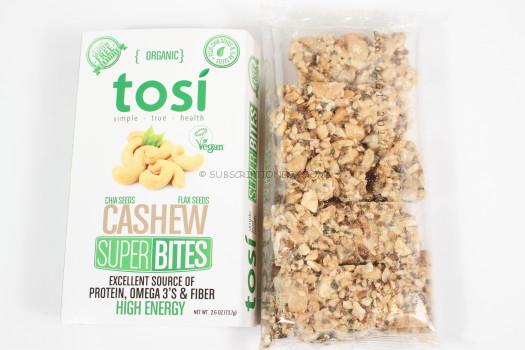 Tosi Health Superbites These are like little energy bars that are made with chia seeds, flax seeds and cashews. They pack a good amount of protein and help give you lasting energy.
Beanitos Honey Chipotle BBQ Chips These chips were listed on my information card, but not in my box.  I love Beanitos, so I wish I could've tried them.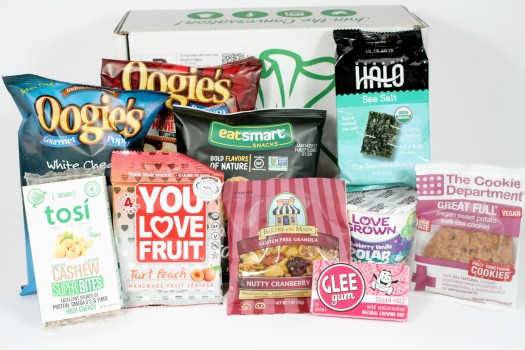 Final Thought: This was really a great box.  I keep my SnackSack snacks in a pretty basket in the kitchen, so people can grab healthy snacks when needed.  This box had something for everyone in my family.  If you love snacking, but want healthier options, try SnackSack and use the code LIFE15 to save 15% on every box for life.
Do you like FREE SUBSCRIPTION BOXES?  Click HERE to see my free subscription box list.
You can see my FULL coupon list HERE.
Do you love Giveaways?  Click HERE to enter all my Giveaways.