July 6, 2016
07/06/16

By Subscription Box Mom

0 Comments
0
GlobeIn Limited Edition Jewelry Review + Coupon
Disclosure: This post contains affiliate links.  I received this box for review.
GlobeIn has released a new Limited Edition Jewelry Box.  The box is a partnership with Tribe Alive and is filled with $135.00 worth of jewelry.  Tribe Alive works with artisans all over the world to help businesses sell their products and get training.  You can buy the jewelry box for $70.00 as a one time only box, or subscribe to the artisan box and you can get it for $50.00!
The GlobeIn Artisan Box is $40.00 month to month and filled with handmade items from all over the world.  I love the quality of the items in my GlobeIn boxes.  You also find out about where each item comes from and who made it. You can save $10.00 on your first box of a three-month subscription, just use the coupon WELCOME.
GlobeIn has also has a Benefit Basket.   The Benefit Basket contains one crafted good from a remarkable, remote artisan, all in a colorful, handwoven basket from their weaving collective in Oaxaca, Mexico.  You will also get story of the artisan, their community, and how you are making an impact on their lives.  The Benefit Basket is $19.95/month or $56.95 for 3 months, but you can get $7.00 off your 1 box of a 3 month subscription with the code TRYBENEFIT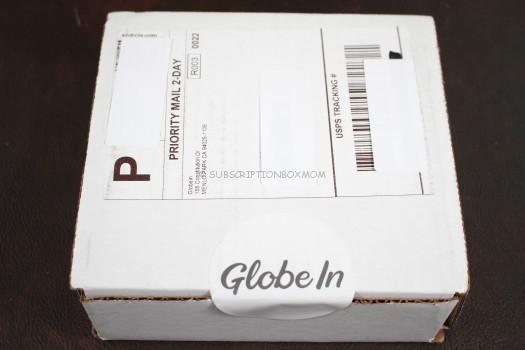 The jewelry box came in a little white box.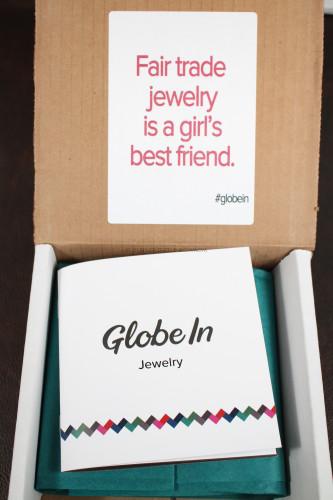 First Look.  The quote on the inside of the box was "Fair trade jewelry is a girl's best friend".  There was a little information guide in the box.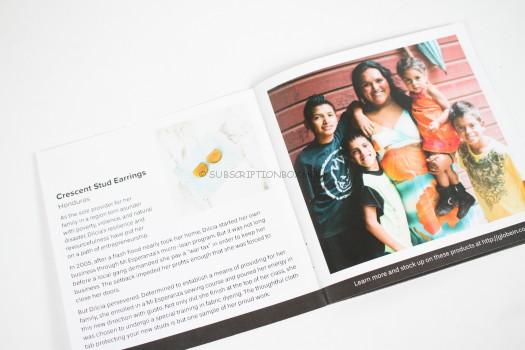 The guide is filled information about each artisan, and where the products are made.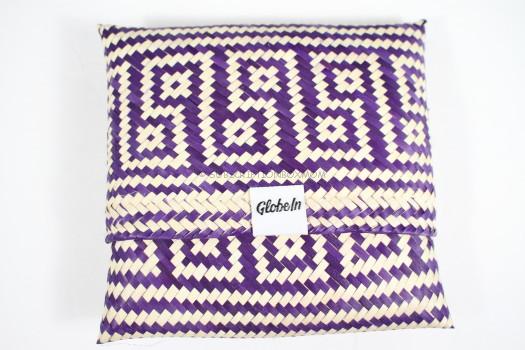 Handwoven Pouch, Guatemala $18.00 From the Oaxacan weavers, this little pouch held all the jewelry pieces in the box.  This can be used for money, makeup, or a snack.  Subscribers received various different colors.  Purple is my favorite color, so I am really loving this little pouch.

This is a look inside the pouch.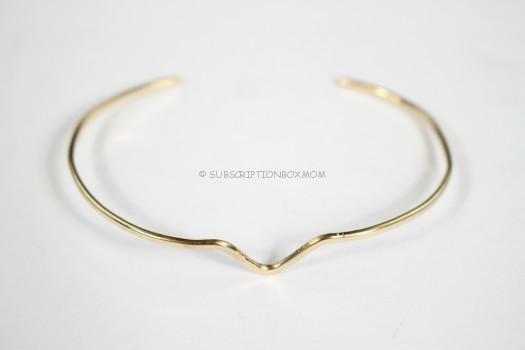 Wave Cuff, Honduras $32.00 This bracelet was made by Eugenia, a worker for Mi Esperanza.  Eugenia learned the craft of bracelet making and used her income to buy her daughter a computer.  The bracelet is a thin cuff with a little curve in the middle.  It's also adjustable to fit your wrist.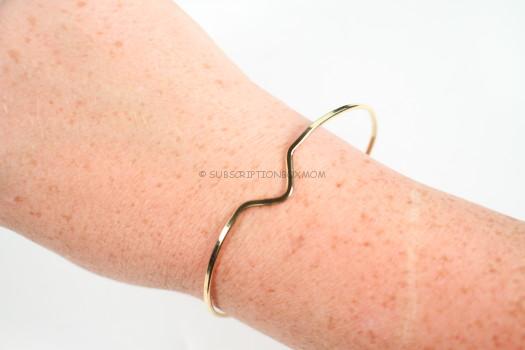 This is a look at the bracelet.  I really like the delicate design.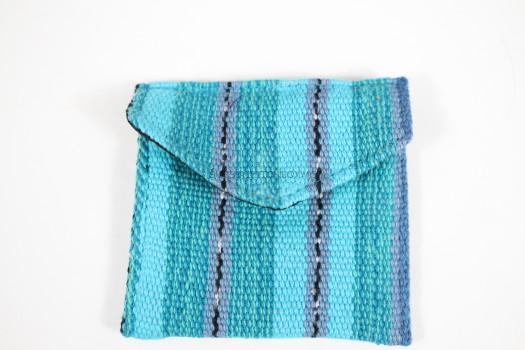 Handwoven Pouch, Guatemala $18.00 The rest of the jewelry was tucked in this little woven pouch.  The pouch was made by Cecilia, who works for Maya Traditions.  She learned backstrap weaving at 10 years old and is now one of Maya Traditions great artisans.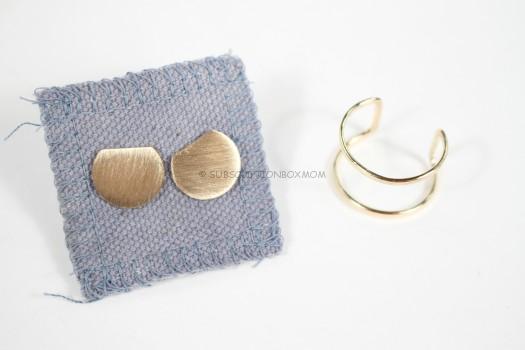 Crescent Stud Earrings, Honduras $25.00 Both the earrings and cuff were made by Sulema, who just learned to make jewelry a year ago!  I love this little crescent earrings, especially the texture.  The fabric the earrings are on was dyed and sewed by Dilcia an artisan who overcome great hardships to learn her trade.
Duo/Notch Ring, Honduras $25.00  This ring is beautiful and it's adjustable to fit your ring size.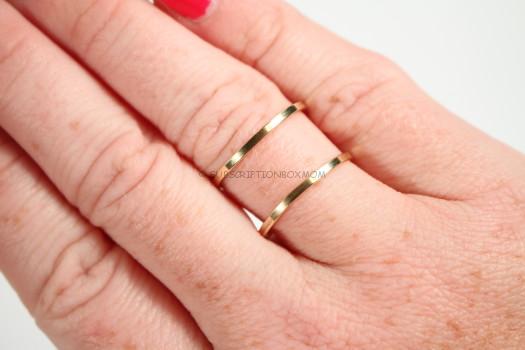 This is a closer look at the ring.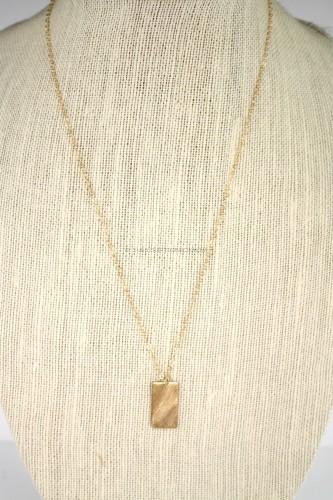 Token Pendant Necklace, Honduras $35.00 This necklace has a mid length chain and features a rectangle brass pendent.  The texture is the same as the earrings.  The bracelet was made by Denia.  Denia had a heart condition that wasn't being treated in Honduras.  Thanks to the kindness of two missionaries (Alan and Julie), she was able to get treatment in the states and spend 6 months of recovery with the missionaries.  Once in recovery, Denia learned jewelry making from Julie, an artist.  Once she went back to Honduras, she became a full-time artisan with Mi Esperanza.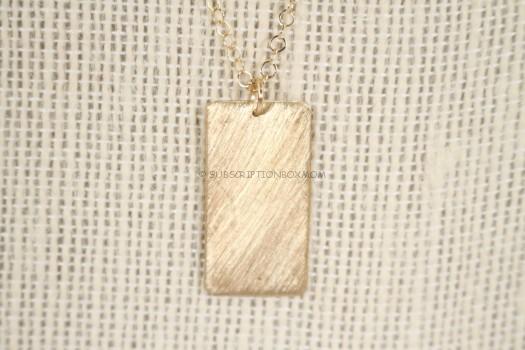 This is a closer look at the pendent.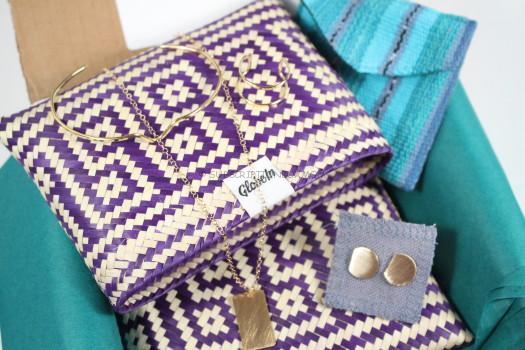 Final Thought: This box had a total value of $147.00.  I loved everything in this box!  The brass color is beautiful and all the pieces look great together.  I loved learning where each piece was made and the artisan who made it.   You can buy the jewelry box for $70.00 as a one time only box, or subscribe to the artisan box and you can get it for $50.00!  If you choose to subscribe to the artisan box, use the code WELCOME to save $10.00 on a 3 month subscription.
Do you like FREE SUBSCRIPTION BOXES?  Click HERE to see my free subscription box list.
You can see my FULL coupon list HERE.
Do you love Giveaways?  Click HERE to enter all my Giveaways