July 19, 2016
07/19/16

By Gigi C

4 Comments
4
Blue Apron July 2016 Review + 3 Free Meals
Disclosure; I received this box for review.  This post contains affiliate links.
Guest Review Alert- Gigi!  Hi everyone – I'm back with another food box review.  This time I was happy to review Blue Apron.
Blue Apron is a meal subscription box that sends you delicious recipes and all the ingredients you need to make the dishes.  There are two plans, a two-person plan and a family plan.  The two-person plan is $59.94/box or 9.99 per serving.  The two-person box includes two plates of three different meals.  The family box is $69.92/box for eight services or $8.74/serving.
When you sign up, you check all the kinds of food you like.  I choose not to get fish or shellfish.  Each week, you will be sent meals based on your preferences.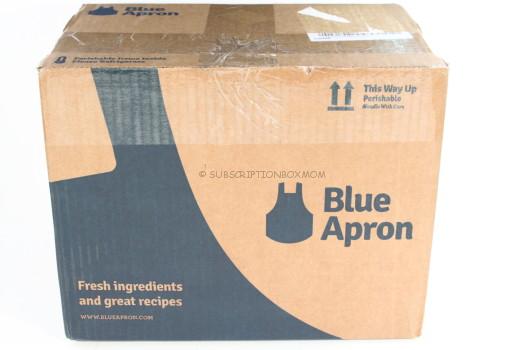 Blue Apron shipped in a big box!
First Look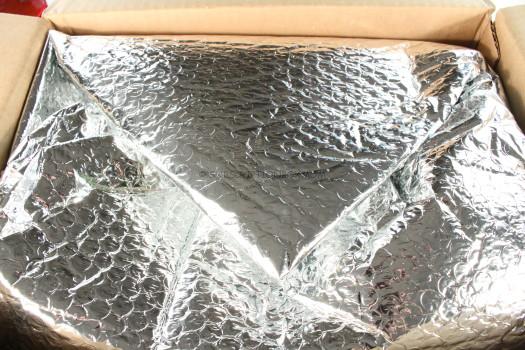 All the food was packaged in an insulated bag.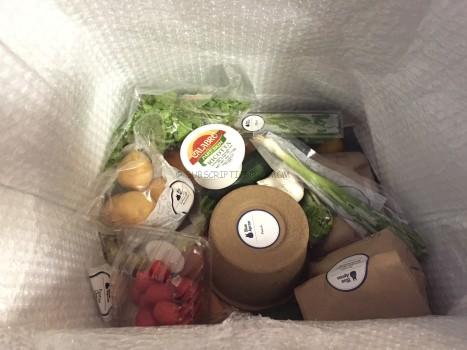 All the ingredients were packaged individually.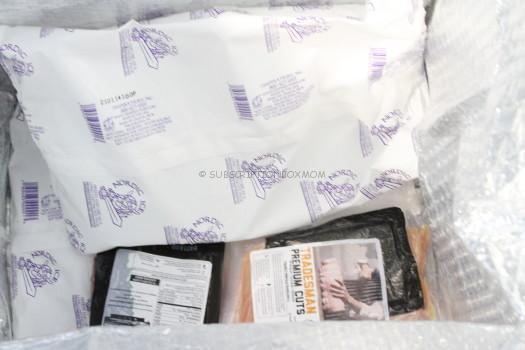 All the meat was packaged under ice packs.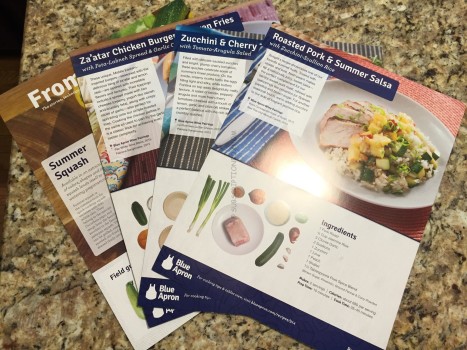 Each meal comes with a two-sided recipe card.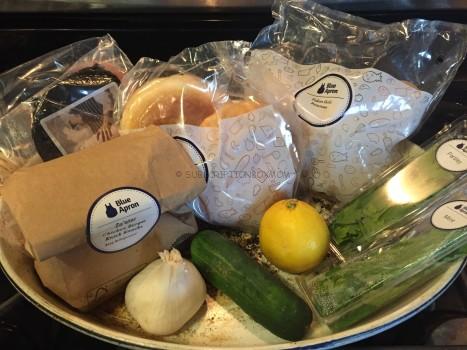 Za'atar Chicken Burgers & Oven Fries  – These unique, Middle Eastern-inspired burgers – seasoned with the delicious tang of za'atar and lemon zest – are layered with great flavors and textures.  Toppings include a spread made with two cheeses (creamy, yogurt-like labneh and crumbly feta), along with crispy slices of garlic.  The side was hand-cut oven roasted fries.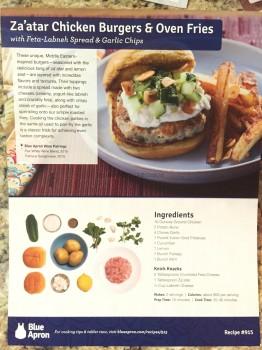 The front of each recipe has a list of all the ingredients in the box.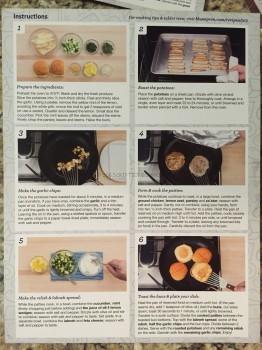 The back of the card has pictures and step by step instructions on how to cook the recipe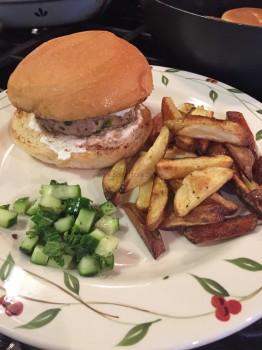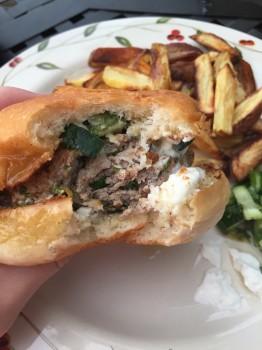 This is the finished meal.  This was super easy to make.  I was a bit hesitant since I've never had za'atar, well.. anything.. and the toppings also included cucumbers, of which I'm not a fan.  However, I have to say – these were absolutely DELICIOUS.  Even the cucumbers – they added a nice crunch.  The fries were super simple to make and also delicious.  I will DEFINITELY make this again – just as soon as I get some of that za'atar seasoning.. or make some of my own.  My 5 year old son even ate this – so I know it was a winner winner – chicken dinner!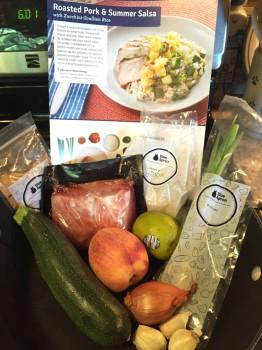 Roasted Pork & Summer Salsa – One thing I really like about food subscription boxes is the combination of flavors I wouldn't normally think of making myself.  In this meal, roasted pork was paired with a shallot, lime and peach salsa.  The side was jasmine rice, tossed with sauteed zucchini.  This was also amazing – and the rice was SOOOOO good.  I frequently make jasmine rice as a side dish – and now I have a flavorful new way to spice it up!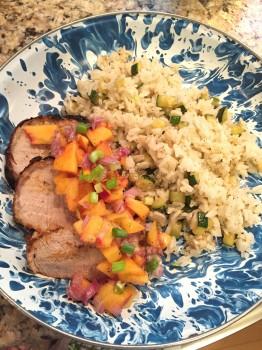 Here's a closeup of this delicious meal.  I will be making this again very soon!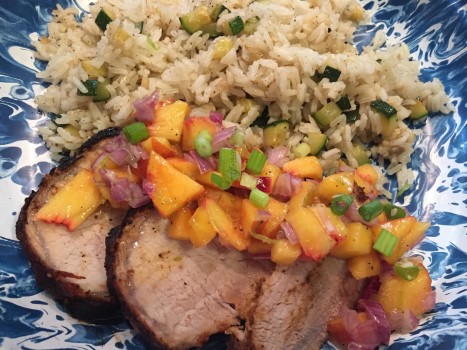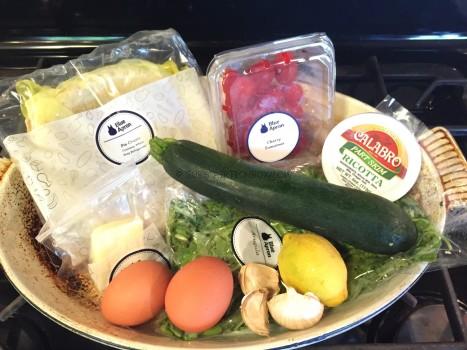 Zucchini & Cherry Tomato Quiches – I left this for my last meal because I really wasn't that excited about making quiche for dinner.  I should have know better based on the other two meals – this one was a MAJOR success.  The quiche was filled with sauteed zucchini, plump cherry tomatoes, garlic, eggs, and ricotta and fontina cheeses. It was paired with an arugula salad with a lemon-based vinaigrette.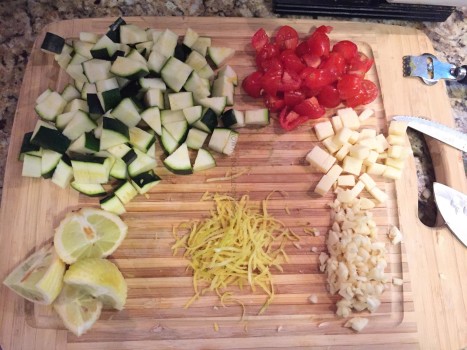 A quick look at ingredient prep..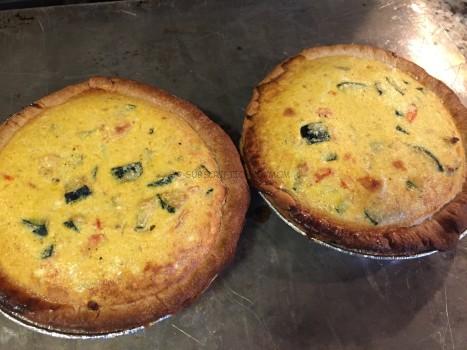 The quiches after coming out of the oven.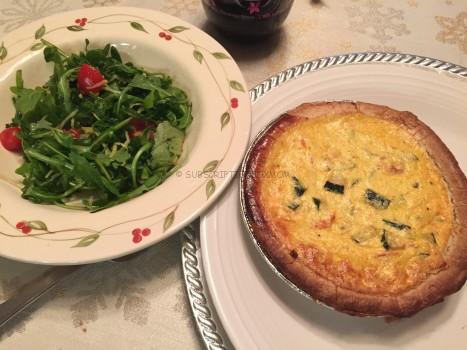 The final meal with the salad.
Final Thought: Overall we had 3 delicious meals.  I was very happy with everything I made and I will be making all of these recipes again.  Seriously – they were worth repeating.  The recipes are simple, easy to follow with the instructions – and the recipe cards are nice to put in your recipe book when you're done so you can make them again.  All the ingredients are provided except things you should already have on hand (for all three meals I only had to provide salt, pepper, and olive oil).
I would recommend trying Blue Apron – you might discover a new recipe you can't live without!  Also, after you become a subscriber, you can skip any week in your account.   So give it a go, skip when you want and if you want to try Blue Apron, use this link to get 3 Free Meals on your 1st order (shipping charges apply).  
Do you like FREE SUBSCRIPTION BOXES?  Click HERE to see my free subscription box list.
You can see my FULL coupon list HERE.
Do you love Giveaways?  Click HERE to enter all my Giveaways