June 26, 2016
06/26/16

By Subscription Box Mom

0 Comments
0
My Pretend Place June 2016 Review + Coupon
Disclosure: This post contains affiliate links.  I received this box for review.
My Pretend Place has released a new feature to their subscription, Build Your Own Box.  My Pretend Place is a subscription box for children 3-8, that encourages pretend, dress-up, learning and imagination.  Previously, you were sent a random theme each month, but now you can choose your theme.
 My Pretend Place's mission is to get children crafting, dressing up, pretending and using their imaginations!  The Dress Up box is $50.00 every 3 month (quarterly) and comes in boy, girl or gender neutral.  Each box will contain dress-up costumes, activities or crafts, and other pretend play inspiration.  Every three months, you get a big box of goodies and the two off months, you get free bonus materials.
When you sign up for the dress up box, you can choose between the following themes: astronaut, chef, cowboy, cowgirl, fairy, fire fighter, pirate, princess, safari, superhero (boy and girl), veterinarian or surprise me.  You can choose up to four themes at a time, and you will get the themes in order that you choose them.  I choose the ninja theme this month.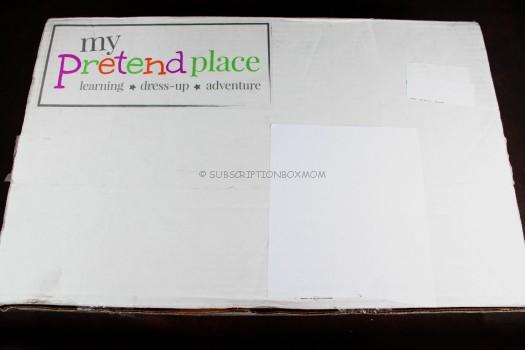 Everything ships in a big white box. You can keep the box and use it to store your child's dress up clothes.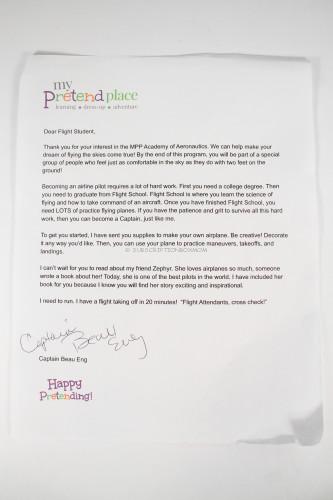 There was a letter to my "Flight Student", from Captain Beau Eng.  Each box comes with a letter to your child explaining the theme of the box and it gives suggested activities.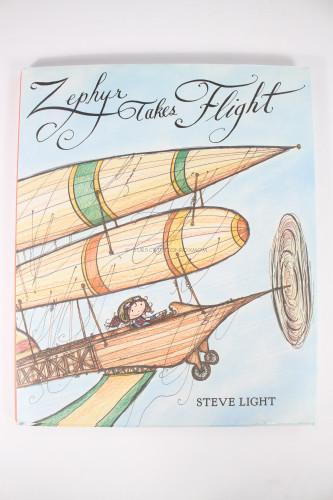 Zephyr Takes Flight by Candlewick $15.16 This book is about a little girl named Zephyr who loves airplane.  One day, she is sent to her room and discovers a new world. 
From Amazon "Zephyr is a girl who loves airplanes. She draws pictures of them, makes them out of paper, builds them out of junk, and hopes one day to fly one of her own. But when Gramma, Daddy, and Mom are too busy to play airplane with her, Zephyr's excess enthusiasm gets her sent to her room — where she discovers a secret door that leads to the most wondrous place she's ever seen! Lovers of flying machines and gadgets, along with adventurers of all kinds, will be buoyed by this lighthearted tale of a little girl who finds her wings."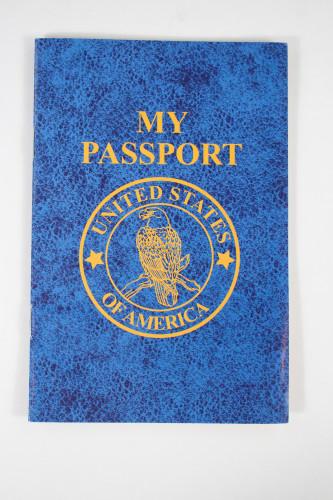 Since the theme of this box is flight, there was a little passport included to record your child's travels.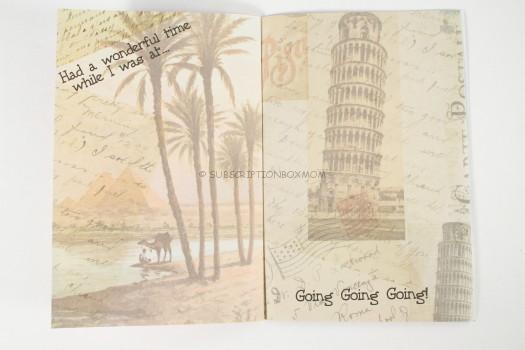 Just like a real passport, there were blank pages to stamp with all your child's stops.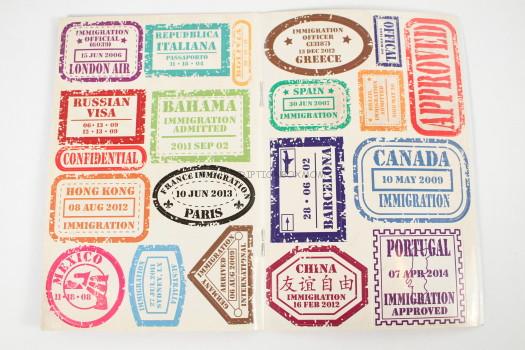 Passport stickers: Your child can use these as stamps for their passport.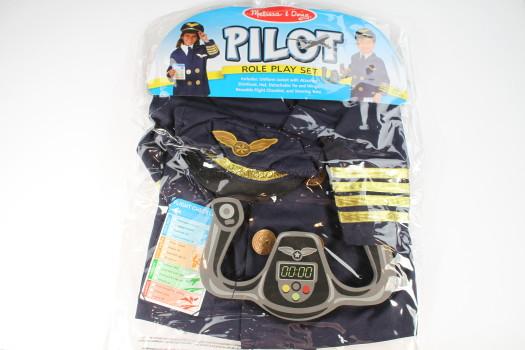 Melissa & Doug Pilot Role Play Costume Set by Melissa & Doug $23.51 The featured costume for this month is a pilot.  This costume comes with a uniform jacket with shirtfront, hat, detachable necktie, flight wings, reusable pre-flight checklist, and steering yoke.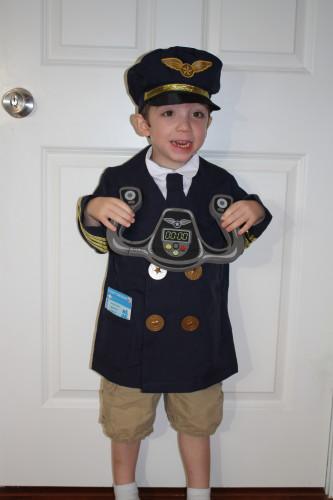 This is T in his pilot costume.  This costume is just so cute, I love it and so does T.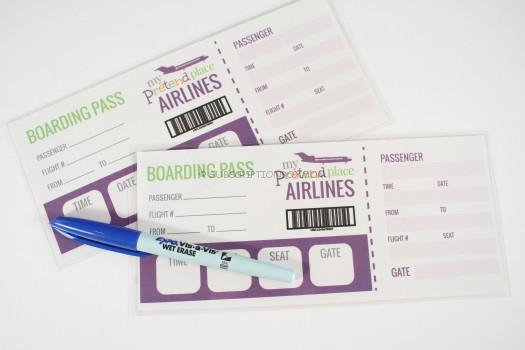 There were two boarding passes that had been laminated and there was a dry erase marker.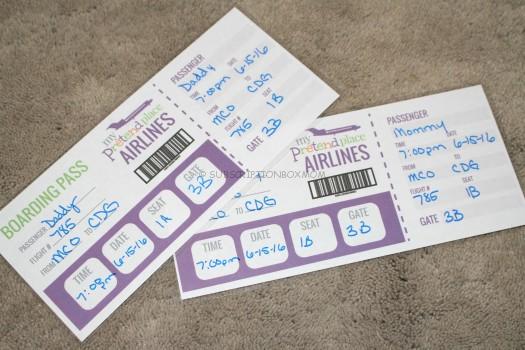 I filled them out and we used it for our trip.  Do you know where we went (without using Google)?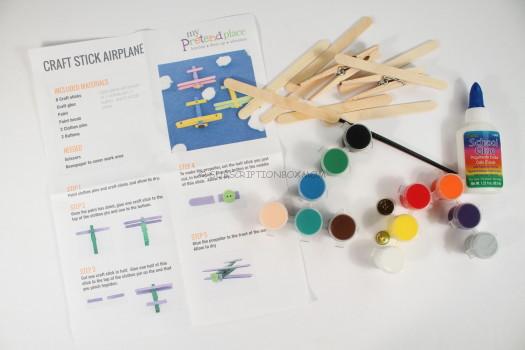 Craft Stick Airplane: There was a craft included to make two airplanes.  As soon as T saw the paint, he couldn't wait to put it together.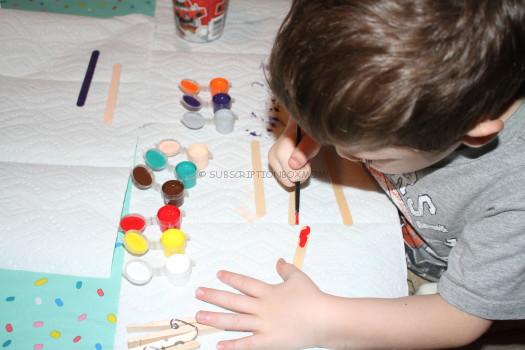 T painted each and every stick in the pack,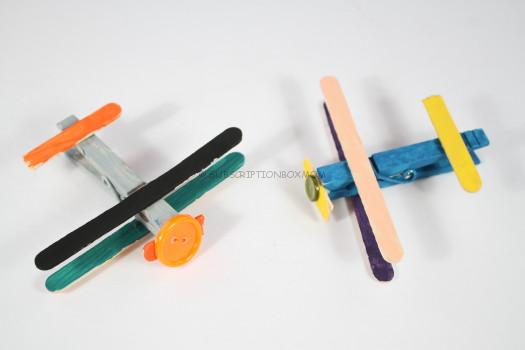 These are the finished planes.  Other than breaking the craft stick for the propeller, T did everything.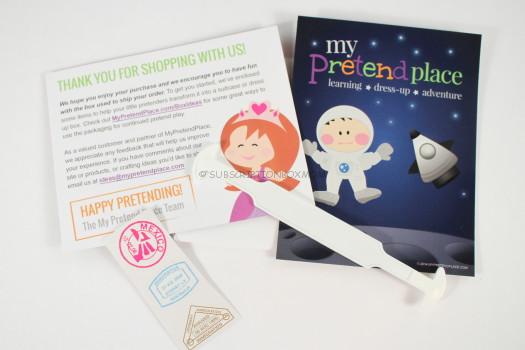 Every box comes with a handle and stickers, so your child can turn the box into a storage suitcase.  There were three travel themed stickers to personalize the box.
My Pretend Place also included the bonus materials for months 2 and 3.
Month 2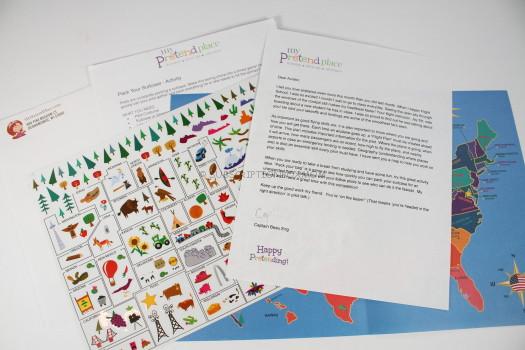 For month 2 your child receives a letter from Captain Beau Eng and a map activity.  There was a map of the United States with state stickers for each state.  There was also a sheet for a "pack your suitcase activity".  You child gets a list of items to find and sees how long it takes to find all the items.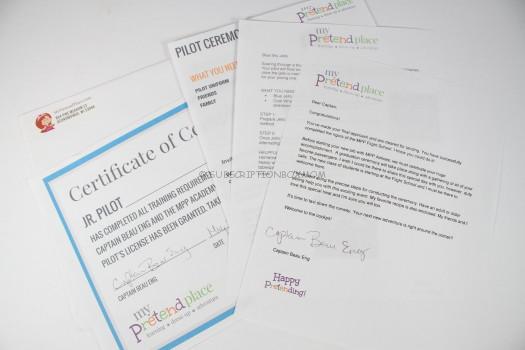 Month 3 is the last month in pilot training.  There was a letter with ideas to do a pilot ceremony.  There was a paper with a pilot ceremony instruction sheet a completion certificate and a recipe to make Blue Sky Jello.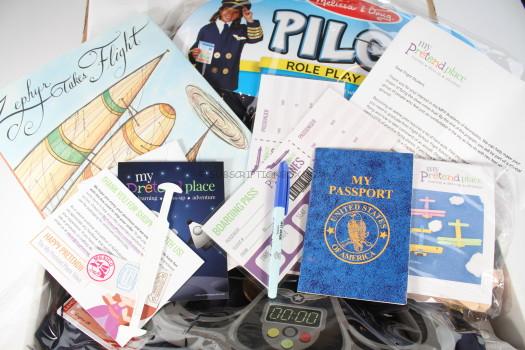 Final Thought: This was a really fun month.  T loves dressing up and this pilot costume was adorable.  He has worn it several times since receiving this box.  This is a great box to encourage your child to pretend and use their imagination.  The fun doesn't stop with the dress up box.  Your child will receive more fun activities month 2 and 3!  If you want to My Pretend Place, use this link with the code playtime to save 20% on your first box of the dress up box or the craft subscription.
Do you like FREE SUBSCRIPTION BOXES?  Click HERE to see my free subscription box list.
You can see my FULL coupon list HERE.
Do you love Giveaways?  Click HERE to enter all my Giveaways