June 29, 2016
06/29/16

By Subscription Box Mom

0 Comments
0
Kiwi Crate June 2016 Review + 40% Coupon
Disclosure: This post contains affiliate links.
The June 2016 Kiwi Crate created a working pendulum.  Kiwi Crate is a fun activity and craft subscription box for kids 5-8.  Crates are $19.95/month and filled with Explore magazine, along with featured crafts. Kiwi Crate is our family's first subscription box and it's one of my favorite subscription boxes for kids.
The Details:
Cost: Month to Month $19.95
3 Months: $59.85
6 Months: $111.00
12 Months: $203.40
Coupon:  Save 40% on your 1st box, just use the code SPARKLE.
What's in the box? Every month you'll receive all the materials and inspiration for projects related to a theme such as music, gardening, dinosaurs or colors. Projects may include arts and crafts, science activities, imaginative play and more. We've hand selected and kid tested projects that are open-ended and encourage curiosity, exploration and creativity!
What ages is Kiwi Crate for?  Ages 5-8 but older children can enjoy it too.
Can I skip? Yes – if you do not want to receive a crate for a period of time, you can pause your subscription for 1, 2 or 3 months. To pause, log into My Account page, click "Manage Subscription" next to the subscription that you'd like to pause and then click Pause. You will not be charged while your subscription is paused. Your subscription will automatically resume after the pause period is complete. Pause by 7:00 PM EST on the 4th of the month to avoid being billed for the next crate.
How do I cancel? You can cancel or skip from your account.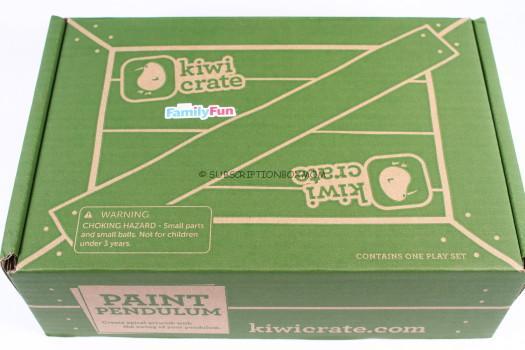 Kiwi Crate shipped in a little green box.  This month's theme was "Paint Pendulum".  This box had a Family Fun Sticker.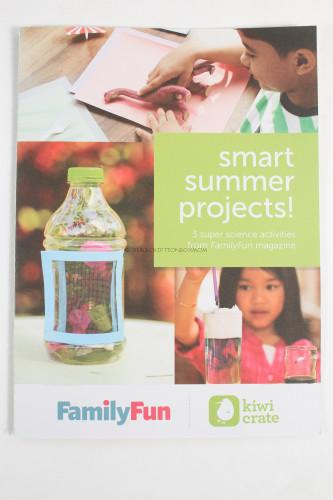 Family Fun partnered with Kiwi Crate and included a little summer projects book in the box.  There were plans for Peep on Creep Crawlers (bugs in a jar). Make It Rain (Create a Storm in a Cup). and Print with Solar Power (make pictures with the sun).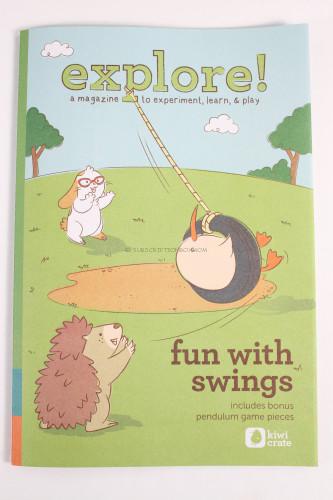 Explore Magazine always is packed with fun activities, cartoons, recipes and more.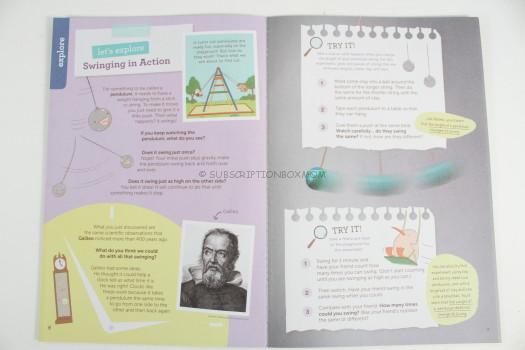 There was a two page spread in the magazine about pendulums and the science behind how they work.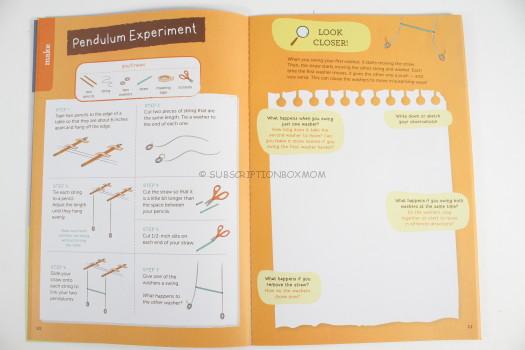 There was a fun pendulum experiment to do with materials at your home.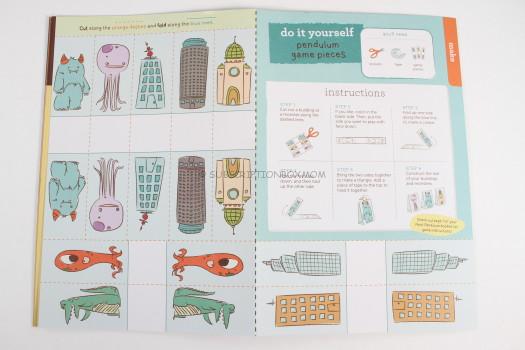 The project at the end of the book, there were pendulum game pieces to cut out and use with one of the main activities.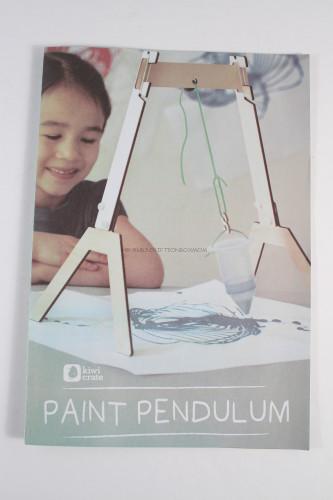 The instructions for all the projects were in a little magazine.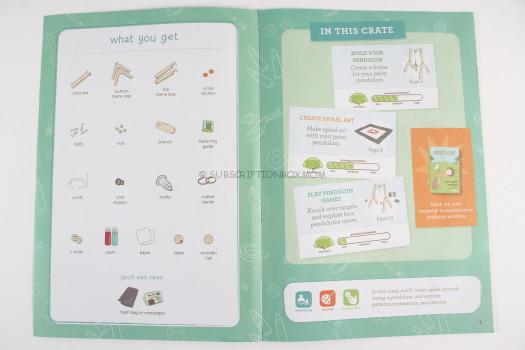 The first pages have a list of all the items in the box.  There is also a breakdown of each activity with information about the messiness and parental involvement needed for each activity.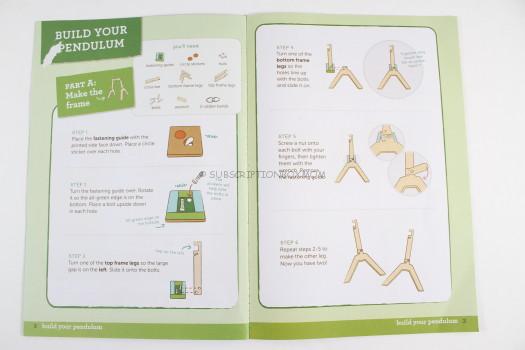 First part of the magazine included instructions to make the pendulum.  My son is at the age now, that he can follow the instructions.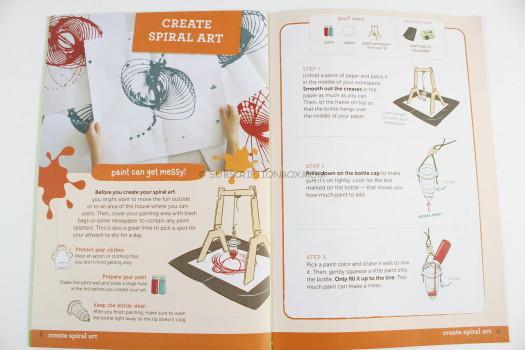 The second part of the projects was Create Spiral Art.  Your child uses the pendulum and turns it into a Spirograph.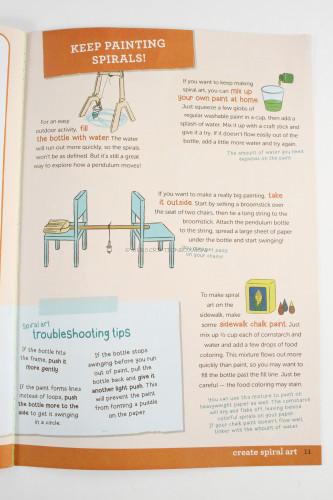 Once the project were completed, there were trouble shooting tips.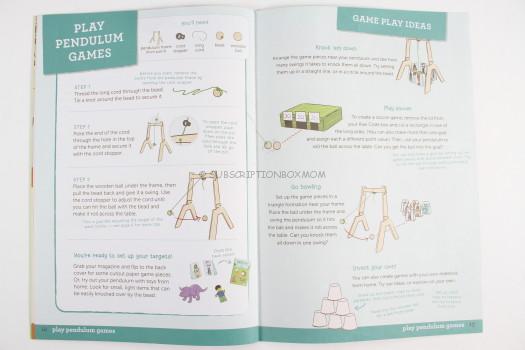 The end of the book has various games you can play with your pendulum.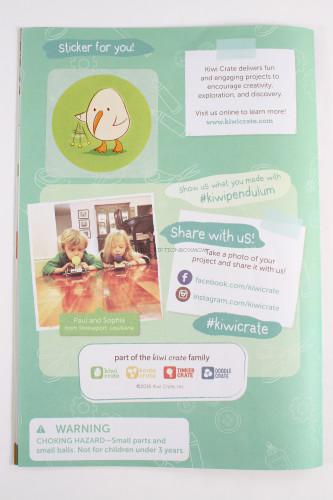 The back of the information guide has a sticker to put on your child's poster.  Your first box will contain a poster and a pair of scissors.  You can add a sticker with each box.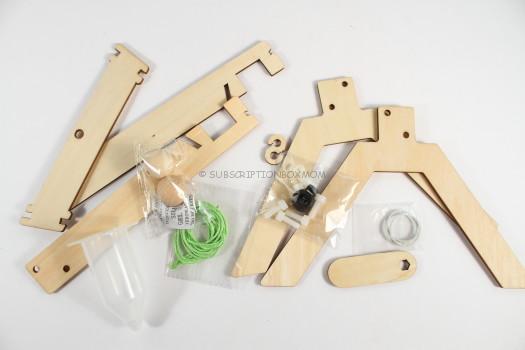 The pendulum parts were all made with thicker wood, so it's not likely to break.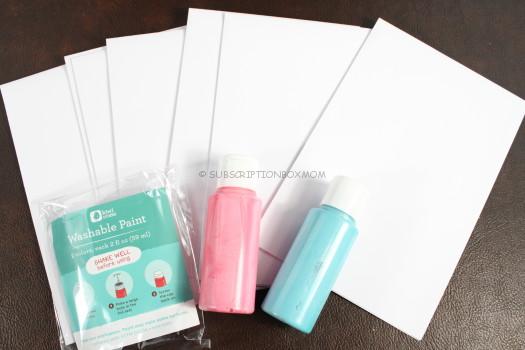 For the spiral art project, there were several sheets of paper and 2 bottle of paint.
Making the Pendulum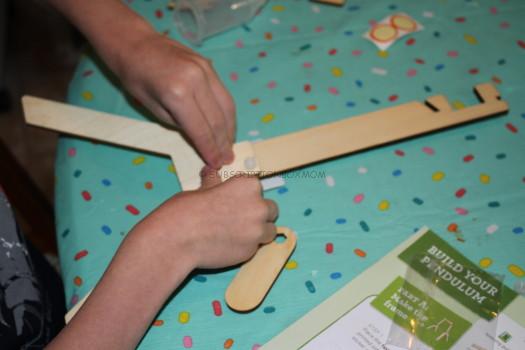 L assembled the pendulum without any problems.  For reference, he is almost 7.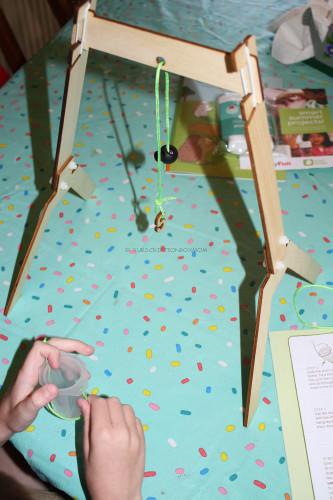 The finished pendulum.  There were two strings: one hook, and one container to hold the paint.
Making Spiral Art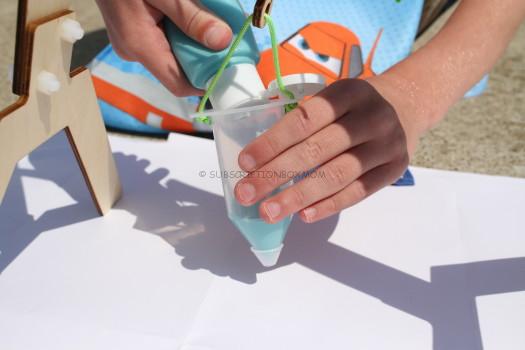 It was a beautiful (and hot) day, so we took the paint project outside for the spiral art project.  The first step was to fill the container with paint.
To start the pendulum, you pull back the string, remove the cap on the paint holder and let go.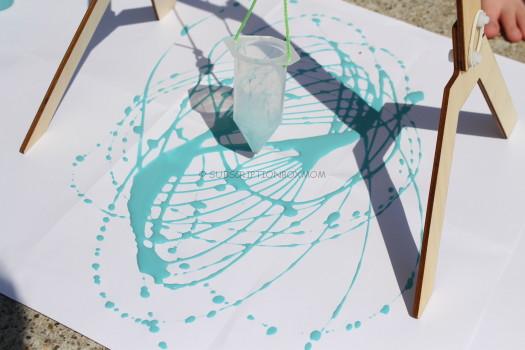 L and I both enjoyed watching the pendulum swing around.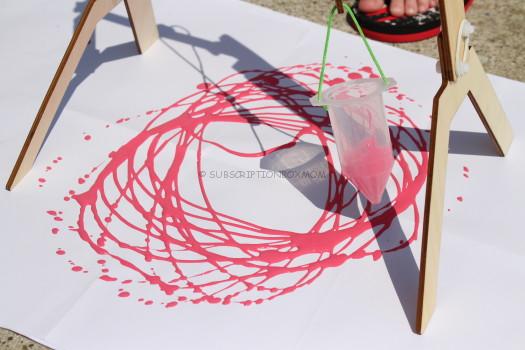 We tried both colors and enjoyed watching each picture.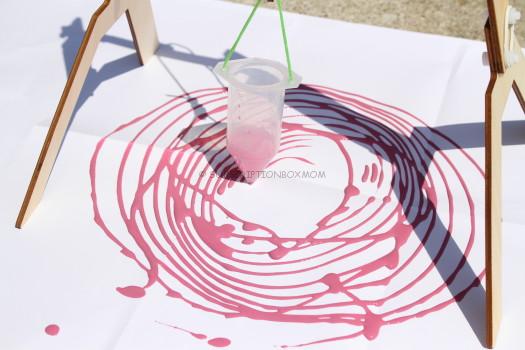 L decided to combine both colors to make a cool purple color.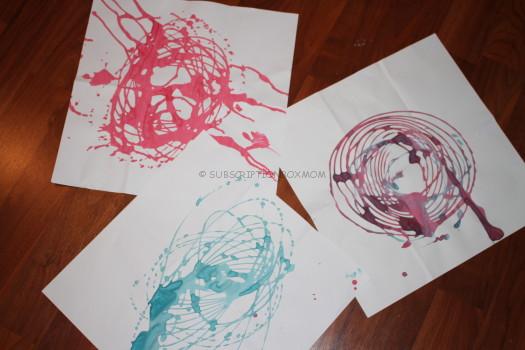 These are L's finished pictures.  We had a bit of running with the paint, when we were sliding them to the side to dry. I did think they turned out well.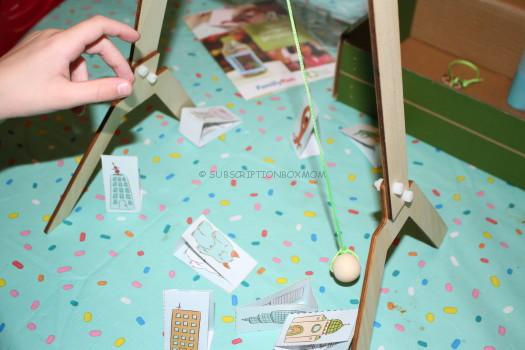 L switched out the string to the ball, for the pendulum games.  You set up the pieces from the magazine and try to knock them all down with the pendulum.  L and I had a contest to see who could knock down the most pieces.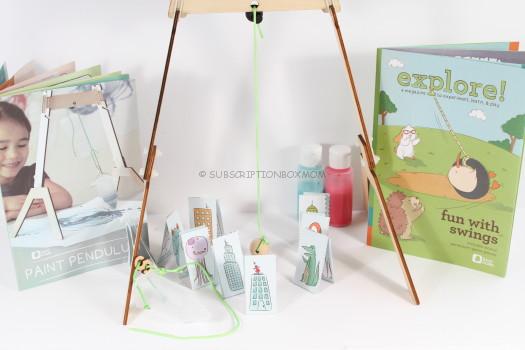 Final Thought: This was a really fun month.  My son had a fantastic time putting together the project and playing with them.  This pendulum is sturdy enough to play with over and over again.  Kiwi Crate creates fun and engaging boxes that teach kids about science.  We started subscribing to Kiwi Crate 3 years ago, and it remains my favorite subscription box for kids.  If you want to subscribe, you can save 40% on your 1st box, just use the code SPARKLE. Exp 7/17!
Do you like FREE SUBSCRIPTION BOXES?  Click HERE to see my free subscription box list.
You can see my FULL coupon list HERE.
Do you love Giveaways?  Click HERE to enter all my Giveaways