June 26, 2016
06/26/16

By Kristi Klemish

0 Comments
0
Hamptons Lane May 2016 Southern Breakfast Box Review + Coupon
Disclosure: This post contains affiliate links. I received this box for review.
Hi all!  It's Kristi doing another guest review!  I'm venturing into cooking territory this month!  I love to cook at home, so I was excited to try the Hamptons Lane Southern Breakfast box.  Let's dive right in!
Hamptons Lane provides the food lover with the tools they need to enhance their culinary experience as chef, entertainer, and eater.  By carefully sourcing the best ingredients, kitchen tools, serveware, and local artisan foods they help chefs everywhere expand their culinary horizons, all for a great price. Hamptons Lane is $47.00 a month, but you can save $10.00 on your first box by clicking HERE and use the code SUBBOXMOM10.
One of the best things about this box is the freedom to skip the month's you want (You have until the 5th of the month).  You log into your account at the first of the month and you will see what your box will look like.  You can choose to skip or do nothing and keep the box.
The Details:
Cost: $47.00
Coupon:  Save $10.00 on your first box by clicking  HERE and use the code SUBBOXMOM10.
What's in the box? Each month, their team of experts curates amazing kitchen products together with artisan foods & ingredients into a themed box, like the Must-Haves of Cucina Mexicana or The Best in BBQ.
Can I skip?  Yes, on the first of the month you will get a peek at that month's box and you can decide if you want the box, or if you want to skip.
Website: www.hamptonslane.com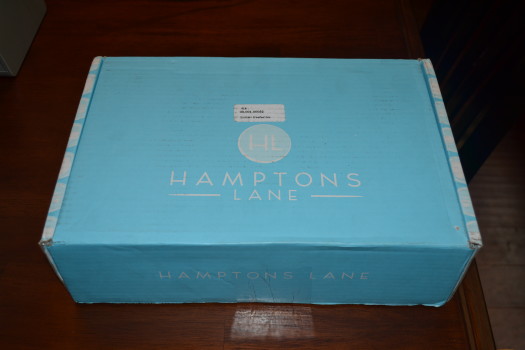 This month's box came in this pretty blue box….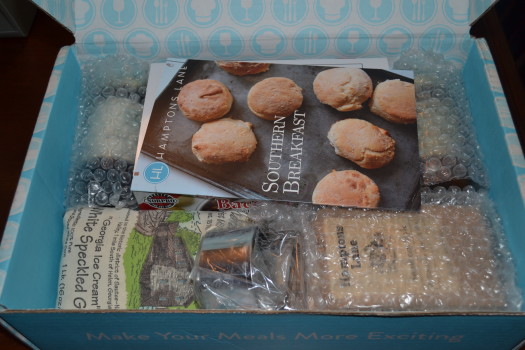 and was well-wrapped and packaged (great since it included glass jars!).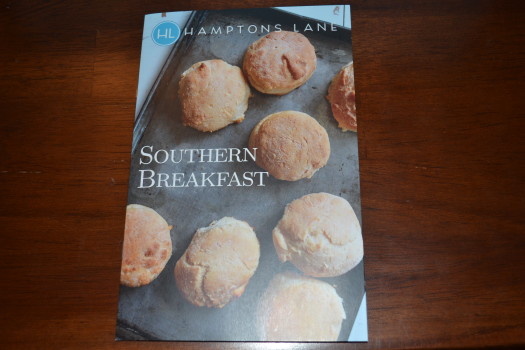 There is a nice little booklet that tells you about each item and contains a few extra recipes that you can make with said items.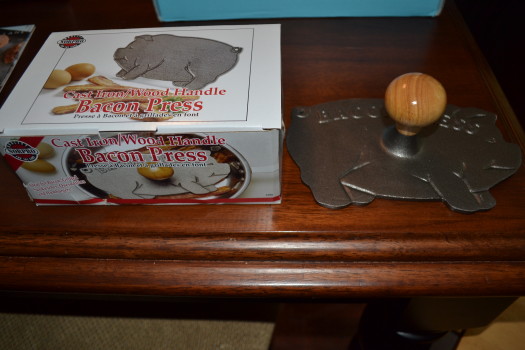 Pig Bacon Press Everett, Washington:   I found it on Amazon for $11.88, but MSRP is $15.  This cast iron bacon press with wooden handle keeps bacon flat while cooking, while also preventing splatter and cooking bacon evenly.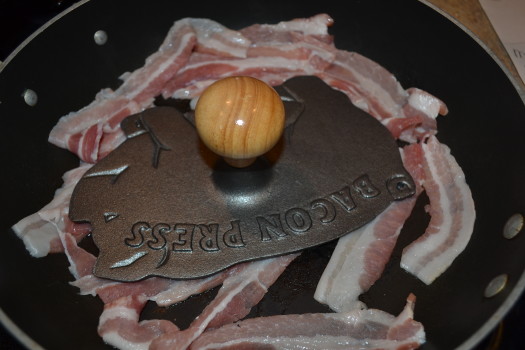 Here it is in action!  I NEVER cook bacon on the stove…it's usually a disaster.  My pan was more full of bacon, so I just moved it around every so often.  It was great….my bacon didn't burn, splatter, or curl.  It cooked perfectly (and tasted much better than my microwave version)!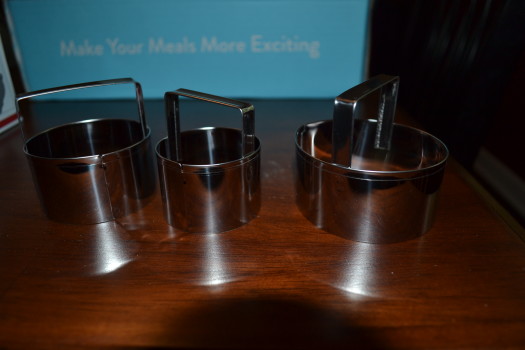 Trio of Biscuit Cutters by Fox Run Ivyland, Pennsylvania:  These can be found at Bed, Bath and Beyond for $2.99, MSRP is $7.  These are perfect for cutting biscuits, scones, and pastries.  They come in 2″, 2.5″, and 3″ (I used the three inch today).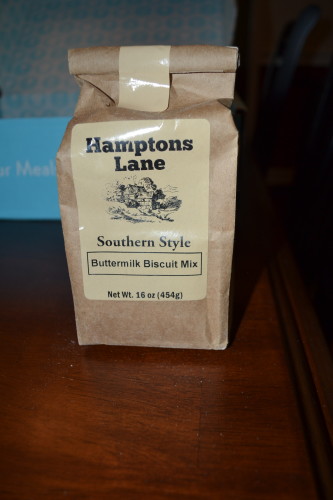 Hamptons Lane Southern Style Buttermilk Biscuit Mix Ash, North Carolina: MSRP $8  Nothing says Southern Breakfast like freshly baked buttermilk biscuits – and this mix from Bear Branch Milling makes them very easy. Hard to believe that you just need to add water, but 1 cup per bag of mix is the right ratio for fluffy, flavorful buttermilk biscuits without the hassle of picking up buttermilk from the store. The mix is milled from whole grain with no additives or preservatives in the very Southern town of Ash, North Carolina. (from Hamptons Lane website).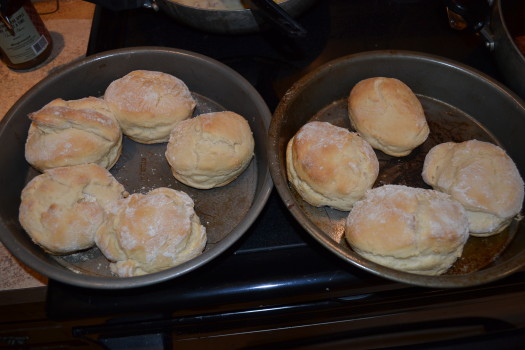 The finished product.  I make mine a little thicker, which made nine yummy biscuits.  They were very good and easier to make than my normal homemade version!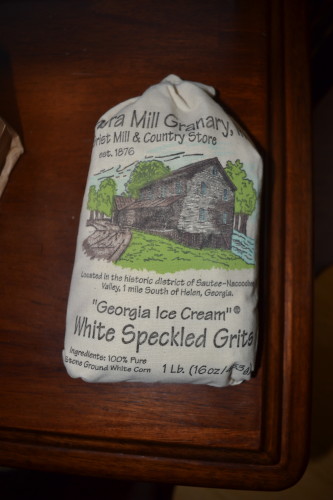 Small Batch White Speckled Grits by Nora Mill Granary  Helen, Georgia:    MSRP was listed as $10, but they are $4.75 at noramill.com, linked above.  These grits are ground from coarse ground from whole grain corn.  The whole bag makes 18 full 1/2 cup servings.  I made one batch, which was one cup grits to four cups water, and it was plenty for one meal.  I'll try the shrimp and grits recipe in the book next time.  I like my grits plain, so I didn't add anything.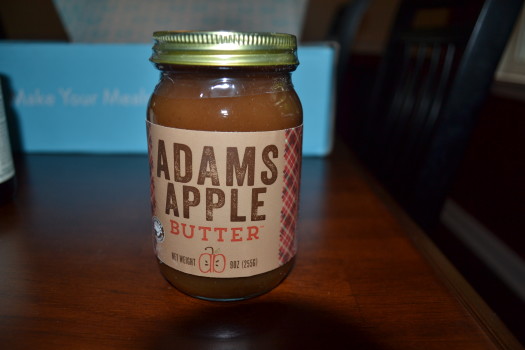 Apple Butter by Adam's Apple Eatables  Lexington, South Carolina:  MSRP $11 Theresa Adams is on a mission: to redeem the apple, one jar at a time. She fell in love with apple butter as a little girl on a family farm in small town Illinois, watching it cook in a big copper kettle. Fast forward to 20 years, she married the man of her dreams who happened to have the last name of "Adams". Using simple ingredients and a homegrown family recipe, Theresa is well on her way to completing her mission. We love slathering this apple butter on freshly baked biscuits, but also recommend it on ham sandwiches or as a glaze for pork or chicken. (description per Hamptons Lane).  This was EXCELLENT.  It was a hit with the entire family on the biscuits.  I am going to try the recipe for the ham sandwich in the booklet next!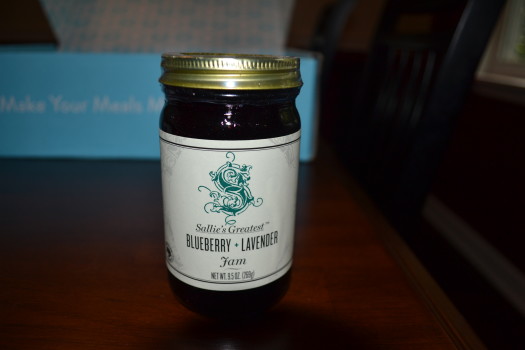 Blueberry Lavender Jam by Sallie's Greatest Cameron, South Carolina:  MSRP $10.  Not just for breakfast. This unique combination of fresh blueberries and lavender flowers is about to become your new favorite thing. Best served on a piping hot biscuit, it's also fabulous on a block of blue cheese as the appetizer Blue on Bleu, as the J in your PB&J with banana, or as the key ingredient in our Blueberry Lavender Crumble. Sallie earned the coveted "Made in the South" award from Garden & Gun for her preserves, and lives by the ethos "Love Thy Farmer". It shows – her jams are made from fresh, locally grown fruits and combined with herbs to create unique jams with a fresh-from-the-garden flavor (from Hamptons Lane website).  This was a family hit as well!  I can't wait to make the recipe for Blueberry Lavender crumble!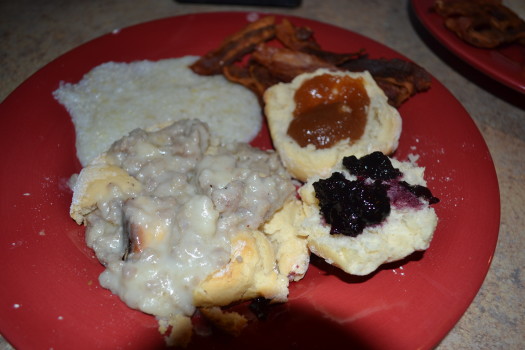 Here is our finished "breakfast for dinner"!  Everything was super yummy!  My boys asked me to make more biscuits for breakfast tomorrow to use the apple butter and jam on!
Final Thoughts:  My final value tally came to $48.62, which is a little less than what was on the website, but it still comes out to a great deal!  I like that you can see ahead what's in the box and skip if you want.  I loved getting to try some new stuff and have a new way to cut my biscuits and fry my bacon!  To try Hampton's Lane, use this link with the code SUBBOXMOM10 and you will save $10.00 on your 1st box.
Do you like FREE SUBSCRIPTION BOXES?  Click HERE to see my free subscription box list.
You can see my FULL coupon list HERE.
Do you love Giveaways?  Click HERE to enter all my Giveaways.