May 13, 2016
05/13/16

By Subscription Box Mom

0 Comments
0
PeelyPack April 2016 Sticker Subscription Review + Coupon
Disclosure: This post contains affiliate links.  I received this box for review.
PeelyPack is a sticker subscription box for kids 3-7.  For only $11.99, your child will get at least 10 sheets of stickers, an activity sheet and play ideas.  For multiple children, you can get double the stickers for only $19.95 (less than double the cost).  They even throw in a surprise sometimes.  Shipping is free to the United States and Canada, only $2.00 for international subscribers.  I love stickers, as do my children.  We were excited to check out PeelyPack.
The Details
Cost: $11.99/month – PeelyPack, $19.95/month for FamilyPack
Coupon: Use this link with the code GET25OFF to get 25% off.
What's in the box?  Your child will get at least 10 sheets of stickers, an activity sheet and play ideas.  For multiple children, you can get double the stickers for less than double the cost.
PeelyPack came in a clear envelope.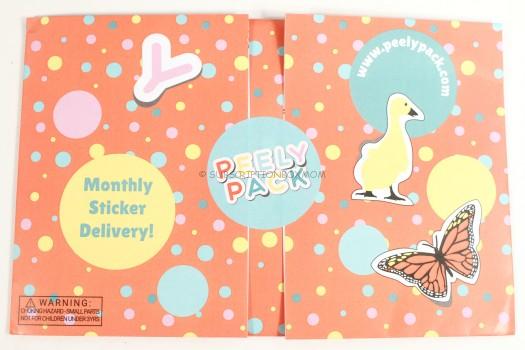 All the stickers were folded inside large piece of paper, which is the activity sheet.  I like that everything was sealed with a sticker.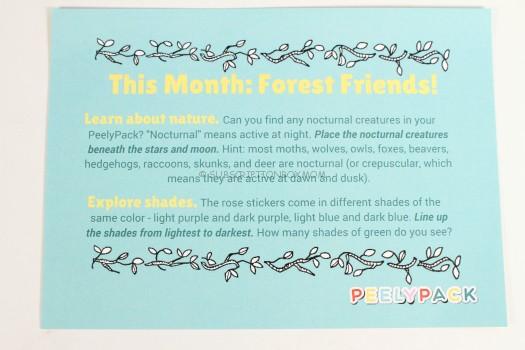 The theme for this month is "Forest Friends".  There were two suggested activities to do with the stickers.
Activity 1: Place the nocturnal creature stickers under the stars and moon.  PeelyPack gave information about what animals are nocturnal.
Activity 2: Take the rainbow rose stickers and line them up from lightest to darkest.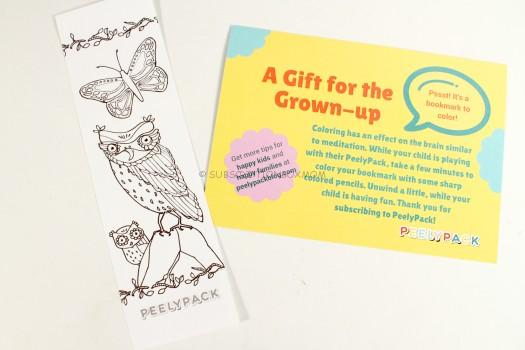 Grown-Up Bonus: As a free gift to the grown-up, PeelyPack included a bookmark to color.  Adult coloring is all the rage.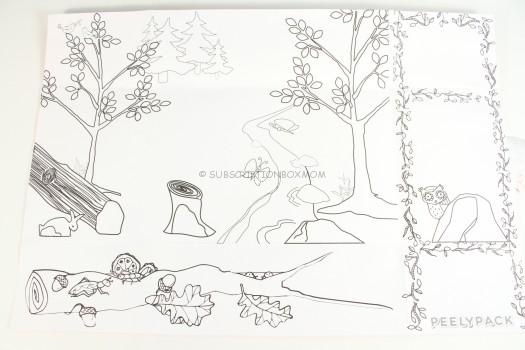 Activity Sheet: There was a forest scene for your child to color and then place, then use to place the various animal stickers on.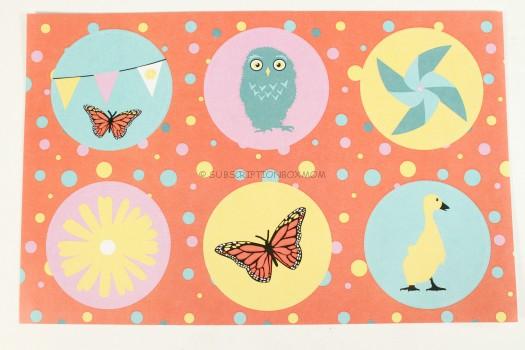 PeelyPack Custom Stickers These stickers matched the paper the stickers were wrapped up in. I personally love the owl and duck.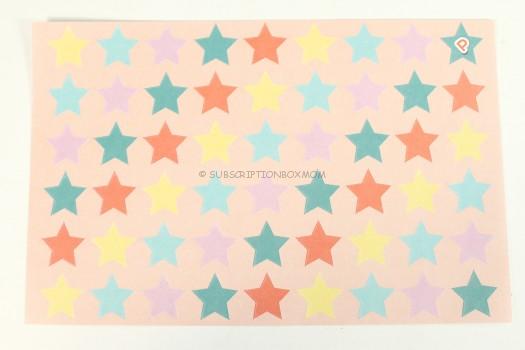 Stars: Stars can be used to create a night sky, or they are great for chore/reward charts.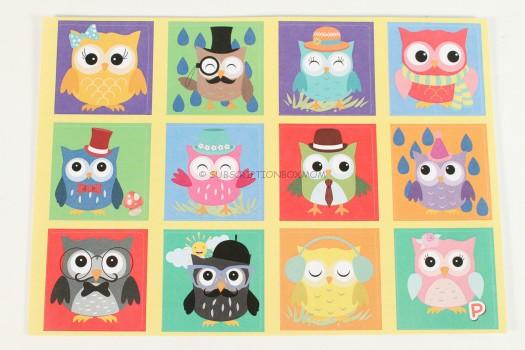 Owls These are my favorite stickers in the pack.  Each owl features a different character and a range of colors.  I must find a cute use for these, probably in my planner.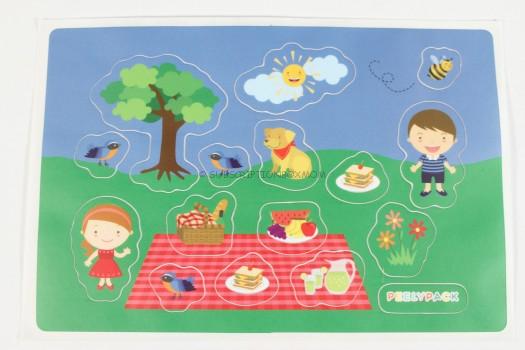 Picnic Your child can piece together a full picnic scene.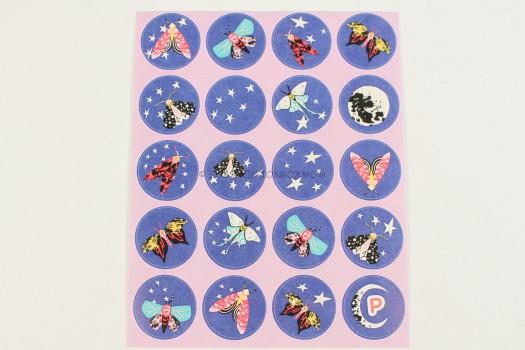 Moths/Stars Moths kinda freak me out in real life, but these colorful moth stickers are cute.  Since many of the stickers have stars on them, these would be great to go on the activity sheet.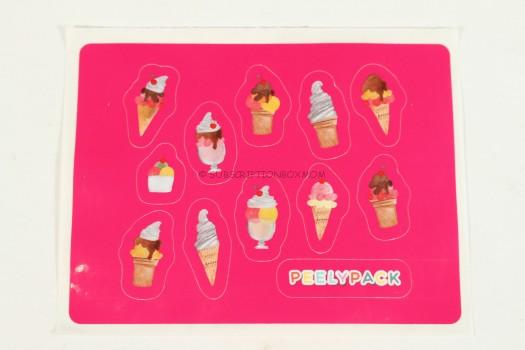 Ice Cream I scream. you scream, we all scream for ice cream.  These ice cream cone are great because they are calorie free!  My kids will love them because they are fun.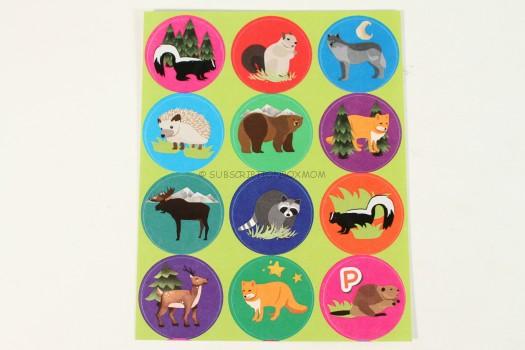 Wildlife These sheet is full of various wildlife stickers,  I know a certain friend who will love that beaver sticker.  I really love that little hedgehog.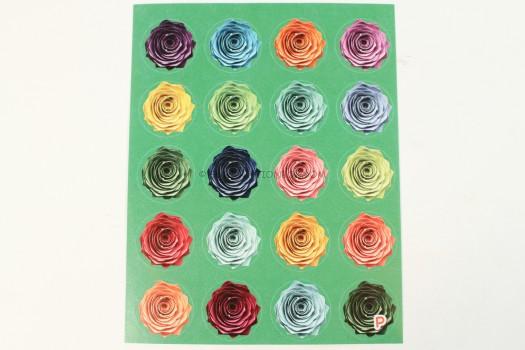 Roses These rainbow roses remind me of a makeup brand, but I can't remember the company.  I don't know if my boys will love the roses as much as I do.  I would love to put these in my planner for important events.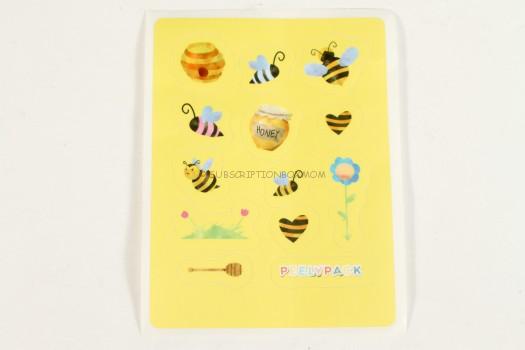 Bees These are just the bee's knees. Winnie the Pooh would be a fan.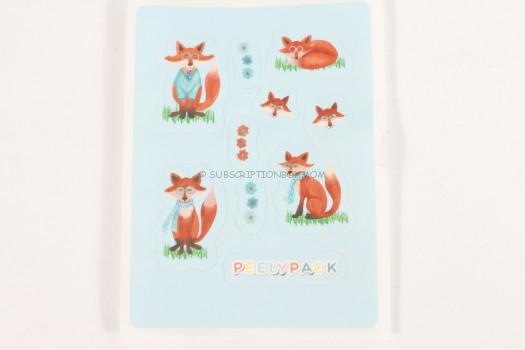 Fox These are great for wildlife pages or if your a fan of that song, What does the fox say?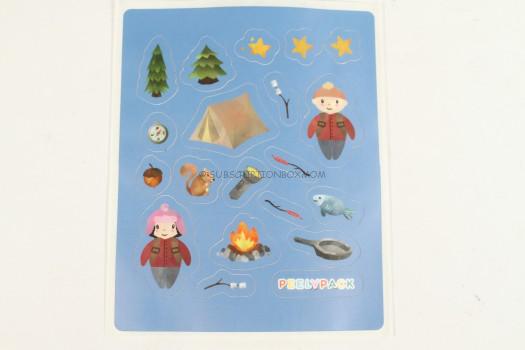 Camping These are a great fit for the forest theme.  So many people camp in the summer, these would be great for kids on vacation.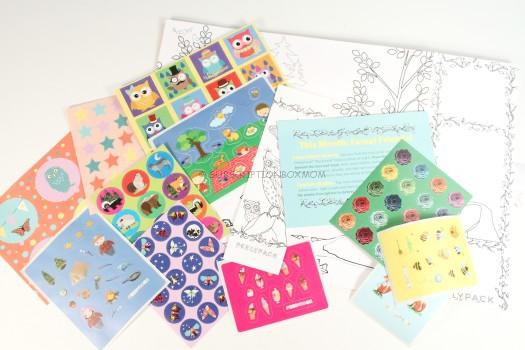 Final Thought: This subscription had 11 sheets of stickers, an activity sheet, play ideas and a bonus bookmark, all for less than $12.  I am like a kid when it comes to stickers.  I just want to pull out my old sticker album and play.  This is a great subscription to tuck in your purse/bag for play at restaurants or other times your child has to wait.  I am going to keep this in the kitchen, so my 4 year old has something to do while I cook dinner.  If you want to subscribe, use this link with  the code GET25OFF to get 25% off.  You will pay $9.00 for the single subscription.
Do you like FREE SUBSCRIPTION BOXES?  Click HERE to see my free subscription box list.
You can see my FULL coupon list HERE.
Do you love Giveaways?  Click HERE to enter all my Giveaways