May 18, 2016
05/18/16

By Kristi Klemish

0 Comments
0
Okashi Connection Sumo Box April Review + Coupon
Disclosure: This box was received for review purposes.
Hi all!  It's Kristi doing another guest review of one of my favorite things-a candy box! Last month, there were some things I wasn't so sure about in this box, but this month I think it looks GOOD!!!  Let's check it out!
Okashi Connection is a Japanese snack box that ships worldwide starting at $14.00/month.   Each box is packed with about a pound of candy.
Okashi Connection changed their boxes and now there are three boxes to choose from: The Ninja Box, The Samuri Box, and The Sumo Box.  I was sent the Sumo Box for review, which is the largest box.
The Details:
Cost & Plans:
The Ninja Box: $14.00/month 5-7 snacks in the box.
The Samuri Box: $22.00/month 9-13 snacks in the box.
The Sumo Box: $33.00/month 14-18 snacks in the box.
Coupon: Click HERE to subscribe and use the code Boxmom to get $1.00 off your box.
Shipping:  Shipping is FREE and they ship WORLDWIDE.  They don't ship to a few locations, click HERE to see a complete list.
When am I charged?   Your card will be charged on the 30th (or last day) of the month.
When does my box ship? Boxes will be shipped within the next week after being charged, and they should arrive at your door within 1-3 weeks after that.
Website: http://okashiconnection.com/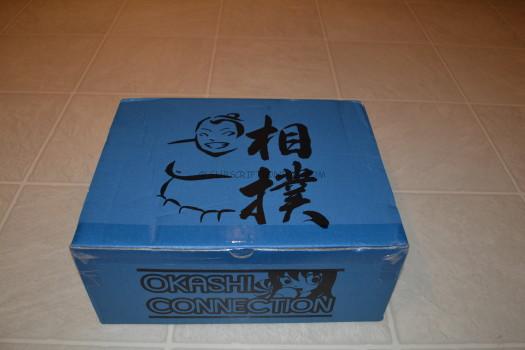 It comes in a huge blue box….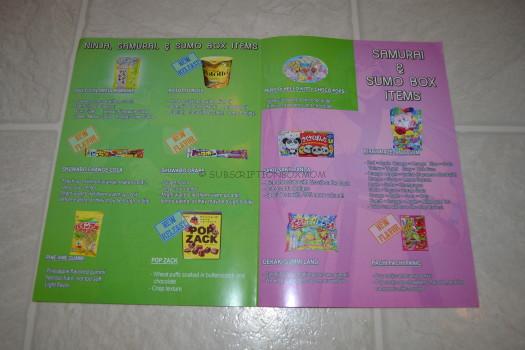 and a nice pamphlet to tell you what you are eating (there is a front and back cover too)!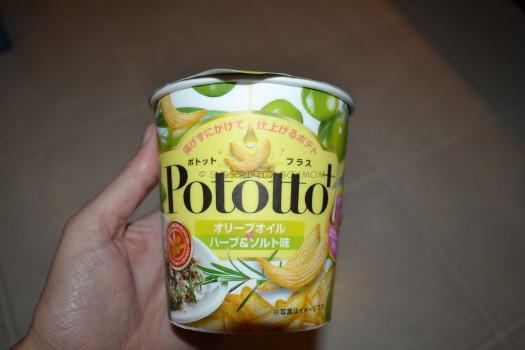 Pototto Plus (New Release!):  Crunchy chips with herb & salt taste with olive oil.  It was fun…there was a packet of oil to open and shake up on the chips.  Extra fresh!  It made the chips even better.  There was a light herb flavor combined with the hint of fresh olive oil.  My hubby is going to love these!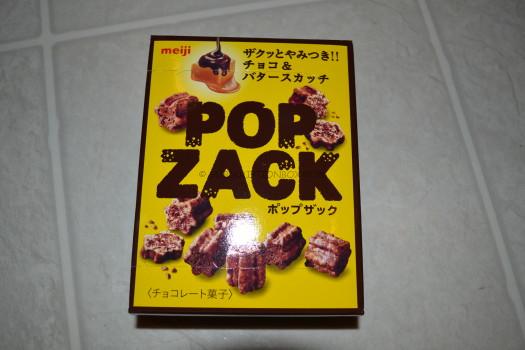 Pop Zack (New Release!):  This is a bag of crisp wheat puffs soaked in butterscotch and chocolate.  They were super yummy.  Just enough of each flavor in each star-shaped bite!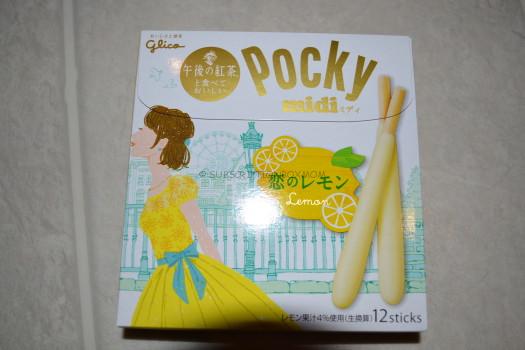 Pocky MIdi Lemon (Limited Edition):  I can't lie…I was SUPER excited when I saw these!  These are one of my favorites!  Thick, short, crispy sticks coated in lemon cream frosting.  I could eat the whole box at once (and there are twelve in the box)!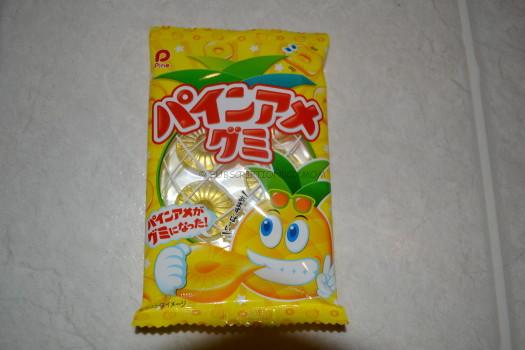 Pine-Ame Gummi:  There were five pineapple gummi rings in this one.  Just enough pineapple flavor!  I'm saving the rest for my kids because they will LOVE these!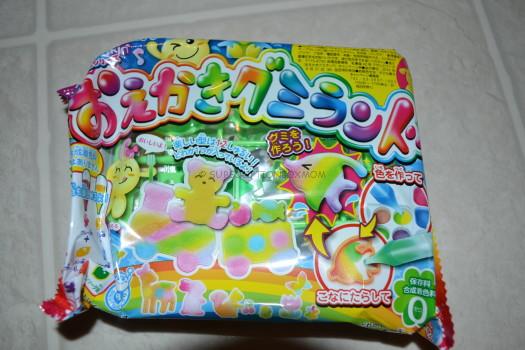 Oekaki Gummi Land:  This is a colorful DIY for making your own gummi.  Directions are on their website at: http://okashiconnection.com/oekaki-gummi-land-diy-instructions/.  This looks like a project to do with the little ones!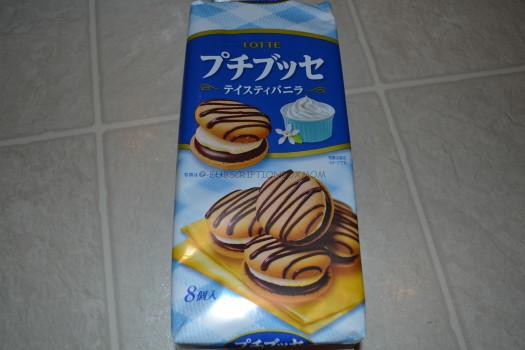 Puchi Busse Tasty Vanilla Cakes:  These are soft cakes drizzled with chocolate with vanilla cream filling and a slab of chocolate inside.  There are eight individually wrapped cakes in the box.  These are just the right size for a small snack and tasted like a Little Debbie cake.  I loved them!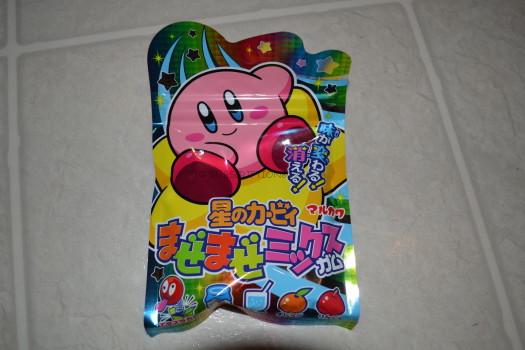 Kirby Maze-Maze Gum:  There are five flavors:  Apple, Orange, Yogurt, Soda, and Trick Gum (this erases the other flavors!).  There is a list of how to combine flavors as well: Japanese Mandarin, Lemon Squash, Champagne, Cream Soda, Cola, and Milk Apple Tea.  They are super soft balls and I tried the Champagne Mix (Apple and Soda together).  It was very tasty!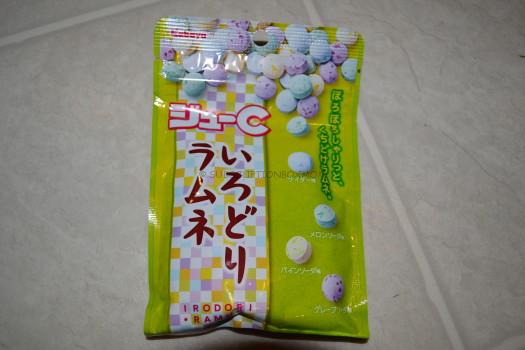 Juu-C Colorful Ramune:  These are powdery ramune (carbonated soft drink) with a crunch.  The flavors are: cider, pineapple soda, melon soda, and grape soda.  There is a nice initial crunch, followed by a powdery inside.  I could have eaten the whole bag, but I think my kids will love these too!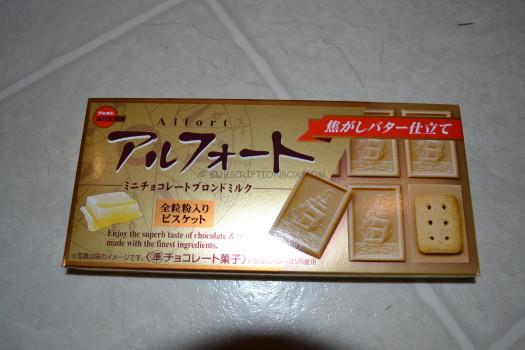 Alfort Mini Chocolate Blondie Milk:  This is a crumbly biscuit backing with a buttery and rich special chocolate called "blonde chocolate".  There were twelve squares and I could have eaten them all at once.  They were sooooo good!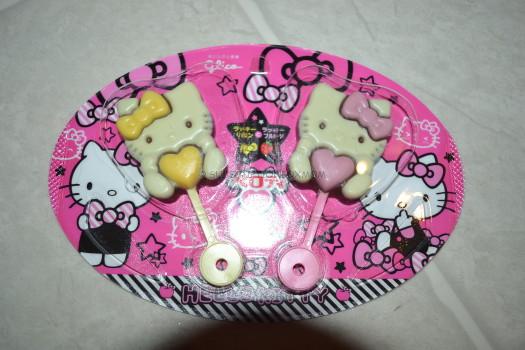 Peroty Hello Kitty Choco Pops:  The yellow is banana and chocolate and the pink is strawberry and chocolate.  These are being saved for the kids tomorrow because they will go batty for them!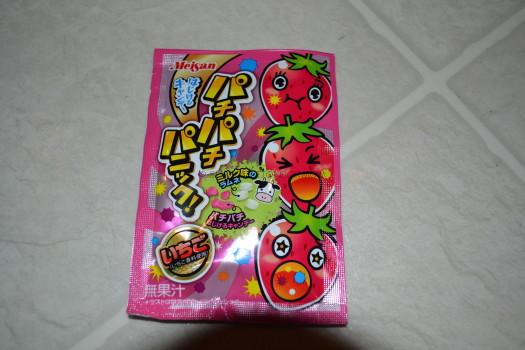 Pachi Pachi Panic (New Flavor):  Pop rocks and ramune (carbonated soda) mix, with strawberry-flavored pop rocks and milk-flavored ramune.  These were so good!  It took me back to being a kid eating pop rocks!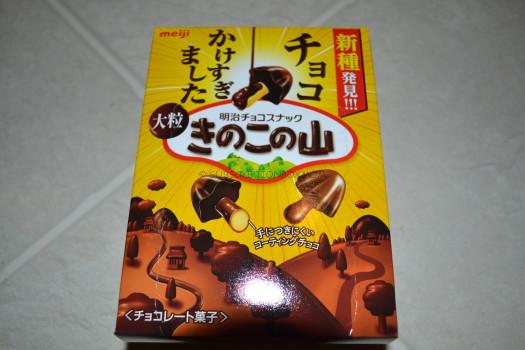 Kinoko No Yama Big Size (Limited Edition):  I got excited for these too because I love them!  Very sweet, rich chocolate, with a stem filled with cookie.  There are eight individually wrapped candies in the box.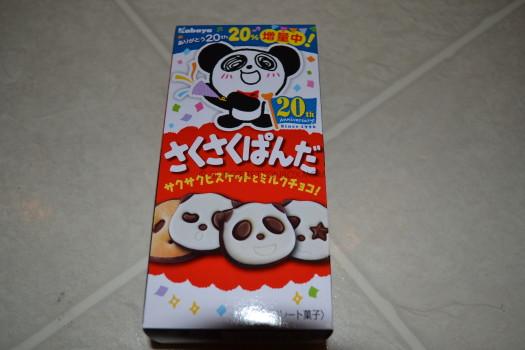 Saku-Saku Panda:  These are a cute panda design that is rich chocolate with a biscuit on the back.  They are about the size shown on the box, with 11 in the box.  They were pretty tasty!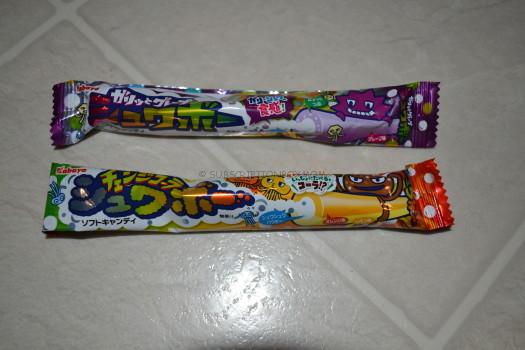 Top: Shuwabo Grape, bottom: Shuwabo Change Cola (New Flavors):  OOH!  These had a super surprise sour center but it was sooo good!  Make sure these are warmed up to room temperature so they are easy to bite

  Both flavors were good and they were soft to chew!
Final Thought:  This box was great!   I was a little disappointed last month, but this one more than made up for it!!!!  My only thought was I wished there were a few more salty items in the snacks, but that is nit-picking

 If you want to Okashi Connection,  click HERE to subscribe and use the code Boxmom to get $1.00 off your box.
Do you like FREE SUBSCRIPTION BOXES?  Click HERE to see my free subscription box list.
You can see my FULL coupon list HERE.
Do you love Giveaways?  Click HERE to enter all my Giveaways