April 22, 2016
04/22/16

By Kristi Klemish

0 Comments
0
WOWBOX The Classic March 2016 Review + Coupon
Disclosure: This post contains affiliate links.  I received this box for review.
Hi everyone!  It's Kristi doing a guest review this month!  I love snacks, and loved the last time I reviewed this box, so I was excited to try out the WOWBOX Classic box again this month!
WOWBOX is a Japanese candy subscription starting at $14.99/month. They have three different themes of boxes: Original Fun & Tasty, Kawaii & Beauty, and The Classic. Once you pick your theme, you choose the size of your box (small, medium and large).  Small boxes are $14.99, medium boxes are $24.99 and large boxes are $34.99.
Original Fun & Tasty boxes are filled with wacky treats and new candies.  Kawaii & Beauty boxes are filled with low-calorie treats that are good for you body and tasty too.  Occasionally, there are beauty items in the box. The Classic is filled with items that are essential Okashi in Japan.   These snacks have been popular for decades.  For all themes, DIY kits will be in medium and large boxes. I was sent The Classic this month.
The Details:
Cost: $14.99 – small, $24.99 – medium, $34.99 – Large
What's in the box:
Original Fun & Tasty boxes are filled with wacky treats, and new candies.
Kawaii & Beauty boxes are filled with low-calorie treats that are good for you body and tasty too.  Occasionally, there are beauty items in the box.
The Classic is filled items that are essential okashi in Japan.   These snacks have been popular for decades.
Shipping: Boxes ship to more than 70 countries and shipping is free.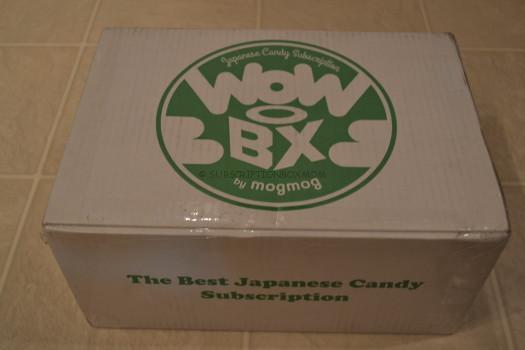 WOWBOX ships in a large sturdy box.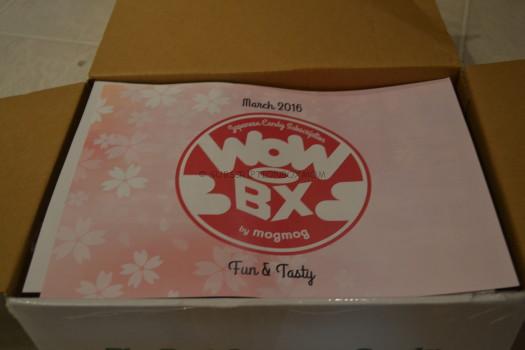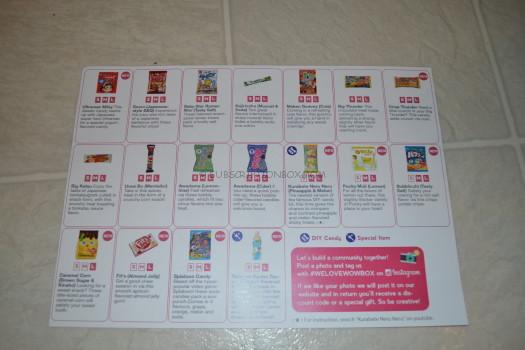 Just like last time there was this handy info sheet so you know what you are eating before you try it!
  The information sheet has all the snacks in the box.  There is also a code for each item in the box which indicates if it is in the small, medium or large boxes.  Not pictured, there was a nutritional information sheet which gives the full nutritional breakdown for each snack.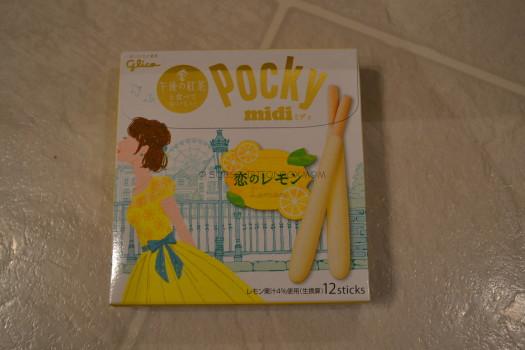 Pocky midi:  These were some of my favorites from the last box, just in different flavors.  These surpassed the last ones.  There are 12 sticks (four each in three packs).  Such a sweet, but not too much lemon flavor on a yummy crunchy stick.  These will not last long!  (NEW item!)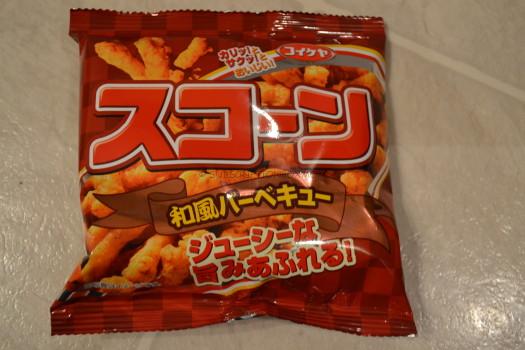 Scorn (Japanese Style BBQ):  Well, these won't last long either.  They are a "chip" (really more like a thick stick) that taste like a Funyun with a hint of barbeque.  I'll need to hide these from my husband!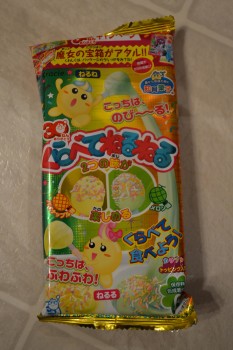 Kurabete Neru Neru (Pineapple and Melon):  This is a DIY candy kit where you can compare and contrast pineapple and melon sticky treats.  You have to look up the instructions on You Tube, which I plan on doing with my kids….I think they will really like this one!  (NEW item!)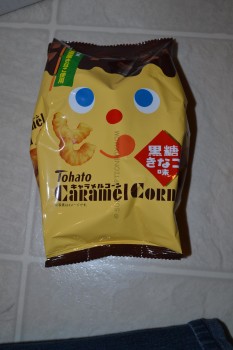 Caramel Corn (Brown Sugar and Kinako):  These are right up my alley!  I love caramel corn!  It's not traditional , in the sense that the are u shaped corn puffs, not like popcorn.  But they are sooooooo good!  I liked that it tasted just like caramel popcorn with no kernels!  This was my favorite thing in the whole box!! (NEW item!)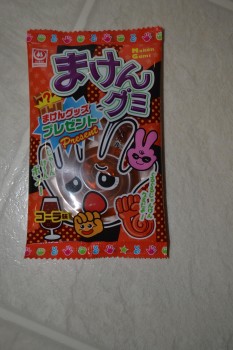 Maken Gummy (Cola):  Just like it says, a cola flavored gummy.  It smelled like a Coke when I opened it and tasted just as good!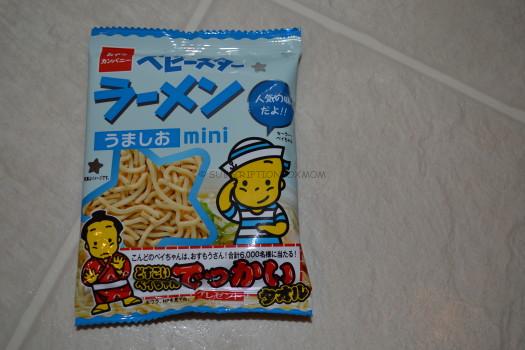 Baby Star Ramen Mini (Tasty Salt):  Just as they look on the package, they are tiny crunchy noodles.  Just the right amount of salt, they almost taste like a shredded potato chip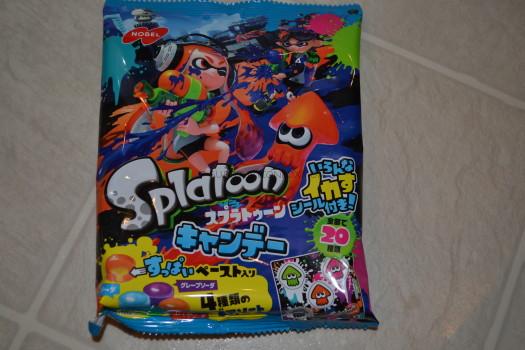 Splatoon Candy:  I got excited seeing this!  My six year old LOVES this game!  These are sour soda candies in grape, orange, melon and soda.  They are individually wrapped, hard candies that are easy to bite into.  Not too sour, and a little bit of fizz made them pretty fun to eat! (NEW item!)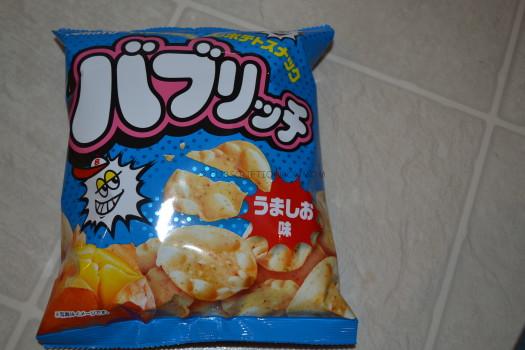 Bubblicchi (Tasty Salt):  These are crispy potato chips with a "rich salt flavor".  That scared me that it would be too salty, but they were pretty mild, which I liked.  They were extra crunchy too! (NEW item!)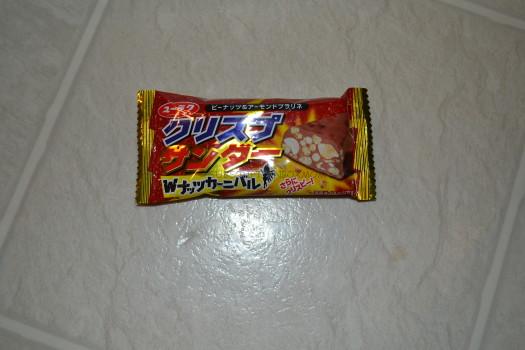 Crisp Thunder:  I've never had the "Big Thunder", but this is a big thunder with crunch via nuts.  It was very good.  You can't go wrong with chocolate and nuts!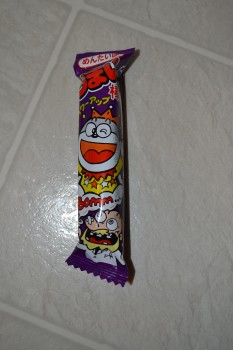 Umai Bo (Mentaiko):  This is a spicy treat in the form of a crunchy snack.  It was basically a big orange stick with a hole in the middle.  Not too spicy, but just right.  I would eat it again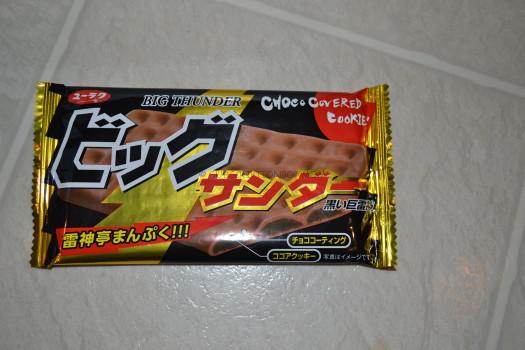 Big Thunder:  I spoke too soon, here is the Big Thunder!  A big chocolate bar with a milk chocolate coating and crispy chocolate inside.  It is yummy and I'm sure my kids will devour it when I show them!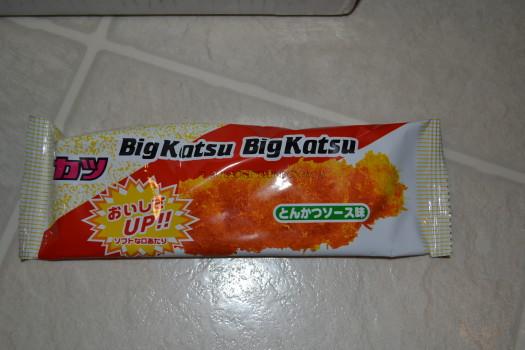 Big Katsu:  The description says "Enjoy the taste of a Japanese pork cutlet in snack form, with this crunchy treat boasting a tonkatsu sauce flavor."  It wasn't bad….I was expecting crunchy, but it was actually chewy with the "meat" in the middle.  I'd give it a 3/5 star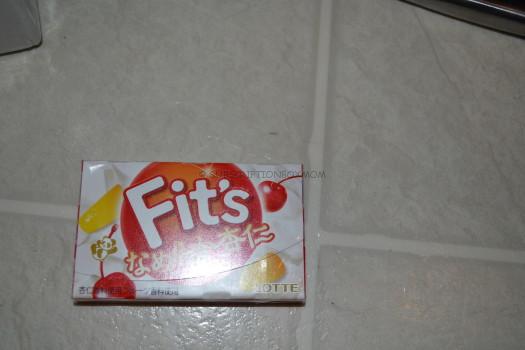 Fit's (Almond Jelly):  This is a smooth, apricot flavored, almond jelly gum.  There are 12 pieces inside.  I actually liked it.  The subtle almond flavor with a hint of sweet apricot really works! (NEW item!)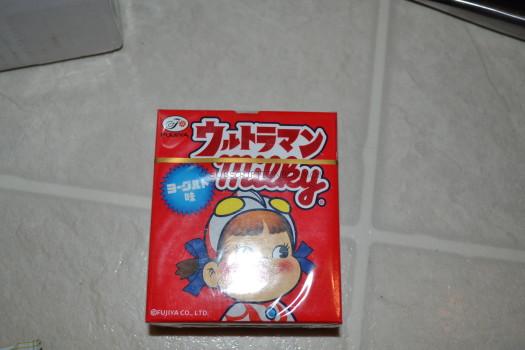 Ultraman Milky:  "This classic candy teams up with Japanese super her Ultraman for a special yogurt flavored candy."  There are five in the box.  I expected it to be soft, but you had to suck on it a little bit to soften it up.  It was a very good yogurt treat!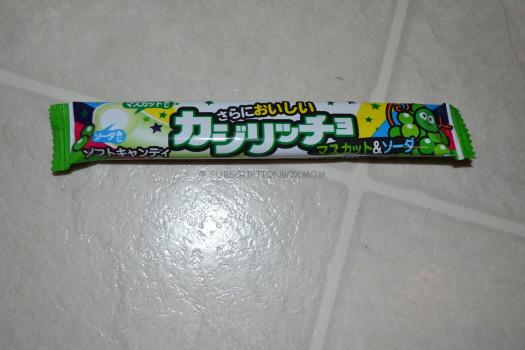 Kajiriccho (Muscat and Soda):  I'm not sure what muscat is, but if you like that, you'll love it.  I wasn't a huge fan because it's really strong.  It's a chewy stick with a bubbly middle.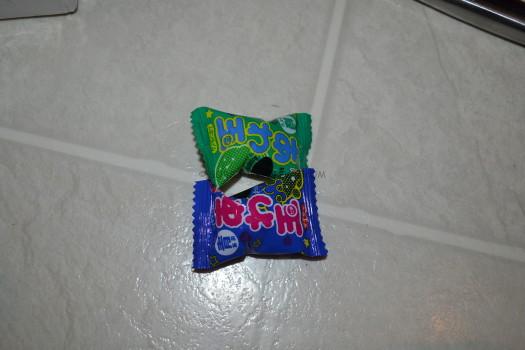 Awadama (Lemon-Lime and Cider):  These are bubbly hard candies to use for a quick pick-me-up.  It's a basic yummy hard round candy.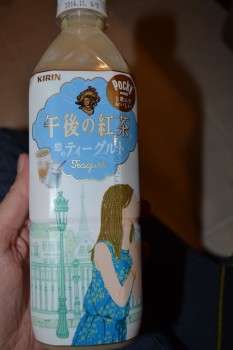 Gogo no Kochs Tea-Gurt (Yogurt flavored tea):  This was denoted as a special item.  It says to drink it with the Pocky Lemon to enjoy a raw cheesecake flavor.  To be honest, I'm not a tea fan, so I'm sure it's good, just not to me LOL. (NEW item!!)
Final Thought:  I was super excited for this box.  I have tried other similar candy boxes and disliked a lot in them.  This box, however is EXCELLENT!  It was hard not to just keep eating it all at once.  I would definitely recommend trying it!  It's fun trying new stuff you can't find anywhere else locally!   You can check out WOWBOX with this link and use the code S-J5Y1ET4F to save 10% Offer expires May 31st.
Do you like FREE SUBSCRIPTION BOXES?  Click HERE to see my free subscription box list.
You can see my FULL coupon list HERE.
Do you love Giveaways?  Click HERE to enter all my Giveaways