April 1, 2016
04/01/16

By Gigi C

0 Comments
0
SlobberBox March 2016 Pet Box Review
Disclosure: This package was received free for review.  This post contains affiliate links.  
Guest Review Alert – Maggie the golden retriever!  Maggie is back and ready to review another box filled with goodies just for her!  This month, we are reviewing SlobberBox, a subscription box for holistic minded humans and their spoiled dogs.
SlobberBox is a monthly subscription box for pets filled with USA made holistic chews, an all natural chemical free healing product, crazy fun toys and amazingly nutritious USA made dog treats!  The treats in a SlobberBox are all handmade one by one by a Certified Holistic Chef for Animals.
The Details:
There are two box options: The Pooch Pack and The Healer.
The Pooch Pack – includes a mixture of 5-6 delicious, nutritious dog treats, holistic chews made in the USA, and super fun toys! Shipping within the US is always free.  Cost is $24/month if you auto-renew monthly, $66 ($22/month if you auto-renew every 3 months) or $120 ($20/month if you auto-renew every 6 months).
The Healer – includes a mixture of 5-6 scrumptiously nutritious dog treats, USA made holistic chews, an awesome toy, PLUS a special chemical free healing product. Shipping within the US is always free.  Cost is $36/month if you auto-renew monthly, $102 ($34/month if you auto-renew every 3 months) or $192 ($32/month if you auto-renew every 6 months).
About the Treats in a SlobberBox: All treats in a SlobberBox are Companion Cuisine brand, and they are all human grade, and human tested!  Companion Cuisine snacks are loaded with vitamins and nutrients! They don't contain anything gross like chemicals, preservatives or anything we can't pronounce. Additionally, they are never made with known allergens like wheat, corn, soy or dairy.
Shipping: Shipping is always free within the USA.
When does the box ship?  Subscriptions ship the 15th of each month.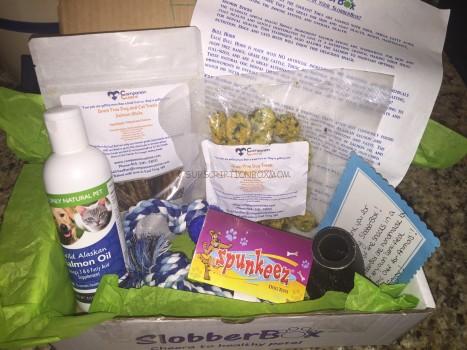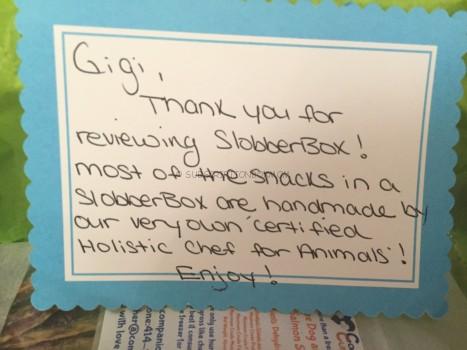 First Look: Our "The Healer" SlobberBox arrived packed full of goodies.  There was also a handwritten note inside – a nice touch!

Goody #1 – Kale Pumpkin Cookies:  $6.50 Retail Value. These dog cookies are made with garbanzo flour, kale, pumpkin, flaxseed, sunflower oil, egg and love. They are loaded with fiber, omega fatty acids, protein, and vitamins! They are great for skin and coat health, energy, boosting the immune system, and overall health. Treats are about the size of a quarter.
Goody #2 – Salmon Sticks: Retail Value?? I couldn't find these sticks on the Companion Cuisine website, so I'm not sure how much they are – but I'd assume the cost is similar to the cookies. They are cut and dehydrated sticks of salmon – pure and simple – just ONE ingredient – and these are good for kitties, too.  Maggie LOVED these – she came back for more twice – and Tiffany, one of our cats, also sniffed the bag and was very interested.
Goody #3 – Bull Horn: Each Bull Horn is made with NO artificial ingredients, NO hormones, and NO chemicals from free range, grass fed cattle.  These all-natural beef dog treats are long-lasting, full-sized, and are a great alternative to rawhide.  These natural dental chews help to remove harmful plaque and tartar leading to improvements in overall dental health.  I'm looking forward to giving this to Maggie to see how long it lasts!  Again, I'm not sure on the retail price as I didn't find it on the Companion Cuisine website.
Goody #4 – Spunkeez Rope toy: Standard tug rope combined with a nubby solid rubber/PVC bone that cleans teeth.  Great for fetching and tugging.  Now that the weather is getting warmer, we'll be taking this outside!
Goody #5 – Wild Alaskan Salmon Oil (8 oz bottle):  $20.00 retail value.  Provides levels of both Omega 3 and Omega 6 essential fatty acids not commonly found in pet foods.  This pure oil is made only from wild, non-farmed Alaskan Salmon and stabilized with natural antioxidants to maintain its fatty acid content and taste.  Great for coat issues – Maggie has trouble with allergies and the itchy scratchies in the summer so I'm going to try this and see if it helps!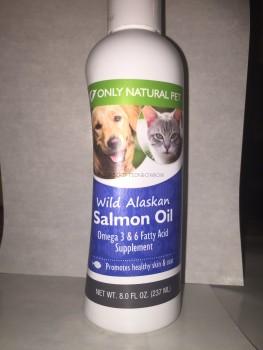 Final Thought:  Although I wasn't able to get the total retail value of all items, I'm sure it well exceeds the $36 price of the box.  I would like to see ALL of the products listed for sale on the website, so if we LOVE one, we can get more.  I was only able to find the Kale Pumpkin cookies. I really like that the treats are made of high quality, all-natural ingredients and made by "Holistic Chefs."  I am always looking for natural, healthy treats for Maggie and these fit the bill.
If you'd like to try SlobberBox, use the link below to try it out!  Use Coupon Code SLOBBER for $5 off your subscription!
Coupon: Use this link and code pawluv15 for $15 OFF your first month of the 1 month, 3 month plans or gift boxes!  
I hope you enjoyed Maggie's guest review (well, Maggie was the tester, and her mommy Gigi reviewed it)..
Do you like FREE SUBSCRIPTION BOXES?  Click HERE to see my free subscription box list.
You can see my FULL coupon list HERE.
Do you love Giveaways?  Click HERE to enter all my Giveaways