April 2, 2016
04/02/16

By Kristi Klemish

0 Comments
0
Okashi Connection Sumo Box March 2016 Review + Coupon
Disclosure: This box was received for review purposes.
Hi all!  It's Kristi doing another guest review of one of my favorite things-a candy box!  My husband has been dying to get in this box, so let's check it out!
Okashi Connection is a Japanese snack box that ships worldwide starting at $14.00/month.   Each box is packed with about a pound of candy.
 Okashi Connection changed their boxes and now there are three boxes to choose from: The Ninja Box, The Samuri Box, and The Sumo Box.  I was sent the Sumo Box for review, which is the largest box.
The Details:
Cost & Plans:
The Ninja Box: $14.00/month 5-7 snacks in the box.
The Samuri Box: $22.00/month 9-13 snacks in the box.
The Sumo Box: $33.00/month 14-18 snacks in the box.
Coupon: Click HERE to subscribe and use the code Boxmom to get $1.00 off your box.
Shipping:  Shipping is FREE and they ship WORLDWIDE.  They don't ship to a few locations, click HERE to see a complete list.
When am I charged?   Your card will be charged on the 30th (or last day) of the month.
When does my box ship? Boxes will be shipped within the next week after being charged, and they should arrive at your door within 1-3 weeks after that.
Website: http://okashiconnection.com/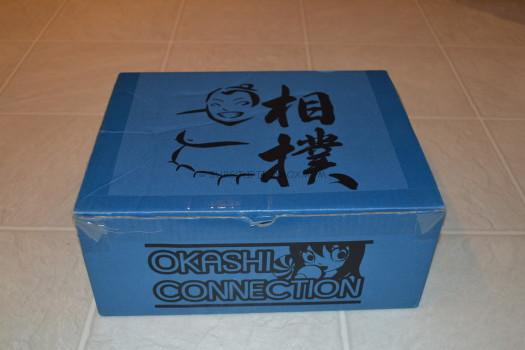 It comes in a huge blue box….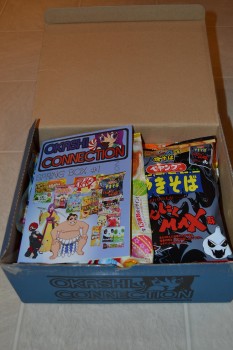 with a lot of goodies…..
and a nice pamphlet to tell you what you are eating (there is a front and back cover too)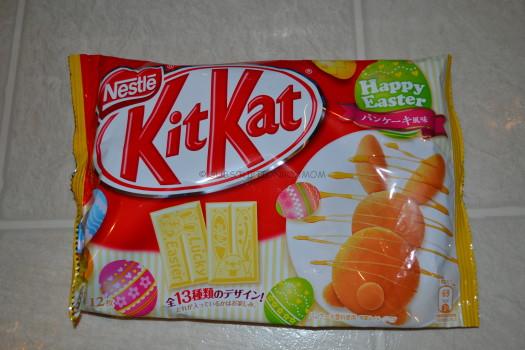 Pancake Kit Kat (Limited Edition): I went straight for gold to start!  I opened these bad boys up and smelled maple syrup.  Enough said.  These will be gone shortly

  Just like a Kit Kat with crunch, but tastes like a yummy pancake with syrup.
Hinamatsuri Marshmallows:  The description of these scared me (the marshmallow is cherry blossom mocha filled with red bean paste).  They were actually kind of good.  The taste of everything is very subtle.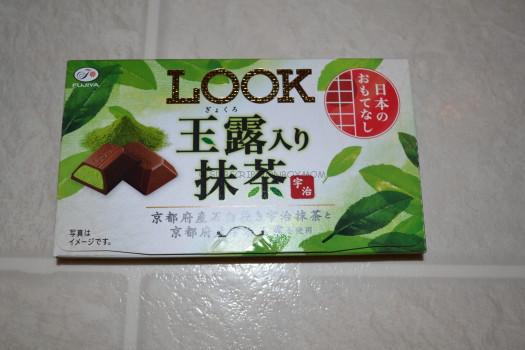 Look Matcha Cream Chocolate:  I knew these would be good….I had something similar in the last box I reviewed.  They are chocolates with matcha cream filling.  Perfect little chocolate bites to satisfy a craving. They are very mild in flavor.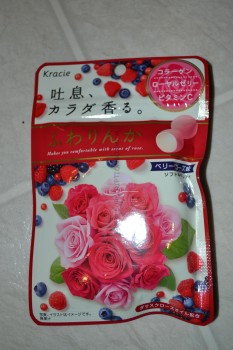 Fuwarinka Soft Candy:  Ok…these were not my cup of tea.  These are a berry and rose flavored chewy candy.  I could smell the rose when I opened the bag.  It was chewy like it should be gum and tasted like a flower.  LOL….just not for me.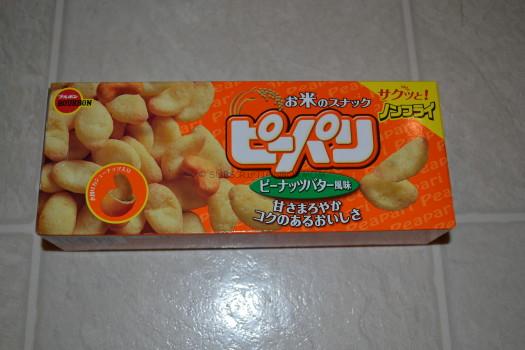 Pipari Peanut Butter:  These are small crunchy pieces lightly salted with peanut butter flavor.  To be honest, I didn't taste the peanut butter.  They were ok, but I think I need to go reset my mouth from trying the rose candy.  The husband liked these and asked for more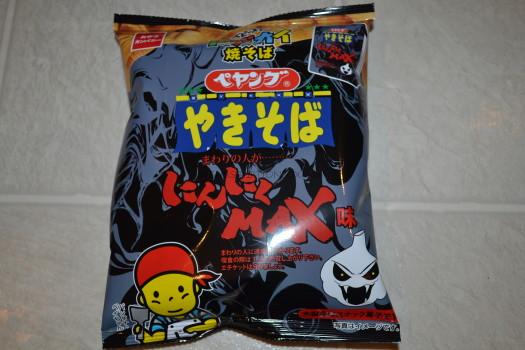 Yakisoba Ninniku Max:  These are fried noodle crisps with extreme garlic taste.  The bag warns 'to eat when alone and be courteous not to assault others with the garlic smell'.  HA!  They were ok.  I had the hubs eat some and he loved them.  So the crunch stuff is two for two with the hubby!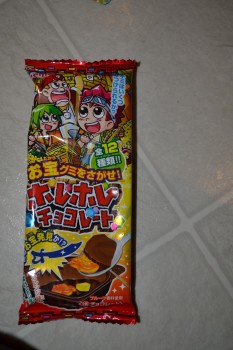 HoreHore Choco:  The pamphlet says 'Dig through the chocolate to find gumi "artifacts"; each artifact is worth points".  It is a long bar with five chocolate covered gummies.  I carefully ate the yummy chocolate and found a scroll worth 9.5 mil.  Very tasty 😉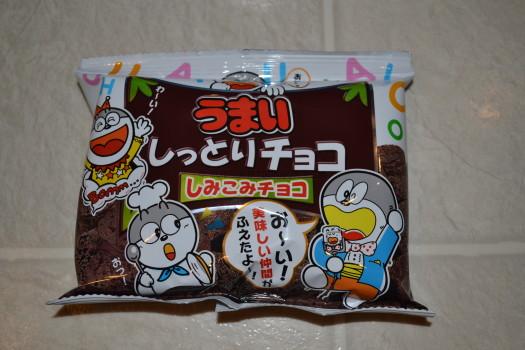 Umai Shimkomi Choco:  These are chocolate flavored rusks.  Little disks of crispy, slightly powdery chocolate goodness.  These are right up my alley!  They remind me of chocolate wafer sticks.  I could eat the whole bag at once!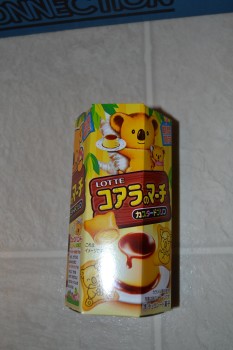 Koala No March (Limited edition):  These are cute and tasty.  It is a small cookie with cream filling and has a picture of a koala on the cookie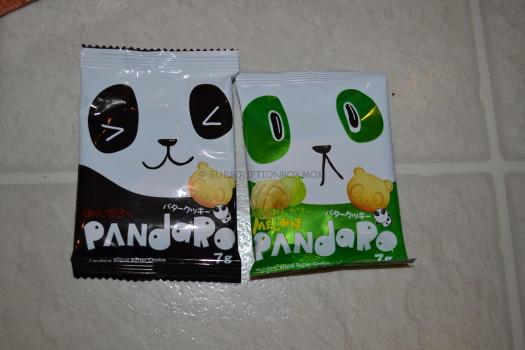 Pandoro Butter Cookie (left) Pandoro Melon Cookie (right):  These are self explanatory.  A crispy cookie shaped like a panda head

  The butter cookie reminded me of a Girl Scout cookie.  The melon was not quite as good, but wasn't bad.  It had a light melon flavor.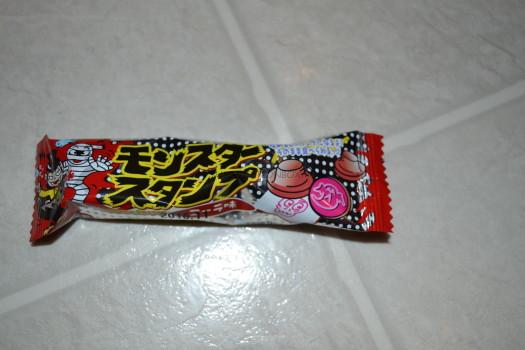 Monster Stamp:  Hard, cola flavored candy with a stamp on it for your tongue.  Yes, I'm 36 and went and stamped a pumpkin on my tongue!  There are three "stamps" in the bag.  It did not dissolve nicely while eating it as was advertised, but it was fun.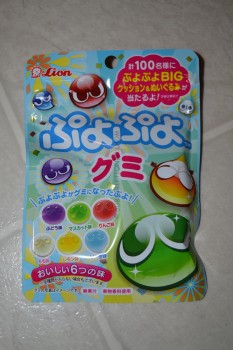 Puyo-Puyo Gumi:  Soft gummies in flavors of grape, apple, peach, lemon, soda, and muscat (?!)  They were ok….I am picky about my gummies.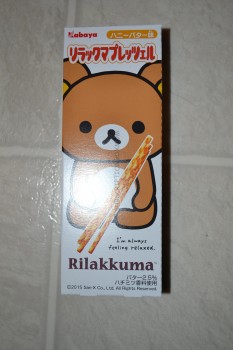 Rilakkuma Pretzel:  These are slim, crunchy pretzel sticks with a honey butter taste.  I'm not a butter fan (I don't eat it) but they were ok.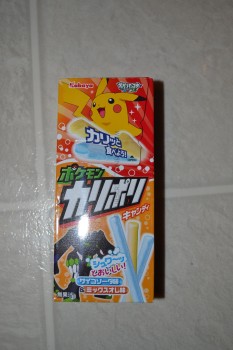 Karipori Candy (limited edition):  There are six packets with two flavors in the box, mix au lait and saiko soda.  They tie in with Pokémon Game items and there is a QR  code to scan to link to a story.  These were not very good.  It was kind of fizzy and strange flavors.  Probably better for a kid to eat than an adult like me!
Final Thought:  Overall, it was a good box of candy.  There were a couple misses, but not enough to make me not like it.  The Pancake Kit Kats were my absolute favorite!  If you want to Okashi Connection,  click HERE to subscribe and use the code Boxmom to get $1.00 off your box.
Do you like FREE SUBSCRIPTION BOXES?  Click HERE to see my free subscription box list.
You can see my FULL coupon list HERE.
Do you love Giveaways?  Click HERE to enter all my Giveaways