April 20, 2016
04/20/16

By Subscription Box Mom

0 Comments
0
Nerd Block Classic April 2016 Review + Coupons
Disclosure: This post contains affiliate links.  I received this box for review.
Nerd Block is a monthly mystery package delivered right to your door filled with nerdy apparel, toys, and collectibles!  Every box comes with a shirt, and is $19.99 a month, and you can sign up to get Nerd Block get a Free Shirt with every subscription, PLUS use this link with the code SAVE15, to save 15% on your 1st month.
The Details

Cost: $19.95 a month plus $9.50 shipping for the U.S  They ship to other countries for an additional fee.
Coupon: Get a Free Shirt with every subscription, PLUS use this link with the code SAVE15, to save 15% on your 1st month.
What is in the box? "Nerd Block is filled with toys and collectibles from your favorite brands including Star Wars, Adventure Time, Doctor Who, Marvel, and many more! Every box is loaded with various genres to appeal to everyone from video game and movie fanatics, to toy and comic collectors. Each item is Geek Tested, Nerd Approved!"
When am I charged? You are charged each month on the day you registered.  So if you ordered on the 10th, you will be charged on the 10th every month.
When does it ship? Boxes ship out around the 15th of the month
How do I cancel? "Just email cancel@nerdblock.com with your name and address, and we'll cancel your account. Please note that all orders must be cancelled 24-hours prior to that month's Block closing date. The closing date for every month can be found at http://www.nerdblock.com under the countdown timer."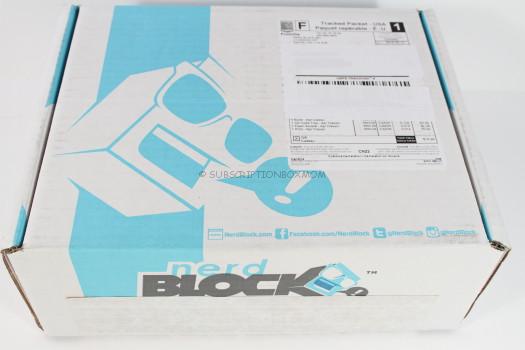 Nerd Block ships around the middle of the month.
First Look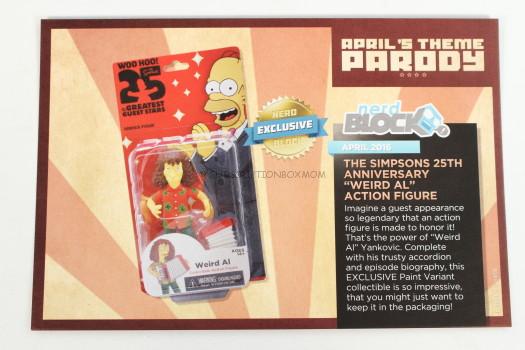 The featured item this month was an exclusive "Weird Al" Action figure.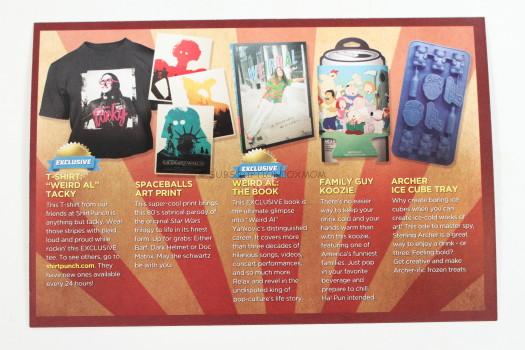 The information card lists everything in the box.
Archer Ice Cube Tray $11.99  I have never seen Archer before, so I looked up the show.
Archer is an animated, half-hour comedy that revolves around a former spy agency turned private investigation firm and the lives of its employees. The Figgis Agency presents all new challenges for the former spies, the most difficult of which might be the move to Los Angeles. Every seedy surveillance of a suspected adulterer or investigation into insurance fraud is actually just another excuse for the staff to undermine, sabotage and betray each other for personal gain.
This ice cube tray has gummie bears, bottles of scotch, faces and guns.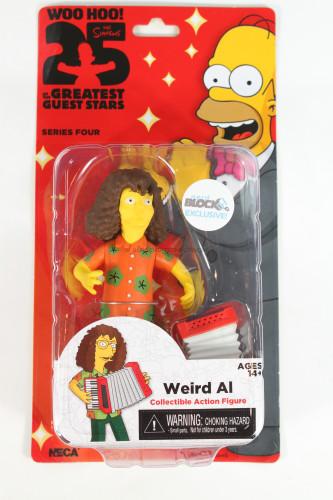 NECA Simpsons 25th Anniversary Series 4 Weird Al 5″ Celebrity Action Figure $30.88 (or more)  This figure is from Weird Al's appearance on Season 18, Episode 11 of The Simpsons. The mass release sells for $30.00 on Amazon.  This is a special exclusive paint variant.  This shirt is green with the orange flowers on the mass release.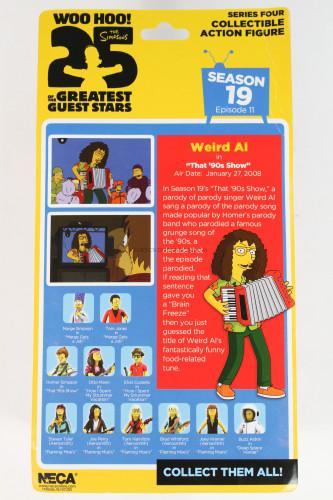 This is a look at the back of the figure.  I love all the other characters too.  I want the Marge gets a Job figure.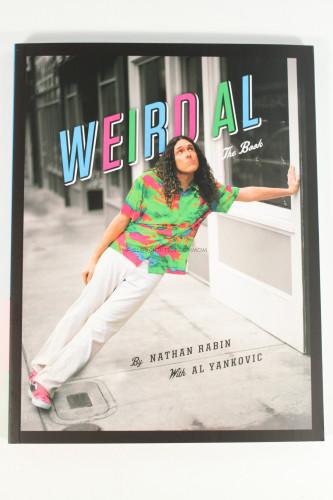 Weird Al The Book (Exclusive) This is an exclusive book about Weird Al's career. There are stories about songs, concerts, famous quotes and interesting stories.  I have just started looking through this, and it looks interesting.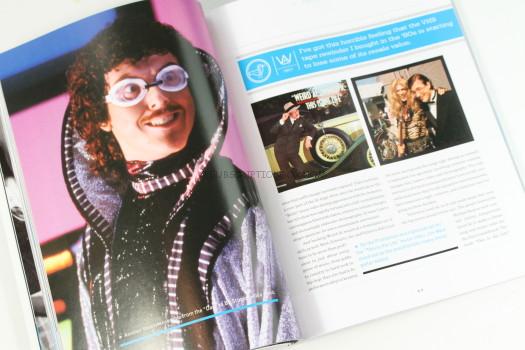 This is a look inside the book.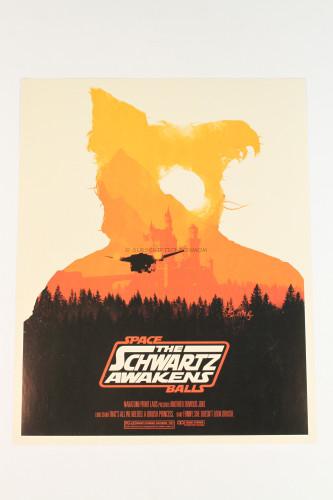 Space Balls/Star Wars Poster  Artist Joshua Budich designed three posters to spoof Star Wars.  I received "The Schawartz Awakens".  I would love another Spaceballs, but only time will tell.  While I really don't like posters generally, I love this one.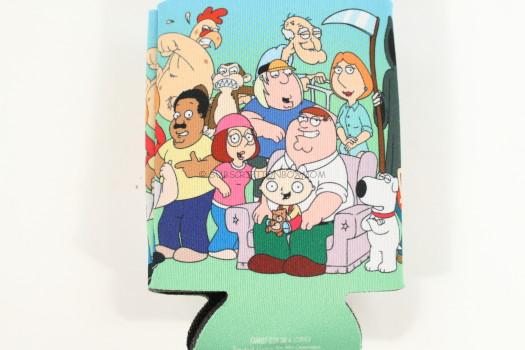 Family Guy Koozie My husband really liked the show Family Guy, and i really like all the different characters on the side of the koozie.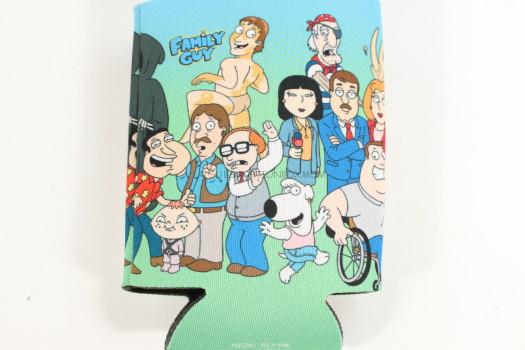 This is the other side of the koozie.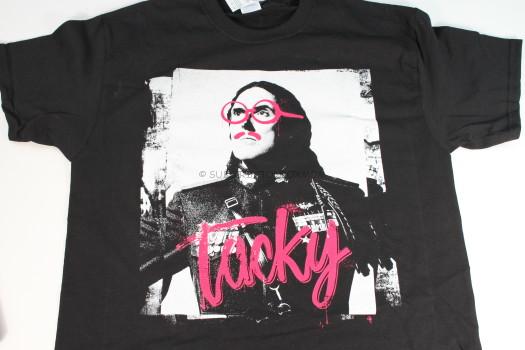 T-Shirt "Weird Al" Tacky $15.00 est  What an awesome shirt!  I love this "tacky" shirt and will totally be wearing this out.  This may be my favorite item in the box.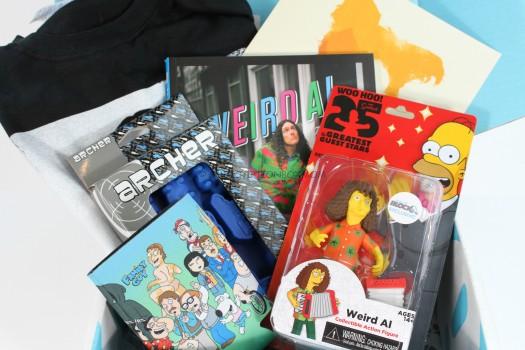 Final Thought: This was a great box!  Other than the Archer item, I will use everything in the box.  My husband loves the koozie and the Weird Al figure.  I am excited to wear the shirt and really sit down with the book.  Want to subscribe? Get a Free Shirt with every subscription, PLUS use this link with the code SAVE15, to save 15% on your 1st month.
Coming in May….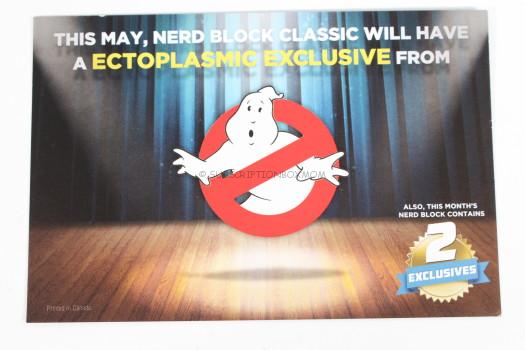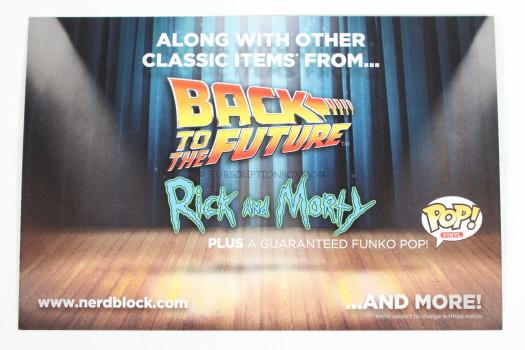 Spoilers List: You will get items from the following:
Exclusive item from Ghostbusters
Exclusive item from Rick and Morty
Exclusive item from Back to the Future
Item from 16 Candles.
Do you like FREE SUBSCRIPTION BOXES?  Click HERE to see my free subscription box list.
Check out my Full List of Subscription Box Coupons
Check out my current giveaways 
HERE