March 20, 2016
03/20/16

By Subscription Box Mom

0 Comments
0
The Believer's Box March 2016 Review + Coupon
Disclosure: This post contains affiliate links.  I received this box for review.
The Believer's Box is a Christian subscription box for women, that sends three pieces of jewelry, a Christian print, and scriptures cards for only $25.95/month. The items in the box focus on strengthening your relationship with God and strengthening your spirituality.  The Believer's Box also gives you several scriptures to pray and reflect on each month.
The Details:
Cost: $25.95/month, $86.85/3 months, $167.70/ 6 months
Coupon: Use this link with the coupon subboxmom10 to save 10% off your first box.
What's in the box? Each month you will get three pieces of jewelry or accessories, a print and 2-3 witness/scripture cards.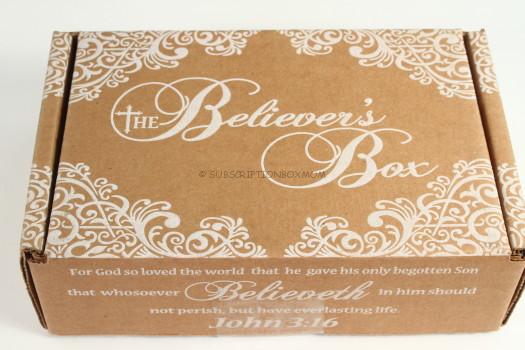 The Believer's Box ships in a very decorate box with a scripture on the front.
First Look.  The box came with a detailed information card with scripture references for each item.  I love the purple crosses, very appropriate for an Easter box.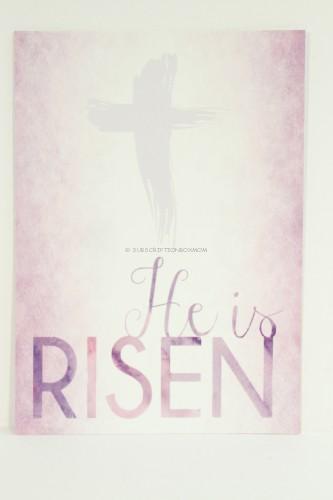 He is Risen Print $10.00 You can frame this print to remember the resurrection of Christ.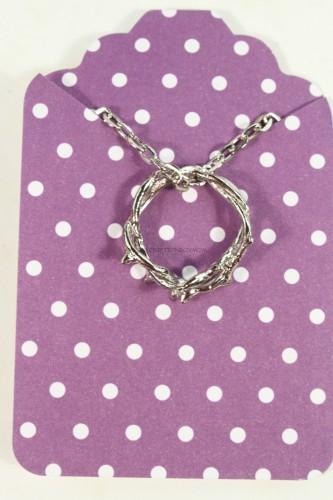 Crown of Thorns Necklace $12.00 The crown of thorns symbolizes that Jesus was a King!  The thorns remind us that Jesus endured great pain to die for our sins.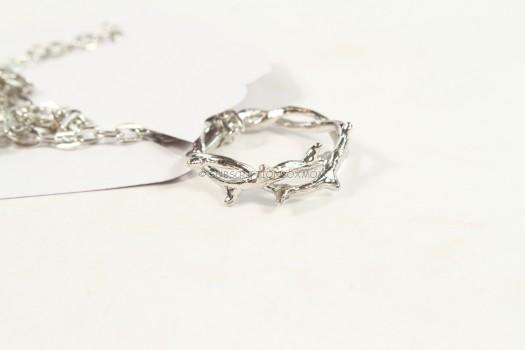 This is a closer look at the crown.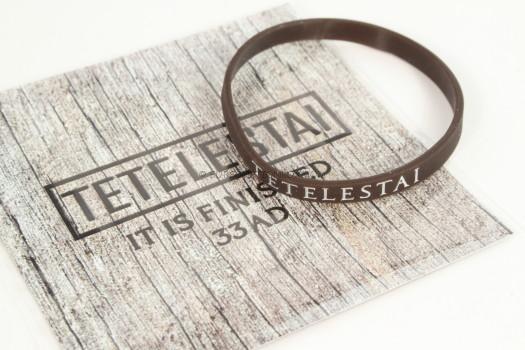 Tetelestai 33 AD "Message Bracelet" $3.75 Tetelestai means "It is Finished", which are the last words Christ spoke.  Tetelestai stands for Jesus paying for all of our sins.  The back of the bracelet has 33 AD, which is when Jesus died.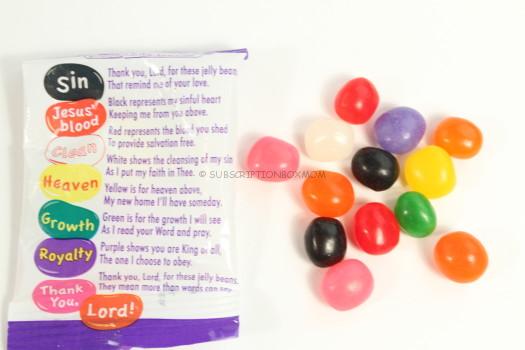 The Jelly Bean Prayer $1.00 This package of jelly beans comes with a little prayer.  I am going to make cards with this prayer, add some jelly beans and give to each of my children.
"The Jelly Bean Prayer"
Thank you, Lord, for these jelly beans that remind me of your love.
Black represents my sinful heart, keeping from you above.
Red represents the blood you shed to provide salvation free.
White shows the cleansing of my sin as I put my faith in Thee.
Yellow is for heaven above, my new home I'll have someday.
Green is for the growth I will see as I read your Word and pray.
Purple shows you are King of all, the one I choose to obey.
Thank you, Lord, for these jelly beans.
They mean more than words can say.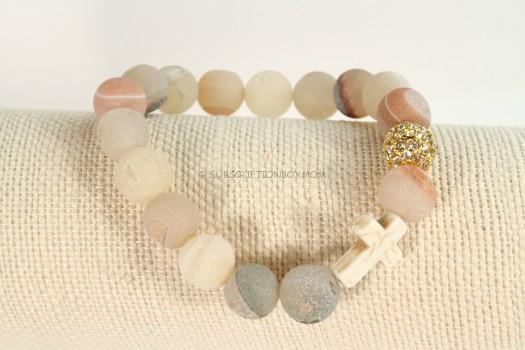 Agate Easter Cross Bracelet $19.99 John 3:16 "For God so loved the world that he gave his one and only Son, that whoever believes in him shall not perish but have eternal life."  This Easter season, you can wear this beautiful bracelet and remember the Crucifixion and resurrection of Christ.   The bracelet is made of agate with the exception of a gold and rhinestone bead.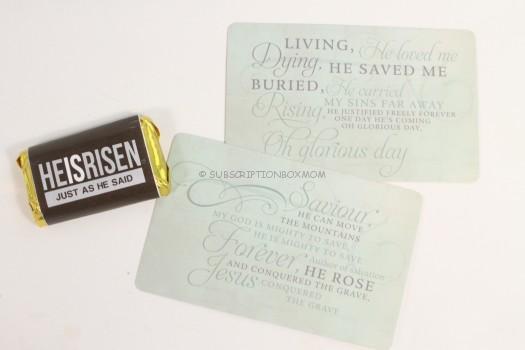 Chocolate Bar $1.00 and Scripture Cards $1.00: I love this chocolate bar and the religious message.  The back has nutrition facts:
Unfailing Love 100%
Unending Mercy 100%
Unlimited Grace 100%
Unremitting Compassion 100%
There were two scripture cards in the box.  These cards can be given to friends or witnesses, or placed in your bible.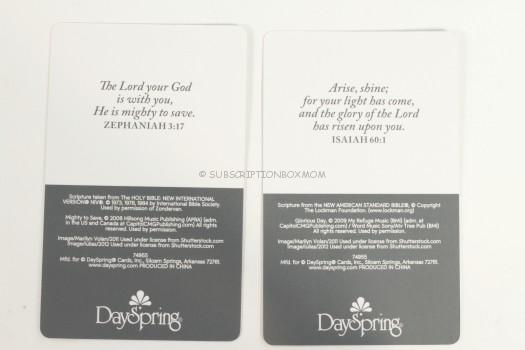 Isaiah 60:1 "Arise, shine; for your light has come, and the glory of the Lord has risen upon you." Zephaniah 3:17 "The Lord your God is with you, He is mighty to save".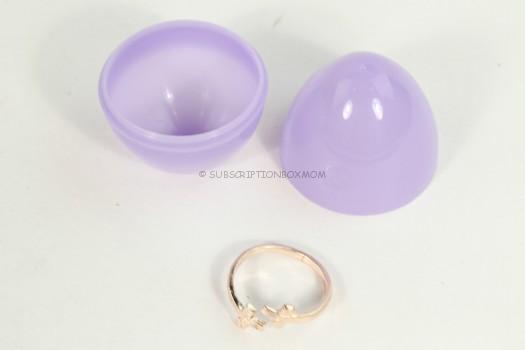 Gold Cross Adjustable Ring $8.00 Inside this Easter egg, was a little gold cross ring.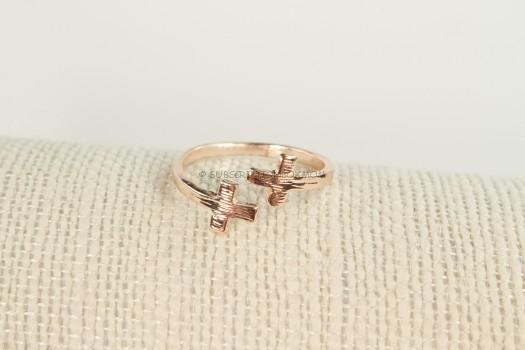 This is a closer look at the ring.  The ring is pretty sturdy and seems to be nicely made.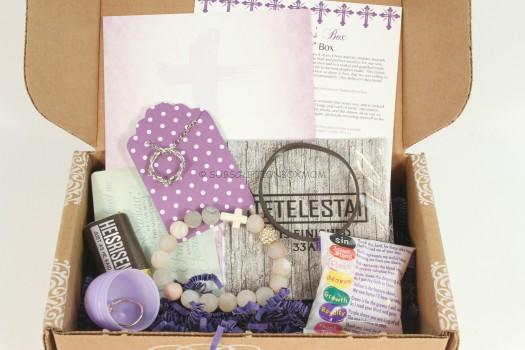 Final Thought: This box had a total value of $56.74, using Believer's Box values.  I really enjoyed this box, especially the agate bracelet.  I really liked how the Believer's Box ties each item to scripture.  You can check out The Believer's Box with this link and save 10% on your box with the code subboxmom10.
Do you like FREE SUBSCRIPTION BOXES?  Click HERE to see my free subscription box list.
Check out my Full List of Subscription Box Coupons
Check out my current giveaways 
HERE