March 16, 2016
03/16/16

By Subscription Box Mom

0 Comments
0
SumoCrate March 2016 Review
Disclosure: I received this box free for review.
SumoCrate is a high protein snack subscription box that is only $24.95/month.  Each box comes with 8-10 snacks and the majority of snacks will have 10-20g of protein / serving (on average).  SumoCrate tries to mix it up each month, so you will find nut butters, meat jerkies, plant-based snacks and more in your box.  One note about prices, their month to month cost shows up on their
The Details:
Cost: $24.95/month, 3 month plan $22.95/month, 6 month plan $21.95/month. 1 year $19.95/month.
Shipping: Free shipping to the USA, $8.00 shipping to Canada.
What's in the box? There will be 8-10 High Protein snacks in each box.  Snacks will come from a variety of protein sources.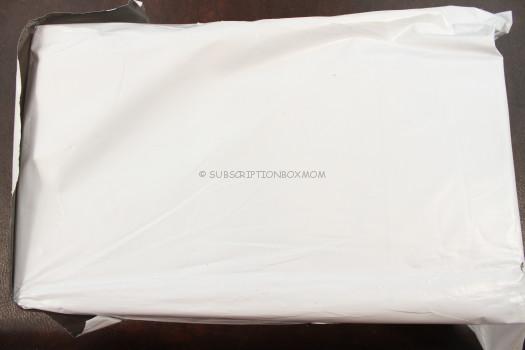 SumoCrate ships in a polymailer bag and comes by USPS.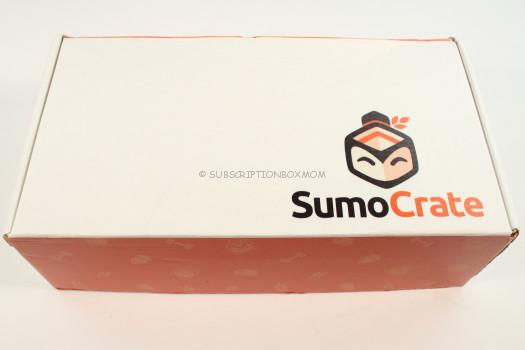 The Box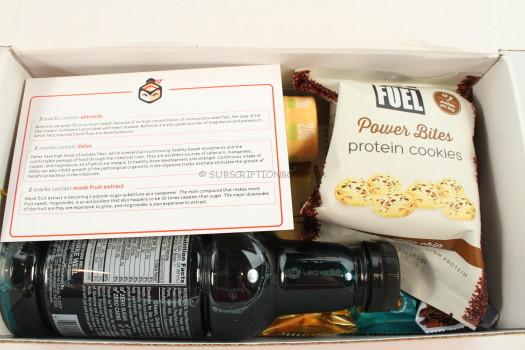 First Look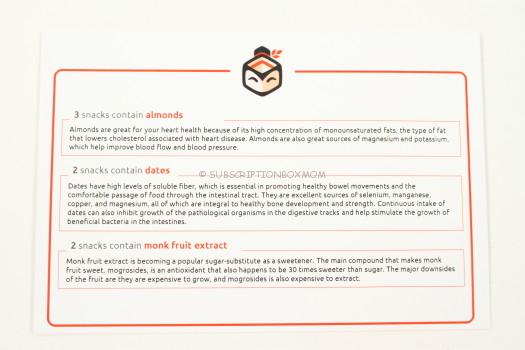 The information card broke the down the snacks based on their primary ingredients: almonds, dates, and monk fruit extract.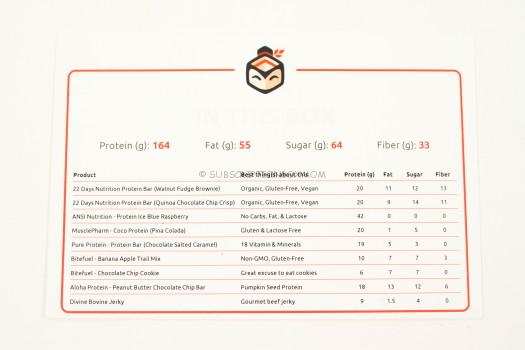 The other side of the information card had a list of everything in the box, along with the protein, fat, sugar and fiber information.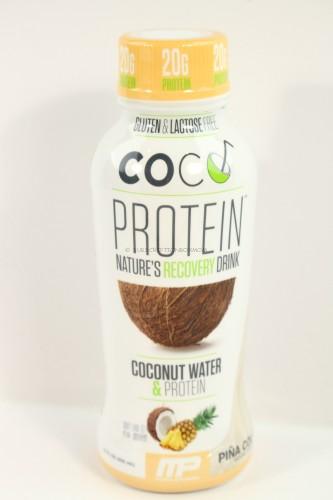 MusclePharm Coco Protein (Pina Colada) This coconut water is flavored like a pina colada and has 20g of protein and is soy/lactose free.
Nutrition
Calories 130
Protein 20g
Carbs 7g
Sugar 5g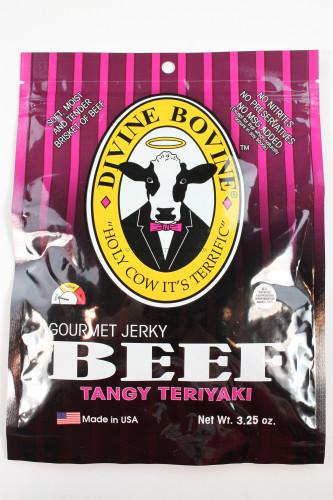 Divine Bovine Jerky This pretty interesting jerky.  It's actually really moist, chewy and has a great teriyaki flavor.  Jerky is a great source of protein and my go-to snack.
Nutrition
Calories 80
Protein 9g
Carbs 8g
Sugar 7g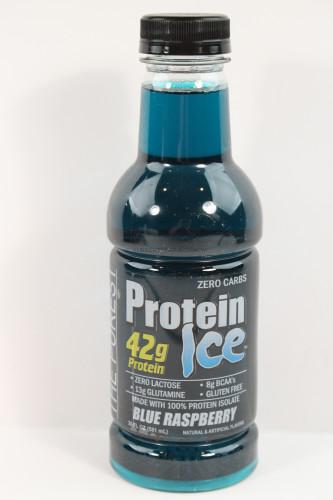 ANSI Nutrition Protein Ice Blue Raspberry This looks like a sports drink but it's packed with protein (42g).  I love that it's free from carbs, fat and lactose!
Nutrition
Calories 170
Protein 42g
Carbs 0g
Sugar 0g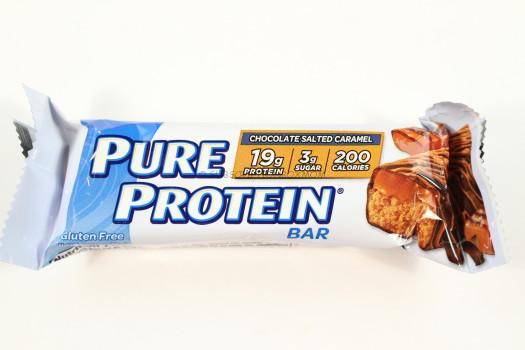 Pure Protein Bar Chocolate Salted Caramel This is packed with 18 vitamins and minerals.  This is was good and had a strong caramel taste.
Nutrition
Calories 200
Protein 19g
Carbs 20g
Sugar 3g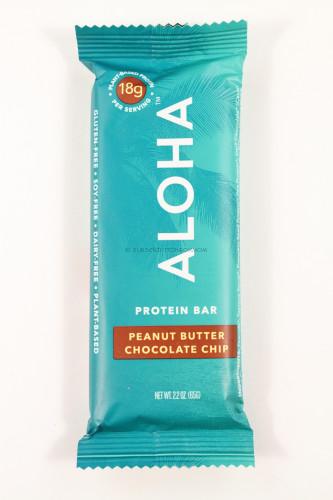 Aloha Protein Peanut Butter Chocolate Chip Bar  This is dark chocolate and peanut butter bar is packed with pumpkin seeds. and seeds.
Nutrition
Calories 270
Protein 18g
Carbs 24g
Sugar 12g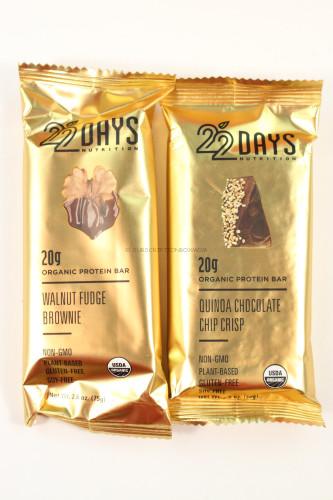 22 Days Nutrition Protein Bar in Walnut Fudge Brownie and Quinoa Chocolate Chip Crisp Both of these bars have 20 grams of protein and taste great.   I really loved the walnut fudge brownie.  It tasted more like a dessert than a healthy bar.
Nutrition (Walnut Fudge/Quinoa Chocolate)
Calories 290/280
Protein 20g/20g
Carbs 34g/37g
Sugar 12g/14g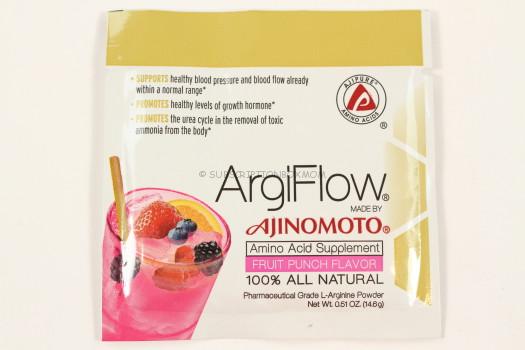 ArgiFlow Amino Acid Supplement This powder is all natural and promotes healthy blood pressure and a healthy urea cycle.  This wasn't listed on the information card, so I think this was a bonus.
Nutrition
Calories 30
Protein 0g
Carbs 7g
Sugar 0g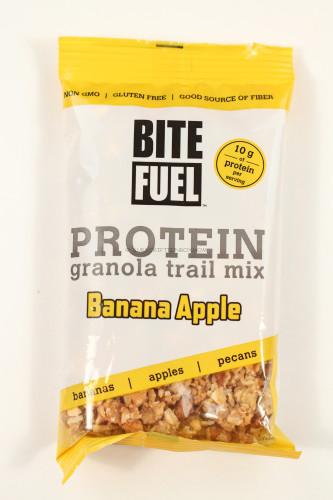 Bitefuel Banana Apple Trail Mix  This is a mix of bananas, apples and pecans.  This really looks good and I might even see if my super picky 4 year old will eat this.
Nutrition
Calories 180
Protein 10g
Carbs 20g
Sugar 70g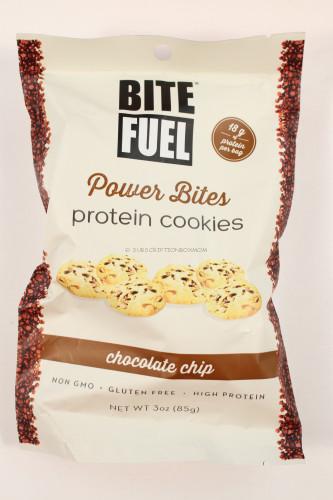 Bite Fuel Power Bites Protein Cookies in Chocolate Chip I am all about eating cookies as a healthy snack.  Two of these chocolate chip cookies have 6 grams of protein.  A serving is only two cookies, so you can't just down the whole bag.
Nutrition
Calories 140
Protein 6g
Carbs 14g
Sugar 7g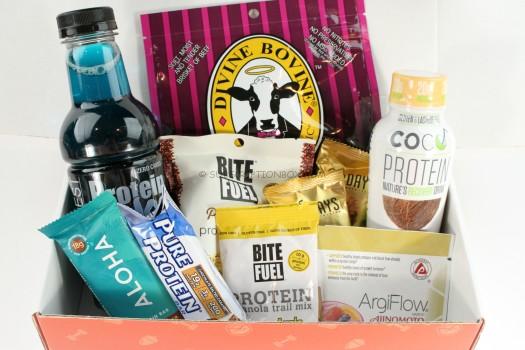 Final Thought: I really liked this month's SumoCrate box, especially the jerky.  My diet consists of high protein meals and snacks, so I am always excited to check out this box.   If you want to try SumoCrate, use this link.
Do you like FREE SUBSCRIPTION BOXES?  Click HERE to see my free subscription box list.
You can see my FULL coupon list HERE.
Do you love Giveaways?  Click HERE to enter all my Giveaways