March 23, 2016
03/23/16

By Subscription Box Mom

0 Comments
0
SnackSack March 2016 Review + Coupon
Disclosure: This post contains affiliate links.  I received this box for review.
SnackSack is a healthy subscription box that includes snacks that are organic or all-natural
non-GMO, vegan, fair-trade, or gluten-free.  SnackSack is $24.95/month for a sack full of healthy snacks.  You can even buy multiple sacks per month, perfect for an office environment.

The Details:
Cost: $24.95/month, You can also choose a 3 or 6 month subscription
What's in the box? SnackSack sends a sack full of delicious health snacks each month.
 Shipping; Free
Website: http://www.snacksack.com/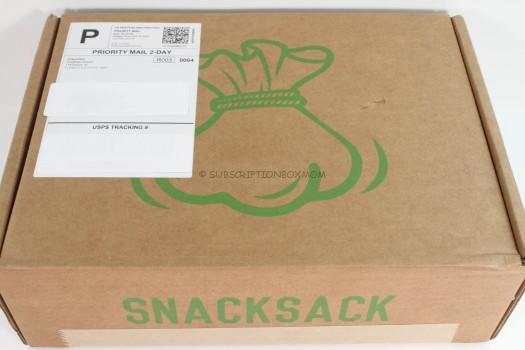 SnackSack ships in a big box and ships by USPS.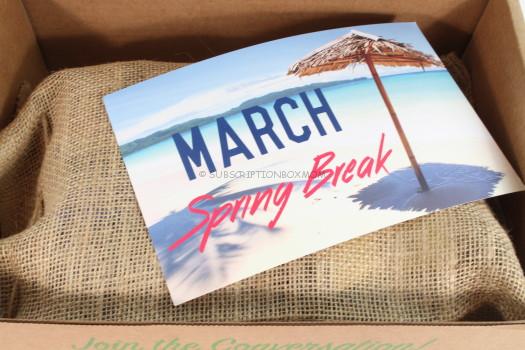 The March box was themed "Spring Break".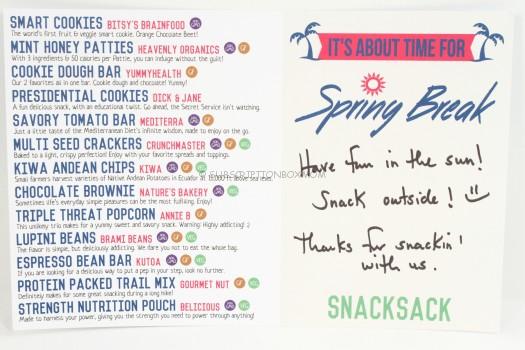 The information card has a list of everything in the box and there are colored dots to indicate if the snack is non-gmo, gluten-free or vegan.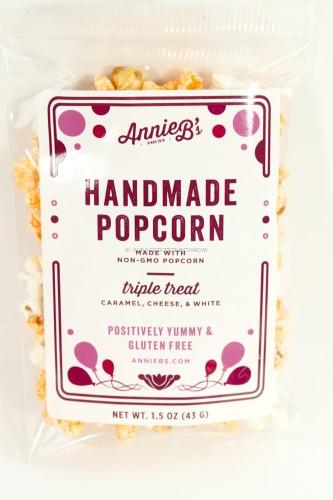 Annie B Triple Threat Popcorn (Gluten Free) I always love getting popcorn in subscription boxes.  This is a combination of caramel, cheese and white popcorn.  My family actually has a big bucket of caramel and cheese popcorn the kitchen, so it's safe to say this snack is already gone.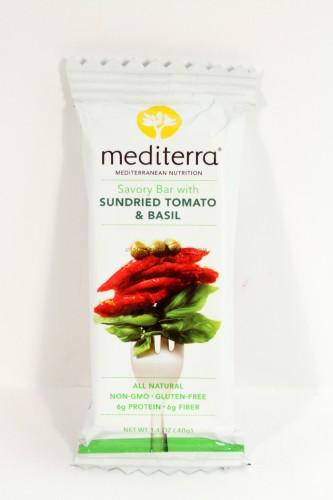 Mediterra Savory Tomato Bar  (Non-Gmo, Gluten Free) This has sundried tomatoes, basil, piquant capers, pea crisps, and extra virgin olive oil,  I don't love sundried tomatoes, so my husband enjoyed this much more than me.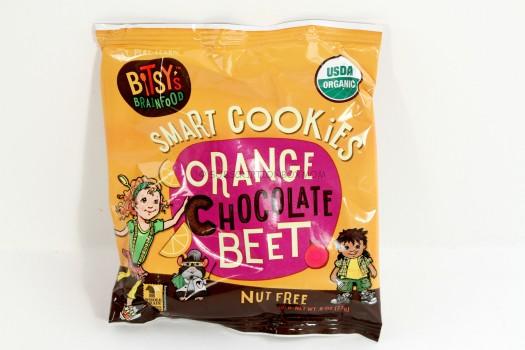 Bitsy's Brainfood Smart Cookies These cookies are made with fruits and veggies, but taste good enough my 4-year-old even eats them.  These are flavored with orange, chocolate, and beet!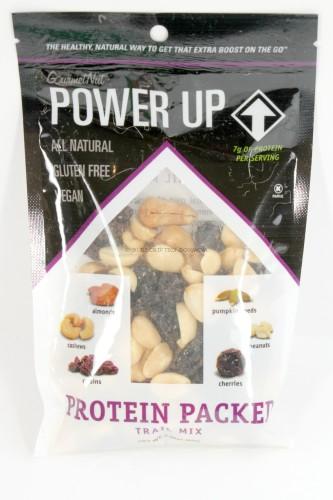 Gourmet Nut Protein Packed Trail Mix (Gluten Free, Vegan) My trainer always says if you are going to eat fruit, make sure you eat a protein with it.  This is a great mix and is going with my snacks.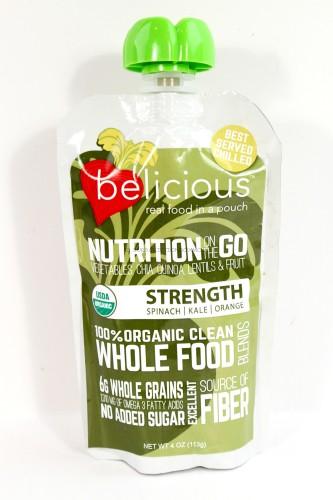 Belicious Strength Nutrition Pouch (Non-Gmo, Vegan) My husband was a bit skeptical about this, but ended up really liking it.  This is filled with organic whole food, whole grains and no added sugar.  While it's super healthy, it's also tasted like salsa, which is awesome.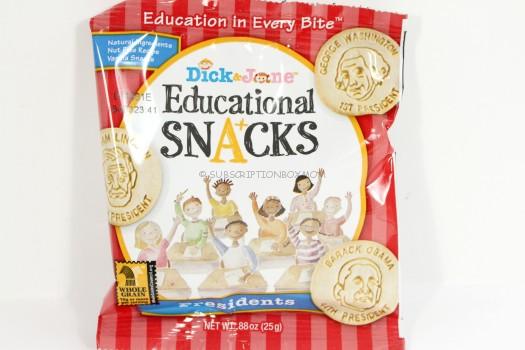 Dick & Jane Presidential Cookies  This is another snack my children enjoy.  These cookies taste great and have a president on each one.  This is going to be my 6 year old's school snack tomorrow.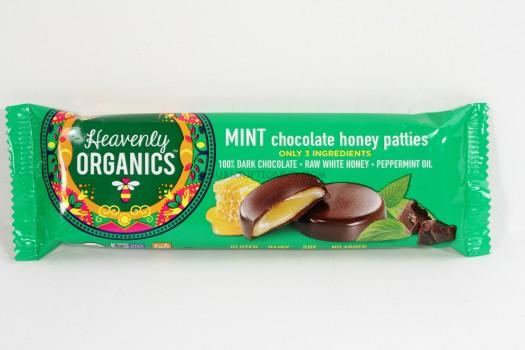 Heavenly Organics Mint Honey Patties (Non-Gmo and Gluten Free) These cookies have three ingredients: dark chocolate, white honey and peppermint oil.  They have a gooey inside with a hint of peppermint.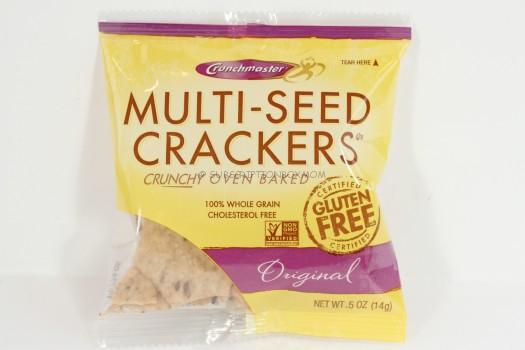 Crunchmaster Multi Seed Crackers (Non-Gmo, Gluten Free and Vegan)  My husband and I make a great team, because we like the opposite snacks.   I love these crackers because they are packed with good ingredients and they have a great toasted flavor.  They are fantastic by themselves, but also great with humus or cheese.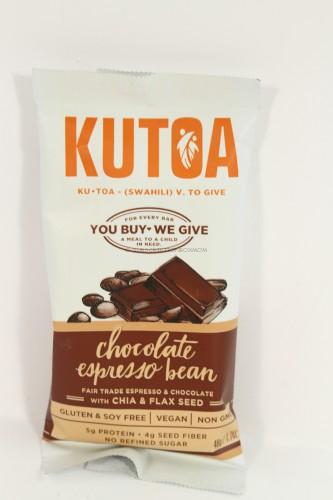 Kutoa Espresso Bean Bar Kutoa gives a meal to a hungry child with every bar purchased.  Even though this has chia and flax seed, my husband enjoyed this chocolate espresso bar.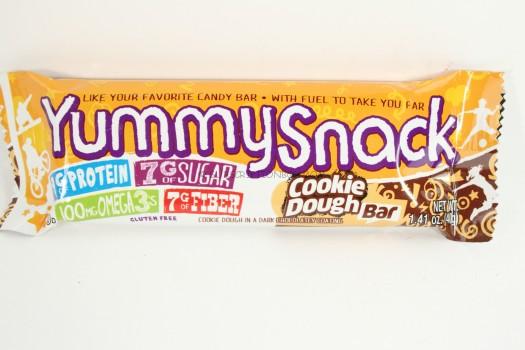 Yummyhealth Cookie Dough Bar (Gluten Free)  In term of healthy bars, this one tastes the most like a candy bar.  It tastes like a cookie dough candy bar, but it's filled with fiber, omega 3's, and protein.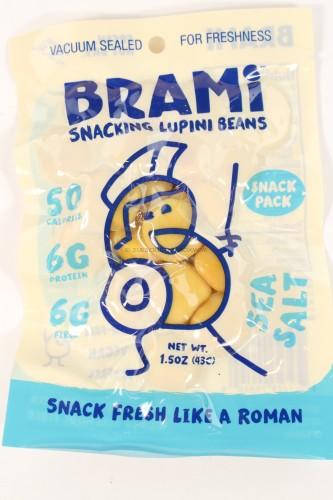 Brami Beans Lupini Beans (Non Gmo, Gluten Free, Vegan) This Mediterranean snack was once enjoyed by Romans.  These were really interesting and were a soft chewy bean that was soaked in a salty brine.  I didn't love them, but didn't hate them either.  It was a really interesting snack.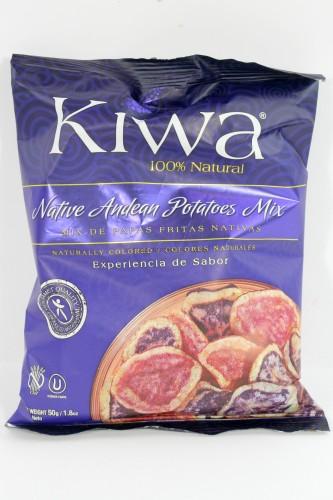 Kiwa Andean Chips These are made with native andean potatoes. These taste like a potato chip, only not as salty and they are blue and red.  I will have to buy more of these.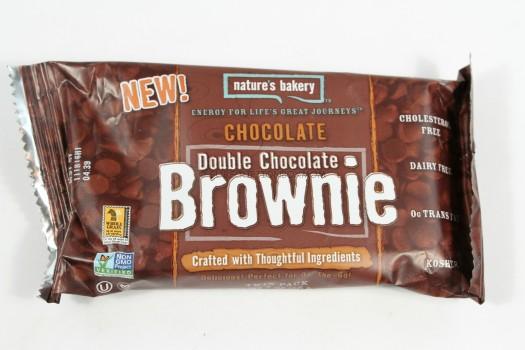 Nature's Bakery Chocolate Brownie (Non-Gmo and Vegan) I have had the fruit versions of these but never the brownies.  These soft brownies taste fantastic and have a hint of vanilla.  I think this is one of my favorite snacks in the box.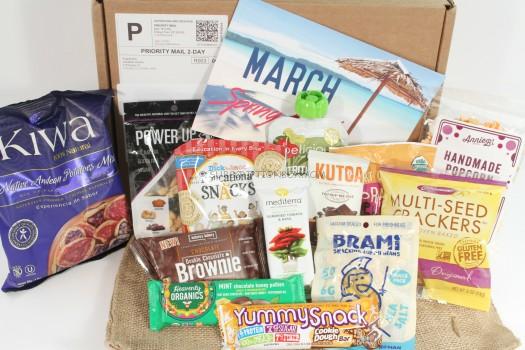 Final Thought: SnackSack sends so many snacks each month, everyone will find something they like.  This is such a fun box to review, because my husband and I get to try so many great snacks.  There was something for my entire family in this box! If you love snacking, but want healthier options, try SnackSack and use the code FEMME10 to save 10% on your 1st box.
Do you like FREE SUBSCRIPTION BOXES?  Click HERE to see my free subscription box list.
You can see my FULL coupon list HERE.
Do you love Giveaways?  Click HERE to enter all my Giveaways