March 3, 2016
03/03/16

By Subscription Box Mom

0 Comments
0
Panda Pals February 2016 Review + Coupon – Socks/Activities for Children
Disclosure: This post contains affiliate links.  I received this box for review.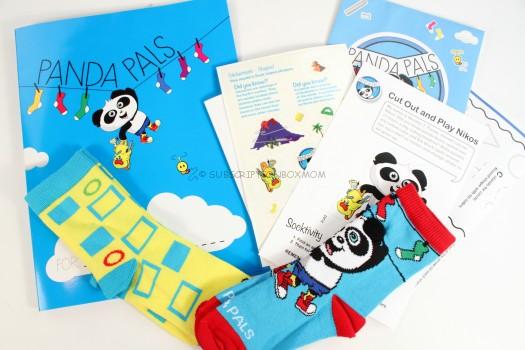 Panda Pals is a sock subscription box that sends two pairs of socks and several activity for kids (ages 3-8).  Panda Pals is a subscription from Sock Panda, which is another great sock subscription.  Each month, Panda Pals subscribers will get two pairs of socks, a cartoon story about Nikos & friends, along with an envelope full of activities.  Panda Pals also gives a pair of socks to a child in need with every subscription purchased.
Who are Nikos and his friends?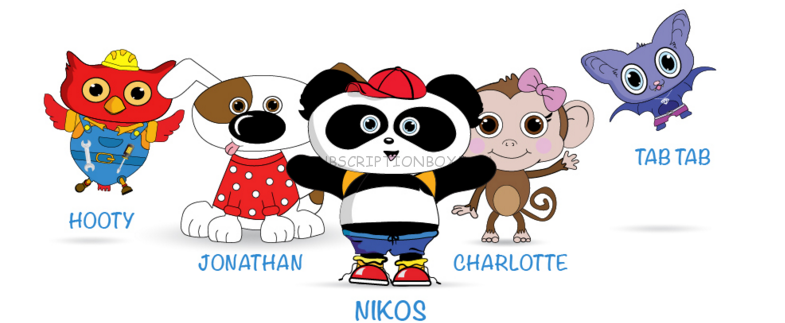 NIKOS A curious young Panda who enjoys playing outdoors, getting muddy and learning new skills.
JONATHAN A friendly and loyal Dog with super senses who loves to find and bury his toys around Sock Island.
CHARLIE A cute little Monkey with a big talent for playing music. Charlie loves to sing and dance.
TAB TAB A little Bat with a big heart. Tab Tab lives in a special cave full of beautiful gem stones.
HOOTY A clever, wise Owl who likes to invent and fix things.
The Details:
Cost: $15.00/month, $14.00/month for 6 months, and $12.00/month for 1 year. 6 and 12 month subscriptions are billed all at once.
Coupon: Use this link with the code PAL to save 15%.
What's in the box?  Each month, Panda Pals subscribers will get two pairs of socks, a cartoon story about Nikos & friends, along with an envelope full of activities.
Shipping: Panda Pals ship to PO Boxes, APO addresses and US Territories. Shipping within the USA is included, shipping international is $3.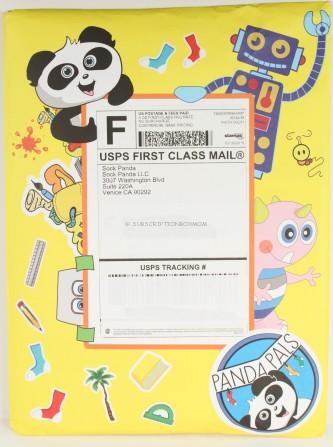 Panda Pal ships in a fun envelope.  My kids saw this laying out and really wanted to know what was inside.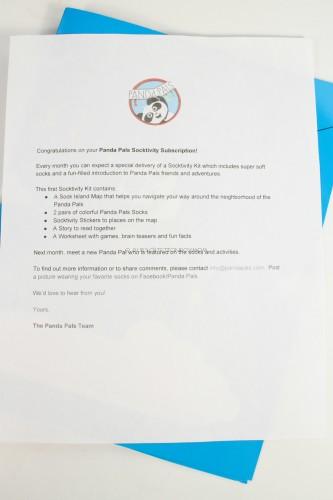 For Parents: Panda Pals sent a letter explaining the subscription.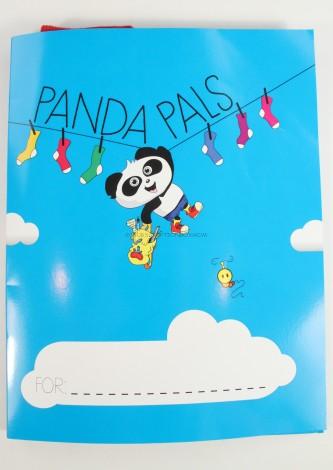 Everything was tucked inside a glossy folder.  That's Nikos on the cover.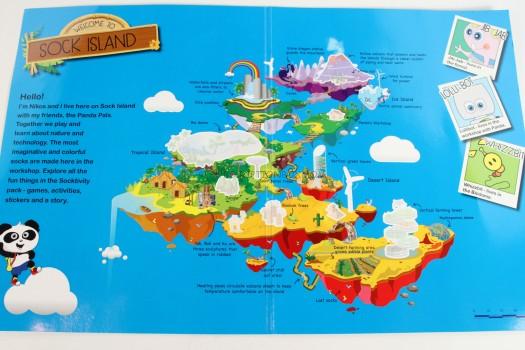 Nikos introduces children to his world and friends.  The white shaded areas are spots your child can add stickers (keep reading to see the stickers).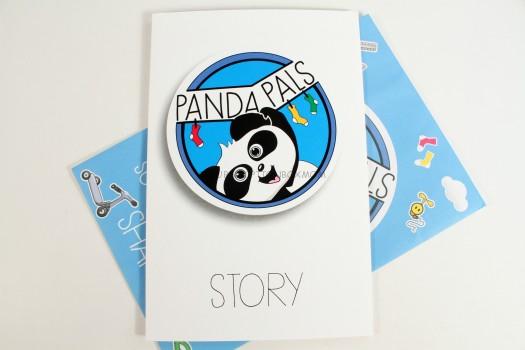 The Story: Each month, your child will get a new story about Nikos and his friends.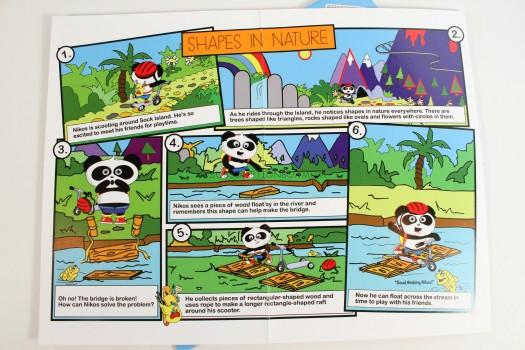 Shapes: This month Nikos teaches your child about shapes and how you can find them everywhere.  After reading this story to my 4 year old, we had a great time find shapes in his room.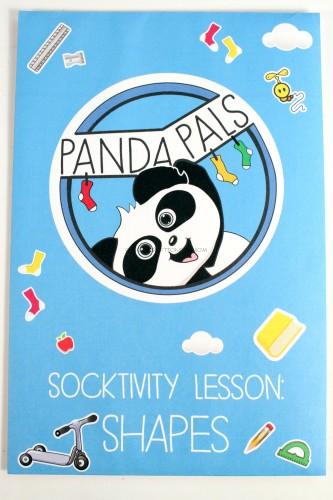 Socktivity Lesson Shapes  There was a little envelope filled with all the activities.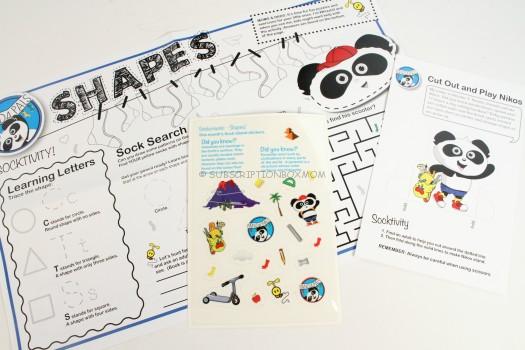 Shape Activities: Inside the envelope was a two-sides placemat with various shape and letter activities.  The back was plain, so your child could draw a picture using shapes.  The stickers are designed to work with the folder.  If you look up at the folder again, you will see the white/shaded spots.  Each monthly envelope will contains another sticker to add to the picture.  This month, the volcano sticker was added.  There are several stickers on the sheet, so the rest can be used for other crafts or activities. The last activity sheet was a cut out Nikos to play with, maybe with the map.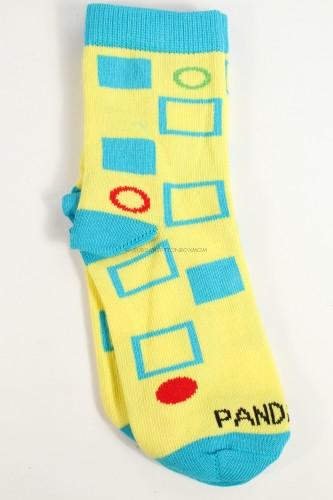 Yellow/Shape Sock: These socks tie right into the shape theme of the subscription and I love they are in primary colors.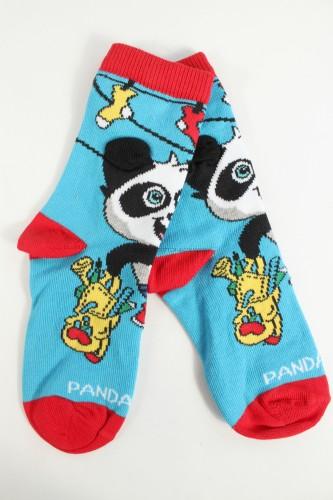 Nikos Socks: The second pair of socks were my favorite.  Nikos is on these socks and his ears actually stick out from the socks.  So cute!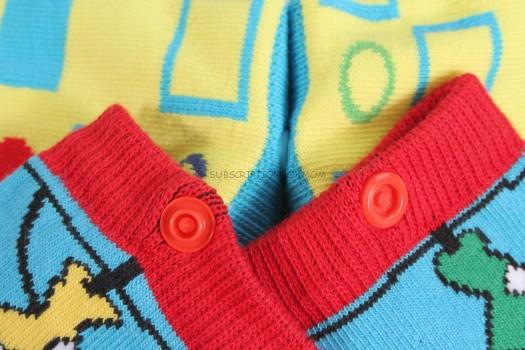 The Best Part: As a mom, the best part of the subscription is this.  Each pair of socks have snaps.  After they are worn, just snap the socks together and wash.  NO MORE LOST SOCKS.  Yes, I meant to yell, because how cool!  Seriously, I wish all socks came with snaps.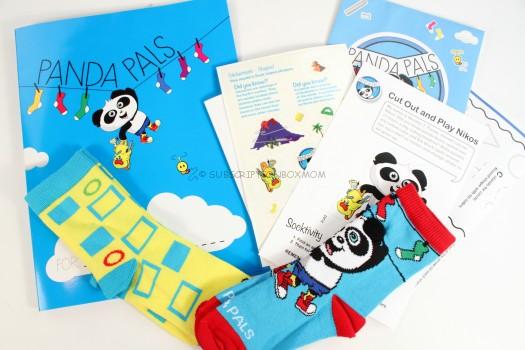 Final Thought: This is a fun box for both parents and children.  Parents will love the snaps on the socks, while kids will love the colorful characters and fun activities.  My kids enjoyed completing the activities and 2 of our 50 pairs of children socks are matched and put away.  This is a fun subscription to try, and you can save 15% on your 1st month with this link and the code PALS.
Here is a look at other Panda Pals socks.