March 24, 2016
03/24/16

By Subscription Box Mom

0 Comments
0
My Pretend Place March 2016 Review + Coupon
Disclosure: This post contains affiliate links.  I received this box for review.
My Pretend Place has released a new feature to their subscription, Build Your Own Box.  My Pretend Place is a subscription box for children 3-8, that encourages pretend, dress-up, learning and imagination.  Previously, you were sent a random theme each month, but now you can choose your theme.
 My Pretend Place's mission is to get children crafting, dressing up, pretending and using their imaginations!  The Dress Up box is $50.00 every 3 month (quarterly) and comes in boy, girl or gender neutral.  Each box will contain dress-up costumes, activities or crafts, and other pretend play inspiration.  Every three months, you get a big box of goodies and the two off months, you get free bonus materials.
When you sign up for the dress up box, you can choose between the following themes: astronaut, chef, cowboy, cowgirl, fairy, fire fighter, pirate, princess, safari, superhero (boy and girl), veterinarian or surprise me.  You can choose up to four themes at a time, and you will get the themes in order that you choose them.  I choose the ninja theme this month.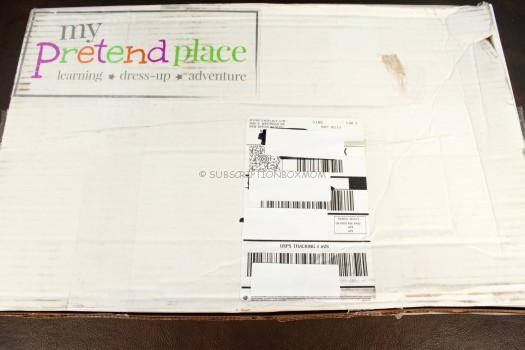 My Pretend Place ships in large white boxes.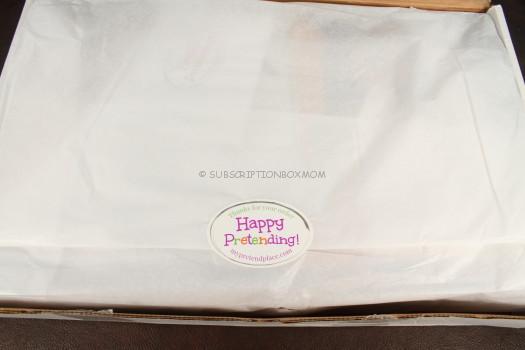 First Look.  Everything is always wrapped in tissue paper.
Each box comes with a letter to your child regarding the theme of the box.  This month, your Sam, an instructor at MPP Martial Arts Studio, had packed some supplies to teach your child to be a ninja.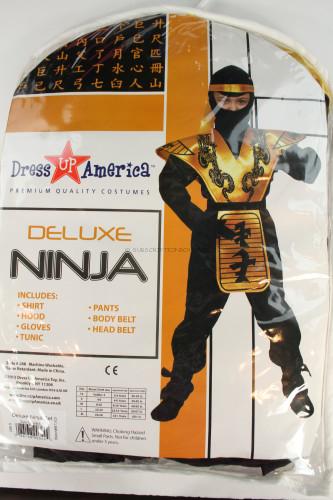 Deluxe Ninja Costume Set – Small 4-6 Dress Up America $39.95  This dress up outfit comes with a shirt, hood, gloves, tunic, pants, and belts.  I think this costume had the most parts of any previous costume, but my son loved it.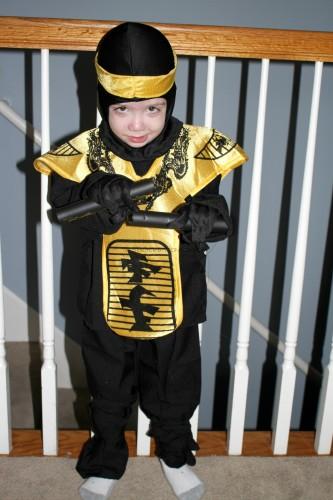 This is my little ninja.  The costume was a bit big, but it gives him room to grow.  My son has had a blast running around the house.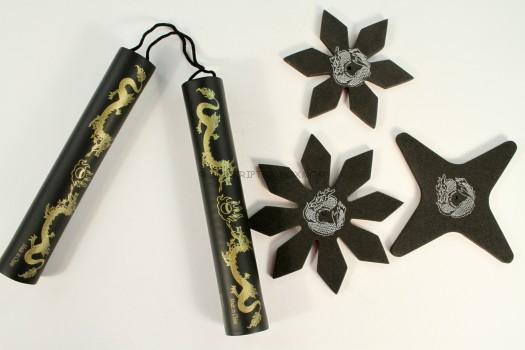 The was a set of throwing stars and nunchucks to go with the costume.   Both are made of a soft foam, so no one will get hurt with them.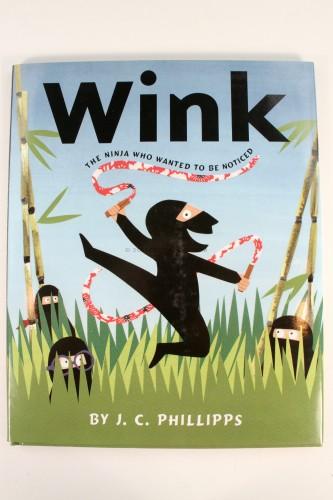 Wink: the Ninja Who Wanted to be Noticed  J.C. Phillipps $11.96  The featured book this month is about a little boy and his adventures as a ninja.
From Amazon "The happiest day of Wink?s life was when he was accepted to the Summer Moon School for Young Ninjas. He is sure that he will be a great ninja. Silence is the fi rst lesson and everyone is very very silent . . . except for Wink. Stealth is the second lesson and everyone is very very stealthy . . . except for Wink. Finally, Wink decides that he will be silent and stealthy. But no one notices! What?s the point of being a great ninja if no one notices? Maybe Wink wasn?t meant to be a ninja? This daring debut is an adventure-lover?s dream."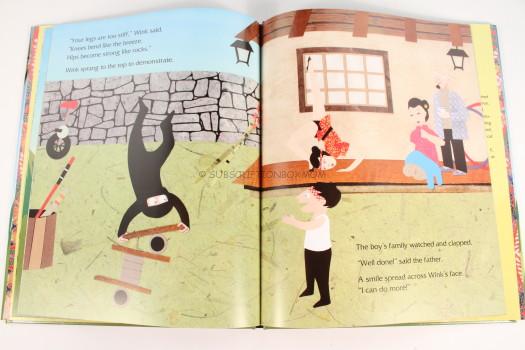 This is a look inside the book.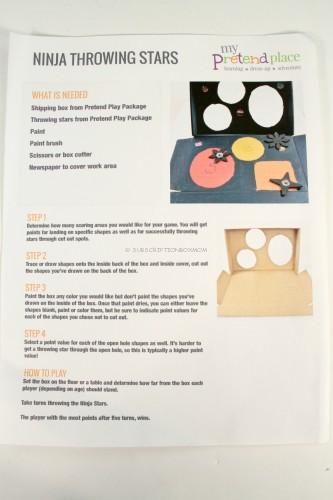 Ninja Throwing Stars For an activity, My Pretend Place gave instructions on how to turn the box into a set up to score points by throwing the stars.  We haven't done this yet, but T has had fun throwing the stars through my banister.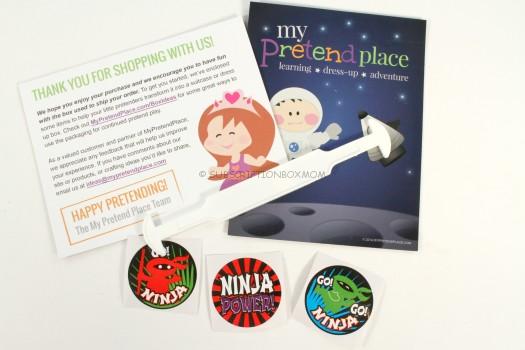 Every box comes with a handle and stickers, so your child can turn the box into a storage suitcase. We save our boxes and store our outfits this way.  There was also a general information card and a magnet.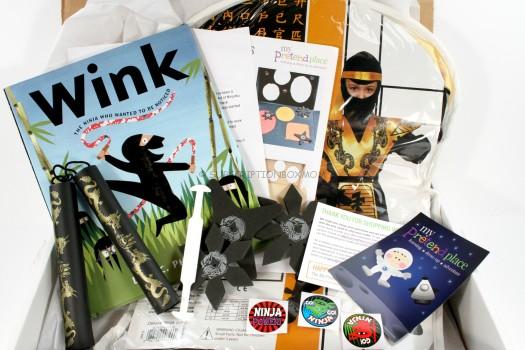 This is everything in our March shipment.  I recently received the bonus materials for month 2, so I included them in this review as well.
Month 2 Shipment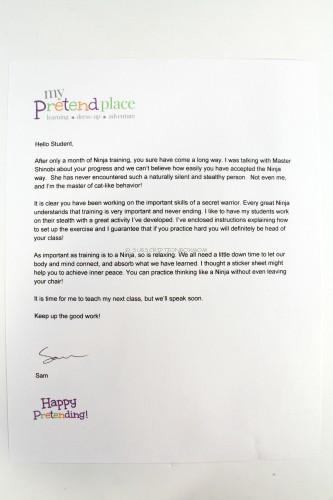 Everything came in a white envelope.  The welcome letter from Sam said he was sending information to practice different exercises and a sticker sheet to practice achieving inner piece.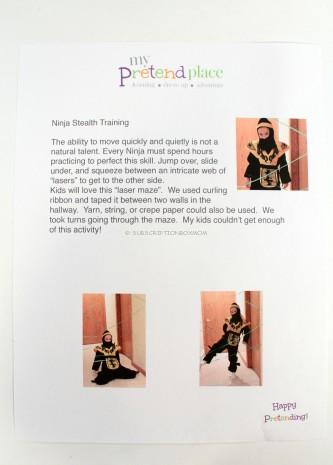 Exercises To practice being stealthy, My Pretend Place suggest using ribbon to create a laser maze in your hallway.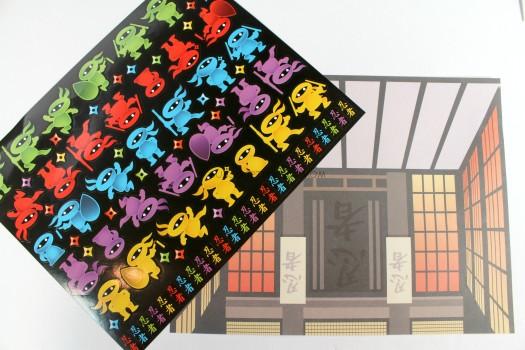 Quiet Activity To maintain focus, a sticker activity was included.  Just stick the ninjas on the scene.  I like saving these projects for when we are in waiting rooms.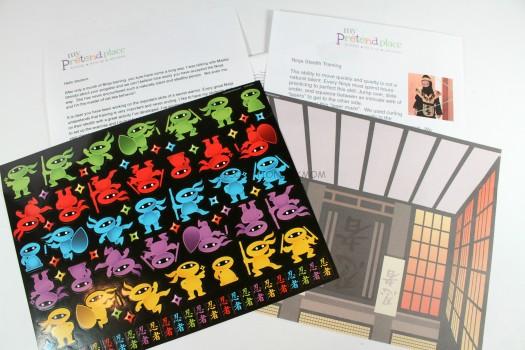 This is a look at everything in the Month 2 Bonus.
Final Thought I love that My Pretend Place includes a complete package for your child to pretend.  My kids really love the costumes and books.  I also like that you can pick the themes you want, so you won't get a duplicate costume or a theme you don't like.  If you want to My Pretend Place, use this link with the code playtime to save 20% on your first box of the dress up box or the craft subscription.
Do you like FREE SUBSCRIPTION BOXES?  Click HERE to see my free subscription box list.
You can see my FULL coupon list HERE.
Do you love Giveaways?  Click HERE to enter all my Giveaways