March 28, 2016
03/28/16

By Subscription Box Mom

0 Comments
0
Mac & Mia March 2016 Review – Online Personal Stylists for Children's Clothing
Disclosure: This post contains affiliate links.  I received this box for review.  The $20.00 styling fee was waived for my review.
Mac & Mia is cute clothing on-demand service, just for kids.  Similar to Stitch Fix, you pay $20.00 and fill out a profile about your preferences.  You will be assigned a stylist who you can give more information to.  Sizes run from newborn to age 6 (newborn to 6T).  You can take up to 5 days to make your choices before sending back your clothing in a prepaid envelope.  Clothing runs around $35.00/piece, while accessories run around $12.00.  If you keep 2 or more items, you $20.00 styling fee will be applied to the total.  If you keep your entire box, you will get 15% off.
I really hate taking my kids clothing shopping and I am often busy to shop online, so I was excited to try this out.  For my review, I filled out a profile for my 4 year old.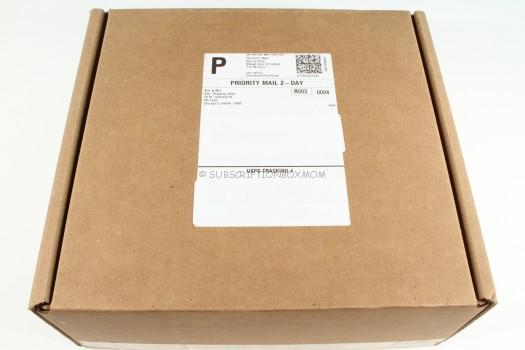 Everything shipped in a plain brown box.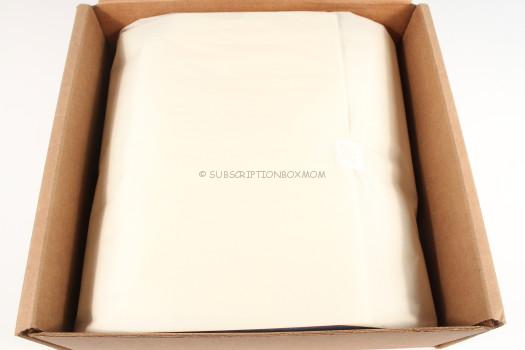 Everything was wrapped in tissue paper.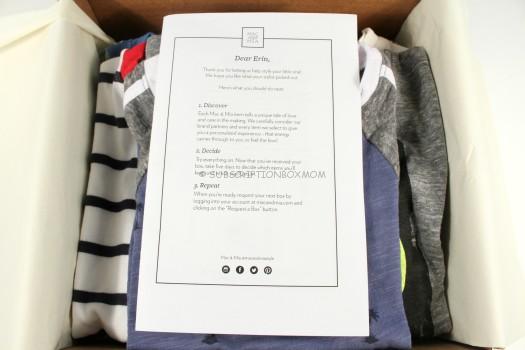 First Look.  Everything was neatly folded in the box.  On top, there was an information booklet. The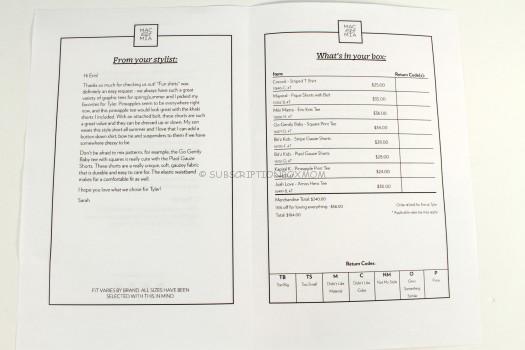 The information card listed everything in the box, the price and the rating scale at the bottom.  The total cost of my box is $240.00.  I would save an additional $36.00 if I keep everything.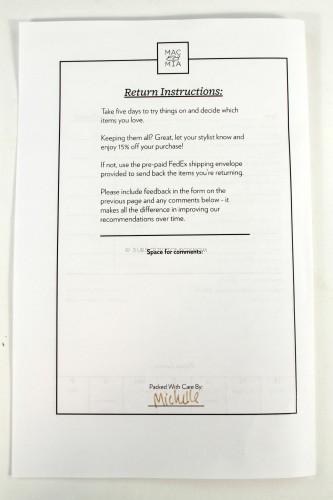 The back of the information guide had return instructions.  Basically put your clothes in the bag within 5 days and mail it back.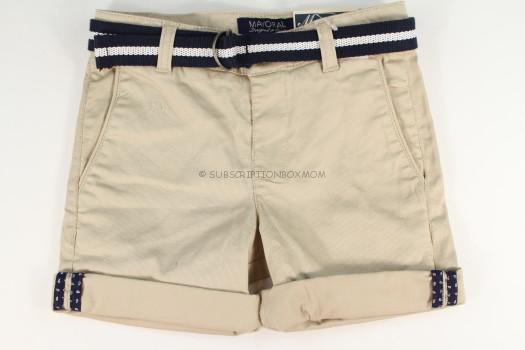 Mayoral Pique Shorts with Belt $35.00 I love these shorts, especially because they come with a little belt.  You can wear them rolled up or down.  I was really close to purchasing these, but they ended up not looking good on T.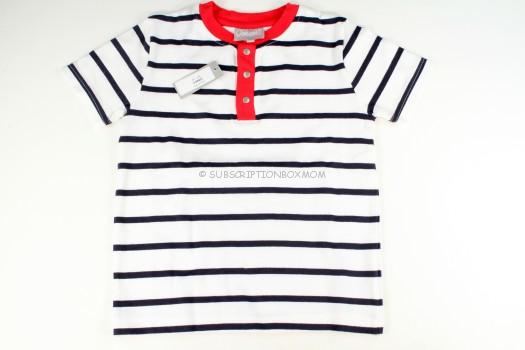 Coccoli Striped T Shirt $25.00  I really love the look of this shirt, but think about my 4 year old wearing white gives me anxiety.  I hate stains and white is a stain magnet.  As much as I love this, I had to pass.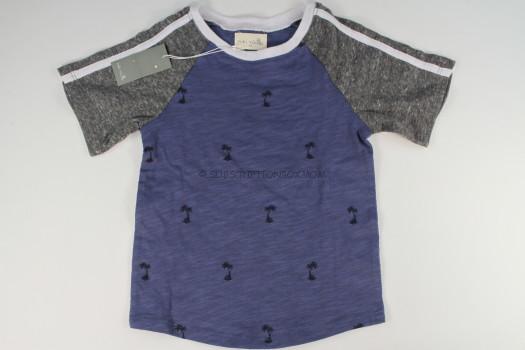 Miki Miette Erick Knit Tee $36.00  I really loved the material on this shirt, it was super soft.  The little palm trees really give it a summer look.  This ended up fitting a bit small and the cost was more than I wanted to spend on the shirt.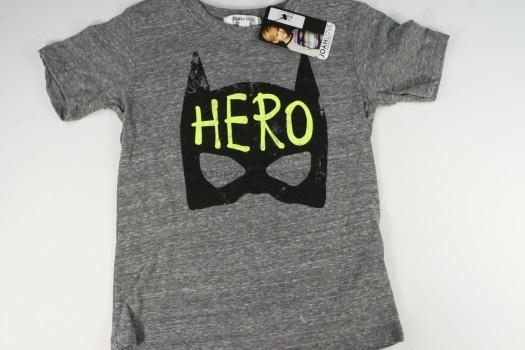 Joah Love Amos Hero Tee $30.00  This shirt also has super soft material and I love the superhero theme.  This fit really well and is more fitted than traditional t-shirts. This is one of the shirts we decided to buy.
Bit'z Kids Plaid Gauze Shorts $28.00 I really didn't want any shorts until I saw these.  These shorts are a super soft knit, but they look more tailors than traditional elastic waist shorts.  The button on the front is just for looks, but there is a real working pocket on the back.  Since T' has to be completly independent for bathroom matters at school. he has to have shorts that don't have snaps or buttons.  We ended up keeping these.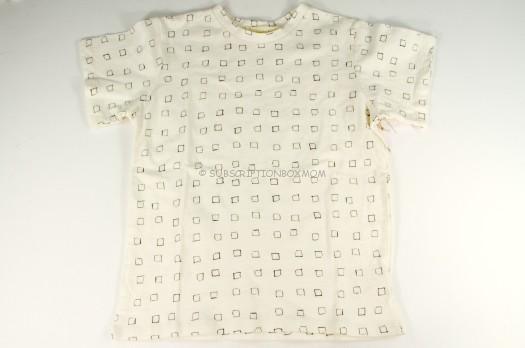 Go Gently Baby Square Print Tee $34.00 This is a cream colored shirt with black squares.  The fabric was nice but I just didn't love the color.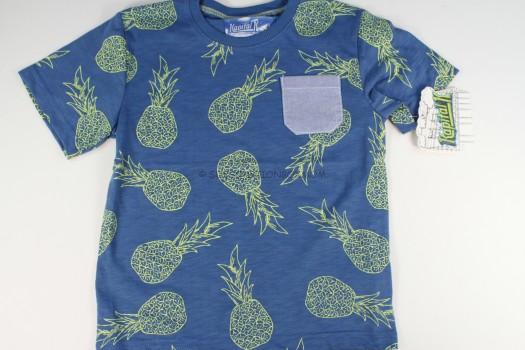 Kapital K Pineapple Print Tee $24.00 I think a certain pineapple-loving friend has rubbed off on me, because this shirt is awesome.  I love the plain pocket and the pineapples are super fun.  T loves it too, so we bought it.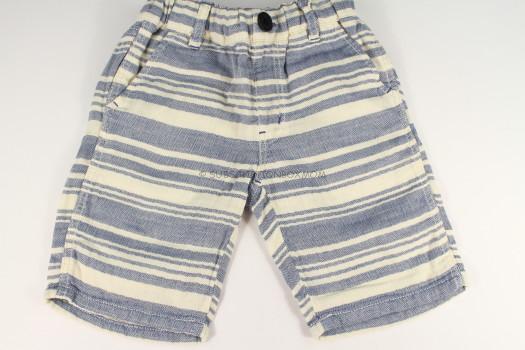 Bit'z Kids Plaid Stripe Shorts $28.00 This are the same brand and style as the plaid ones above.  These were another favorite and so we kept them.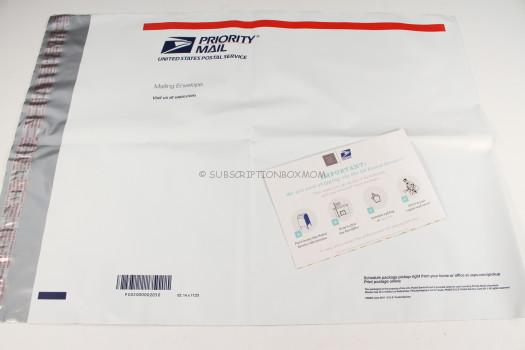 The clothes we didn't select went into the prepaid shipping bag and dropped off at the post office.
So what did I pick?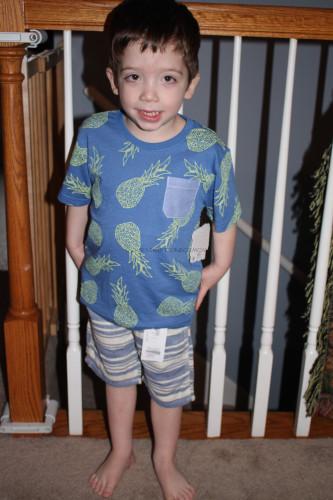 This is the pinapple/striped shorts combo.  T loves the comfort and I love the cute style.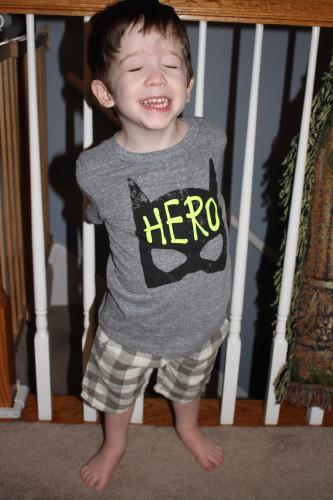 This is the other outfit, again comfortable and cute!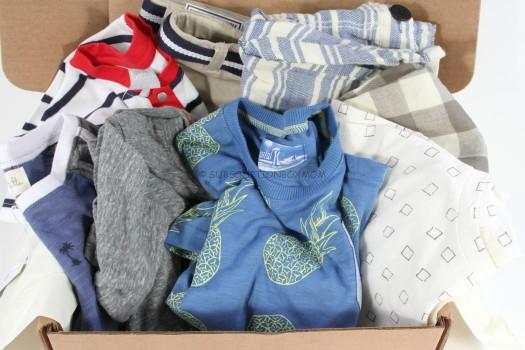 Final Thought I really was impressed with this box.  Since T is our youngest, he has many hand-me-downs from his older brother.  Because so many aren't new, we buy some nicer pieces to go in his collection.  My oldest was always too skinny for elastic waists, so I am glad to get two pairs of shorts.
Here are some of the reasons I love Mac & Mia
 I don't have to take my children shopping.
The prices are in line with boutique prices and you can save if you keep your whole box.
I don't have to search multiple websites finding items.  I generally buy Gymboree with sales and coupons, and don't really go anywhere else.
My kids can try on the clothes at their pace, instead of a marathon in the dressing room.
Everything comes to my door, so I don't have to leave my house.
If you want to check out Mac & Mia, use this link.  This is a nice way to get some well made staple pieces for your child's wardrobe.
Do you like FREE SUBSCRIPTION BOXES?  Click HERE to see my free subscription box list.
Check out my Full List of Subscription Box Coupons
Check out my current giveaways 
HERE