March 3, 2016
03/03/16

By Subscription Box Mom

0 Comments
0
Hello Fresh February 2016 Review + $40.00 Coupon
Disclosure: This post contains affiliate link

HelloFresh is a weekly recipe box subscription that includes a box of fresh ingredients and delicious recipes to make 3 meals.  Each week their chefs create amazing recipes for you that are easy to prepare.  The meals are interesting yet simple (no fancy equipment or techniques, and no obscure ingredients) and they ensure that your diet is balanced and varied.   You can choose the 2-person option (3 meals per week for two people) or the 4-person option (3 meals per week for four people).  Choose the classic box (starting at $69 for two) or the vegetarian box (starting at $59 for two).  You always have 5-6 recipes from which to choose.
**Special offer – use referral code RW7DMF and get $40 off your first box!**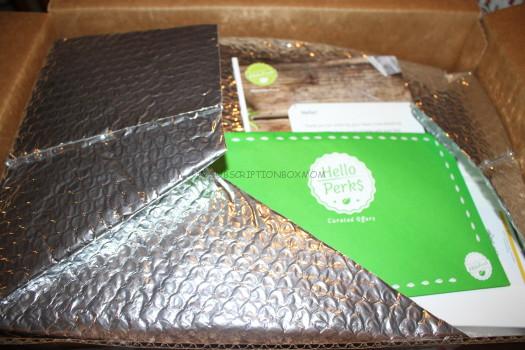 The green envelope on top holds all the recipe cards, and sometimes some special offers.  Each meal is packed in it's own box, which makes grabbing your meal easy. If you get a meal with meat, it will be in the very bottom of the box under ice packs (Don't forget to grab it).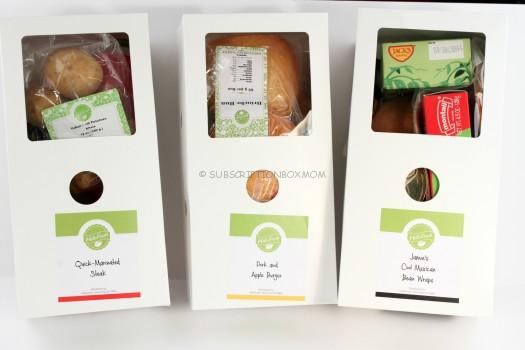 Each box has a label with the meal on it.  We ordered the two plate dinner, eat meal makes two plates, through we have enough to share with our kids (most meals).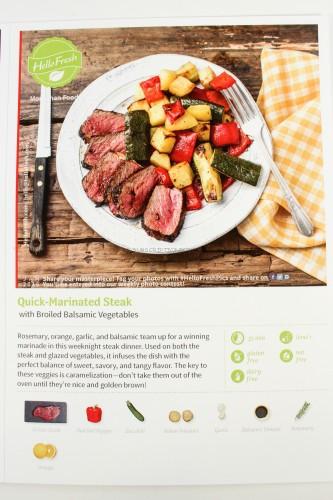 The recipe cards feature a large picture, a description, the ingredient list and some facts about the recipe.
Quick-Marinated Steak with Broiled Balsamic Vegetables: We always pick the steak meal, every time we pick out a box.
35 mins to prepare
Level 1
Gluten, Nut, and dairy Free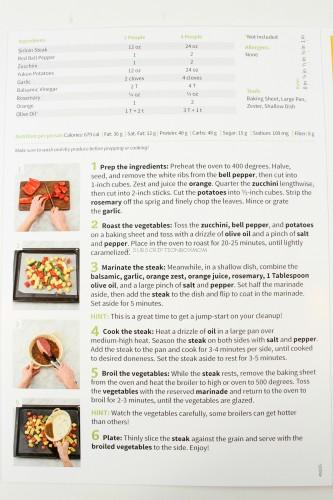 The back of the recipe card has detailed instructions on how to prepare the meal.  I love that they include so many details.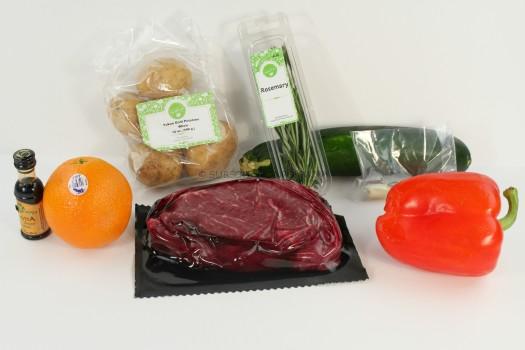 It's hard to get really fresh produce in winter, but I am always impressed with Hello Fresh.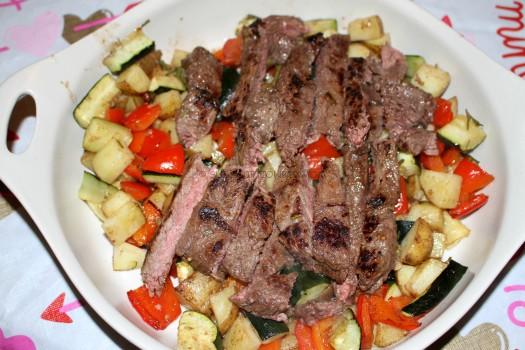 We obviously love our steak medium rare.  This dish turned out fantastic, the balsamic veggies were a perfect complement to the steak.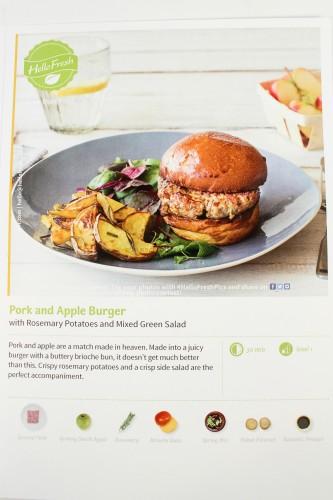 Pork and Apple Burger with Rosemary Potatoes and Mixed Green Salad: This all American family loves burgers and fries.
30 mins to prepare
Level 1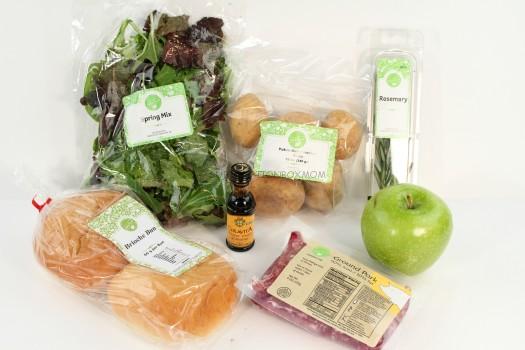 I never eat salad but the burger and potatoes were too good to pass up.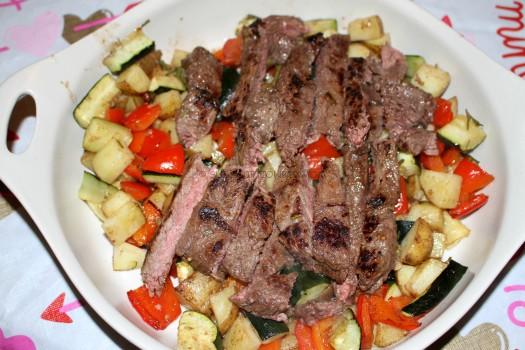 Obviously, we love our steak medium rare.  This meal was fantastic!  I loved the enormous amount of veggies and they are a great compliment to the steak.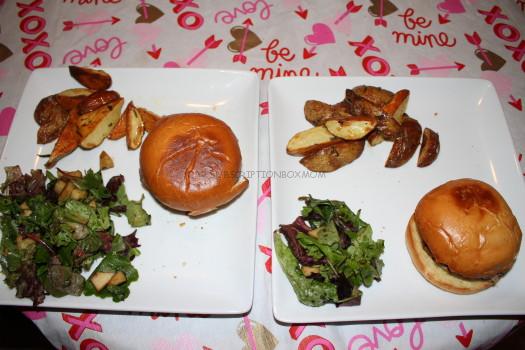 Here are both meals.  It's hard to take pictures of meals, and I know it's hard to see the actual burger.  These turned out amazing.  The pork with apples was a great combination.  I normally eat cheese with my burger, but I didn't miss it with this meal.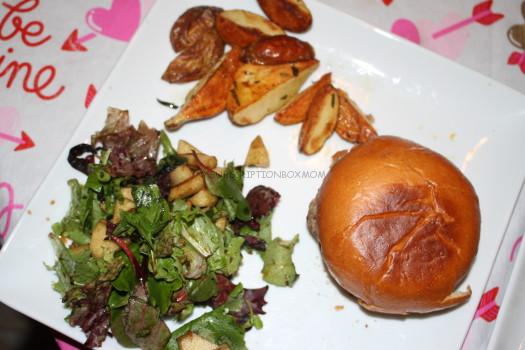 This is a closer look at the meal.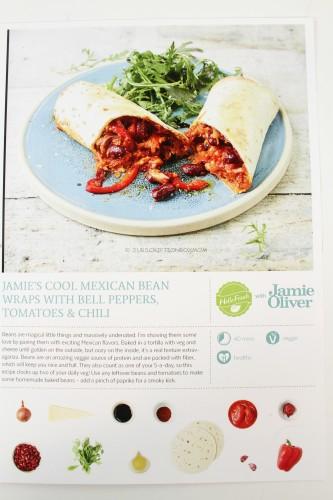 Jamie's Cool Mexican Bean Wraps with Bell Peppers, Tomatoes & Chili: This meal was created by Jamie Oliver!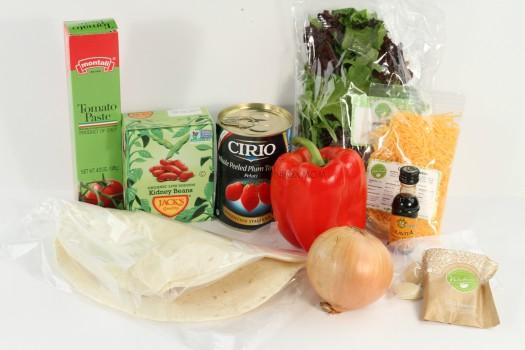 Our family loves Mexican food, so we were excited to check this meal out.  There were actually left over amounts of ingredients, so we saved them to make more wraps.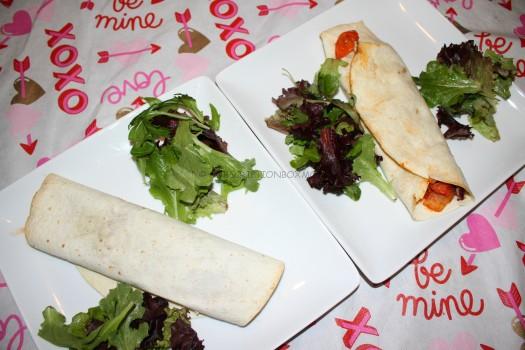 My plates are huge, so the wraps don't look as big as they really are.  The wraps were big enough to share with my children.

Final Thought: Hello Fresh provided a great week of meals.  Okay, so three meals isn't a week, but our schedule doesn't allow us to eat at home every night.  We have saved every recipe from this week to make again.  The meals were easy to make and each one was so tasty!
If you want to try HelloFresh, use referral code RW7DMF and get $40 OFF your first box!  That's only $29 for 3 meals with the classic box (2-person) – that's a steal!
Do you like FREE SUBSCRIPTION BOXES?  Click HERE to see my free subscription box list.
You can see my full coupon list HERE.