February 13, 2016
02/13/16

By Subscription Box Mom

0 Comments
0
Love with Food February 2016 Tasting Box Review + Coupon Codes
Disclosure: This post contains affiliate links.  
Love with Food's theme for the February 2016 box is  "One Million Meals".  Love with Food is a snack subscription box that sends snacks that are organic or all-natural, GMO-free, gluten-free or free of artificial junk.
 The Tasting Box is $9.99/month with free shipping and contains eight or more snacks.  The Deluxe version that features 16-20 snacks and is $19.95/month (free shipping).  For those on a gluten-free diet, the gluten-free box contains 8-12 snacks for $24.50/month.  Keep reading to the end of the review for coupons to save on a Love with Food subscription.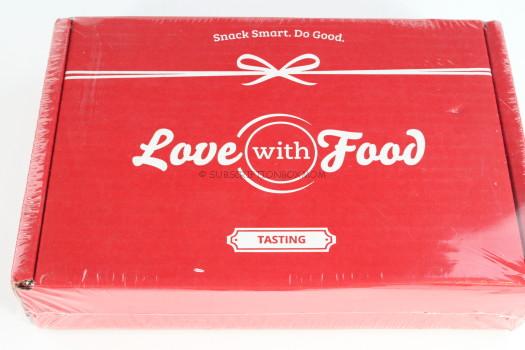 I was excited to get my box before I saw spoilers.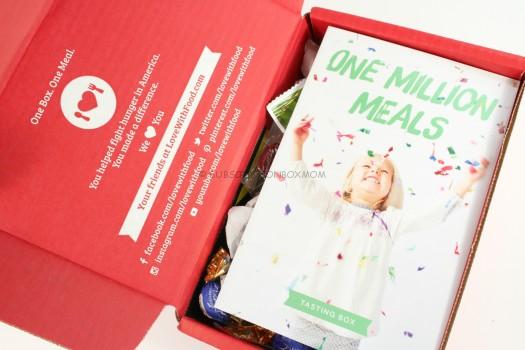 The theme for this month is One Million Meals.  Love with Food donates a meal for every box sold.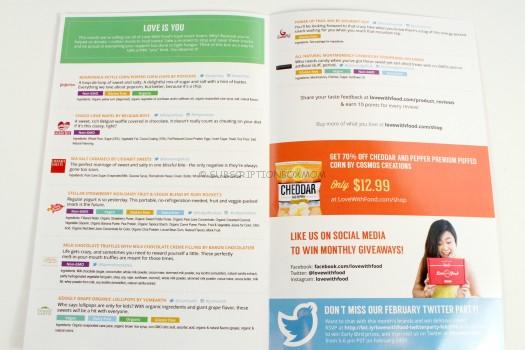 Each information guide is filled with all the details about each snack.  There are color coded icons that let you know if something was non-gmo, vegan and organic or gluten-free.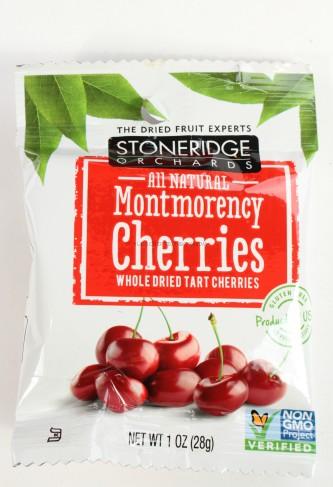 All Natural Montmorency Cherries by Stoneridge Orchards Many times, dried fruit ends up not having much juice, but these are an exception.  They taste like natural cherries with their juice, but they are still dried.  My husband, 6 year old and I loved these (the 3 year old was napping).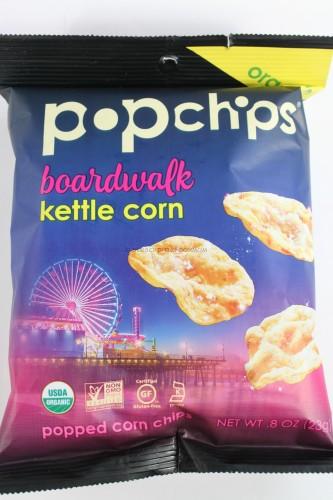 Boardwalk Kettle Corn Popped Corn Chips by Popchips These taste like kettle corn, only in a puffed/rice cake type texture.  These were another hit with the family.  They are also non-gmo, gluten free and organic.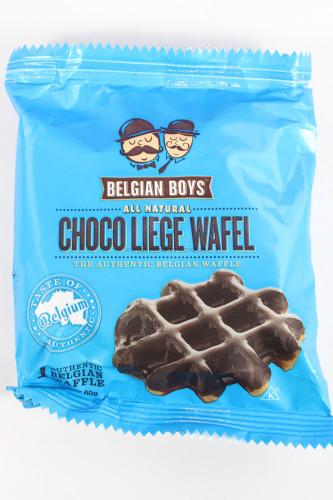 Choco Liege Wagel by Belgian Boys This thick Belgian waffle tastes more like a chocolate covered doughnut than a waffle.  This really should be heated before you eat it, it's quite amazing.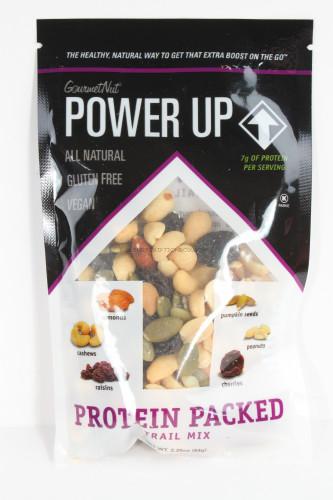 Power Up Trail Mix By Gourmet Nut  I was thrilled that this trail mix was coconut free, so may trail mixes are not.  This is packed with almonds, cashews, pumpkin seeds, peanuts, raisins and cherries.  There are 150 calories and 7 grams of protein in a serving.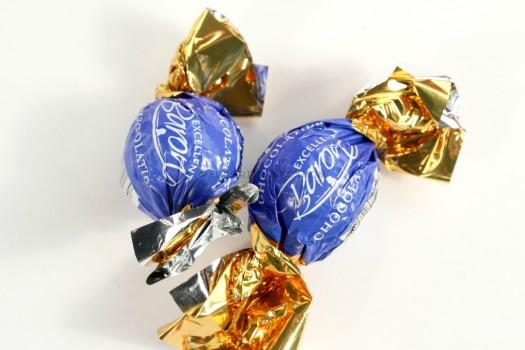 Milk Chocolate Truffles with Milk Chocolate Creme Filling by Baron Chocolatier Truffles My husband enjoyed these, and said they had a creamy center that tasted like it had little balls of caramel inside.  Since I am not a big chocolate fan, he gets these all to himself.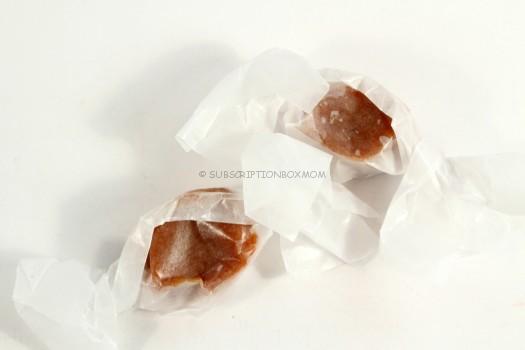 Sea Salt Caramels by Liddabit Sweets  These soft caramels are made with sea salt and were another hit!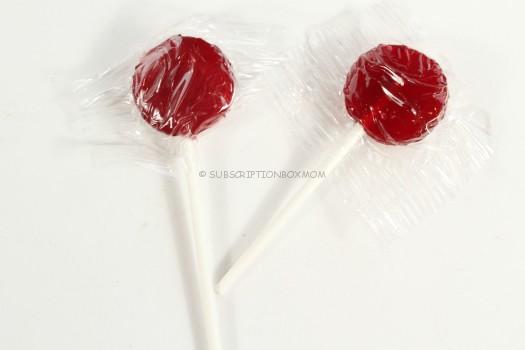 Googly Grape Organic Lollipops by YumEarth  YumEarth makes great candy, without all the artificial junk in regular candy.  I have bought these suckers several times for my boys, so needless to say, they enjoyed these.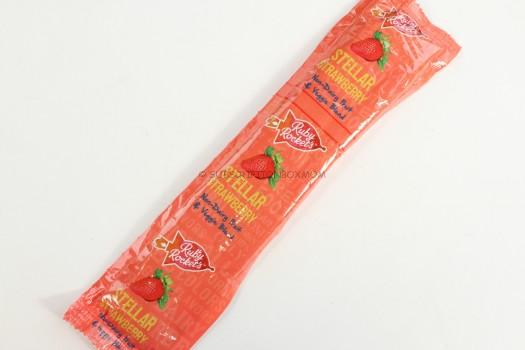 Stellar Strawberry Non-Dairy Fruit + Veggie Blend by Ruby Rockets This sounded so good, fruits and veggies in a gel form.  This was actually not good at all, no one in my family liked this.  Honestly, it tastes like wine (and you all know I don't drink wine).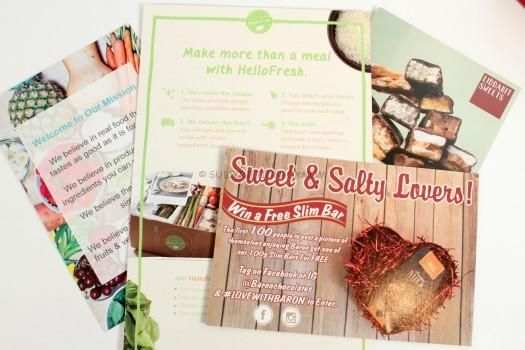 There were various promotional coupons and advertisements in the box.
Hello Fresh: Get $40.00 off your first order (that's a better deal than the coupon in the box.  That's three meals for two people for $29.00 total!  Just use the code RW7DMF.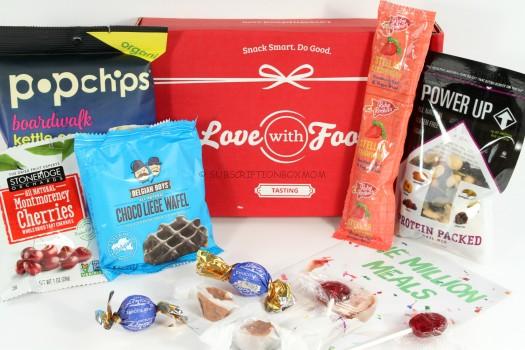 Final Thought  With the exception of that bad Ruby Rocket snack, this was a tasty box.  There was something for everyone in the family, which is what I want in a snack box.  I personally love the cherries and Popchips, oh and that waffle. Our family has subscribed to Love with Food for almost 3 years, so we obviously love it.  If you want to subscribe, check out these great deals below.
Valentine's Day Specials:
Regular Love with Food Coupons
Do you like FREE SUBSCRIPTION BOXES?  Click HERE to see my free subscription box list.
You can see my FULL coupon list HERE.
Do you love Giveaways?  Click HERE to enter all my Giveaways