February 8, 2016
02/08/16

By Subscription Box Mom

0 Comments
0
Kiwi Crate January 2016 Review + Half Off Coupon – Ice Lab
Disclosure: This post contains affiliate links.
The January 2016 Kiwi Crate turned out to be so much fun, not that it should be a surprise.  Kiwi Crate is a fun activity and craft subscription box for kids 4-8.  Crates are $19.95/month and filled with Explore magazine, along with two featured crafts.  Read to the end of this review to find out how to get a free full-sized box.  You can add-on a sibling pack or upgrade and get a featured book each month with your box.  Kiwi Crate is our family's first subscription box and it's one of my favorite subscription boxes for kids.
The Details:
Cost: Month to Month $19.95
3 Months: $59.85
6 Months: $111.00
12 Months: $203.40
Sibling Add On: Get extra materials for a sibling to share the crate. Customers call it the "no fight" crate. (available for $9.95/month with a monthly subscription, $28 extra for a 3-month, $56 extra for a 6-month, and $112 extra for a 12-month subscription). Only one sibling add-on can be added per subscription
Coupon:  Click HERE and use the code MOM50 to save $10.00 on your first month
What's in the box? Every month you'll receive all the materials and inspiration for projects related to a theme such as music, gardening, dinosaurs or colors. Projects may include arts and crafts, science activities, imaginative play and more. We've hand selected and kid tested projects that are open-ended and encourage curiosity, exploration and creativity!
What ages is Kiwi Crate for?  Ages 3-8 but older children can enjoy it too.
Can I skip? Yes – if you do not want to receive a crate for a period of time, you can pause your subscription for 1, 2 or 3 months. To pause, log into My Account page, click "Manage Subscription" next to the subscription that you'd like to pause and then click Pause. You will not be charged while your subscription is paused. Your subscription will automatically resume after the pause period is complete. Pause by 7:00 PM EST on the 4th of the month to avoid being billed for the next crate.
How do I cancel? You can cancel or skip from your account.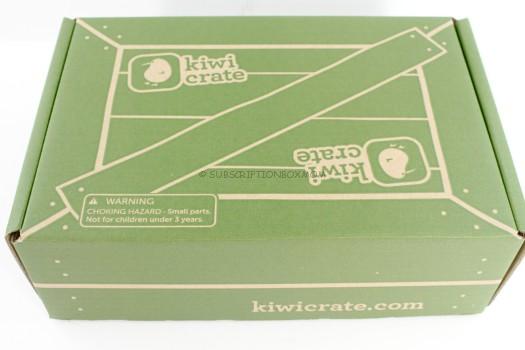 Kiwi Crate ships in a green box and comes by USPS.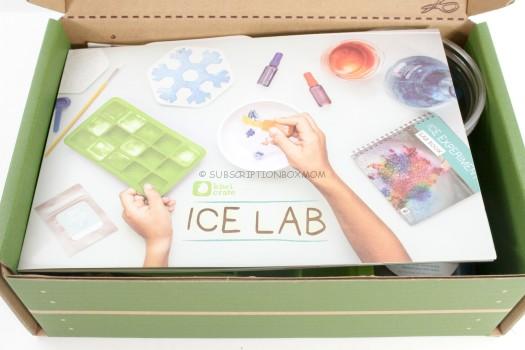 First Look.  The theme for January is "Ice Lab".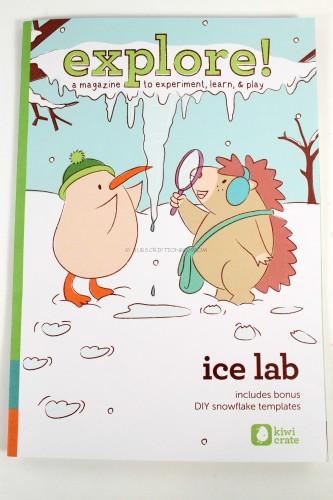 Explore Magazine always is packed with fun activities, but this month, it seemed to have more activities than usual.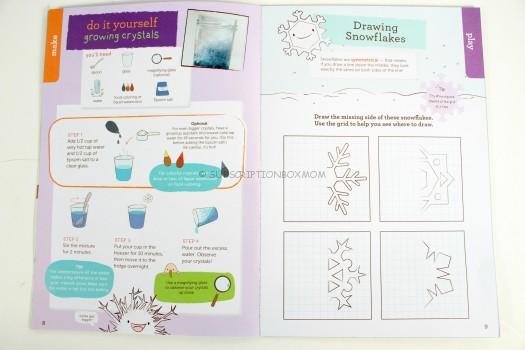 There was a bonus activity in the book, so you can make your own crystals.  L loves crystals, so this is already in the process.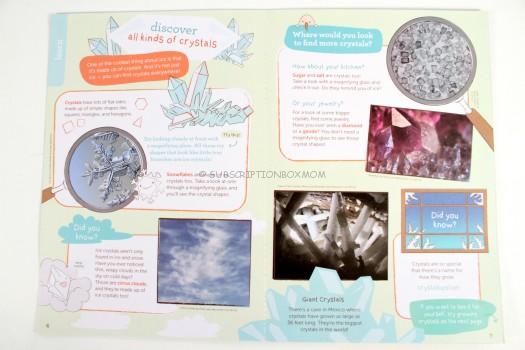 There was also a two page spread about crystals.  This was also thoroughly read.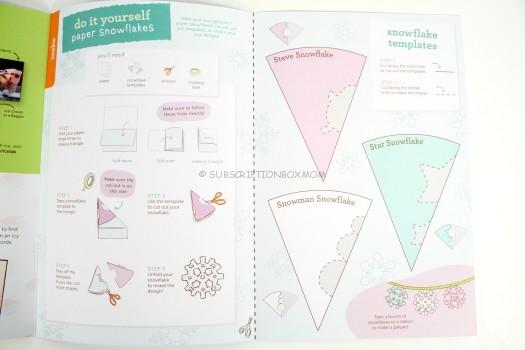 The back of the book had cut outs to make paper snowflakes.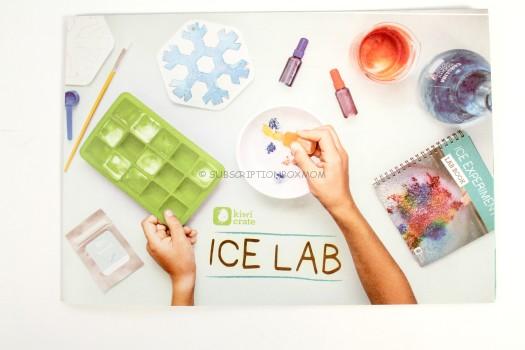 All the instructions for the box are in this fold out paper.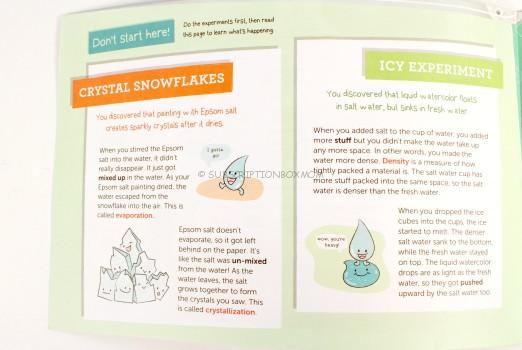 There was information about how each of the experiments worked, but Kiwi Crate said to wait till the very end to read it.  Reading it at the beginning would ruin the fun of the experiments.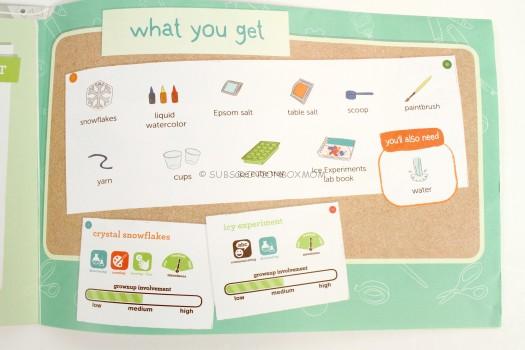 There is a picture of everything in the box.   The two main products this month are "Crystal Snowflakes" and "Icy Experiment".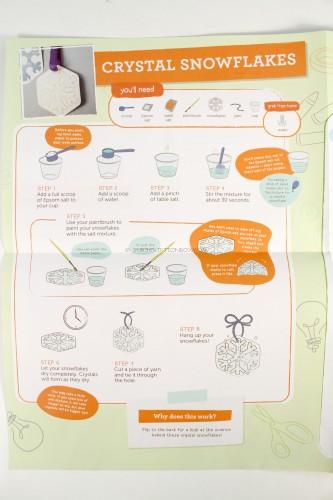 Crystal Snowflakes (Messiness: Medium. Grownup Involvement: Medium): Using a special solution, your child paints snowflakes and watches the crystals appear.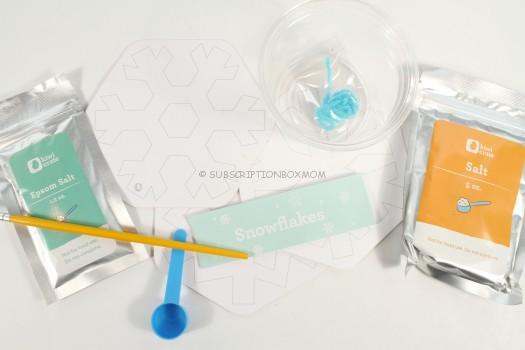 The project came with plenty of Epson salt and regular salt.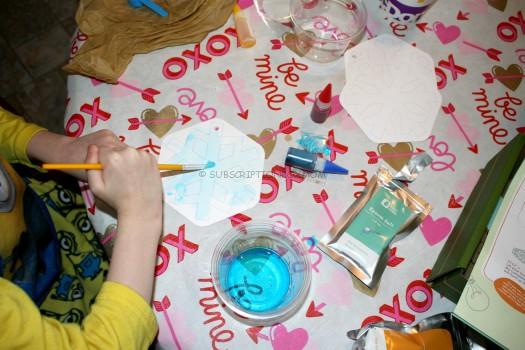 The solution was easy to make and L got right to painting.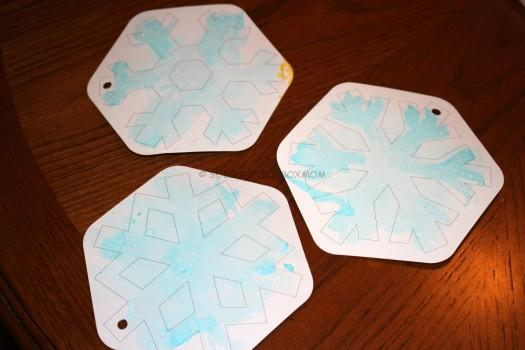 The finished snowflakes.  It may be hard to see, but the crystals are there.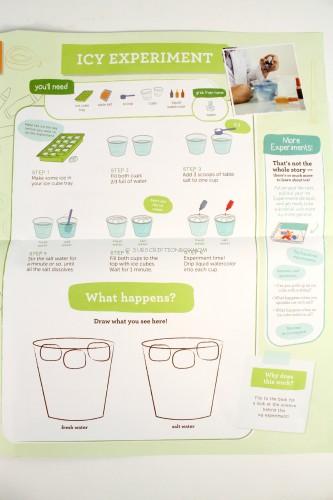 Icy Experiment (Messiness: Medium. Grownup Involvement: Medium) This experiment compares what happens when you put color in salt water vs fresh water.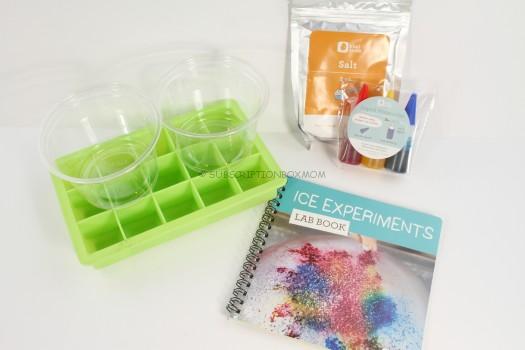 Kiwi Crate even included a silicone ice tray.  There was also an Ice Experiments book full of bonus activities.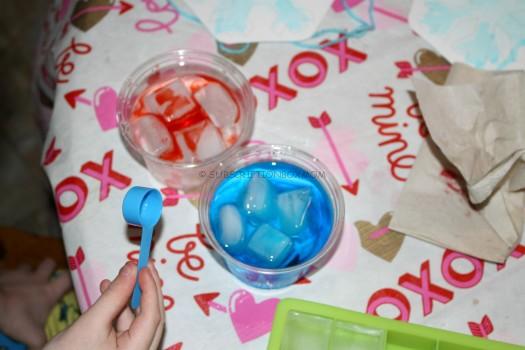 This is a look at the experiment.  L had fun exploring the differences in this experiment.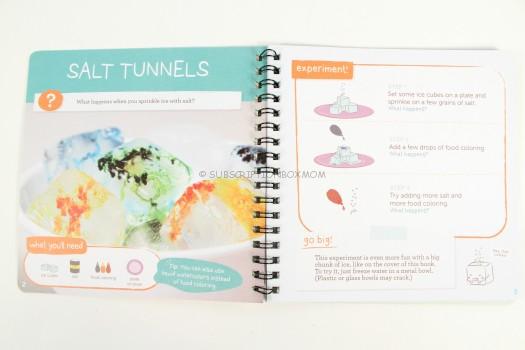 There were many different bonus activities in the book.  L is still working on this box.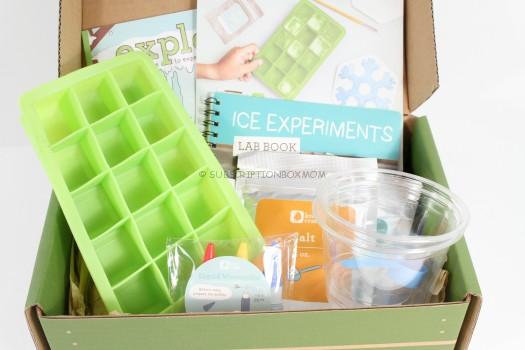 Final Thought: Kiwi Crate remains a favorite in our house, because there is always fun activities to do.  This month, my son really loved the box, because he loves crystals and experiments. If you want to try Kiwi Crate, use this link with the code MOM50 to get 50% off your 1st box of Kiwi Crate, Koala Crate, Tinker Crate, Doodle Crate.
Do you like FREE SUBSCRIPTION BOXES?  Click HERE to see my free subscription box list.
You can see my FULL coupon list HERE.
Do you love Giveaways?  Click HERE to enter all my Giveaways.