February 3, 2016
02/03/16

By Subscription Box Mom

0 Comments
0
Home Chef January 12, 2016 Review + $30.00 Coupon
Disclosure: This post contains referral links.
Home Chef is a home meal subscription that is $9.95/person per meal.  One of the really unique features of Home Chef is their huge menu.  Each week there is over 10 meals to choose from.  You can pick your regular meals and then add-on shakes and breakfast items.  If you have read my reviews, you know I am a really picky eater, though I didn't have any problem selecting my meals for review.  Home Chef can also accommodate vegetarian, vegan, gluten-free and dairy-free diets.
When you sign up, you fill out a short profile and Home Chef will give you recommendations, although you can select any meal you wish.  Shipping is free for orders over $40.00 and you can skip any week you want.  You can also select the day your box is delivered (Tues-Fri).
The Details:
Cost: $9.95/person.  You can choose between 2 or 4 meals per box.
Coupon: Use this link to get $30.00 off your 1st box.
What's in the box?  Each box comes with your selected meals, all packaged so your food stays fresh.
Note: We ordered the two plate box, so each meal made two meals.  There is so much food, there is always enough to share with our two small children.  If you have older kids (mine are 3 and 6), you probably want the 4 plate box.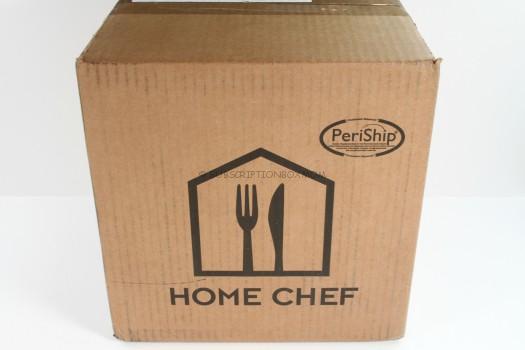 Everything ships in a big brown box.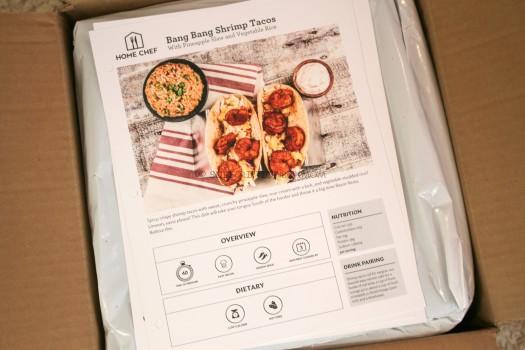 First Look.  All the recipe cards are placed on top the insulated section.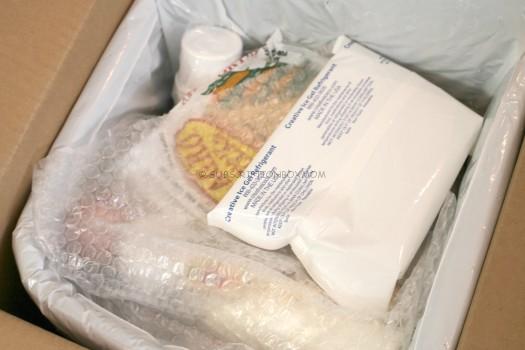 All the food is placed in an insulated box with several ice packs.  Granted has been cold, but everything always arrives fresh.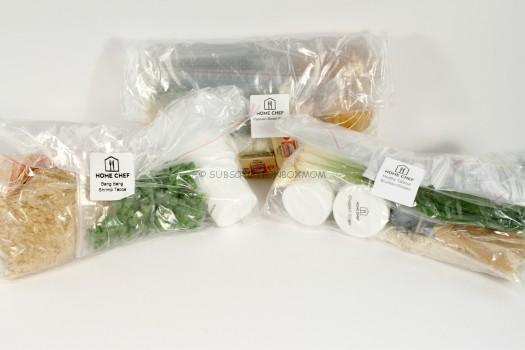 All the ingredients comes in bags and sealed with a sticker.  Each sticker is labed with the meal it's for, so it's easy to grab what you need.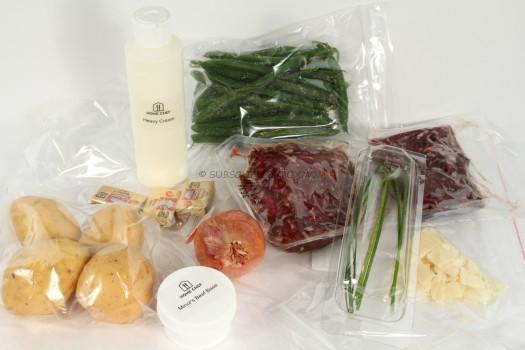 Parisian Bistro Steak:  Fresh produce can be hard to find in great condition, but all my shipments have been perfect.  This recipe was for Parisian Bistro Steak with Potatoes Dauphinoise and Green Beans.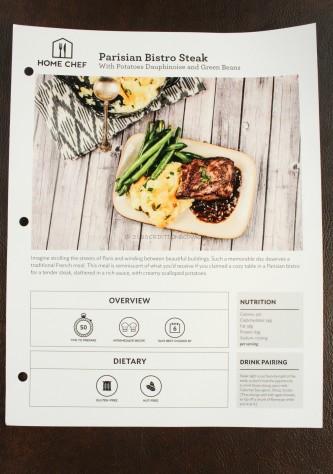 The front of the recipe card lists how long it takes to prepare, how hard the recipe is and how quickly you should make the meal.  This meal takes 50 minutes to prepare, is an intermediate recipe and best cooked in 6 days.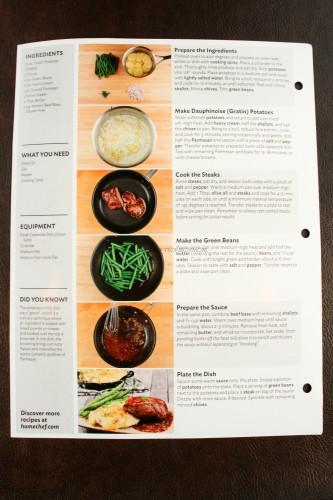 The back of the information card has detailed instructions and a list of all the ingredients you need.  The only ingredient I have ever had to have is olive oil.  The instructions are super easy to follow and I have need had a problem with them.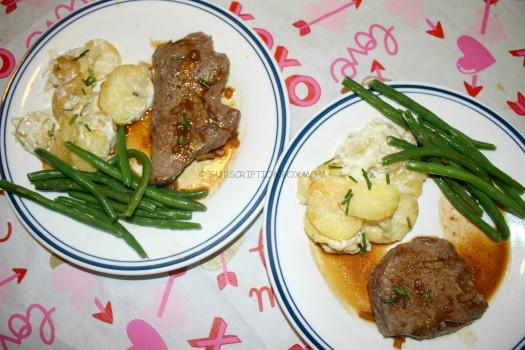 The finished meals.  Please note, I am not food with food photos and my kitchen is dark, so I am sorry for the less than perfect photos.  The steak and potatoes were phenominal.  My whole family ate this meal.  While it may not look like it, the portions were large.  My 6 year old and 3 year old share a 2 plate box with my husband and I. Granted, my 3 year old doesn't eat much.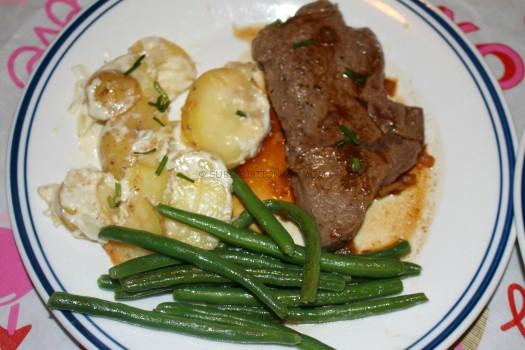 Here is a closer look at one plate.  The juice you see is part of the sauce.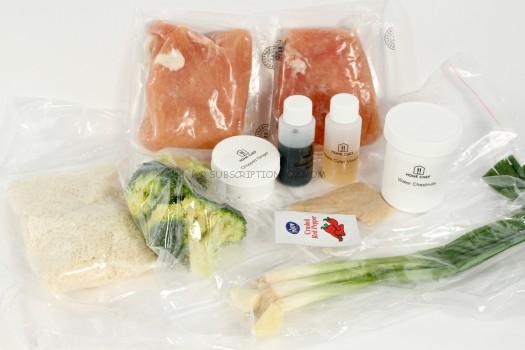 Our next recipe was Healthy Takeout Bourbon Chicken.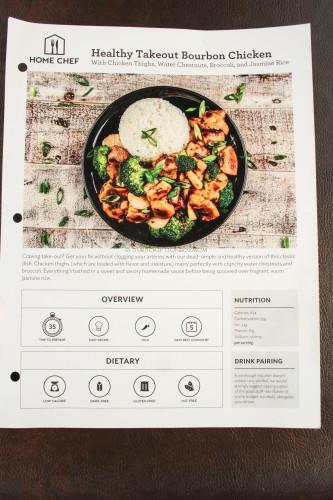 This recipe took 35 minutes to prepare, is rated easy and best cooked in 5 days.  Since my family doesn't like spicy food, I was happy this was mild.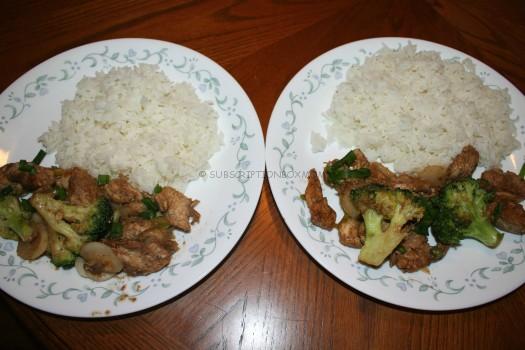 This recipe had tons of food. Between the rice, chicken and broccoli, we were stuffed.   And yes, the kids ate this too.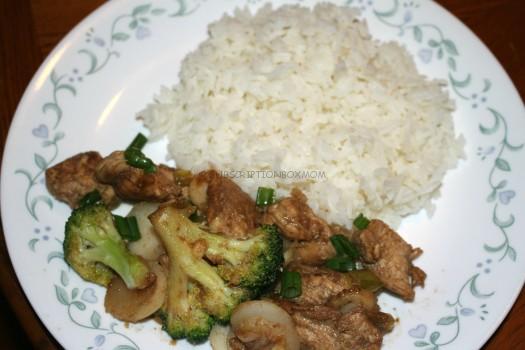 This is a closer look at the meal.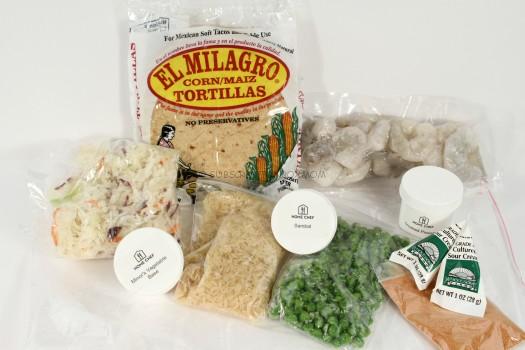 The last recipe we chose was a bit different, Bang Bang Shrimp Tacos with Pineapple Slaw and Vegetable Rice.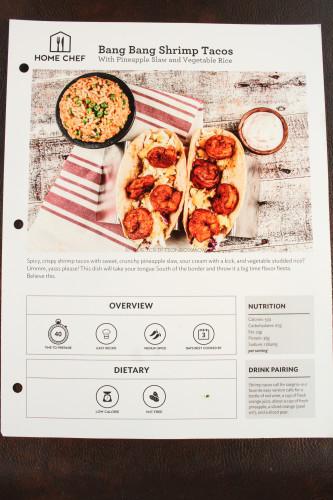 This recipe took 40 mins to prepare, had a medium spice and was an easy recipe.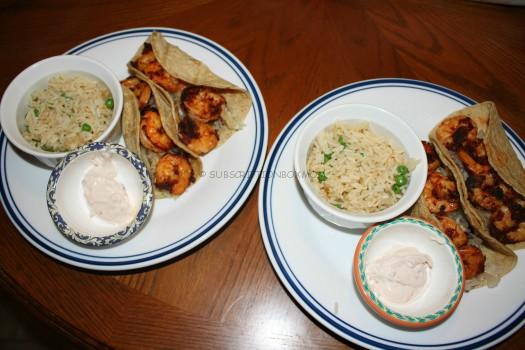 There were many tortillas included, so there was plenty for everyone.  I really didn't care for this one much, but it's really my own taste preferences.  I know going into this meal I may not like it, but I wanted to try something new.  I ended up leaving the slaw off mine and just eating the shrimp with the tortillas.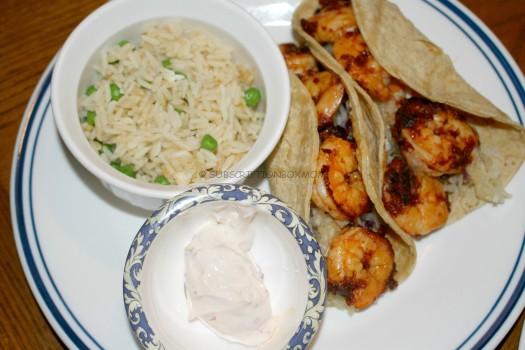 Here is a closer look.  The condiment is a sour cream mixture.
Final Thought: I really love Home Fresh, it's actually my favorite meal subscription box.  The menu selection is huge and all the food arrives fresh.  I love that I can cook more complicated meals, but Home Chef makes it easy.  My family loves trying all the new recipes, which makes dinner time fun.  If you want to try Home Chef, use this link to save $30.00 on your 1st box. 
Do you like FREE SUBSCRIPTION BOXES?  Click HERE to see my free subscription box list.
You can see my FULL coupon list HERE.
Do you love Giveaways?  Click HERE to enter all my Giveaways