February 8, 2016
02/08/16

By Subscription Box Mom

0 Comments
0
Hello Fresh January 16, 2016 Review + $40.00 Coupon
Disclosure: This post contains affiliate links.
HelloFresh is a weekly recipe box subscription that includes a box of fresh ingredients and delicious recipes to make 3 meals.  Each week their chefs create amazing recipes for you that are easy to prepare.  The meals are interesting yet simple (no fancy equipment or techniques, and no obscure ingredients) and they ensure that your diet is balanced and varied.   You can choose the 2-person option (3 meals per week for two people) or the 4-person option (3 meals per week for four people).  Choose the classic box (starting at $69 for two) or the vegetarian box (starting at $59 for two).  You always have 5-6 recipes from which to choose.
**Special offer – use referral code RW7DMF and get $40 off your first box!**
Hello Fresh ships in a giant brown box.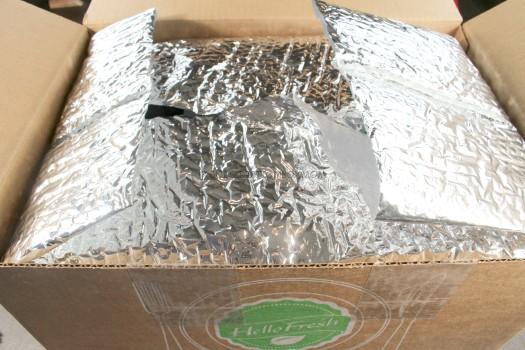 The box is lined with insulated material, to keep everything cold.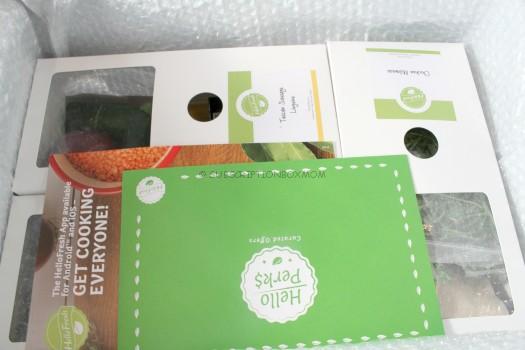 The green envelope on top holds all the recipe cards, and sometimes some special offers.  Each meal is packed in it's own box, which makes grabbing your meal easy. If you get a meal with meat, it will be in the very bottom of the box under ice packs (Don't forget to grab it).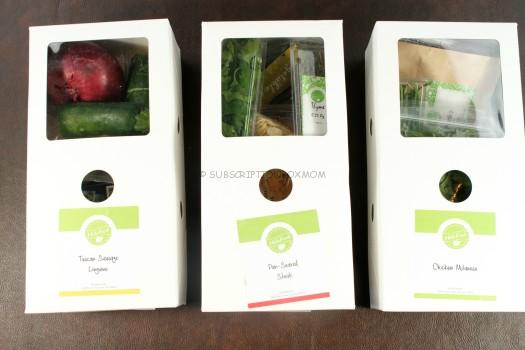 Each box has a label with the meal on it.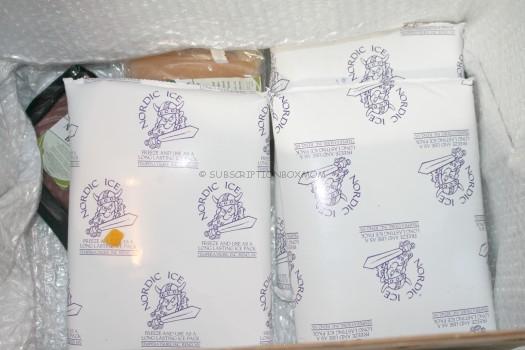 This is a look at how the meat is packed.  I have received Hello Fresh multiple times, and I have never had an issue with my meat not being ice cold.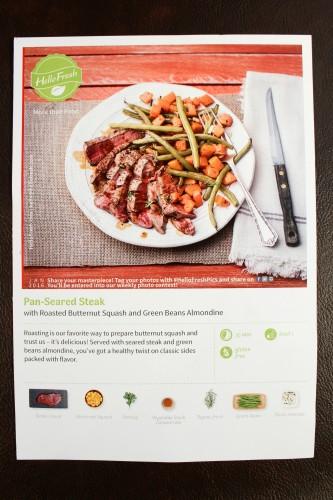 The recipe cards feature a large picture, a description, the ingredient list and some facts about the recipe.
Pan Seared Steak with Roasted Butternut Squash and Green Bean Almondine: Steak and any kind of veggies are always great picks for our family.
35 mins to prepare
Level 1
Gluten Free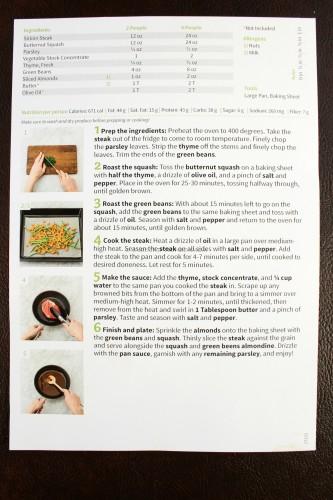 The back of the recipe card has detailed instructions on how to prepare the meal, even I can't mess it up.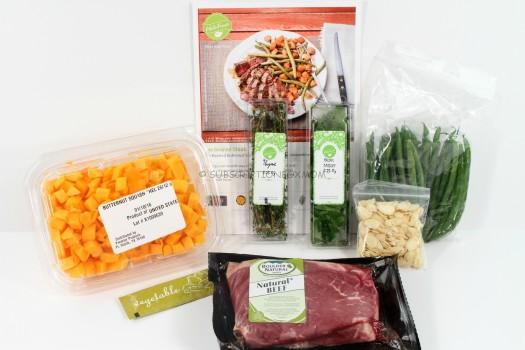 The ingredients are all individually packaged and always come fresh.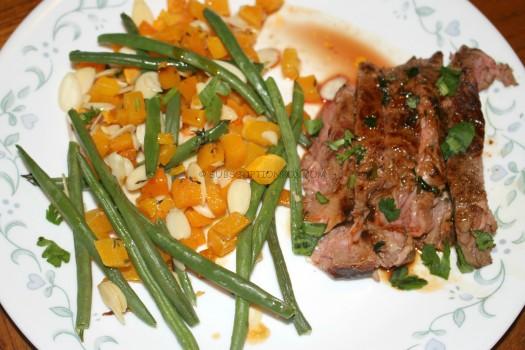 There was more than enough steak and veggies to feed our entire family.  We order the two plate box, but there is always extra.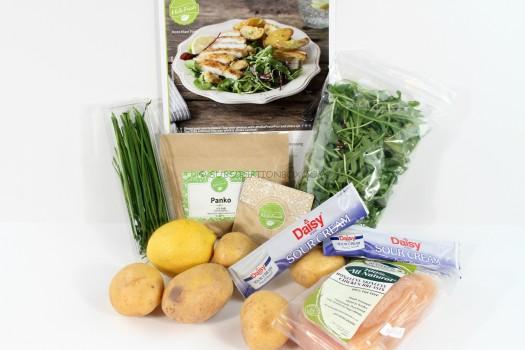 Chicken Milanese with Crispy Potatoes, Mixed Greens and Creamy Lemon Chive Dressing: I am rather weird, because I hate salad.  My boys, especially my oldest, loves salad, so I knew this would be popular with most everyone.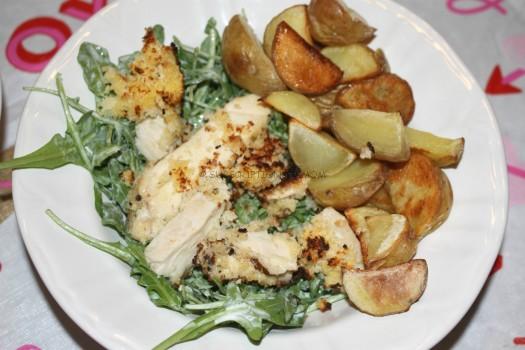 The finished meal turned out great, minus one disaster. As I was cooking the chicken, a glass fell nearby, getting glass in my pan.  Obviously, I had to throw away the chicken.  I ended up trying to recreate the chicken using frozen grilled chicken strips from my freezer.  The finished meal turned out great, despite the mishap.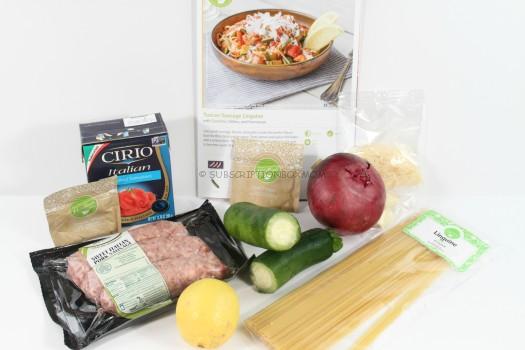 Tuscan Sausage Linguine with Zucchini, Chilies, and Parmesan: While steak is my favorite meal, this ended up being my favorite dish.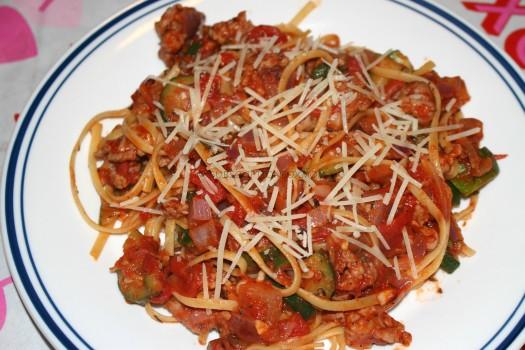 This meal was fantastic.  The sausage was a bit spicy for the kids, but everyone loved it.  This turned out fantastic and I am going to make it again.

Final Thought: I love meal subscription boxes.  I lead a busy life and Hello Fresh takes the preparation out of the equation.  Planning a meal and going to the grocery store (usually with kids), are my least favorite parts of cooking.  Hello Fresh eliminates all that trouble.  Since using meal subscription boxes, we have also ate out less, which has been very budget friendly.
If you want to try HelloFresh, use referral code RW7DMF and get $40 OFF your first box!  That's only $29 for 3 meals with the classic box (2-person) – that's a steal!
Do you like FREE SUBSCRIPTION BOXES?  Click HERE to see my free subscription box list.
You can see my full coupon list HERE.