January 29, 2016
01/29/16

By Subscription Box Mom

11 Comments
11
Quirky Stork Collection January 2016 Review – Giveaway + Coupon Code – Time of the Month Box
Disclosure: This post contains affiliate links.  I received this box for review
UPDATE: This subscription has closed.  Quriky Stork Collection has a time of the month box, "Red Shadow Box" that sends name brand snacks, feminine products and more each month.They even include Bath and Body products, my favorite! Boxes are $19.99 plus shipping, although until December you will get free shipping.  There is also a coupon at the end of this review.  If you just want to try one box, just click on this link, click subscribe and go to The Shop to get a trial box for $24.99.
The Details:
Cost: $19.99/month, $59.97 – 3 months, $119.94 – 6 months
Shipping: Ships to USA for $5.75, $10.00 to Canada, $16.00 Worldwide.
Coupon: Use this link and the coupon IGINSIDER to save 15% on your 1st box.
What's in the box? a variety of items each month like up to 25 Feminine Items (pads, tampons, liners, wipes, suppository) email them if you only know one,  Specialty Bath and Body Pampering Solutions, Artisan Snacks, Organic Teas For Nausea, Advil or Midol, Icy Hot Patch, Scented Candle.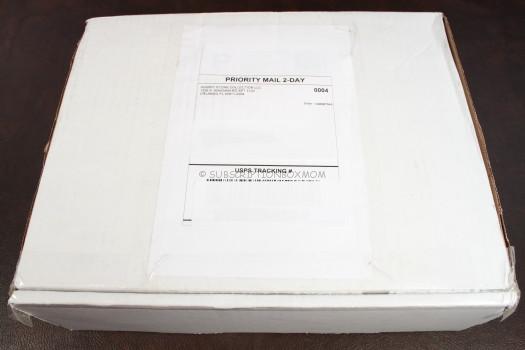 Quirky Stork Collection shipped in a plain white box.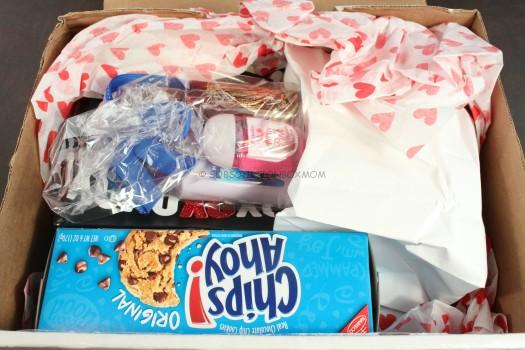 First Look
The Supplies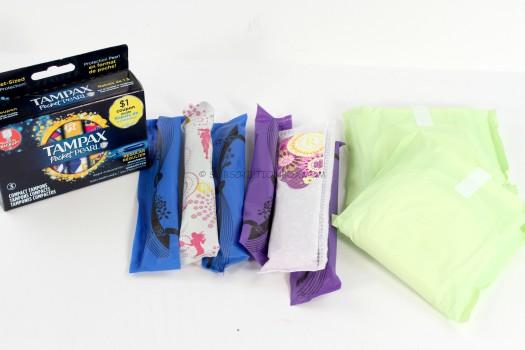 Tampax Pocket Pearl :  This box has 3 compact tampons, which are nice to tuck in your pocket when you don't want to carry a purse.
Tampax Tampons:  I think these are Tampax, but they may be Kotex.  These have plastic applicators and there were 6 total.
Always Pads:  There were two regular maxi pads with wings in the box.
Supplies & Pain Relief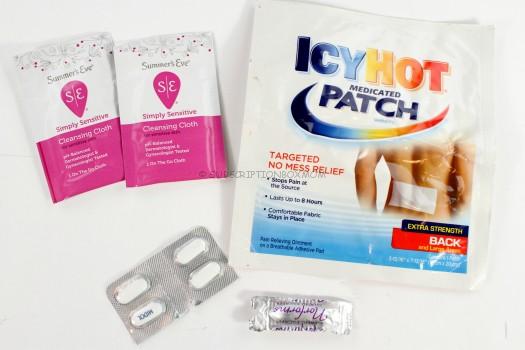 I probably should have put the cleansing cloths with the supplies, but I didn't.  These are good for times you need to freshen up.  I won't use the Island Escape Norforms but I will use the Midol Complete.  The Icy Hot Medicated Patch is a great pick.  My husband actually used my Icy Hot patch last month on a sore shoulder and it worked great.
The Snacks: Sweets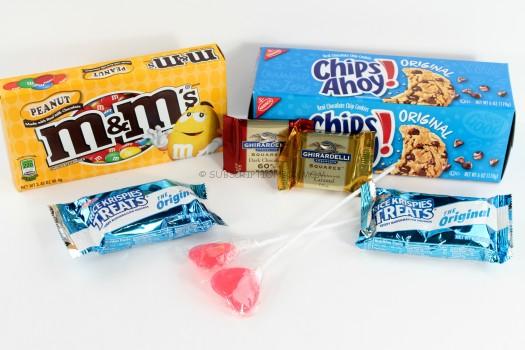 One of the things I really love about this box is they include sweet and salty snacks.  Personally, I love more simple snacks, rather than fancy chocolate, so the Rice Krispies Treats, M & M's and Chips Ahoy are great choices.  I could give the suckers to my kids, but I will probably eat those too.
The Snacks: Salty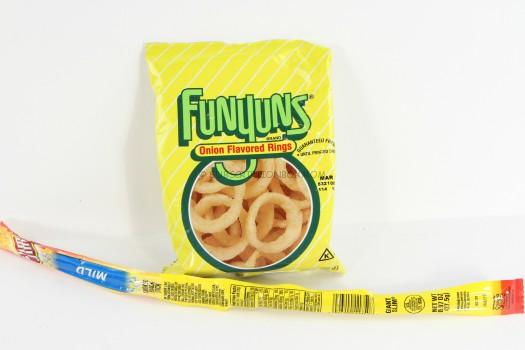 I love salty snacks, so a few more salty snacks would have been nice.  The Slim Jim is already gone and my husband had to take my Funyuns.
Tea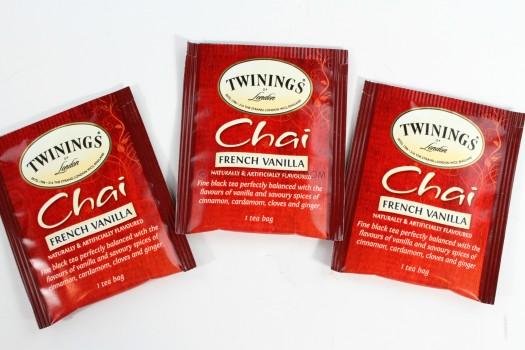 Twinings Chai French Vanilla: There were three packs of tea, which is pretty standard in time of the month boxes.
Bath Products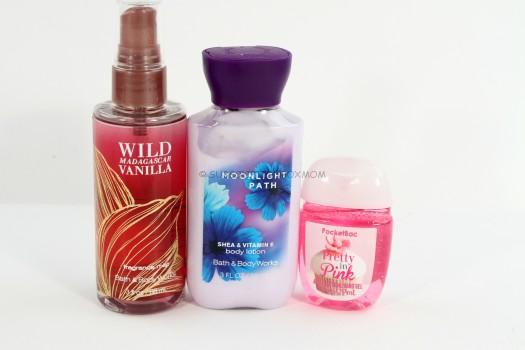 I love Bath and Body products and I like the Quirky Stork Collection includes name brand products.
Wild Madagascar Vanilla $6.00 This has a more evening scent and the vanilla has a rich musky scent.
Moonlight Path Lotion $5.00 Moonlight Path is an older scent, it's one of my favorites.
Bath & Body PocketBac Pretty in Pink Antibacterial Gel $1.75  I use antibacterial gel daily, usually on my children.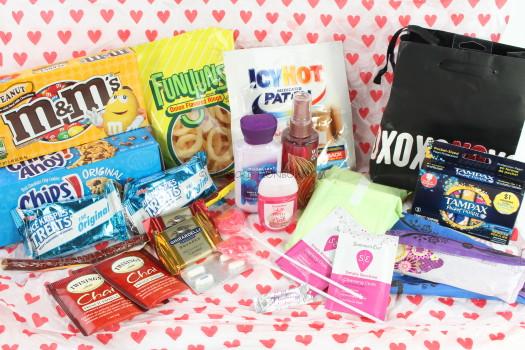 Final Thought: This was just as nice as last month's box.  I really enjoyed this box and I like that Quirky includes name brand products.  The snacks are really snacks that I love, the supplies are name brand and the box is packed. You can try this box with this link and the coupon GINSIDER to save 15% on your 1st box..  Remember if you are not ready for a subscription, there is a one time trial in the online store.  Quirky Stork Collection is also giving a box for one of my readers, just enter below.  While not part of the giveaway entry, Quirky Stork Collection would love to you to share their Instagram page with #quirkystorkcollection.