PitterPat Packages December 2015 Review + Coupon
Disclosure: This post contains affiliate links.  I received this box for review.
PitterPat Packages is a date subscription box that sends a complete date in a box.  Boxes are $33.00/month plus shipping, but your 1st box ships free.  Each box comes with a date night theme, around five items, plus 6-12 conversation cards and 3-5 kiss cards. Having two kids and limited babysitters means we have date nights at home often, so I couldn't wait to see what this box contains.
The Details
Cost $33.00/month, $89.10/3 months, $168.30/6 months, $316.80/12 months
Shipping: May Vary, It was $10.70 to my state (continental US)
Coupon: Use the coupon BESTGIFT15 to save 15% on your subscription.
What's in the box? Each box comes with a date night theme, around five items, plus 6-12 conversation cards and 3-5 kiss cards.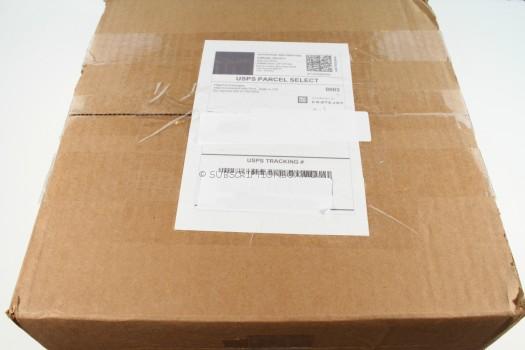 Everything shipped in a giant brown box.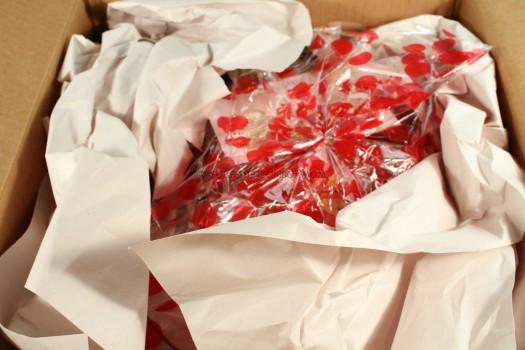 First Look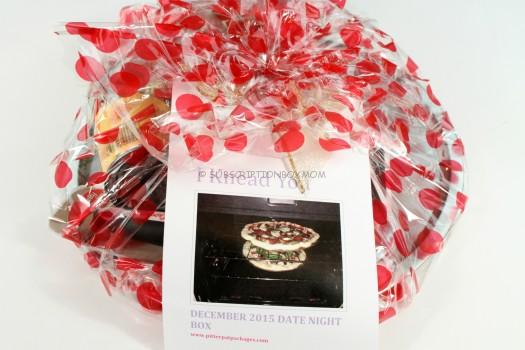 The them for December was "I Knead You"m which is a pizza themed date.  Our whole family loves pizza, so I was excited to check out.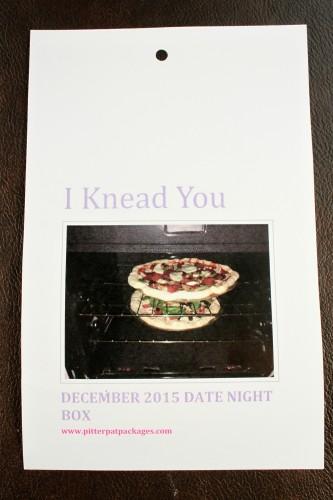 There were two note cards tied to the package.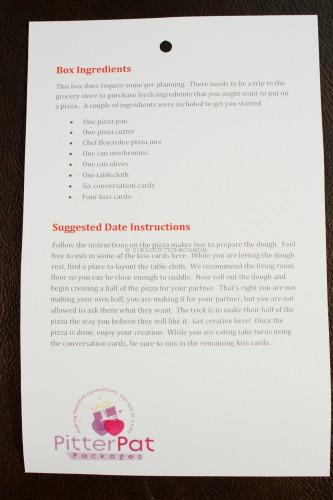 There was a list of everything in the box.  There was also instructions for the date.  The date was designed to make a pizza together, and discuss the conversation cards and try the kiss cards. PitterPat Packages recommended making a picnic on the floor and then making half the pizza for the other person.  For our date, we decided to make the pizza with our kids and enjoy it as a family.  Once the children were in bed, we did the conversation and kiss cards.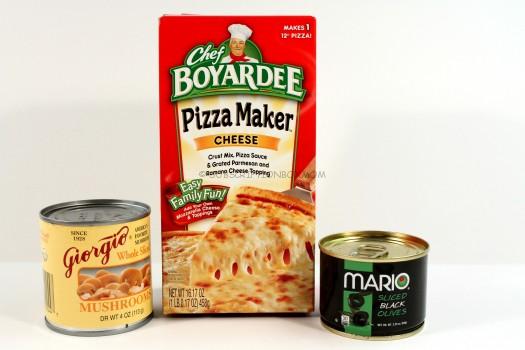 Pizza Kit: Everything was included to make a pizza.  The Chef Boyardee kit included everything to make dough, the sauce and cheese. PitterPat Packages also included a can of olives and mushrooms.  We personally don't eat olives, so we bought some extra cheese and pepperoni for half the pizza and enjoyed the mushrooms on the other half.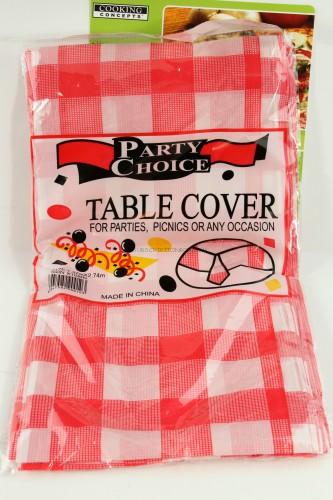 Table Cover: There was a red and white checkered table cover to use as a blanket on the floor or on your table.  The table cover is oblong, so we put it on our kitchen table.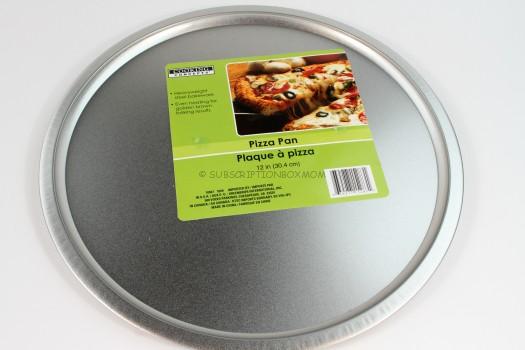 PitterPat Packages also included a pizza pan!  It's not a non stick pan, so make sure you spray some non stick spray on it.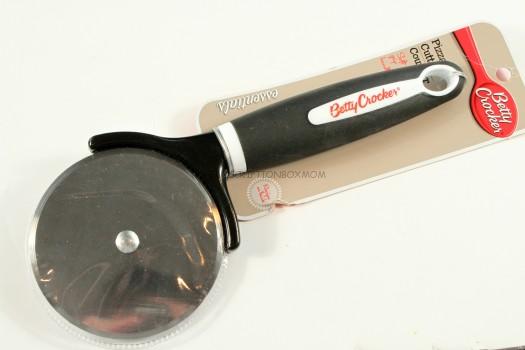 To ensure you didn't need anything, there was also a Betty Crocker pizza cutter.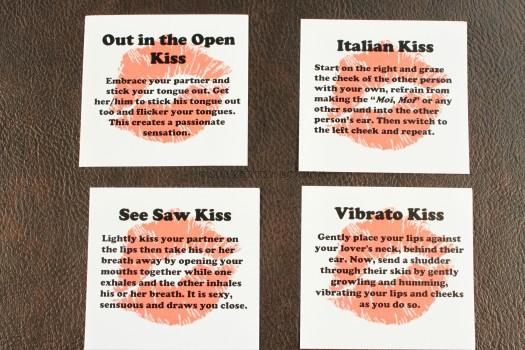 Kiss Cards: There were four different kinds of kisses in the box.  I won't kiss and tell, but these cards made for some fun conversations.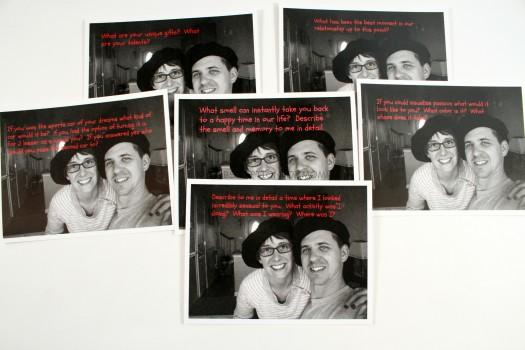 Conversation Cards There were 6 conversation cards in the box.  These were really fun and most of the questions had several different questions on each card.  I am guessing the couple are the founders of the box.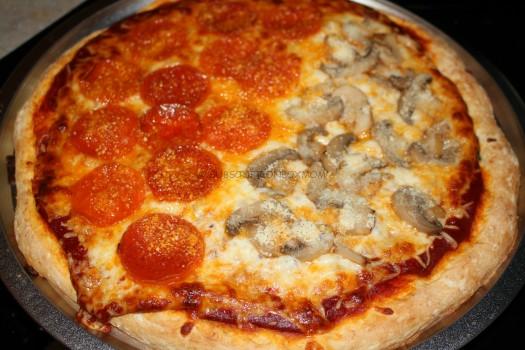 Our finished pizza.  From coming from a box, the pizza was really good!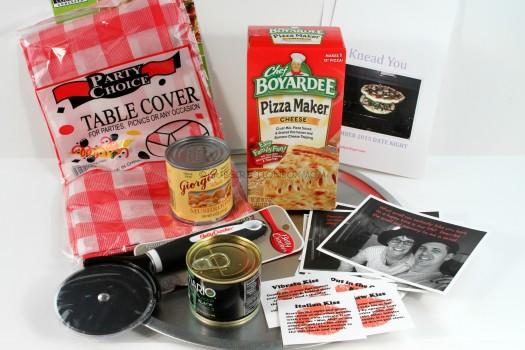 Final Thought: This was a really fun box.  I liked that you didn't need to bring anything to the date, well maybe plates, napkins and drinks.  My boys had a blast helping make the pizza and best of all, the kids ate all their food.  As a mom of two little ones, having a meal where everyone ate and didn't fuss is a fantastic date.  The conversation and kiss cards made for fun adult time too (after kids were in bed).  If you want to try PitterPat Packages, use this link use the coupon BESTGIFT15 to save 15% on your subscription.
Do you like FREE SUBSCRIPTION BOXES?  Click HERE to see my free subscription box list.
You can see my FULL coupon list HERE.