December 12, 2015
12/12/15

By Subscription Box Mom

0 Comments
0
SumoCrate December 2015 Review + Coupon
Disclosure: This post contains affiliate links.  I received this box for review.
SumoCrate is a high protein snack subscription box that is only $24.95/month.  Each box comes with 8-10 snacks and the majority of snacks will have 10-20g of protein / serving (on average).  SumoCrate tries to mix it up each month, so you will find nut butters, meat jerkies, plant-based snacks and more in your box.  I recently started making some healthier lifestyle changes, so I really wanted to check out this box.
The Details:
Cost: $24.95/month, 3 month plan $22.95/month, 6 month plan $21.95/month. 1 year $19.95/month.
Coupon: Use this link with the code HAPPYSUMO to save 15%
Shipping: Free shipping to the USA, $8.00 shipping to Canada.
What's in the box? There will be 8-10 High Protein snacks in each box.  Snacks will come from a variety of protein sources.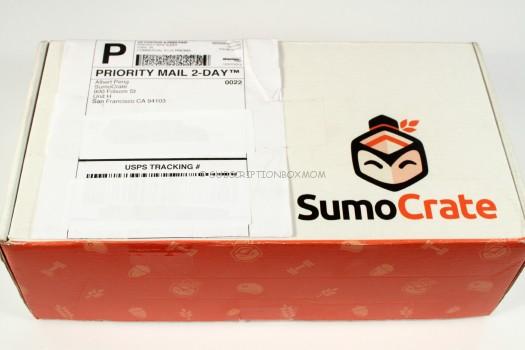 SumoCrate shipped by Priority 2 Day Mail and came in a cute little box.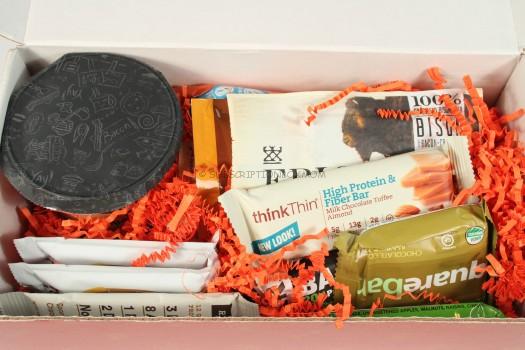 First Look.  There wasn't an information card in the box, but the packaging has all the information you need.  For each snack, I will list the calories, carbs, protein and sugar count.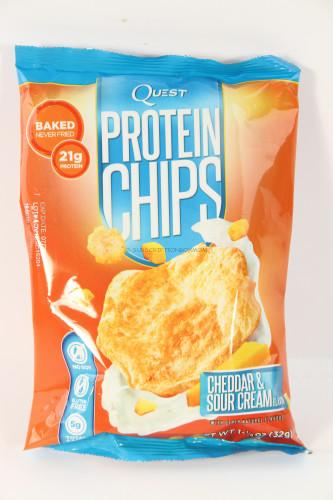 Quest Protein Chips:  These are a light fluffy crisp that is flavored with cheddar & sour cream.  They have the same topping flavor as name brand chips, but the chip itself is much lighter and has a slight whey taste.  I have cut out chips (aka Cheetos, Doritos etc) from my diet, but these are an exception to my rule.  I loved these so much I bought more from Amazon.
Nutrition
Calories 120
Protein 21g
Carbs 5g
Sugar 0g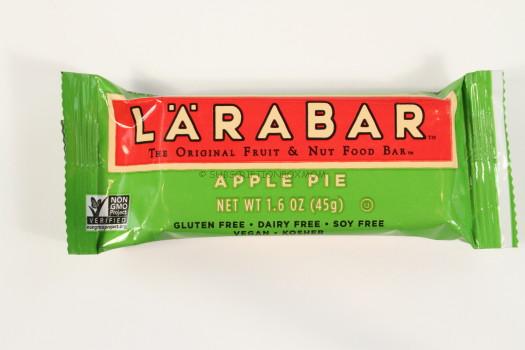 LARABAR Apple Pie Bar  This has only 6 ingredients: dates, almonds, unsweetended apples, walnuts, raisins and cinnamon.  There is a quarter cup of fruit in the bar and it is non-gmo, gluten free, dairy free, soy free, vegan and kosher.  I was disappointed to see this only had 4 grams of protein and quite a few carbs.  I think they should have included the lemon bar or cashew cookie from LARABAR instead, both have 6 grams of protein.
Nutrition
Calories 190
Protein 4g
Carbs 24g
Sugar 18g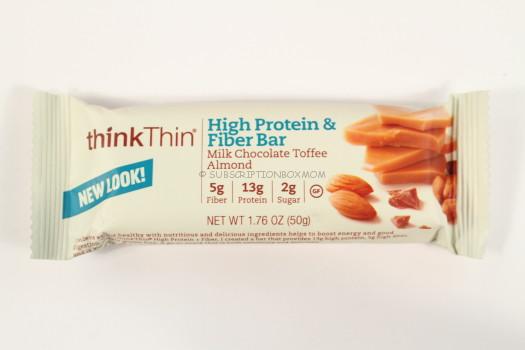 thinkThin High Protein & Fiber Bar in Milk Chocolate Toffee Almond  This bar is gluten free, non-gmo and dairy free.  I love that they included almonds in the bar, as they are a very healthy nut.
Nutrition
Calories 180
Protein 13g
Carbs 23g
Sugar 2g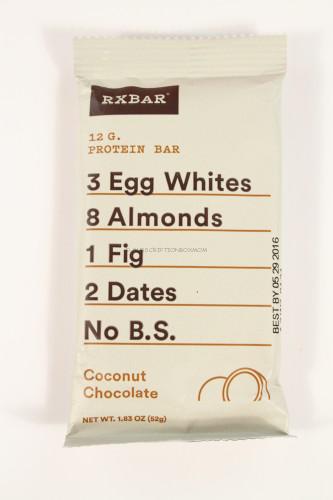 RXBAR Coconut Chocolate  I was really excited about the ingredients (egg whites, almonds, fig and dates), until I got to the coconut.  It's pretty well known that I don't eat coconut, but I am going to try this anyway, because it packs some good nutrients.  This is gluten free, non-gmo, soy free and dairy free.
Nutrition
Calories 210
Protein 12g
Carbs 22g
Sugar 15g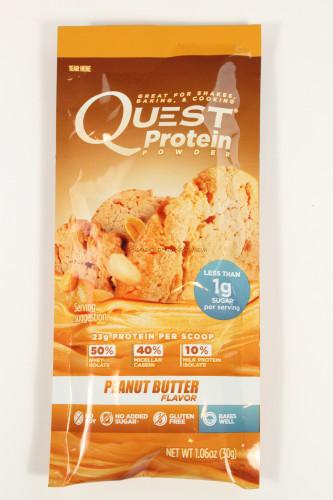 Quest Protein Powder Peanut Butter Flavor Powder  You mix this into a shake for a high protein, low carb snack (or meal).  This has 50% whey isolate, 40% micellar casein, and 10% milk protein isolate.  This is soy free, gluten free, no sugar added and you can even bake with this.
Nutrition
Calories 110
Protein 23g
Carbs 2g
Sugar <1g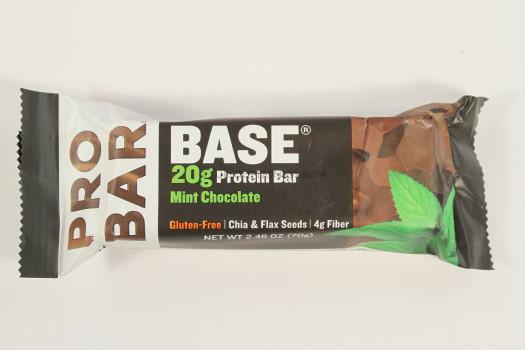 Pro Bar Base Mint Chocolate This bar has flax & chia seeds and 20 grams of protein.  This is a chocolate bar and there is a bit of mint in it for more flavor.  This is gluten free and non-gmo.  It also has 4 grams of fiber.
Nutrition
Calories 280
Protein 20g
Carbs 33g
Sugar 17g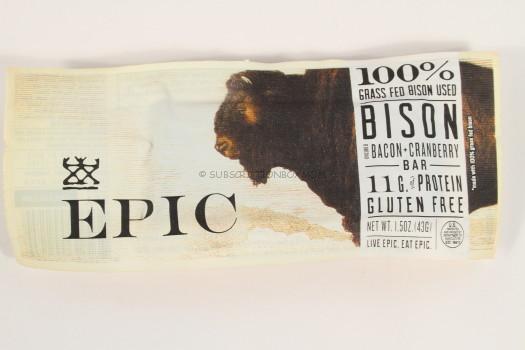 EPIC Bison Bacon Cranberry Bar This bar is 100% grass fed bison mixed with bacon and cranberries.  It is low in sugar, gluten free, grain free, diary free, soy free and fits into a Paleo diet.  This also has more protein than carbs, which is great for me.
Nutrition
Calories 200
Protein 11g
Carbs 10g
Sugar 8g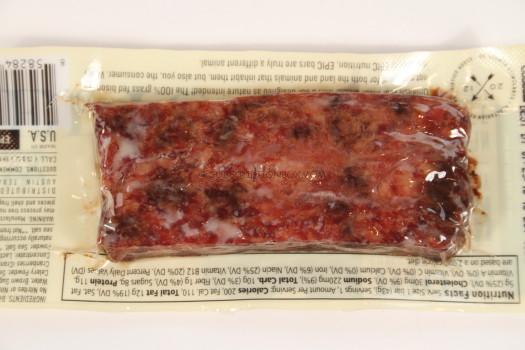 This is a look at the bar.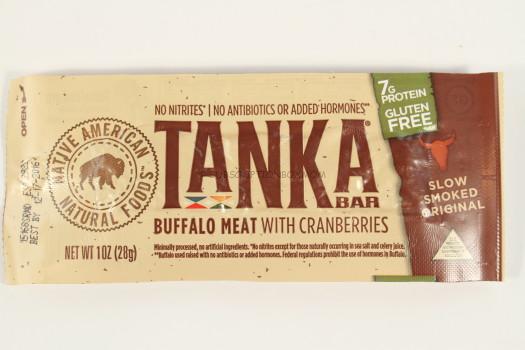 Tanka Buffalo Meat with Cranberries Thanks to subscription boxes, I have really grown to love jerky type meats.  This is free from nitrites, antibiotics, msg, soy, lactose and added hormones.  The buffalo is slow smokes and mixed with cranberries.
Nutrition
Calories 70
Protein 7g
Carbs 7g
Sugar 6g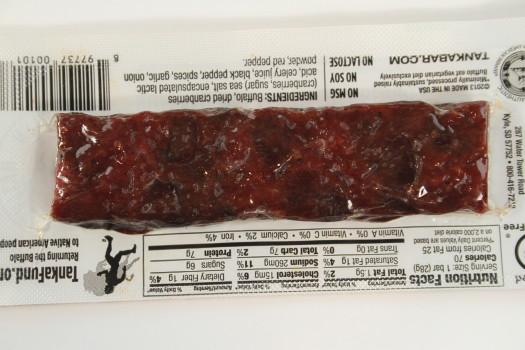 This is a look at the jerky.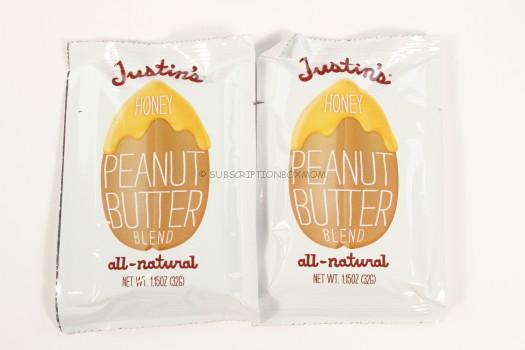 Justin's Honey Peanut Butter Blend This is an all natural snack that is also good for runners.  It also has very few ingredients: dry roasted peanuts, honey powder, palm fruit and sea salt.  This is also gluten free and trans fat free.  You can check out Justin's site for recipes to use this with too.
Nutrition
Calories 190
Protein 7g
Carbs 7g
Sugar 3g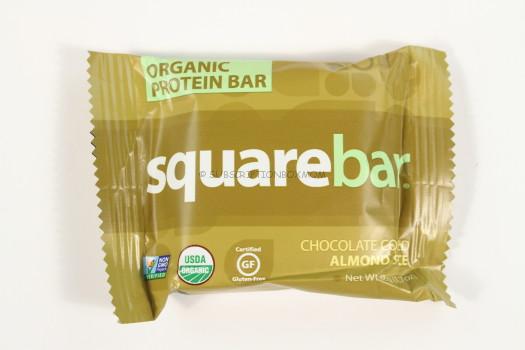 Organic Protein Bar Square Bar in Chocolate Coated Almond Spice This is a gluten free, organic, non-gmo bar.  This is dark chocolate covered almonds with a bit of cinnamon thrown in.  There are 12grams of plant based protein in the bar too!
Nutrition
Calories 220
Protein 12g
Carbs 22g
Sugar 13g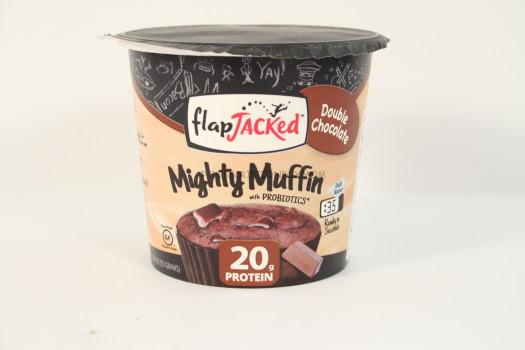 FlapJacked Double Chocolate Mighty Muffin with Probiotics Just add water to this and in 35 seconds, you have a warm chocolate muffin!  This is high in protein, high in fiber, low-cholesterol, has 0 Trans Fat, gluten free and non gmo.
Nutrition
Calories 220
Protein 20g
Carbs 21g
Sugar 6g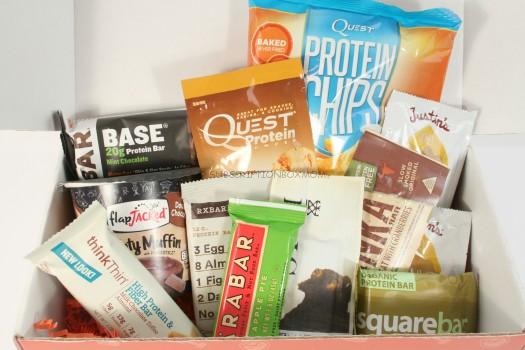 Final Thought: I was really impressed with SumoCrate.  There was 12 snacks in the box, which works out to about $2.00/snack.  There was a big variety of healthy snacks and those protein chips were so good.  I am so excited to have an assortment of healthy snacks that will work in my diet.  If you want to try SumoCrate, use this link with the code HAPPYSUMO to save 15%. If you subscribe by Dec 21st, you will get this box.
Do you like FREE SUBSCRIPTION BOXES?  Click HERE to see my free subscription box list.
You can see my FULL coupon list HERE.
Do you love Giveaways?  Click HERE to enter all my Giveaways