Home
»
Current Contest
»
Quirky Stork Collection December 2015 Review – Giveaway + Coupon Code – Time of the Month Box

December 14, 2015
12/14/15

By Subscription Box Mom

14 Comments
14
Quirky Stork Collection December 2015 Review – Giveaway + Coupon Code – Time of the Month Box
Disclosure: This post contains affiliate links.  I received this box for review.
UPDATE: This subscription has closed.  Quriky Stork Collection has a time of the month box, "Red Shadow Box" that sends name brand snacks, feminine products and more each month. They even include Bath and Body products, my favorite! Boxes are $19.99 plus shipping, although until December you will get free shipping.  There is also a coupon at the end of this review.  If you just want to try one box, just click on this link, click subscribe and go to The Shop to get a trial box for $24.99.
The Details:
Cost: $19.99/month, $59.97 – 3 months, $119.94 – 6 months
Shipping: Ships to USA for $5.75, $10.00 to Canada, $16.00 Worldwide.
Coupon: Use this link and the coupon mimisentme to save 10% on your 1st box.
What's in the box? a variety of items each month like up to 25 Feminine Items (pads, tampons, liners, wipes, suppository) email them if you only know one,  Specialty Bath and Body Pampering Solutions, Artisan Snacks, Organic Teas For Nausea, Advil or Midol, Icy Hot Patch, Scented Candle.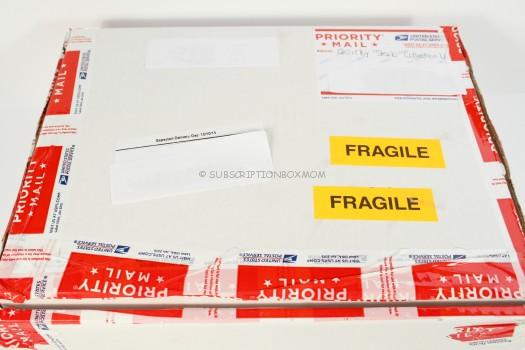 The Red Shadow Box ships in a white box and shipped by Priority Mail.  I also notice Quirky Stork Collection paid over $10.00 to ship the box to me.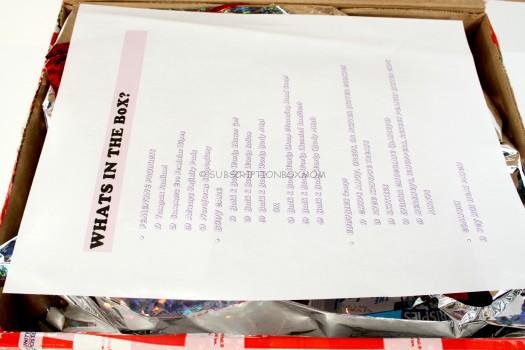 First Look
The Snacks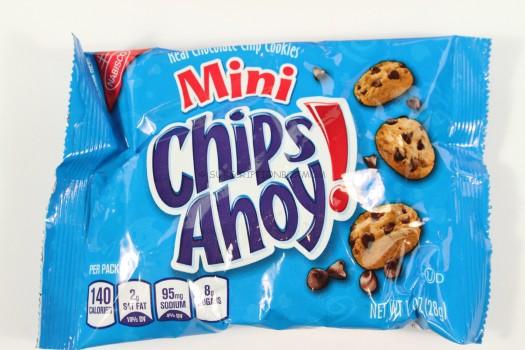 Mini Chips Ahoy:  I love these cookies and they are great for meeting my chocolate fix.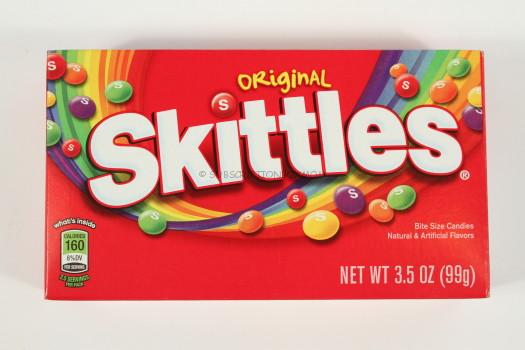 Skittles:  This is the movie theater size and I love they didn't just include chocolate.  While chocolate is nice every once in a while, I love candy (Skittles, Starburst etc).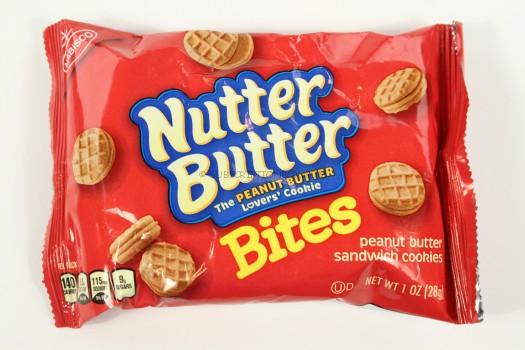 Nutter Butter Bites I haven't had Nutter Butter Bites in forever.  This is peanut butter in between two cookies.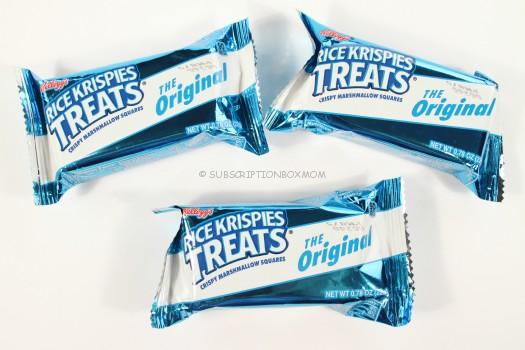 Rice Krispies Treats I don't think these taste like the homemade versions, but they are quite tasty.  I could really eat a whole box of these.
The Supplies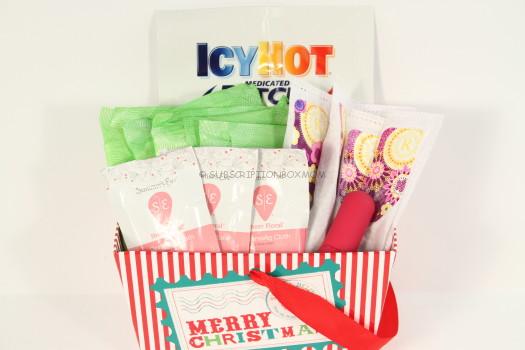 All the feminine supplies, plus a few extras cam in it.  I love the little basket, and I can use it to wrap a present.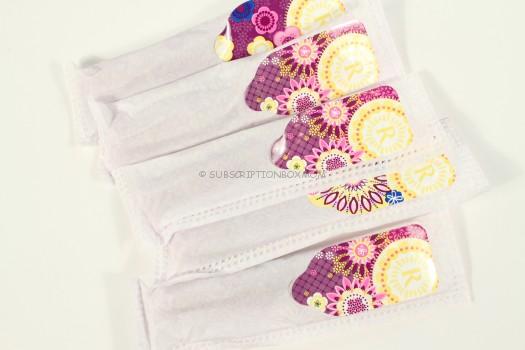 Tampax Pearl:  I frequently use this brand, so I am fairly certain this are Tampax Pearl
Always Pads:  These are the Always with Wings, another go-to brand for me.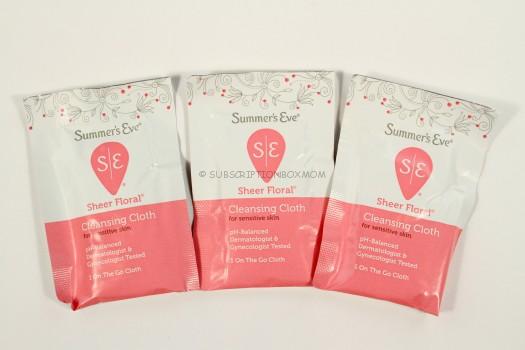 Summer's Eve Sheer Floral Cleansing Cloths: There was three single wipes for when you are not feeling so fresh.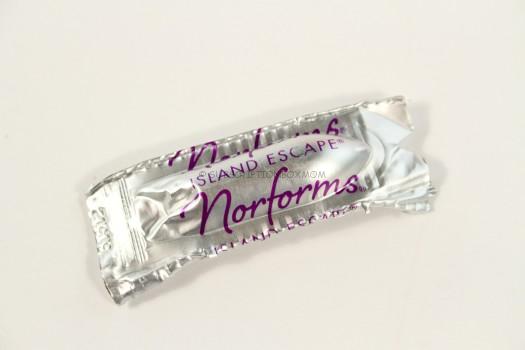 Island Escape Norforms:  This is a feminine deodorant suppository.  To be perfectly honest, I didn't know these existed.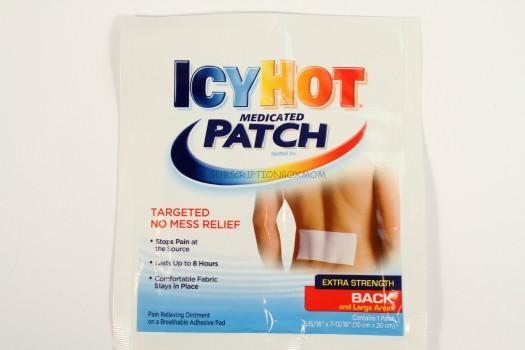 Icy Hot Medicated Patch Another name brand product.  Icy Hot patches are great for those killer cramps, or really any muscle ache.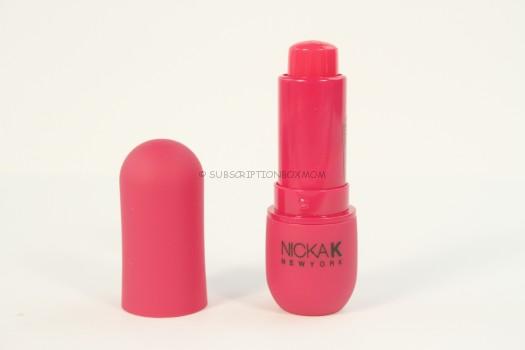 Nicka K New York $2.49  This smells good and is made with shea butter for extra moisture.  It adds a hint of color, but this is light enough to be appropriate for a teen.
Bath and Body Works
There was a cute little bundle of Bath and Body Works products in the box.  I love that Quirky Stork Collection includes name brand items in the box.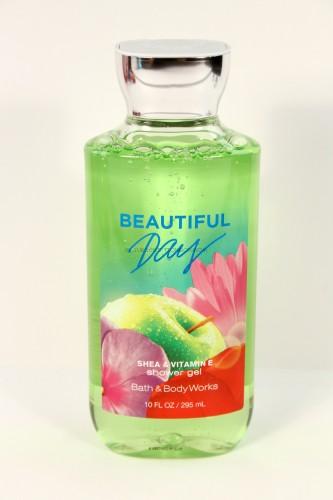 Beautiful Day Shower Gel  $12.50 This is a current scent from Bath and Body works.  This has a fantastic floral/fruity scent that smells great.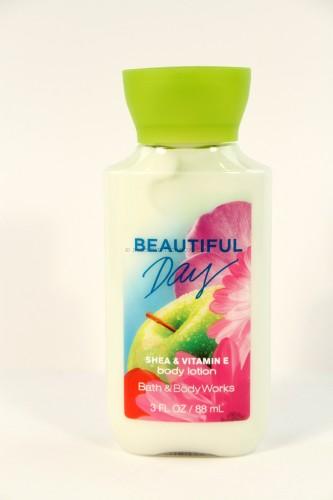 Beautiful Day Travel Body Lotion  $5.00 This is the smaller lotion of the same scent as the shower gel.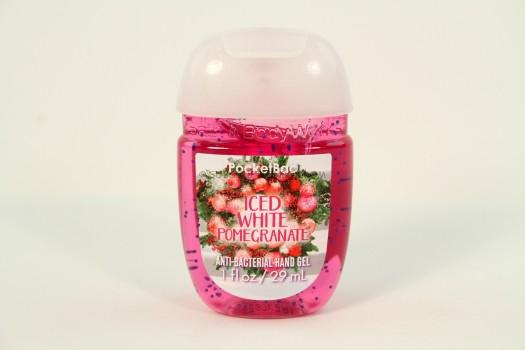 Iced White Pomegranate Anti-Bacterial Hand Gel $1.75  I have never had this size of the anti-bacterial hand gel before.  Most of mine are the small travel size that fit in the holder.  This has a fruity scent that has a holiday smell to it.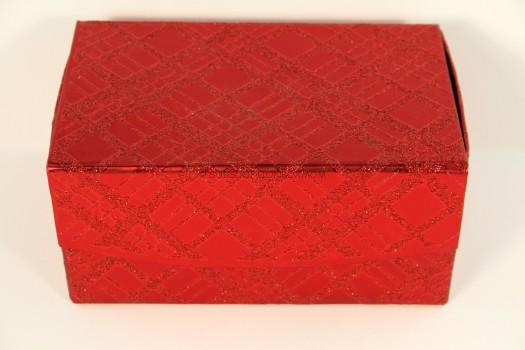 The box isn't done yet, there was a red sparkly box.  The lid had a magnetic closure, this is another box I can reuse for presents.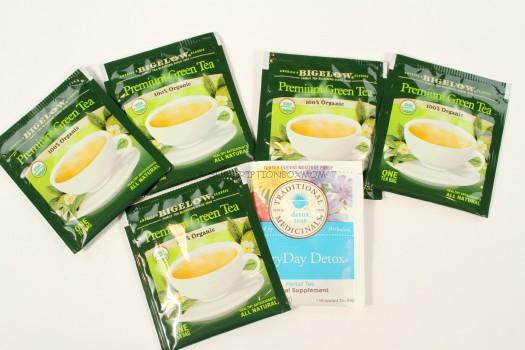 Bigelow Premium Green Tea (5 Count) and Traditional Medicinals EveryDay Detox (1 count): There were 6 sample things of tea included in the box.  Five of them were green tea and there were was a detox tea.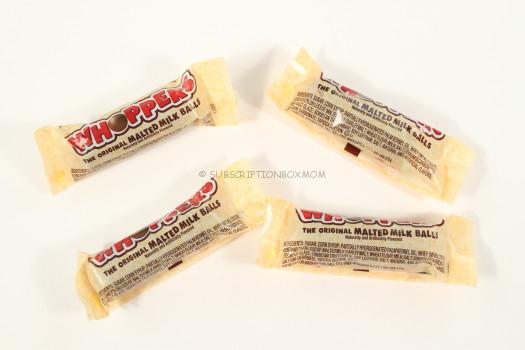 Whoppers  I think I am the only one that likes these chocolate covered malt balls, so I won't have to worry about anyone snatching them.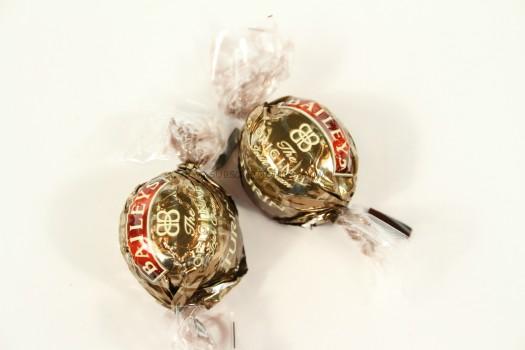 Bailey's Original Turin Chocolates:  These are Turin milk chocolate filled with Irish Cream.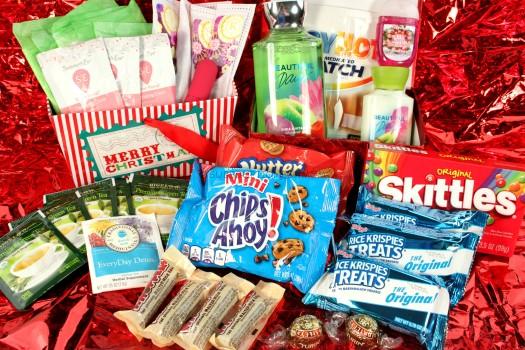 Final Thought: This box had a great value.  I didn't list a retail value for everything in the box, but if you add what the company paid in shipping, plus the value of the bath and body items, that along is over $26.00.  This is a very impressive time of the month box and I personally would love to receive this every month.  Everything was name brand and there was not any Dollar Store items.  This would also make a great box for teens, many of the time of the month boxes are geared to older (non teen) women and this would be a great box for women of all ages.  The selection, presentation and price are quite impressive.  You can try this box with this link and the coupon mimisentme to save 10% on your 1st box.  Order in December and get FREE shipping.  Remember if you are not ready for a subscription, there is a one time trail in the online store.  Quirky Stork Collection is also giving a box for one of my readers, just enter below.
Do you like FREE SUBSCRIPTION BOXES?  Click HERE to see my free subscription box list.
You can see my FULL coupon list HERE.
Do you love Giveaways?  Click HERE to enter all my Giveaways