December 5, 2015
12/05/15

By Subscription Box Mom

0 Comments
0
Okashi Connection November 2015 Review + Coupon
Disclosure: This box was received free for review.
Okashi Connection is a Japanese snack box that ships worldwide for $22.00/month.   Each box is packed with about a pound of candy.
 Okashi Connection changed their boxes this month and now there are three boxes to choose from: The Ninja Box, The Samuri Box, and The Sumo Box.  The Ninja Box is a bit smaller than the box I am reviewing here.  The Samurai Box is the same size as the box I am reviewing and the The Sumo Box is much larger than this box.
The Details:
Cost & Plans:
The Ninja Box: $14.00/month 5-7 snacks in the box.
The Samuri Box: $22.00/month 9-13 snacks in the box.
The Sumo Box: $33.00/month 14-18 snacks in the box.
Shipping:  Shipping is FREE and they ship WORLDWIDE.  They don't ship to a few locations, click HERE to see a complete list.s.
When am I charged?   Your card will be charged on the 30th (or last day) of the month.
When does my box ship? Boxes will be shipped within the next week after being charged, and they should arrive at your door within 1-3 weeks after that. 
Website: http://okashiconnection.com/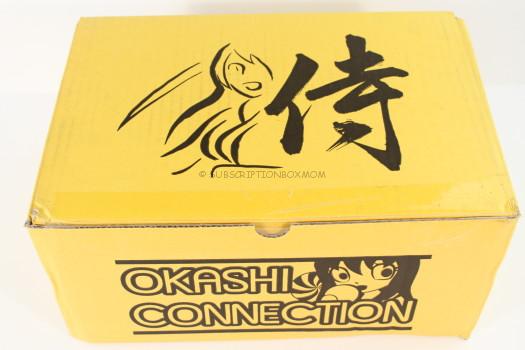 I love Okashi Connection's new boxes.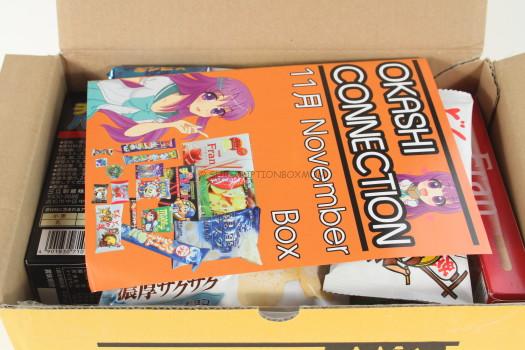 First Look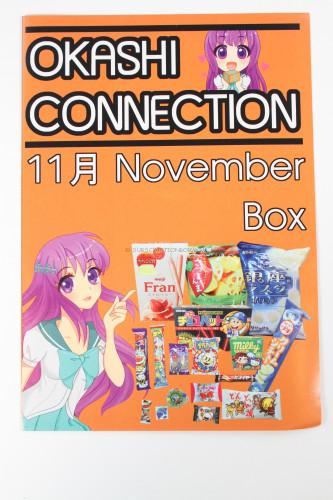 The information booklet.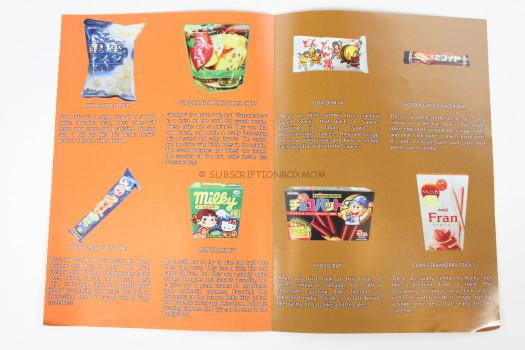 Inside, there are pictures of everything in the box, along with descriptions.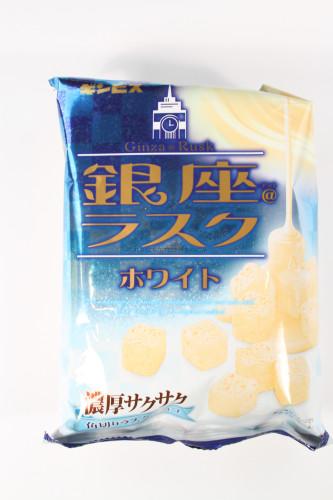 White Choco Rusk: These puffs have a white chocolate coating and taste like those waffer cookies with icing in them (the chocolate/strawberry/vanilla ones).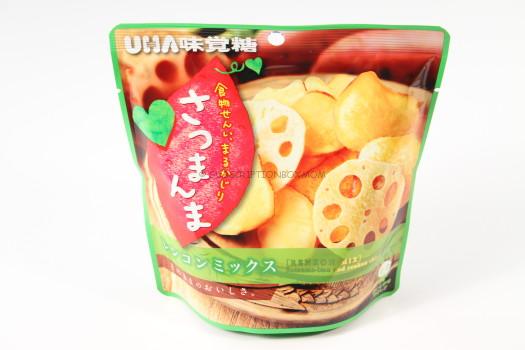 Satsumanma Renkon Mix Chips This is a mix of sweet potato chips and lotus root chips.  The lotus root chips have the holes in them and they were sweeter than the sweet potato.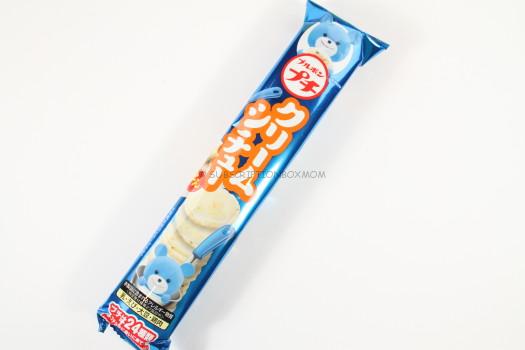 Puchi Cream Stew Chips I thought these were cookies when I saw them, but they are thin crisps that are flavored like Japanese cream stew, which is made of beef, onions, carrots and broccoli in a cream broth.  These were a bit different but fun to try.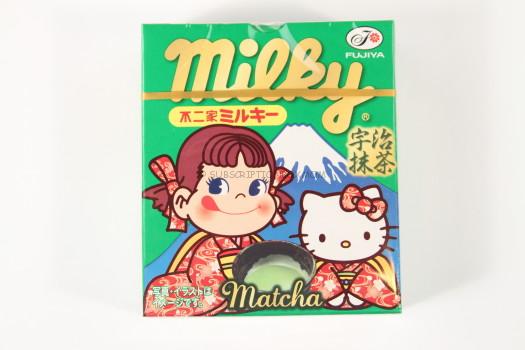 Matcha Milky: These are traditional candies that have a softer outside with a harder gummy like center.  My husband likes green tea and he thought these were good and not as strong as Okashi Connection described.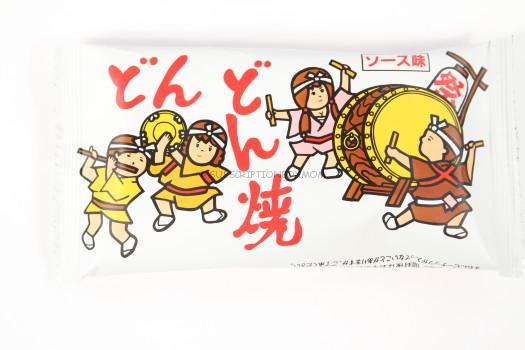 Don-Don Ya  These are little pieces of sembei but much different from other sembei I have had.  These had a stronger flavor and had a seasoning on them.  My husband and I thought these tasted similar to croutons.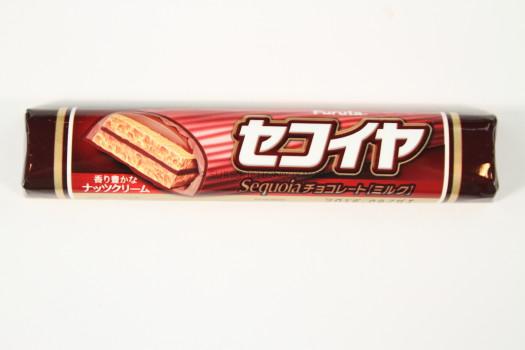 Sequoia Choco Wafer Bar  This is similar to Kit Kat, only with more rich chocolate throughout the cookie.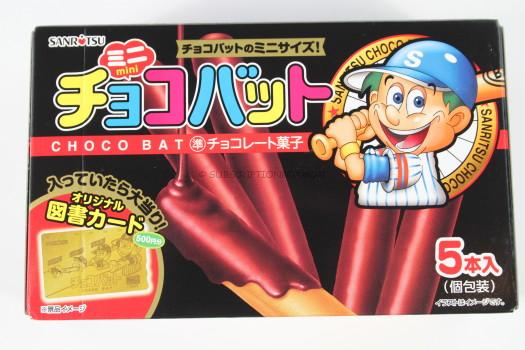 Choco Bat These are a chocolate covered round cake.  The cake was a bit too dry but the flavor was nice.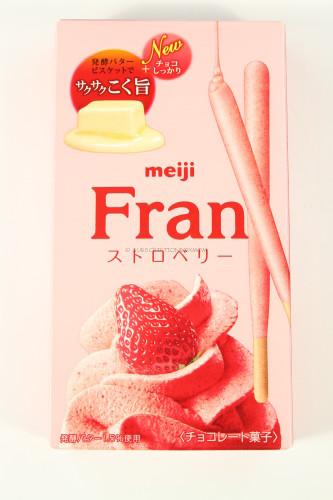 Fran Fran is very similar to Pocky, only I think these were a bit thicker. These were strawberry flavored and really tasty.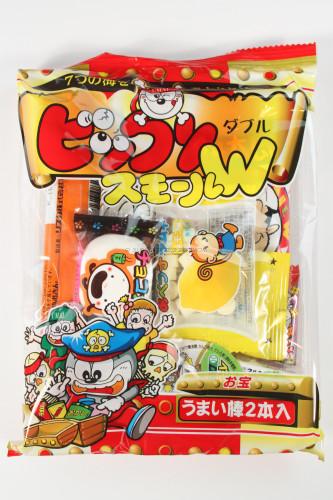 Bikkuri Pack This is a mystery pack filled with some Japanese favorites.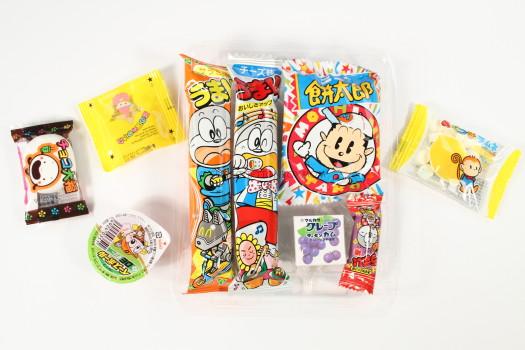 Okashi Connection provided descriptions of everything, but the variety packs must differ slightly, because not everything matched up.  One or two of the names may be different from I describe, so let me know if I am wrong.
From left going clockwise
Choco Daifuku: This is a marshmallow filled with chocolate
Yellow Pack (unknown name)– These are like little pieces of traditional rock candy.
Umaibo Orange Pack – Both Umaibos were different flavors than the information card described.  The orange tasted like Hickory Smoked BBQ.
Umaibo -Cheddar  These are my favorite Umaibo flavor!
New Mochi Taro These are like Don Don Ya, but much plainer.
Grape Bubble Gum This gum is really soft and flavorful.  It had a minty/grape flavor.
Umaibo Hard Candy–  This tasted like a raspberry/cherry flavor.
Abekko Ramune These are powder candies that dissolve in your mouth.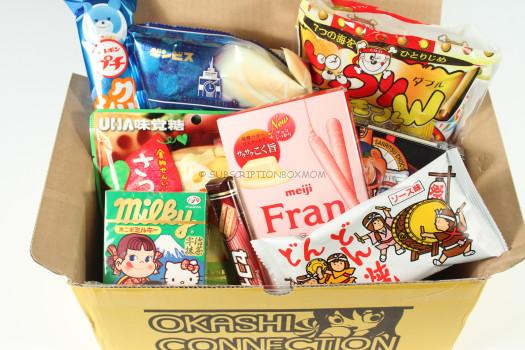 Final Thought This was a nice box and packed with snacks.  Okashi Connection is affordable and packed with snacks each month.  The Samuri box is big enough for a family of four to share, at least in our house.   If you want to Okashi Connection,  click HERE to subscribe and use the code Boxmom to get $1.00 off your box.
Do you like FREE SUBSCRIPTION BOXES?  Click HERE to see my free subscription box list.
You can see my FULL coupon list HERE.
Do you love Giveaways?  Click HERE to enter all my Giveaways