November 17, 2015
11/17/15

By Gigi C

2 Comments
2
TrueDrool October 2015 Review + Coupon – Exclusively for Big Dogs (40+ lbs)
Disclosure: This package was received free for review.  This post contains affiliate links.  
Guest Review Alert – Maggie the golden retriever!  Maggie is back and this time she was super excited to review another box from TrueDrool, which is designed especially for big dogs over 40 lbs.  Let's just say Maggie is well over the 40lbs

True Drool is the ONLY pet subscription box exclusively for BIG Dogs (40lbs +).  Prices start at $38/month for a one-time box.  You can also get a 3-month subscription for $96.00.  In addition, their "Paw-It-Forward" program allows you to buy a box for $20 and they will send it to a recently rescued dog (how cool is that?)  All treats are made in the USA or North America.  Also, they give 10% back to rescues and non-profits (in addition to the Paw-It-Forward program).  Recently, TrueDrool also launched "rescue apparel" which can be purchased separately on their website.  These are cute, made-to-order and best of all, $2 of each shirt goes to their "$2 Give-Back" program to help a rescue dog find their forever home!
The Details:
Cost: $38.00/month or $96 for 3 months.
What's in the box? Each month you receive 4-7 "boxer-tested" and "boxer-approved" toys and treats.  True Drool's experienced testers (Oliver and Oslo) bring 18 years of experience to the table.  Oliver is an older gentleman, so he prefers treats that are softer and toys that are great for chewing.  Oslo is high energy and loves high action toys. And they both enjoy toys that keep their minds active. Your monthly Big Dog Box will contain 4-7 items they have approved.  Rest assured you will get toys that have been played with, tugged on, flipped and flopped and have held up to these two boys. (Yours will be new, of course!) You will get treats that have been tasted, tested and drooled over.  True Drool will also introduce you to other products useful to you as a pet parent.
Shipping: True Drool ships to the US and shipping is included in the price of the box.
When does the box ship?  Subscriptions ship the 15th of each month – order by the 5th to get that month's box.
First Look: For October, there were tons of goodies inside!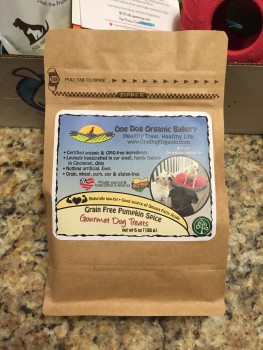 Goodie #1 – Pumpkin Spice Grain Free Treats – One Dog Organic Bakery:  $13.00 Retail Value. FEATURED product for October.  These gourmet dog treats are wholesome, handcrafted, organic, and delicious with NO artificial anything!  These gourmet treats were a hit – Maggie didn't waste any time trying these and she gobbled them right up.
Goodie #2 – TUFF Treader – Jolly Pets.  $12 retail value.  Made for powerful chewers & selected for its perfect size, durability and coolness.  TrueDrool tip – add some peanut butter and a couple organic treats pressed up inside – your dog will be stimulated and engaged!  I can certainly see Maggie would love this.  In addition – this toy is guaranteed to withstand tough chewing – if your dog does destroy it, you can send it in to Jolly Pets and they'll send you a one-time replacement.
Goodie #3 – Dog Greeting Card – Animal-grams: $4.00 retail value.  Unique gift cards for pets for all occasions – great for holidays, birthdays, rescues, etc.  This month's card was for Halloween and super cute. BONUS – use code DROOL1 and get $1 off a card at whiteorchidgraphics.com.
Goodie #4 – Pumpkin Blueberry Treat – Fruitables :  $9 retail value.  Another great, Made in the USA treat that is wholesome and made with NO wheat, corn or soy.  100% Natural – Nothing Artificial.  This treat was a cute flower design made with pumpkin, blueberries, a hint of vanilla and a splash of cinnamon.  Maggie loved these as well!
Goodie #5 – Spa Paw Pad Treatment – Tropiclean: $12.00 retail value.  I can't wait to try these on Maggie's paws since she suffers from seasonal allergies – and fall seems to be the worst. This paw pad treatment is infused with oatmeal, vitamin B-5 and vitamin E to help soothe skin issues.  Also good for seasonal hotspots.  Drool tip – Apply a small amount to your fingertip and massage into irritated skin, wait a few minutes then wipe off the excess.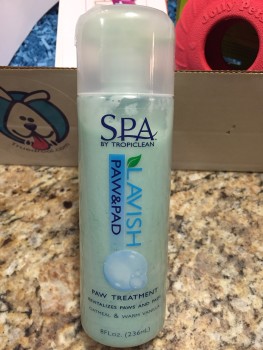 Final Thought:  Total retail value of all the items included was $50.00 – not bad for only $38 (shipping included).  The items seem to be very high-quality and made of all-natural ingredients. I always try to find things for Maggie that are made of natural, simple ingredients.  I also appreciate that True Drool gives back to animals in need.
If you'd like to try True Drool for your big dog, use this link to try this subscription.
Coupon: Use this link and code pawluv15 for $15 OFF your first month of the 1 month, 3 month plans or gift boxes!  
I hope you enjoyed Maggie's guest review (well, Maggie was the tester, and her mommy Gigi reviewed it)..
Do you like FREE SUBSCRIPTION BOXES?  Click HERE to see my free subscription box list.
You can see my FULL coupon list HERE.
Do you love Giveaways?  Click HERE to enter all my Giveaways