November 23, 2015
11/23/15

By Subscription Box Mom

0 Comments
0
Spangler Science Club Newton's Antics Review + Coupon
Disclosure: This post contains affiliate links.  I received this box for review.
Spangler Science Club is a science based subscription box for children.  The box was developed by Steve Spangler.  If you haven't heard of Steve Spangler, check him out on his YouTube channel here, he is pretty amazing.  Boxes are $29.99/month and each box is filled with all the basic materials your child needs to complete tons of fun experiments. The Spangler Science Club comes with instructions for kids and parents, and is designed for kids in grades k-6.  We were sent the Newton's Antic box for review.  Each box has a different theme.
The Details:
Cost: $29.00/month. $26.99/month for 3 months. $24.99/month for 6 months.
Coupon: Use this link with the coupon SCIFUN15 to save $10.00 on your 1st box.
What's in the box? Each box is filled with all the materials you need to complete many different experiments.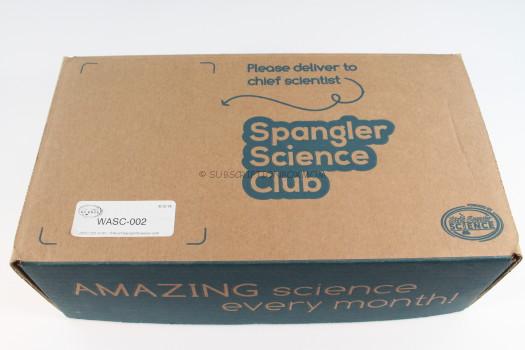 The box comes by USPS.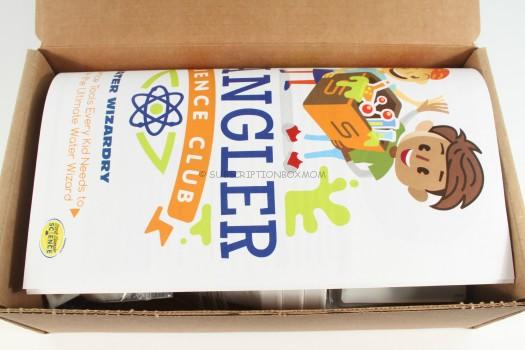 First Look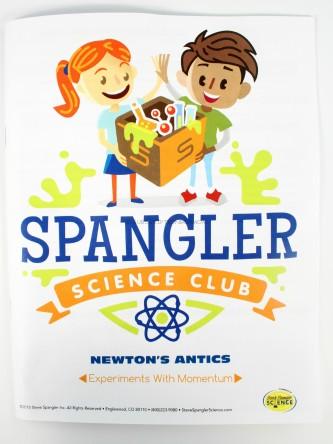 Spangler Science Club includes a full color booklet with all the experiments.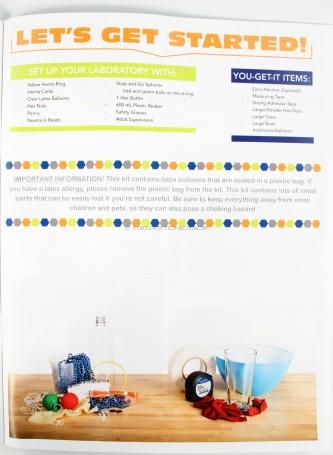 Inside the book is a page with what you need to set up your laboratory.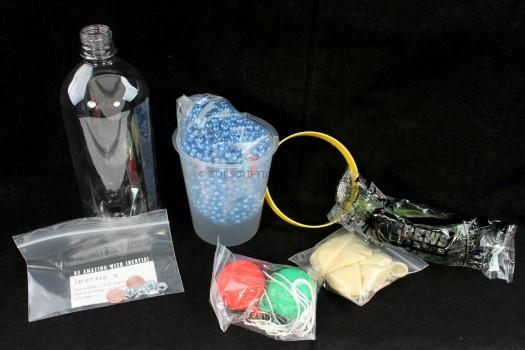 The box was filled with all the items you need for the experiments, except for a glass, bowl and measuring tape.  There was also a list of optional items you can add to your experiments, but they are not required.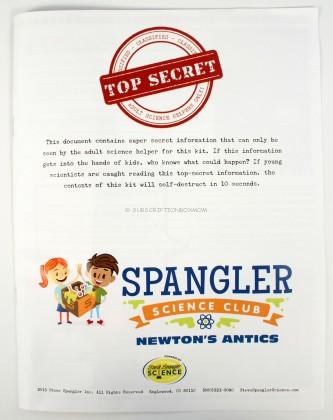 Since this box is completed with an adult, there was a booklet just for adults.  This gives the adult helper all the answers to why the experiment works, so they can explain it the child.
The Experiments:
While we didn't complete every experiment, I will go over briefly each one.  Since some of the experiments were very hard to photograph, we also did a short video.
Falling Hex Nut: Children will learn about gravity, mass, inertia and friction. Using the bottle, interia card and hex nut, your child puts the hex nut on the card and quickly pulls.  When done correctly, the hex nut falls into the bottle.
Each experiment comes with a sheet of "What do you think?" questions, which helps facilitate learning.
The falling hex nut experiment is a pretty easy one to setup.
L tried his luck at completing this one, he eventually got it. You had to be really quick and watching the nut almost pause and fall in was really neat.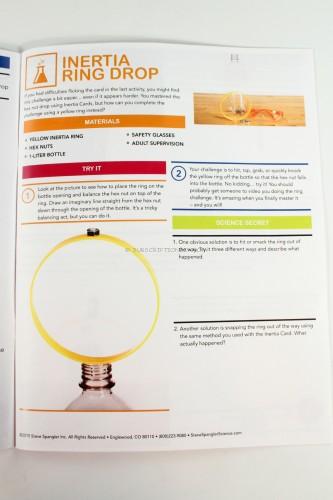 Inertia Ring Drop: This experiment works basically the same way as the falling hex nuts, only with a ring. This one is hard to do and takes some practice.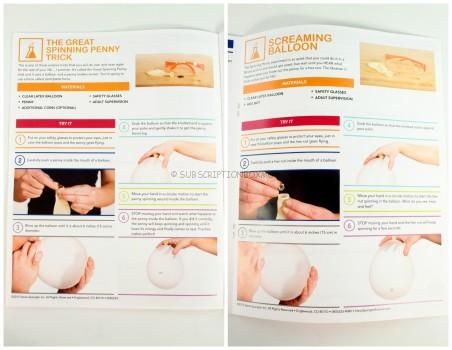 The Great Spinning Penny: Using centripetal force, you child spins a penny inside a balloon.  Once you stop spinning the balloon the penny will still spin. (See video below for this experiment).
Screaming Balloon:  This trick is done like the Great Spinning Penny, only you use a hex nut and the hex nut hitting the side of the balloon will made a noise from the vibrations. (See video below for his experiment).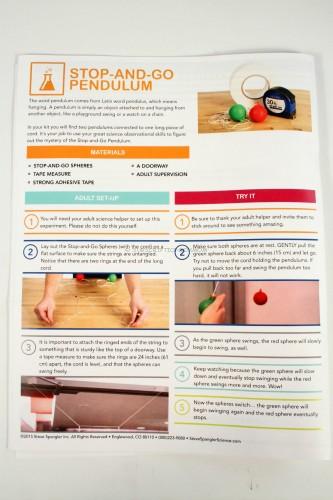 Stop and Go Pendulum: We haven't had a chance to complete this experiment but you hang two pendulums and watch how one will swing faster while the other one stops.
Newton's Beads: This uses the Science of Motion and shows children more about inertia.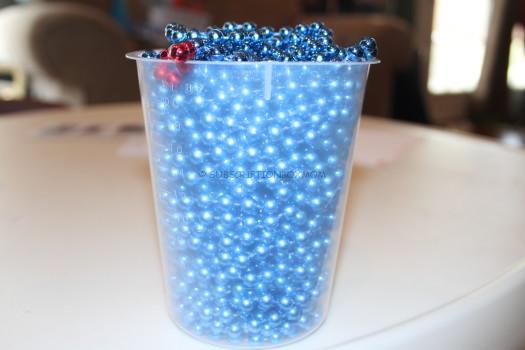 This experiment called Newton's Beads shows how inertia can cause an effect with one simple tug of the beads.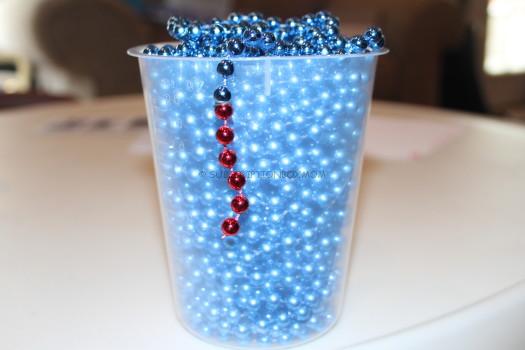 It was really interesting to keep my son from initializing this before I was done, but he just couldn't wait to watch what it did. It was amazing to see how a little movement to start the beads string was needed. This experiment was a ton of fun for all ages.
The video below shows more of the experiments we did.  For video purposes, we demonstrated the most of the tricks, although you will see L try one or two.  It's a bit difficult to record, teach and help at the same time.
Once your child has completed all the experiments, there is a certificate that can be completed.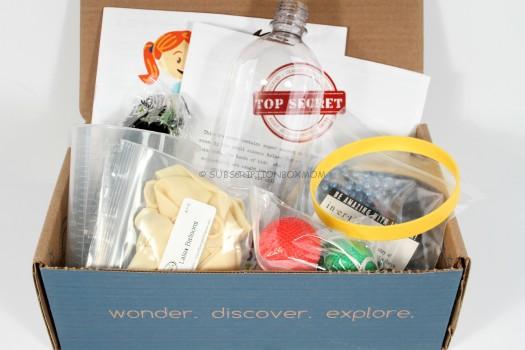 Final Thought:  We had so much fun with the Spangler Science Club box.  The directions were easy to follow and the adult helper guide made is easy to coach a child through the experiment.  All the answers are in the adult helper guide, so the parent won't need to Google to get the right answers.  The Spangler Science Club Subscription isn't just about teaching Science to children, it's about making Science fun.  This is a great subscription box for budding scientists and would make a great gift this holiday season.  To try Spangler Science Club, use this link with the code SCIFUN15 to save $10.00 on your 1st box.
Do you like FREE SUBSCRIPTION BOXES?  Click HERE to see my free subscription box list.
You can see my FULL coupon list HERE.
Do you love Giveaways?  Click HERE to enter all my Giveaways