November 2, 2015
11/02/15

By Kristi Klemish

0 Comments
0
PupBox October 2015 Review – 3 Month Old Box
Disclosure: I received this box for review.
Guest review alert!  Hi!  My name is Kristi, and this month I am reviewing PupBox with my dog, Sammie!  Sammie is almost five, but I'm sure there is a lot she can enjoy in this box!
PupBox is a monthly development box for new puppy parents. All PupBox subscribers will receive a monthly box that includes both training and development information as well as premium products that are tailored to your puppy's age. Each months box will help walk you through the many joys and challenges of puppyhood.
The Details
Cost: $39.00 for a single box,  $34.00 for a three month subscription, $29 for a six month subscription, $26 for a 12 month subscription
How it Works:  Tell us about your pup.  Fill out your puppy's profile and select your subscription term to get started.  Receive a monthly box.  We grow with your pup.
As your puppy ages, the products and training information will change based on your puppy's changing needs.
What's in the box? Each box will include 5-7 premium products. All boxes will include 1 bag of training treats and 4-6 additional products that are selected based on the age and physical characteristics of your puppy. If your pup is working on house training we will include pee spray, if your pup is going through teething then we will provide some extra chew toys. The products will rotate each month so your pup will never get bored! We pride ourselves on the quality of each product as well as the personalized nature of each box. We will only send you products that we know your pup will love.
When does my box ship?  PupBox ships roughly on the 10th and 20th of each month.  If you sign up after the 20th, you will receive your box the next month.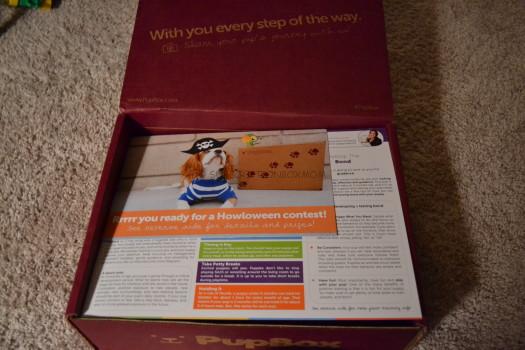 This is the 3 month PupBox
Included is an information sheet about Development and Training for your specific age of puppy.  The reverse side talks about teething and your puppy.  (sorry for the picture darkness on this one!)
Everything is neatly packaged inside!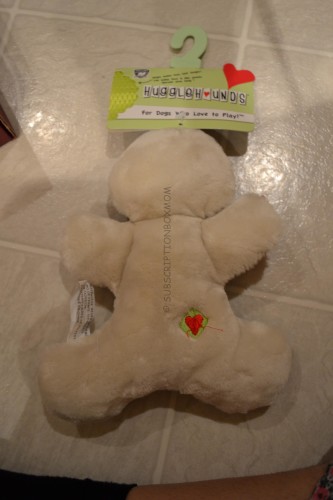 The first item is a HuggleHounds Wooly Madras Man soft toy.  The reverse side is orange madras.  It is super cute and has "Tuffut" technology to make the toy last longer.  Retail value is $9.99.  Sammie is four, and still loves to chew, so for the sake of her belly, she just got to look at this one

Next was a Rubie's Pet Shop Boutique bandana size M/L.  I love this!  You will see Sammie styling in this at the end of the post

  Retail value is around $3.25.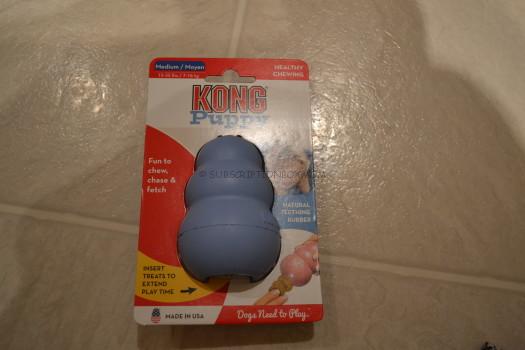 Next was a Kong Puppy.  This one is for 15-35 pounds, so Sammie is too big, but I know that dogs LOVE the Kong.  My friend puts peanut butter in hers for her dog!  Retail value is $6.99 at PetSmart.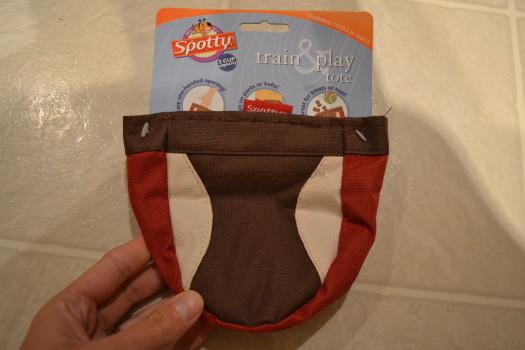 This train and play tote is awesome!  Even though it's for a puppy, we will use it!  Sammie likes her treats and tennis ball, so this is perfect to carry some with us while playing outside!  Retail value is $5.99 on Amazon.
This is a Superior Farms Pet Provisions Lamb Pizzle Lickerish.  It is a hard chew/treat that I think a small dog would really enjoy chewing on/eating.  It sounds gross, but I'm sure to a puppy it's like heaven!  Retail value is $2.19.
The final item in the box are Tucker's Wag-A-Rounds.  The flavor is Beef, Liver, and Sweet Potato.  They smelled kind of like cookies when I opened the box

  Retail value is $6.99, but not easily orderable.  Amazon sells them for $12.58.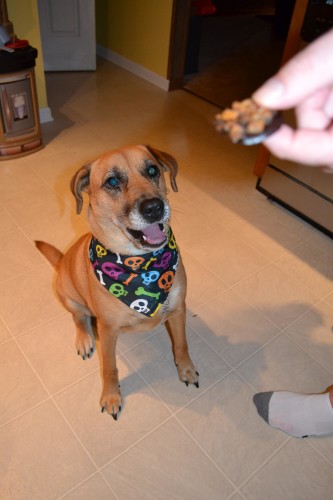 I think it's safe to say she was excited about the treat!  I could barely get her to sit still she wanted it so badly!  The bandana is beyond cute!  I LOVE it!
Final Thought:  Overall, I like the box.  Like I said, Sammie is almost five, so she was too big for a lot of it, but puppies would definitely love everything in the box!  The retail value of the box is between $35 and $40 depending where you buy stuff, so for a one month subscription you may break even.  It's definitely a good deal if you get a longer subscription, say six or 12 months.  You can check out Pupbox with this link.
Do you like FREE SUBSCRIPTION BOXES?  Click HERE to see my free subscription box list.
Check out my Full List of Subscription Box Coupons
Check out my current giveaways 
HERE