November 1, 2015
11/01/15

By Subscription Box Mom

0 Comments
0
Marimo Candy Club October 2015 Review + Store Coupon
Disclosure: This box was received free for review.
Mario Candy Club is a Japanese DIY candy subscription.  Boxes start at $11.99/month and go up to $29.99/month for the premium boxes.  Boxes contain an array of DIY candy and some of the best Japanese candy.  If you are going to be out-of-town or can't afford your box that month, you can skip!  I was sent the Premium box for review, which is $29.99/month and comes with 8-10 candies.
The Details:
Cost and What's in the box:
Kitten Kibbles Pack

– $11.99 2-3 candies  (always DIY candy included)

Sweet Tooth Pack

$20.99 – 5-7 candies (always DIY candy included)

Premium Pack

$29.99 8-10 candies  (always DIY candy included)
Coupon: Use the coupon SUBSCRIPTIONBOXMOM2015 to save 10% off any order in the shop. exp December 31, 2015 at 23:59. This is for the online store only.
Shipping: Ships worldwide and is free for subscription.
Everything shipped in a big white box and was shipped from Japan.  I did have to sign for this, since it was international mail (just as a FYI if you subscribe).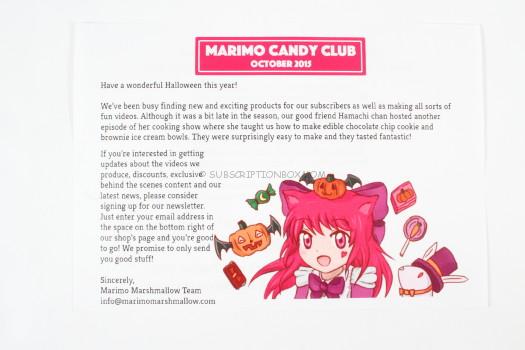 Marimo Candy Club sent a two sided formation card.  They suggested signing up for their newsletter to stay up-to-date on their videos, discounts and more.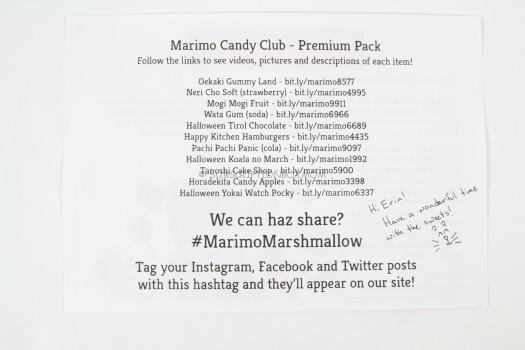 The back of the information card had a list of everything in the box, along with bit.ly links to all the products.  The links send you to the item in the store.  I wish there would have been pictures with a short description on the information card, that would have made it easier to identify the products.  The links also take you to videos of each DIY kit, which are very useful.
Oekaki Gummy Land This kit comes with various powders to make your own gummies.  You can mix colors, just add water.
Neri Soft Candy (Strawberry) You add water to the candy foam powder to make a smooth sweet treat you can put in the enclosed waffle cones.
Fruit Gummy Kit These gummy grapes are on a gummy vine.  The grapes are grape and muscat flavors and you can pull them off the gummy vine.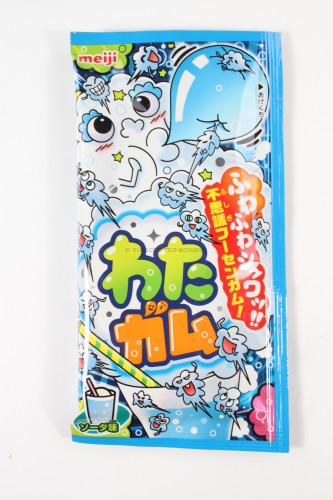 Cotton Candy Gum (Soda Flavor) This is soda (lemon lime) flavored cotton candy that turns into gum.
Halloween Tirol Chocolate These chocolates were a bit different from each other.  The green wrapped candy was described as pumpkin, but tasted more like a green tea Kit Kat, although it was orange.  The black wrapped candy was milk chocolate and wafers, definitely my favorite.
Happy Kitchen Hamburgers  As weird as this is, I have always wanted to make it.  Just using various powders and water, you can create burgers, fries and cola. The treats are supposed to taste like the real thing.  I am not sure if I think this sounds gross or really cool.  I guess I will have to make it and find out.
Pachi Pachi Panic (Cola) These are Pop Rocks with a cool twist.  Cola flavored Pop Rocks are mixed with sour ramune candies.  This is something I have never had before, but loved.
Halloween Koala no March This Limited Edition version of Koala no March has spooky Koalas on the each cookie.  The cookie is filled with a rich chocolate.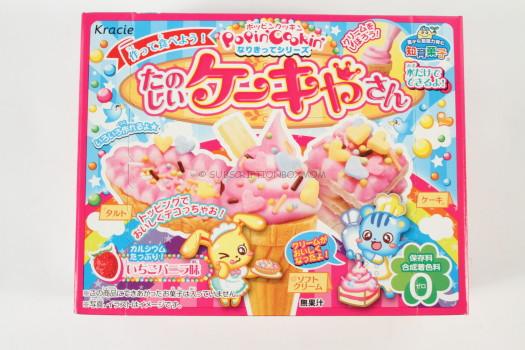 Tanoshi Cake Store This DIY kit makes two ice cream cones, a tarte and a wafer cake.   They look yummy.
Mini Candy Apples  This is the candy version of candy apples.  Instead of the apple, you dip candy into a sticky liquid, then roll in sprinkles.
Halloween Yokai Watch Pocky This is another special Halloween candy treat.  The sticks are made of chocolate, then covered in a chocolate icing and chunks of chocolate bits.
Final Thought: This was a fun subscription and I love all the DIY kits.  Most Japanese candy boxes only include one DIY kit and this box sent five!  If you love DIY kits and Japanese candy, check out Marimo Candy Club.  Don't forget, use the coupon SUBSCRIPTIONBOXMOM2015 to save 10% off any order in the shop. exp December 31, 2015 at 23:59. This is for the online store only.
Do you like FREE SUBSCRIPTION BOXES?  Click HERE to see my free subscription box list.
Check out my Full List of Subscription Box Coupons
Check out my current giveaways 
HERE