November 3, 2015
11/03/15

By Subscription Box Mom

0 Comments
0
GlobeIn Artisan Box: November 2015 Theme Spoiler + Box Spoilers + Coupon
Disclosure: This post contains affiliate links.
GlobeIn has released the theme for the November 2015 boxes and more spoilers will soon follow. Boxes are $35.00 month to month and filled with handmade items from all over the world.  I love the quality of the items in my GlobeIn boxes.  You also find out about where each items comes from and who made it.
The theme for November Artisan Box is "Bedroom!"
"The bedroom is a place of rest and renewal for our most quiet, private selves. It's the place where we wake out of sleep and that we return to each night, back from the world, to dream and to love and to look in the mirror.
Tucked away from the public, the bedroom is a place that beckons us to soften. Each item in your box is aimed toward enhancing this room's ability to nourish and revive, to return you to yourself through simple, personal pleasures."
Each Bedroom Box will come with a Seahorse Pillow Pet from Guatemala!
(Retail Value: $22, colors will vary).
"In K'iche,' a Mayan language spoken in the Guatemalan highlands, the word y'abal means "hope." By creating social programs and fair trade job opportunities for Guatemalan women weavers, Y'abal Handicrafts indeed represents hope for the women, their communities, and their culture. 
Silvia Mazariegos is a tailor and designer that helped pilot Y'abal's Pillow Pet product line. Recently, Silvia's sister was diagnosed with breast cancer, a disease which has already taken the life of her eldest sister. For Silvia and her family, the pillow pet has indeed become a beacon of hope, especially the GlobeIn order of 1000 seahorses that came at just the right time. The whole family has organized to assist Silvia in the effort of cutting, sewing, stuffing, and assembling the pets, the proceeds of which will cover the sister's costly path back to health.
Suggested use: Use as a throw pillow to add a splash of color to your bedding."
Each Bedroom Box will come with a Handmade Bud Vase from Ten Thousand Villages. (Retail Value: $12).
Vases will come in the same size and color but in a few slightly different shapes.
"Your bud vase represents new beginnings for Tej Bhadur Prajapati from Nepal. Made with a combination of feldspar and other materials imported from India, your vase is the product of his own unique material and technique.
Through his craft, Tej supports the schooling of his two seven year-old twin daughters. Imagine being able to provide for your family while also being the first stoneware leader in your country!
Suggested use: Cast a little spell on your bedroom with the simple mystique of a single flower placed in your vase."
All Bedroom Boxes will feature a new palm-leaf basket design! (Retail Value: $12, colors will vary).
"This palm-leaf basket is the original design of an indigenous artisan Don Juan Garcia Lopez, who lives in the rural canyonlands of the Mexican state of Oaxaca.
All year round, Juan's entire family works together to earn a living through their craft. In addition to their weaving work, they spend a lot of time on the road to and from the city, where they sell their baskets and palm hats.
Knowing how much customers love our signature round baskets, originally we came to Juan asking to make more of them. But when our country manager in Mexico showed GlobeIn's square packaging to Juan, he quickly suggested using his original designs, which would fit perfectly into the square boxes!
Thus, a new product was born! The lid-less basket design lets you organize and display anything in any room of your house in a fun yet practical manner: books, knitting supplies, or even flower pots!
Suggested use: Toss a box of tissues inside and set on your nightstand to keep things colorful during cold season."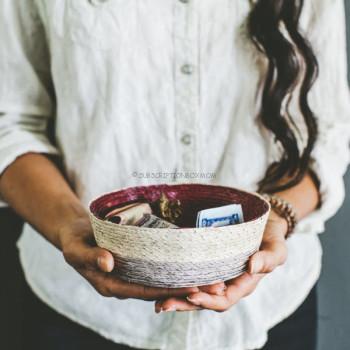 Each November Bedroom Box will come with a Handwoven Bowl by Makaua (Mexico)! (Retail: $10, colors will vary).
Your bowl is the result of a people tied tightly to a sense of place marrying their innate creativity to nature's offerings. In the southern mountains of Mexico, this offering is palm, a resource used by the people of the region for centuries. Palm is an incredible natural fiber, flexible enough to weave into intricate designs while still durable and long-lasting. Makaua artisans combine skills inherited from ancestors with their own individual creative visions. 
Suggested use: Add color and order to your bureau – use your bowl as a repository for everyday accessories such as jewelry, watches, hair clips, wallets, chapstick, etc.
Coupon: Save 25% on your first box of a three month subscription, just use the coupon SUBMOM.
Do you like FREE SUBSCRIPTION BOXES?  Click HERE to see my free subscription box list.
You can see my FULL coupon list HERE.
Do you love Giveaways?  Click HERE to enter all my Giveaways